Erling Haaland and Darwin Nunez: The Two Young Sharpshooters Headed for the Premier League
Football is a weird old sport. For all its innovations, it seems like the sport cannot escape from its tried and tested methods. According to the Twitterverse and pundits, it seems like every year there is the "death" of something within football.
From total football, tiki-taka and number 10s, it seems like something always dying out. Yet, there is something that everyone seems to be missing; football is cyclical.
Ideas never die, they are just adapted and are always called back upon. With Darwin Nunez and Erling Haaland joining Liverpool and City, it seems like the tested method of the big battering ram of a number 9 is back.
After false 9s, strikers who were good in the build-up but couldn't finish, false wingers and even false cams, it seems like Jurgen Klopp, and Pep Guardiola have now gone back to the idea of the goalscoring number 9.
Over the last few years, we have seen big money splashed out on strikers in the Premier League. Alexandre Lacazette, Alvaro Morata and Romelu Lukaku just to name a few, have been bought for big money and have failed to live up to expectations for several reasons. However, the signings of Nunez and Haaland feel different compared to these other moves.
For Liverpool, it signals a change from the false 9 spearheading the attack. Replacing Sadio Mane with Nunez means that instead of the striker supplying the wingers, the reverse now seems to be the case. Luis Diaz will have a heavy load replacing Mane's output and how current golden boot holder Mohamed Salah will play off Nunez will be interesting.
For Manchester City, it's been clear a striker has been needed ever since Sergio Aguero left. Even though the Cityzens have been hugely successful with multiple Premier League trophies and numerous domestic trophies, the Champions League seems to be avoiding them.
With Haaland in their team, they will now have someone to finish the abundance of chances they create with deadly efficiency. However, there could be a few teething problems between the Norwegian and Manchester City, which could require some time to figure out.
Inevitably, both signings are going to be compared to one another. They both have been signed by the two best teams in the country. Even though both strikers are different, they do share some similarities. Both are physical specimens, and the intensity they both play at is frightening.
From my personal option, I believe both strikers will succeed. They are too good not to, and both their teams create a plethora of chances. However, a fun question posed by some is who will fare better in their first season. This is my attempt to answer that and how they fit in their respective teams. So, strap in, as I barrage you with a stat attack and the old reliable eye test to aid my judgment. 
First off, let's talk about Nunez. After two preseason games for Liverpool, football twitter has seemingly written off the Uruguayan as a flop already. And a quote by Klopp talking about his love for his "desire" isn't a good start when talking about his quality.
I'm sure the picture comparing him to rapper Central Cee will be used a few times this season. Nevertheless, even though I don't think Nunez will go 6 for 6 in his first half a dozen games for Liverpool, I still believe he's only just loading and will be straight back to his goalscoring form quickly. 
It's fitting that he is going to Liverpool, as his welcome to Europe performance came against them in the quarterfinals of the champions league. Against them, Nunez showed all his strengths. He did well physically against the indomitable Konate, something which I don't think has been said the entire season.
The Uruguayan scored in both legs and had two goals ruled out for offside in the second leg, the first being an audacious chip over Allison. In my opinion, this game convinced the northern giants to buy the now ex-Benfica striker, with Klopp saying he "fell in love" with the striker after watching him perform against his team.
Last season for Benfica, the Uruguayan registered 34 goals and four assists in all competitions. This was his "breakthrough" season, as beforehand; he never managed to score more than 20 goals in a season. However, this can be attributed to injuries as he has already had multiple surgeries in his short career. 
With just two of his goals coming from outside the box, it is clear to see that his best qualities lie inside the penalty box. With his deft movement, he angles himself perfectly to be at the end of through balls from his teammates.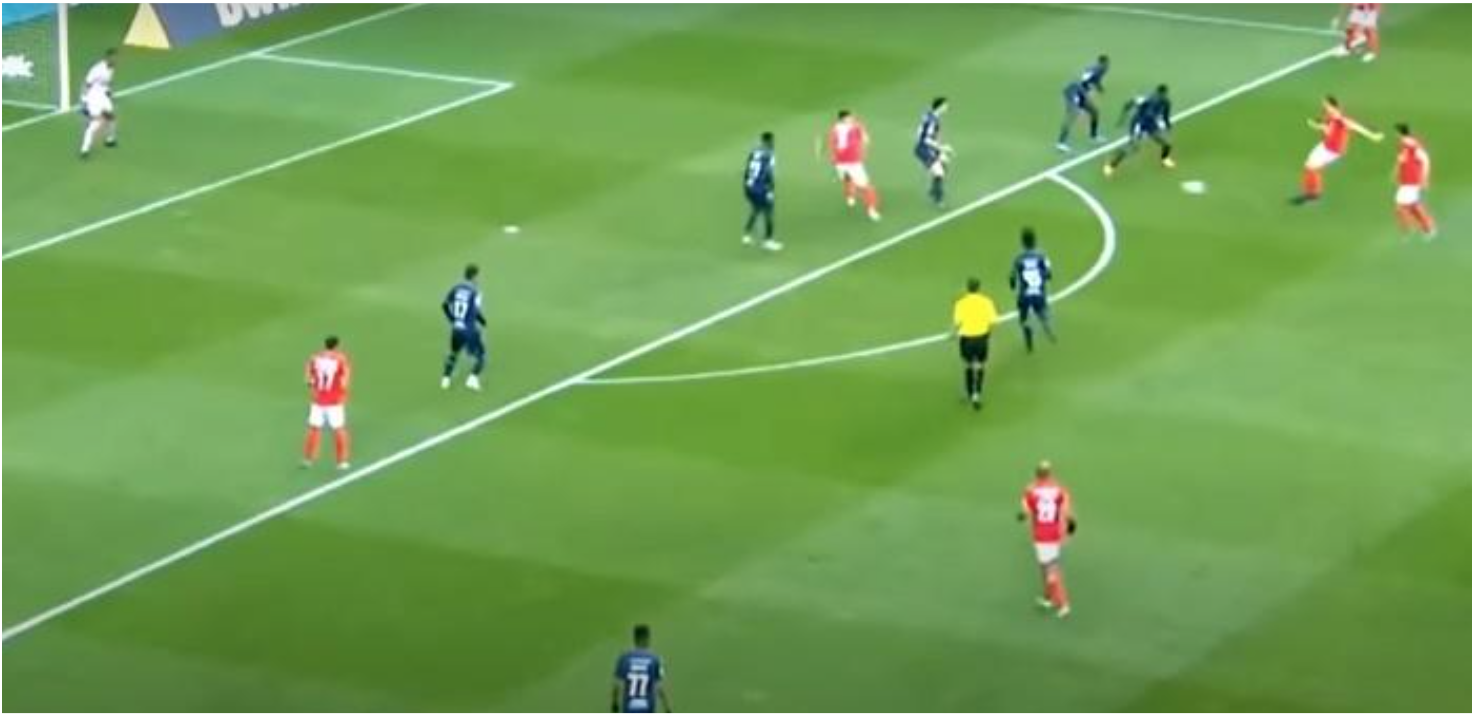 Even though there is only a tiny gap in between the centre-backs, Nunez darts in between them in the blink of an eye. With his teammate finding him, his first touch takes him wider than he would want. But, even so, he still manages to score by cutting the ball across the keeper. A testament to his finishing skills.
Because of this movement and finishing, he averaged more non-penalty goals per 90 than any other player in the top six ranked European leagues in 2021-22 (1.00). He also had the highest conversion rate of all players with 55+ non-pen shots at 27.2%, beating the likes of Robert Lewandowski, Haaland and Ballon D'or favourite Karim Benzema.
All of this led to him outperforming his xG by 7 goals. Unless you are Lionel Messi, exceeding your xG like this is not consistent, and your goals will always be reeled back in like a fish at the end of a hook. In a team like Liverpool's, whose main creative threats come from their fullbacks, being able to anticipate crosses from out wide is more vital for Nunez than quick movements in behind centre-backs from a central area.
Luckily for Liverpool fans, this is where the Uruguyuan thrives. He excels at attacking the space between the fullback and centre-back at the back post. He first curves his runs away from the centre back, before moving back infield.
Being 6"2 means he has an advantage over fullbacks and will do well in the air. Last season he won 2.49 aerials p90. which is in the 63rd percentile across Europe. This led to him scoring seven goals with his head.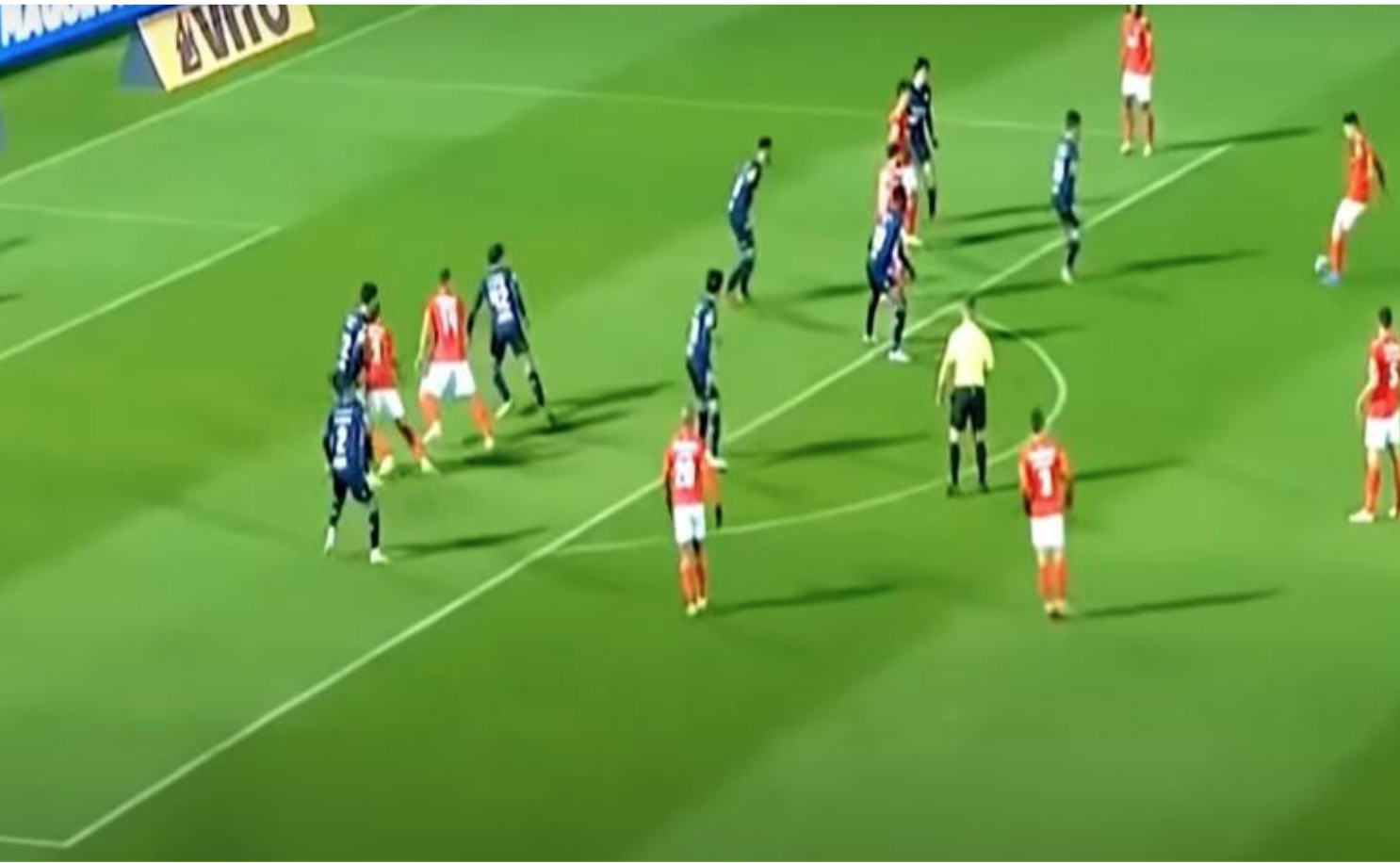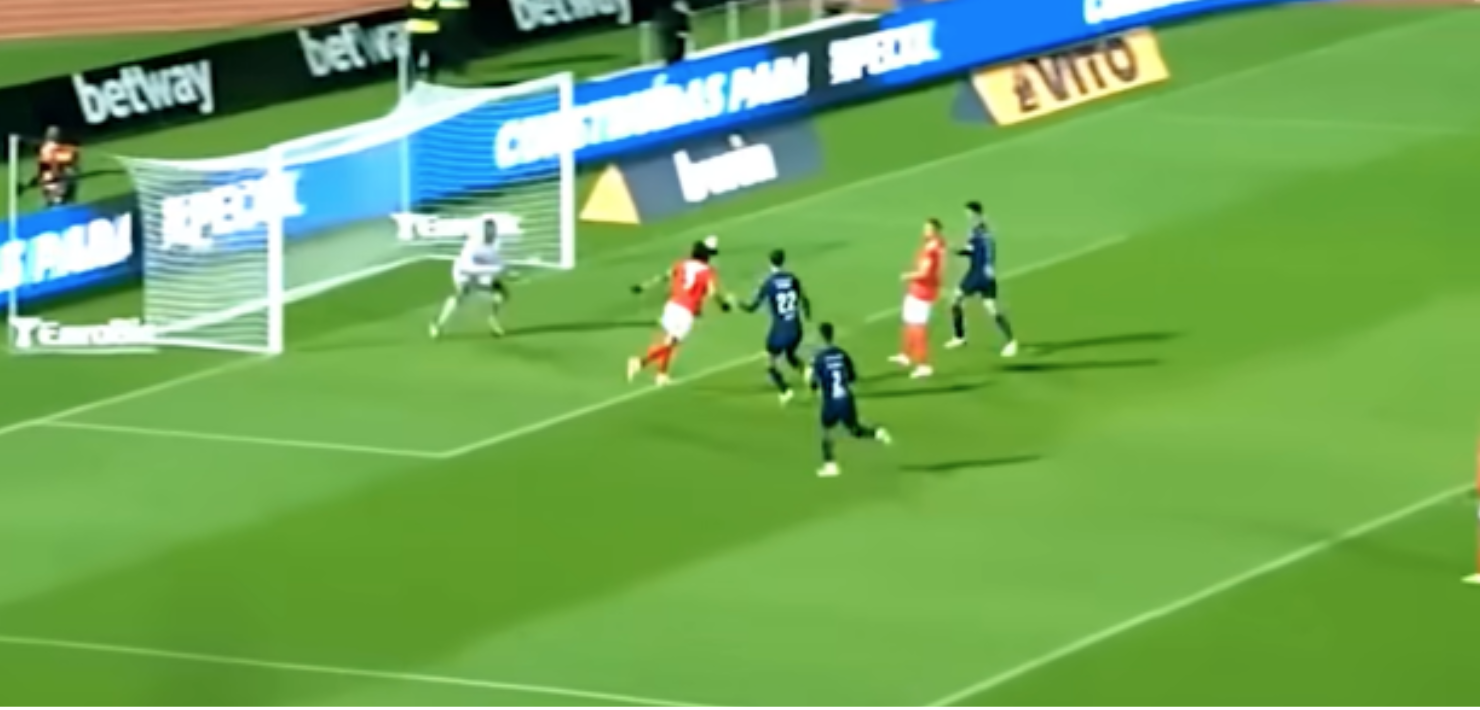 Nunez spots his teammate on the ball and immediately sets off behind the centre-back. In doing so, he gives his teammate the position to place the ball. He darts in behind the centre-back, beats the offside trap and heads it past the keeper. The first of his three goals for the game.
What you notice about Nunez is that he never tries to wrestle with centre-backs. Instead, he aims to use his clever positioning and fast movements to win headers against defenders. As I mentioned, Liverpool's main creative threats come from their fullbacks. The position of Nunez's teammate who assisted him in the frame above, is the same position that Trent Alexander-Arnold has positioned himself in all season.
With Nunez's main box movements coming from out to in from the left-hand side of the area, one can imagine many of Trent's whipped crosses landing on his head, just like he did with Sadio Mane. Only this time, you could argue the ex-Penarol youth player is much more proficient in the air than the now Bayern Munich man. A frightening prospect for Premier League defenders.
Nunez likes to drift over towards the left-hand side; in some cases, for Benfica, he has started on the left wing. Drifting to the left wing allows him to drive directly at the goal and allows his strike partners to flourish.
Even though he only obtained four assists last season, and his expected assists was 0.18 p90, he is not as selfish as you would think. When drifting into the left inside channel, he helps create space for others as he looks to drag his centre back away from the area. 
For example, in the 2020/2021 season, Benfica lined up in a 4-4-2 which saw Nunez and Haris Seferovic often play up front together. Nunez obtained 9 assists in the league and 10 in all competitions and Seferovic scored 22 league goals.
Nunez, drifting out to the left-hand side, often used his pace and dribbling to burn past whoever was defending him and would cut the ball back low across goal for his strike partner or cut it back to the edge of the box for midfield runners.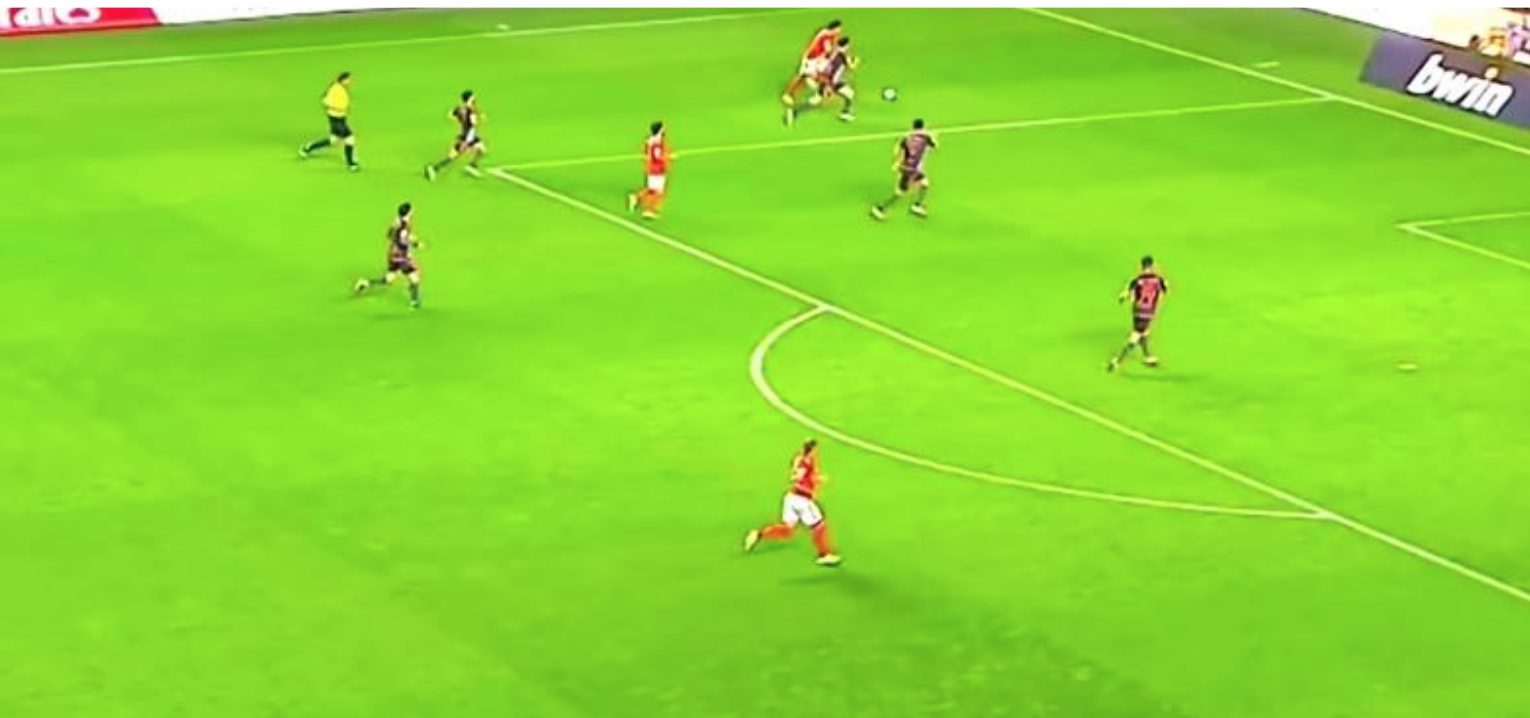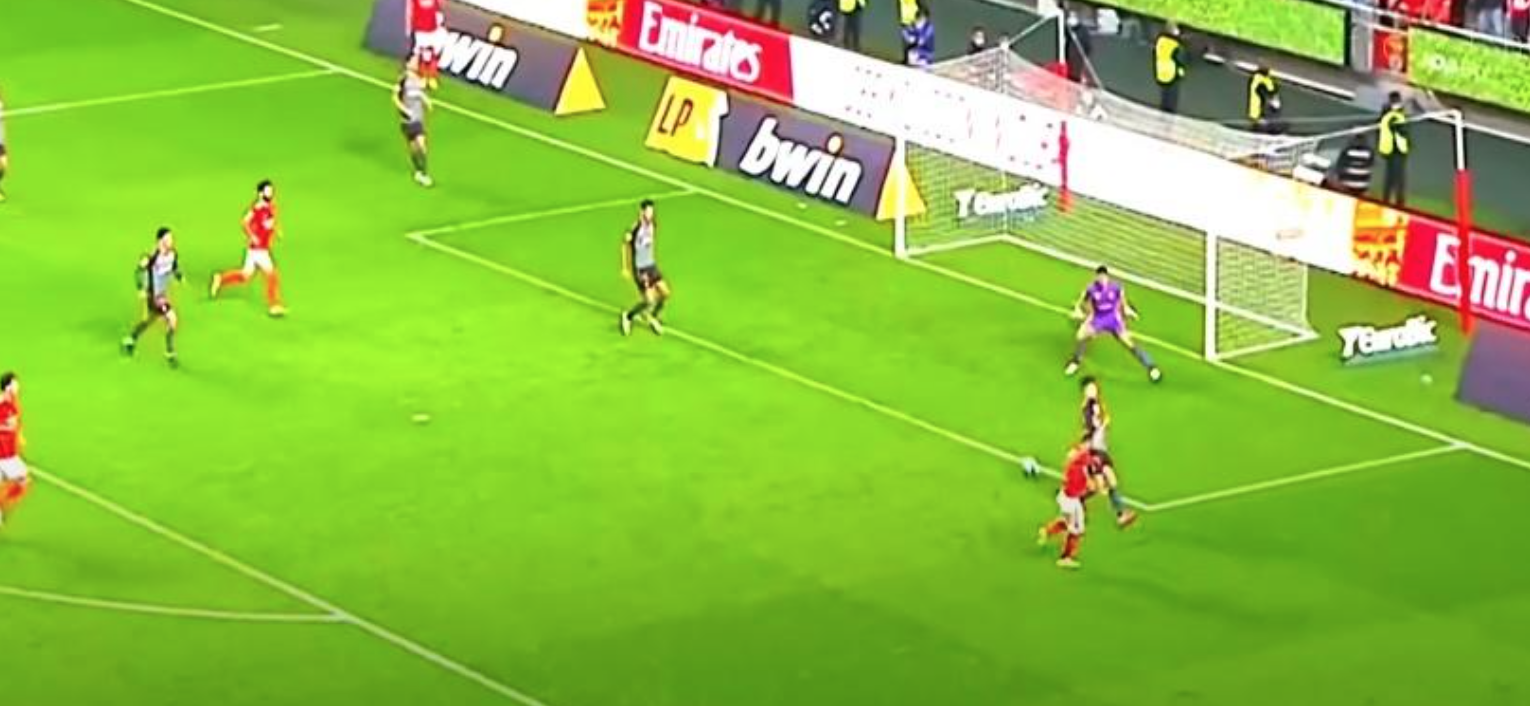 Because of his speed, Nunez can match up with any fullback and being good on his weaker left foot means he can go either way when facing up a defender. In this frame, he's going down the line to pull it back to Seferovic. Because of the quality of the ball, Seferovic doesn't have to break his stride and guides it off the far post.
In Liverpool's team, Nunez's movement and use as a wide outlet in some games would be excellent for Salah, as it'll allow him more space to operate, and he would be the main beneficiary of these cutbacks. Seeing as towards the end of last season, the Egyptian seemingly ran out of gas, having the relentless Nunez to play off and even supply him could help prolong the Egyptian's form for next season.
However, there are some weaknesses within the Uruguyan's game. As shown in the latest preseason games, his technique is not the best and can come across as clumsy. Some of his touches are loose, and sometimes, he does not look entirely in control of his actions. This translates badly in the build-up play.
His link-up play when he drops deep is very poor, due to his clumsy technique. This lack of "clean" technical ability could lead to problems when trying to link up with Liverpool's midfielders, as many teams will be looking to pounce on him as soon as he receives it and force him into losing possession.
Also, whether he can translate all his abilities to the Premier League remains to be seen. Luis Diaz seamlessly transitioned from Portugal to England, but that does not guarantee that Nunez will as there is a huge gulf in quality between both leagues. The Premier League is especially tough for strikers, as shown by the number of big money flops spent on that part of the pitch. 
Even with all of this, I still believe Nunez will get between 18-20 goals for Liverpool this season. He has too many qualities which fit this Liverpool team perfectly. With the immense physical attributes and the sheer number of chances this team provides, the chances of him succeeding in England, are high in my opinion.
Don't get me wrong; I think he'll crawl before he starts walking and will struggle at first as he acclimatises to a new country and system. But before the end of the season, I don't think we will see any pictures sarcastically comparing him to rappers.
Erling Haaland
Even though he is only 21, Erling Haaland already has world football's attention. He is universally regarded as one of the world's premier young players, alongside Kylian Mbappe. The number of records he has at such a young age is astonishing. The youngest and fastest to reach 20 champions league goals. The first teenager to score 10 goals in a Champions League campaign (2019/2020).
The first player to score 25 goals in his first 25 Bundesliga appearances. The list is endless. However, no matter his accomplishments beforehand, it is all about how he'll fare at the Etihad this upcoming season and, if anything, could partially derail what seems to be a match made in heaven.
What stands out the most about Haaland is that he is a physical freak. Not only is he 6 foot 5 inches, but he is also only insanely fast for someone his size. In 2020, a TV station clocked him sprinting 60m in just 6.64 seconds, which would have put him in the World Championship athletics indoor final in 2018. Quick is a bit of an understatement. This means on the counterattack; it's impossible to stop this human bulldozer.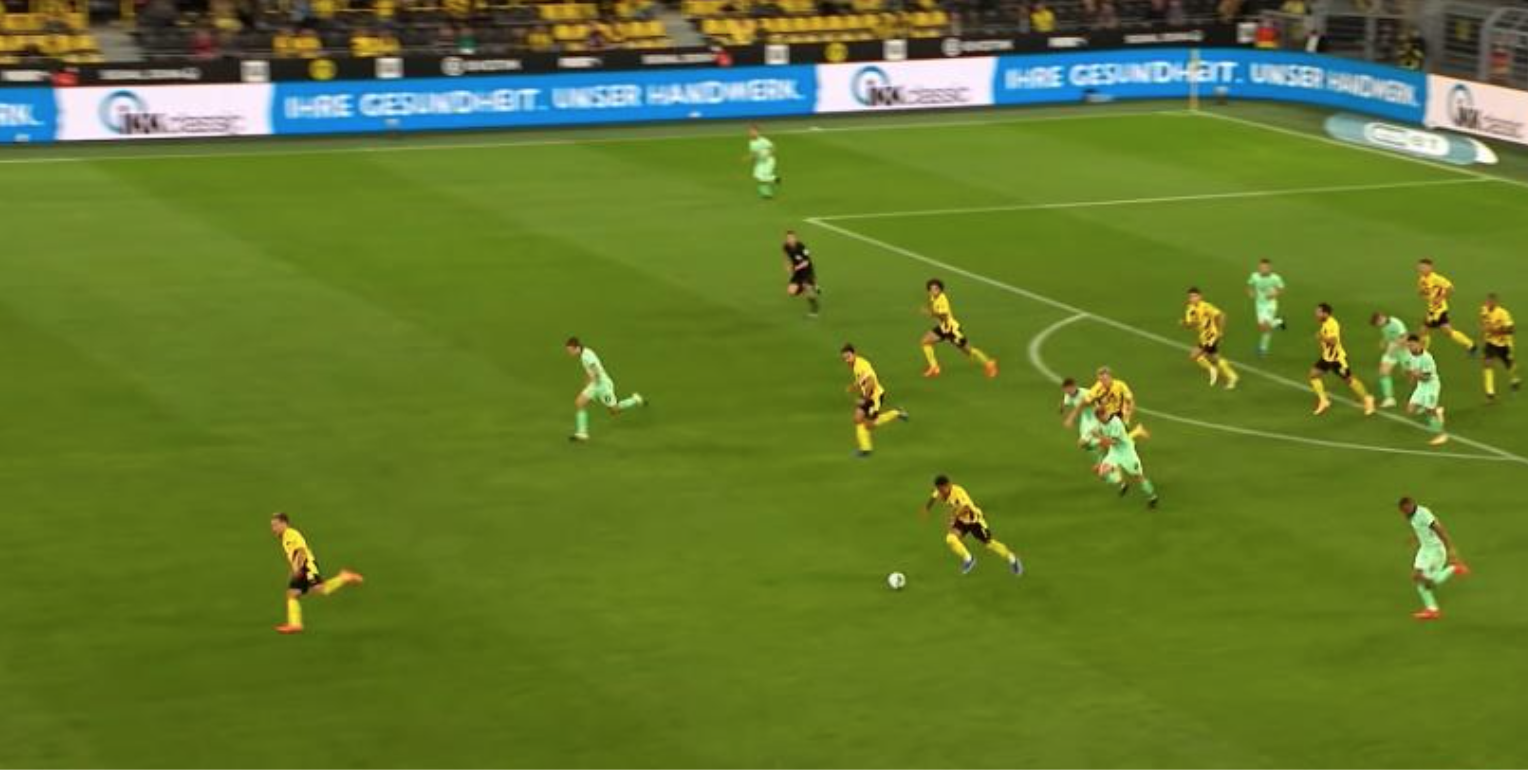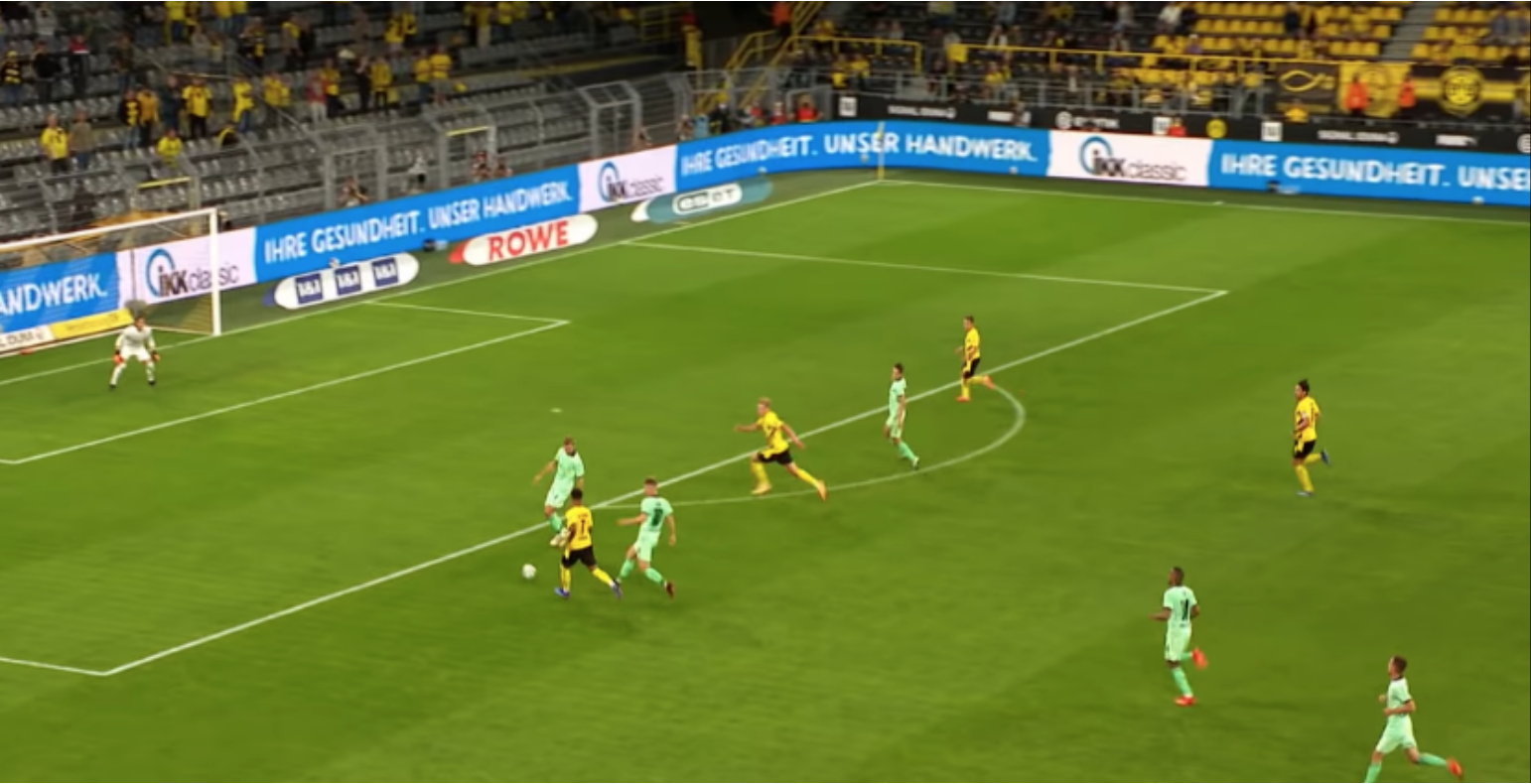 As soon as the ball is cleared from the corner, Haaland is on the charge. In this frame, he is just on the edge of his box whilst Sancho is off to the races.
Fast forward a few seconds later, we can see the Norwegian making a move between the centre-backs, begging for a through ball from Sancho. Then with a single touch, he finishes past the keeper. The definition of a box-to-box counter.
Someone with Haaland's skill set would be useful in bigger games, such as those against Liverpool and in the Champions League knockout stages. For example, in last season's semi-final against Real Madrid, City wasted golden chances in transition to kill the tie. You feel that if it were the Norwegian bearing down on Madrid's goal, we would've had an all-Premier League final instead of Madrid lifting it for the umpteenth time.
Let's break down the now ex-Dortmund man's goals whilst playing for the black and yellow. He scored a staggering 83 goals in 89 appearances. 62 of those were in the league. Those 62 came from an xG of 49. An overperformance of 13xG.
For any other person other than Messi, I would say this is unsustainable. Yet, Haaland has been performing like this weekly for three seasons straight. From this, he is going straight into a team that created the second highest number of big chances in the league with 87. A mix of Haaland's deadly finishing alongside the bundle of chances he will receive at Manchester City equals a recipe for success.
A feature of Pep Guardiola's City team has been low cutbacks across the box. Whether for wingers, strikers, or incoming midfielders, this tactic has resulted in many goals. This will be music to the ex-Molde man's ears. Over 49 of Haaland's goals have been scored with his first touch, which shows how brilliant his movement is, as it shows his positioning puts him in the best place to finish an attacking move.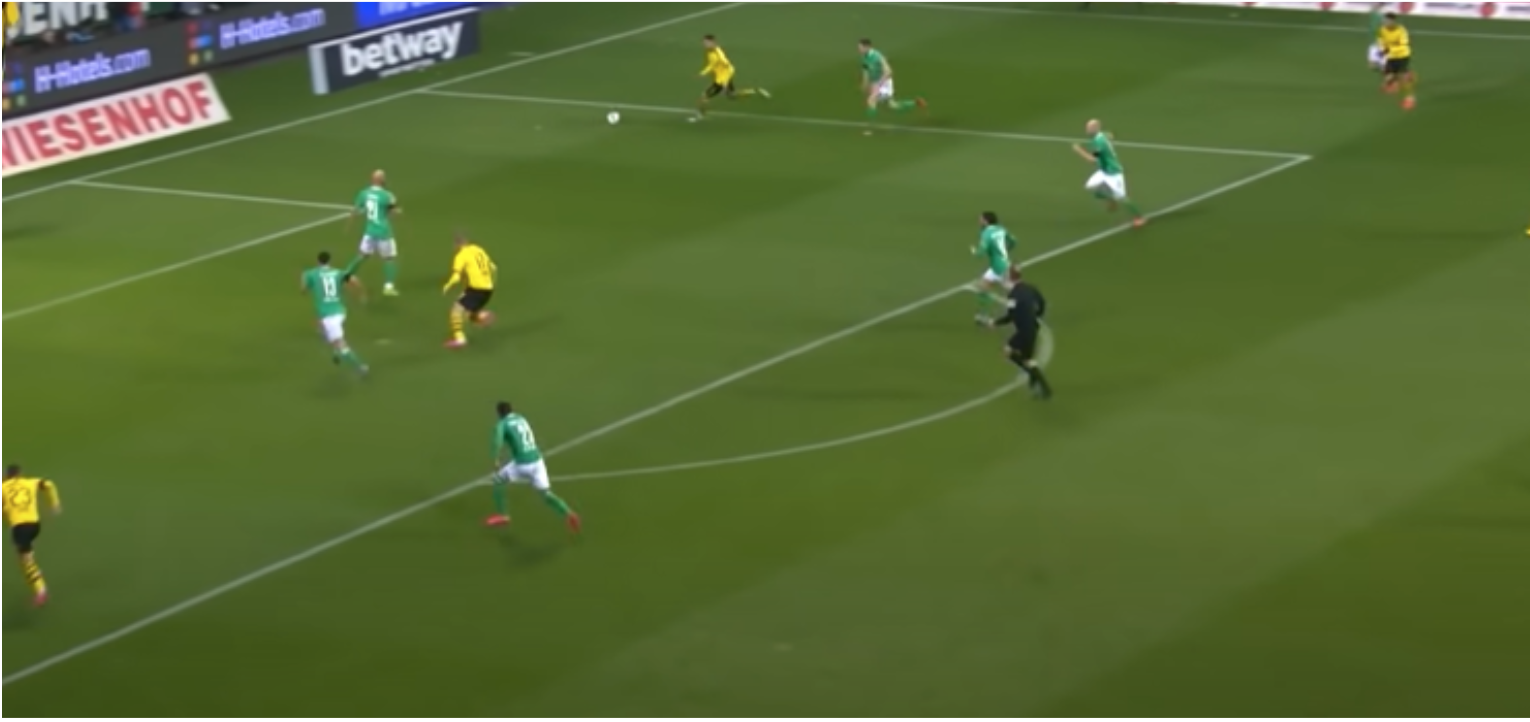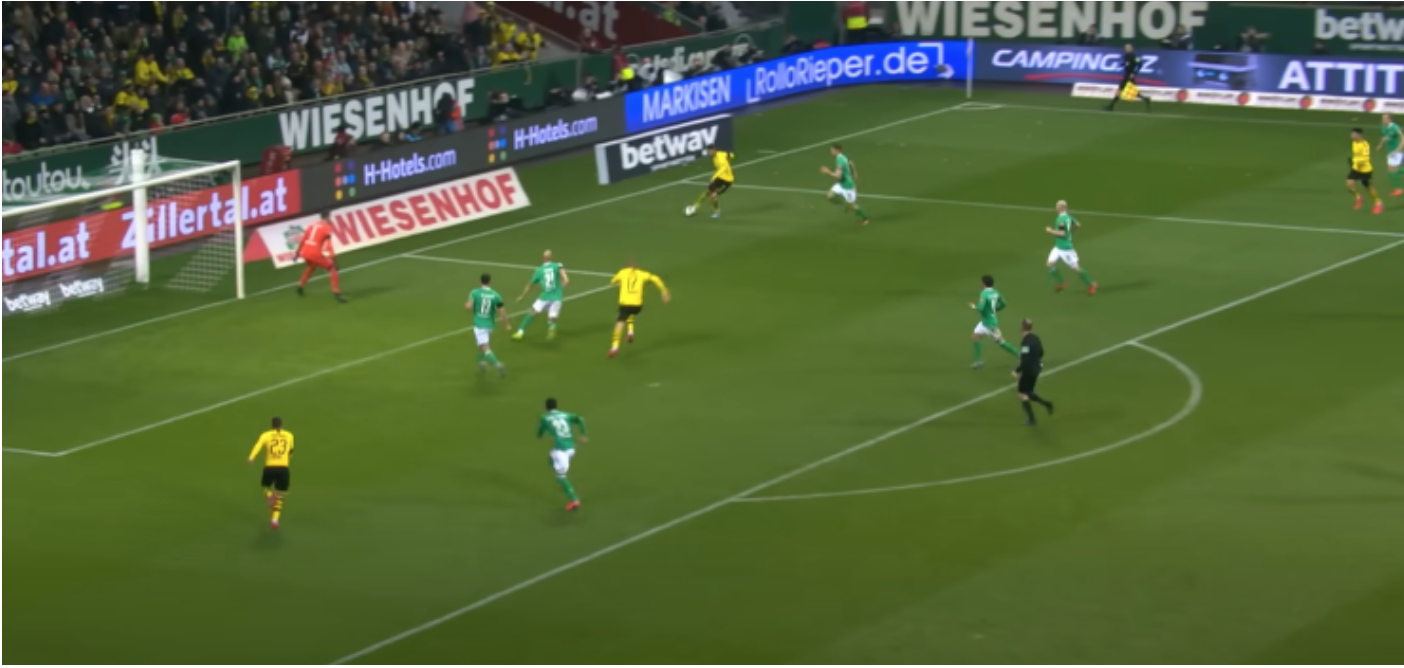 As soon as the ball is played down the right-hand side, Haaland's eyes lit up. He first accelerates towards the centre of the goal, making the defender think he is behind him. However, he soon bolts to the near post as soon as the ball is cut back. The defender is too slow to react to this change of direction, and the Dortmund man finishes off the chance with a right-footed finish. 
These attacking patterns are Manchester City's bread and butter. You can imagine De Bruyne in the right half-space creating numerous chances for Haaland in these exact situations. The Belgian created the 4th highest number of big chances last season with 16 and created the 3rd highest number of chances in the league with 87. Yet, the current PFA Player of the Year only had 8 league assists last season.
Playing with a recognised striker this season would boost the assist numbers, especially with someone as ruthless as Haaland. This De Bruyne and Haaland link-up could be, dare I say it, an even deadlier one than David Silva and Sergio Aguero. The pair linked up for over 29 goals in their time together at the Etihad, a figure that could be broken soon.
Besides Kevin De Bruyne, another player Haaland could help would be Jack Grealish. The Birmingham man has struggled to make an impact at Manchester City, with him only having three goals and three assists in the league last season. This is due to a combination of the new system and Grealish mentally struggling between sticking to this system or playing his own natural, free-flowing game.
Nevertheless, of all the players in the league who played more than 900 minutes, Grealish's rate of 0.33 expected assists in open play (i.e. not free kicks or corners) per 90 minutes is higher than anyone else, showing he wasn't as bad as made out to be. Where Haaland comes into the equation is the Norwegian's tendency to run across the blindside of the right-sided centre back.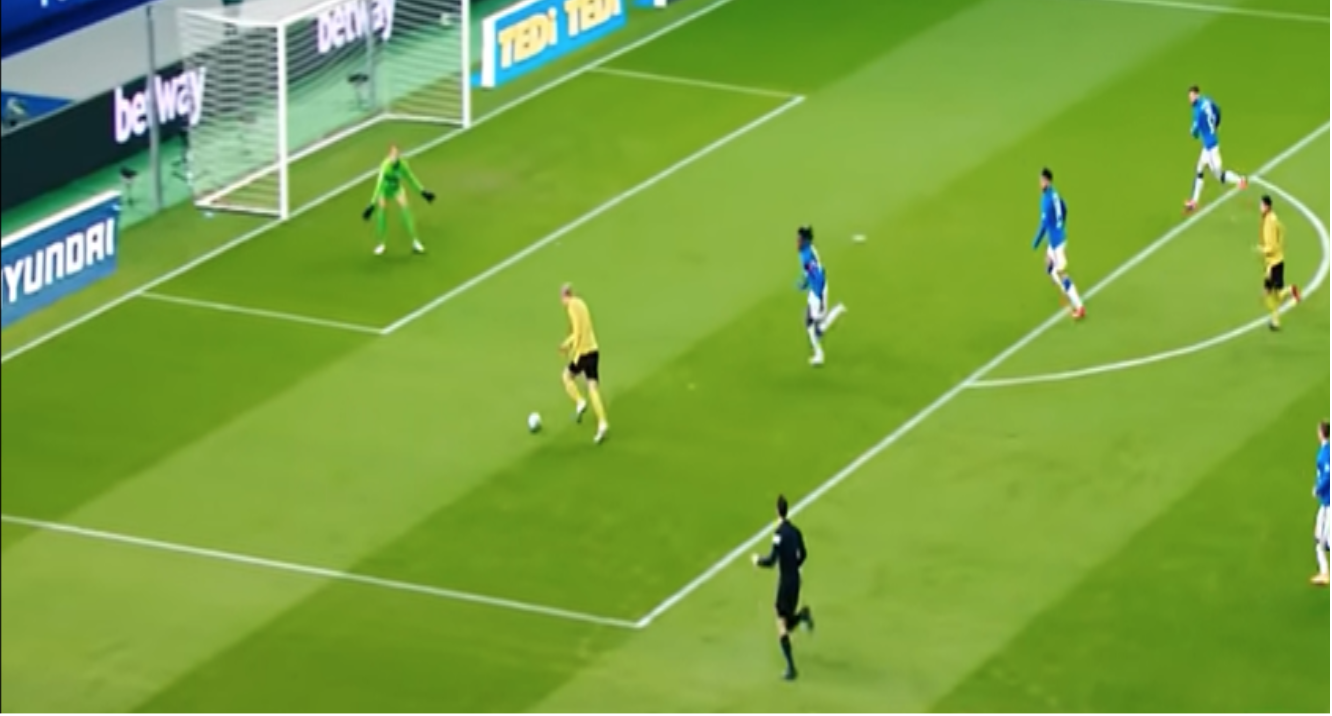 Julian Brandt has the ball here in midfield, and seeing this, Haaland immediately makes an excellent angled run in behind the Hertha Berlin Centre backs. Specifically, the right sided one.
After pausing for a while, Brandt plays the Norwegian through on goal. Due to him running on the blind side of the centre back, the defender realises too late that Haaland is behind him, on his stronger left foot. As a result, Haaland strikes it past the keeper, leaving him helpless. A textbook Haaland move.
Seeing as Grealish is deemed a left winger in Pep's system, you can imagine him cutting in on his stronger right foot and threading in through balls for City's new striker. This is something which repeatedly happened at Dortmund, with Jadon Sancho often being the one to assist Haaland.
Attackers under Pep's system tend to do much better in their second season, after getting to grips with the Spaniard's demands. This, coinciding with Haaland's arrival, is sure to help the Englishman have a much improved second season in Manchester.
Now it comes to what could go wrong. To put it mildly, Premier League fans are not the most endearing of the Bundesliga. Any time an attacker does well in Germany, the term "Bundesliga tax" is used as a slight against the league as many big money moves coming from Germany to England have failed to replicate their success so far — Timo Werner, Kai Havertz and Jadon Sancho come to mind.
Conor Gallagher: The Latest Cobham Product Who's Thriving On Loan in the Premier League
The Bundesliga is indeed a significantly more open league in which there are a lot of transitions, which no doubt has helped boost the Norwegian's numbers. Nevertheless, there have been successful moves from the Bundesliga to England. Thiago, Kevin De Bruyne, Roberto Firmino and Ilkay Gundogan have done extremely well.
After moving back to Germany, Leroy Sane has found it much harder to impact play. As Ronan Murphy, a Bundesliga reporter, said on Twitter, if we were to use stats to indicate that anyone's xG would drop by 0.07 moving from the Bundesliga to the Premier League.
That'd make Haaland's 0.64 per 90, which would be 24 goals. That would've won him the PL Golden Boot every year since 2018. So, I don't think Haaland will have any issues replicating his goalscoring form when he starts kicking a ball on these shores.
What I believe will hinder the record-breaking man is his adaptation to Pep Guardiola's system. At Dortmund and RB Salzburg, they play a very high press, quick transition game, which suited his strengths perfectly.
In Manchester, they play a very different game. They play a patient, positional, possession style of football. All the players are chess pieces, not afraid of endlessly recycling the ball to dull the opponent into a moment of weakness. This style of play will see the Norwegian's runs be ignored sometimes, and how he reacts to that will be interesting. 
Also, just like Nunez, Haaland's passing, and lack of "clean" technical ability will need much improvement. His huge 6-foot 5-inch frame makes him look quite awkward when asked to control the ball and sometimes it can balloon off him.
His passing accuracy is 72%, not a bad number, but we know from watching City over the last few years, Pep likes his number 9 to be able to drop deep and create numerical superiority in midfield. This will be out of Haaland's comfort zone and could lead to some frustration for Guardiola.
Even though he racked up 7 assists in the league last season, most of these came through transitions in which he had numerous options to pick. His progressive passing was 1.75 p90 which puts him in the 66th percentile compared to other European attackers.
A high number, but this was due to Dortmund's style of play being getting the ball forward into dangerous positions as quickly as possible. Playing for Manchester City means they will be playing against a deep block in nearly every game, so the opportunity for transitions will be much scarcer and more care of the ball will be needed. 
City has sold Raheem Sterling and Gabriel Jesus this transfer market and have yet to replace them. Even though they weren't guaranteed starters, both these players were excellent on the wing.
You could've especially imagined Sterling picking out Haaland many times on a low cutback across the box. Although, there is still a wealth of options on the wing and in midfield in the form of Bernado Silva, Kevin De Bruyne, Riyad Mahrez, Jack Grealish and Phil Foden, so this is only a minor issue for now.
The main thing which could derail the unstoppable Norwegian is his injury record. He missed 16 games last season through three separate injuries and is currently injured. He's always occasionally picked up little knocks, but it seems like those injuries are becoming a regular occurrence.
If these knocks continue to become more consistent next season, it will be hard for the striker to get into a rhythm. This may disrupt his first few months playing at the Etihad. Even with these issues, I still feel Haaland will fit City like a glove. He is the final piece needed for their jigsaw.
Manchester City have already conquered England enough times, and you could argue they should have already won a Champion's League, considering how much they have spent. But with the signing of Haaland, it seems like old big ears are what they are gunning for. I predict the Norwegian will score between 25-30 goals this season. If it weren't for the injury worries, I would have said 30+, which tells you how much confidence I have in him.
There's my rundown on, undoubtedly, the Premier League's two biggest signings this season. I expect both to be significant parts of England's two biggest teams; and ultimately considered successful singings. But overall, I think Haaland will score more than Nunez. Shock, I know.
However, the combination of having been a consistent goal scorer for a more extended period and jumping into the most dominant domestic side in modern Premier League history, who don't have a nine by the way, gives him the edge.
Even the most failsafe signings have been disappointing, who knows if this will be another one of them. All I do know is that the upcoming season is shaping up to be one of the best we've seen in years, and doubtlessly, these two young stars will be taking centre stage. 
By: Abu Yasin / @abuy2j
Featured Image: @GabFoligno / Martin Rickett – PA Images / Andrew Powell / Liverpool