How Swan Songs Are Meant to Be: Baggio's Brescia Brilliance
The magic of Roberto Baggio was his timeless nature. He transcended eras, starting in the rough and tumble of the 80s – a decade dominated by the blissful freedom of the number 10 – hallmarked by Diego Maradona, Michel Platini and Gheorghe Hagi amongst others. A period Baggio was all too happy to cut his teeth in.
He took his genius into the 90s; moving on from Fiorentina to great fanfare at Juventus, AC Milan and city rivals Inter – squeezing in a stellar season with Bologna and earning just shy of 50 caps for Italy all the while.
The 1990s was his decade, as Italian football sought to keep pace with the evolution of the English Premier League, he took the mantle of the nation's poster boy and the face of the much famed Football Italia. As Italian football ruled the world, he was the country's king.
Then after a decade that saw him reach the highs of a Ballon d'Or, then hit the lows of a missed World Cup Final penalty, the divine ponytail sauntered into the 21st Century as the 4th best player from the previous.
At the age of 33, he found himself without a club following the expiration of his contract at Inter, as disagreements with Marcelo Lippi clouded his second coming at San Siro and ultimately ended his time in Milan.
Clubs at home and abroad queued up; Manchester United and Barcelona supposedly held interest, as well as an ambitious Blackburn Rovers side, while clubs in Japan offered lucrative deals in an attempt to lure the Italian – with Buddhist beliefs – to the east ahead of the 2002 World Cup.
Ultimately, it was to be that tournament that made up Baggio's mind, but he instead chose to stay under the microscope of Italy rather than drift away into foreign obscurity to heighten his chances of going to a fourth World Cup.
Brescia was to be his latest home; a quaint City in the north of the country based in the region of Lombardy, with a football club looking to survive in Serie A following promotion. They had been here before, but three relegations during the 90s followed a theme of consistent yo-yoing for Le Rondinelle – they hadn't spent consecutive years in the top division since the 60s before Baggio arrived.
Armed with baggy shirts, the iconic mullet and a solitary earring, Baggio was instantly handed the number ten shirt and assumed the captaincy of his new side, but things started slowly. He failed to score in his opening ten games as Brescia won just one of their first 12, before the Italian found himself sidelined for the next seven games with the first of many pesky injuries. 
His return, though, was typically stellar. It took just four minutes for Baggio to open his account, as he bundled home a scrappy goal against Fiorentina which paid homage to the tenacity he showed during his five seasons at La Viola in the 80s – battling back from a serious knee injury to light up the division.
Baggio's old side managed to turn the game on its head soon after and took a 2-1 lead, before Roby showed the other side of his game, floating home a piledriver of a free-kick which smashed the crossbar on its way in to earn Brescia a share of the spoils – there's a reason he had a whole free-kick game named after him.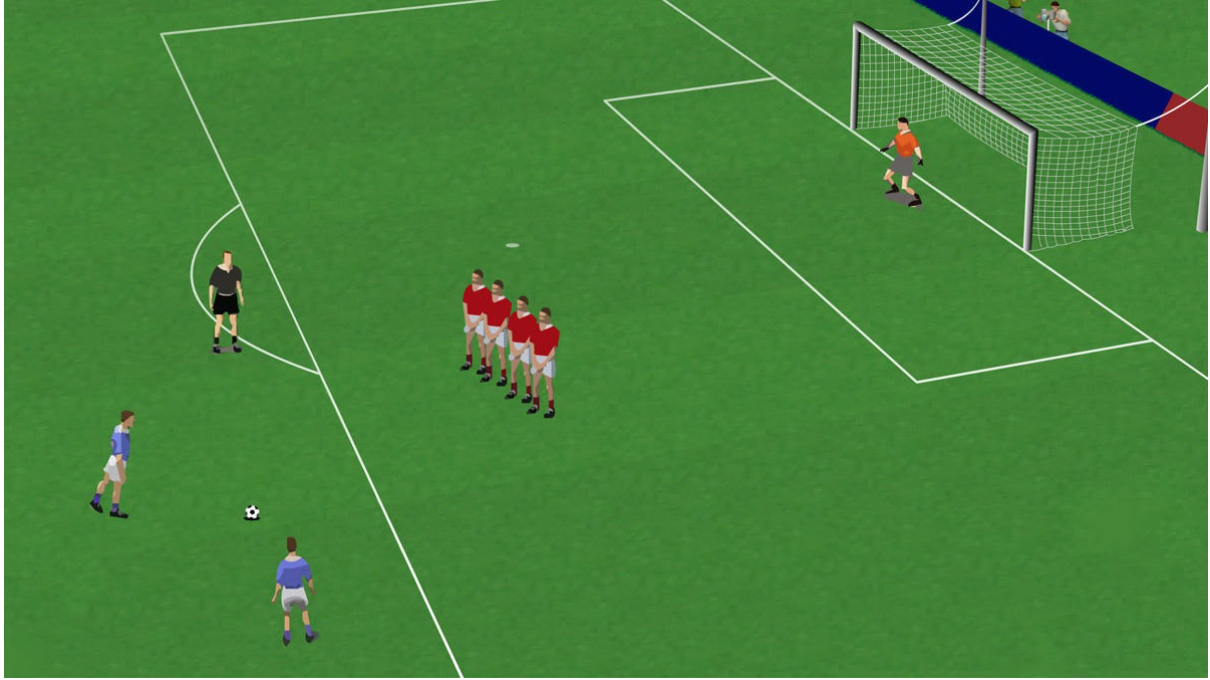 I had to jump back on it, of course, but entirely for research purposes.
Despite those heroics, il Biancazzurri slumped to three consecutive defeats thereafter and drifted into the relegation zone. Serie A was brutal at the time; an 18-team league with four (!) relegation places, meaning only the fittest swam and Brescia were sinking – but one moment changed all of that.
They traveled to another one of Baggio's former playgrounds to take on the might of Juventus, knowing their hosts were hunting down a first Serie A title in three years and were fresh off the back of eight wins from their previous ten games.
The Biacnconeri predictably took the lead through Gianluca Zambrotta after just half an hour, but Brescia hung in there to keep the score within one heading into the final moments. A fresh-faced, 21-year-old Andrea Pirlo picked up the ball in the centre circle, lofting what would become a trademark dink over the top of the Juve backline to find the boot of Roby running full speed.
Over his shoulder it came, as Baggio brought it down with all the elegance of a man who made a mullet and goatee look cool for well over a decade, taking it around a dumbfounded Edwin Van der Saar with his first touch – tapping the ball into an empty net in one graceful motion.
In the pantheon of great Roberto Baggio goals, this was surely his best ever, at the very stadium where he was once crowned the greatest footballer on the planet. It was poetry from football's very own Shakespeare. Bellissimo. 
A History of Match Manipulation and Deliberate Underperformance in Football
That goal changed the course of Brescia's season. From then, they remained unbeaten for the final ten games of the campaign as Baggio netted in six consecutive matches, honing in his ability to score every type of goal imaginable.
Overall in 2000/01, he netted ten times, consisting of three penalties, three direct free-kicks (over the course of just eight games), and he even bagged directly from a corner during a hat-trick at home to Leece. He carried Brescia on his back to an unprecedented 8th place finish – their highest-ever standing in professional football – and a place in the Intertoto Cup.
While not a major trophy, they still enjoyed the ride and made it to the final of the summer competition – losing on away goals to Paris Saint-Germain during the two-legged affair, as they geared up for consecutive Serie A seasons for the first time since 1966. 
The side and their star picked up from where they left off in the previous campaign; losing just one of their opening eight games in the division with Baggio scoring as many from a striker role – including a hat-trick against Atalanta, his second in just eleven games.
During a home draw with Chievo Verona, Baggio scored one and assisted another as Brescia fought from behind twice to earn a 2-2 draw. But most significantly, it was the first time he linked up with summer arrival and Andrea Pirlo replacement Pep Guardiola, as the Catalonian anchored the midfield before he was replaced by Luca Toni after the hour mark.
Redemption and Recognition – Andrea Pirlo and the 2000 Euro U-21s
Sadly, both superstars' seasons would be heavily disrupted: Baggio suffered an ACL tear, the latest in a long line of setbacks he suffered to his knees during his career, while Guardiola was the subject of a four-month doping ban for his use of Nandrolone (an accusation he was subsequently cleared of twice).
Both missed a large chunk of the middle of Brescia's season which saw the side plummet down the division. Baggio returned for just over an hour in a victory over Leece in January, but they were the only minutes he played between October and April.
His eventual comeback came against Fiorentina – the side where he truly made his name not just in football, but originally at Brescia. He again scored twice, this time to seal a 3-0 win and put his side on the brink of survival.
A 5-0 defeat to Juve followed, before he put the gloss on a 3-0 victory over Bologna on the final day to ensure Brescia's survival by a single point. Despite playing just thirteen Serie A games, a 34 (going on 35-year-old) Roberto Baggio bagged eleven and assisted a further two – totaling a goal involvement every 67 minutes. 
Despite all of this, the injuries and competition for places meant Baggio didn't achieve his dream of reaching a fourth World Cup, snubbed by Giovanni Trapattoni in favour of the likes of Christian Vieri, Vincenzo Montella and Alessandro Del Piero.
Francesco Totti and the Eternal City – How Rome's Prodigal Son Bought the Scudetto Back to the Capital
But despite this firepower, Italy still crashed out of the tournament in the Round of 16 following a controversial encounter with South Korea. Baggio intended to retire following the competition, but it rekindled a fire inside Roby and – as luck would have it – his injury trouble subsided during 2002/03.
He featured 32 times in Serie A – netting a further 12 goals and while half came via penalties, he still left room for some Baggio classics. A delightful glancing header into the top corner against Parma was the only non-penalty goal of his first half dozen, before he netted a delicious first-time volley on the run in a 4-1 win over Piacenza.
A trademark free-kick versus Modena and a sumptuous half-volley against Lazio followed – but his goal in a 3-0 victory over Atalanta was the pick of the bunch. He slid fellow Italian hero Luca Toni through to the right of the box, the big frontman did well to fight off the attention of two La Dea defenders to knock the ball back to Roby.
Without breaking so much as a sweat or his stride, Baggio dinked an impudent first-time chip over none other than Massimo Taibi from the edge of the area, watching as the ball nestled into the upper echelon of the goal to double Brescia's lead.
He may not have knocked in a dozen worldies, but he helped to confirm a 9th place finish and Serie A survival again – claiming a fourth consecutive top-flight season for the first time in the club's history. His next was to be Baggio's final season – a year many Italian football fans would have feared for over two decades, the day il Divino Codino finally called it a day, with his last hurrah not one to be missed.
Florin Răducioiu and Stevan Jovetić – Football's Unlikely Journeymen
Goals against Leece, Inter and Ancona underpinned his delightful double against Sienna before he joined the exclusive 200 club in Serie A – round off his second century of goals with a majestic run and finish against Udinese, as his teammates took off their shirts in celebration of Roby's achievements.
He became just the fifth player to reach the landmark behind José Altafini, Giuseppe Meazza, Gunnar Nordahl and Silvio Piola, with only Antonio Di Natale and Francesco Totti to do it since – a true hall of famer.
He belted home a worldie brace versus Acona next, with a gem of a free-kick against Udinese preceding another against Perugia, and his final Serie A goal against Lazio. He collected the ball inside the area before jinking a challenge, and firing an unerring shot beyond Angelo Peruzzi – leaving the shot-stopper motionless as he wrapped up a final three points for Brescia.
Baggio raised his arms aloft – perhaps the most fitting celebration for the most idolic of players, statuesque as he awaited the gratitude of his long-admiring teammates, and forever-adoring fans. This took him to his final game – fittingly a trip to San Siro to face AC Milan, a stadium which houses two of football's giants, and a duo of his former employers.
He entered the field to rapturous applause from all four sides of one of the sport's great coliseums, as waving flags met clapping hands with all rising to see the ultimate Italian star bow out. Brescia found themselves 4-1 down, but Baggio produced one final moment – laying the ball into Matuzalém's path for him to fire home a terrific volley.
Soon after, Baggio was replaced, embraced by Paolo Maldini as he left the field to another standing ovation. On a pitch that contained the likes of Cafu, Kaká, Rui Costa, Fernando Redondo, Clarence Seedorf, Alessandro Costacurta and many more – he was undoubtedly the biggest superstar, and the greatest to do it from a nation of terrific footballers.
He received handshakes and praise from both benches after leaving the field, as his dynasty of dominance reached its denouement – 663 games, 304 goals and 108 assists later.
All told, he played 102 games for Brescia, scoring 46 goals (including seven free-kicks) over four seasons – netting double digits in each to become the club's leading Serie A bagsman, and their 7th highest overall. His impact is best defined by Brescia's struggles since – relegated in the first season without Roby, marooned in Serie B for five years thereafter and still yet to taste back-to-back seasons in the top flight. 
Zinedine Zidane once said he never understood a team in which Baggio featured on the bench, Pep Guardiola said he was the best he ever played with and told Lionel Messi so, Carlo Ancelotti remarked not signing him was the biggest mistake of his career, while Ronaldo stated he was the greatest of all players. Roberto Baggio's career was less a poem but more a novel – full of twists and turns, but a thriller all the way and a story which ended as strongly as it started. 
While some players drift away to the leagues with the big cheques or the teams without a soul, Baggio galvanised a club that will love him for forever and a day as he consolidated his status as a bonafide Serie A legend and footballing icon.
Baggio carried a team to heights they'd never seen before and haven't seen since – retiring the number 10 shirt in his honour – forever engraving the time where this small industrial town had a truly special tale to tell.
By: James Pendleton / @Jpends_
Featured Image: @GabFoligno / Alessandro Sabattini – Getty Images