Tactical Analysis: Zinedine Zidane's 2016/17 Real Madrid Side
Zinedine Zidane was one of the greatest players of his generation. Now, he strives to be the greatest tactician of this generation.
Guy Lacombe, Zidane's mentor and former coach said that, "What Zidane did already have was the sense of the collective. He made other players play well. He used to solve problems on the pitch intuitively because he was so good, but he also got the best out of his less talented teammates. Now he needs more than intuition, but he has this intimate skill to feel the collective thinking of the team. He has always understood other players."
Zidane's philosophy was clear. He said, "I want my team to play, spread the ball, build from the back and keep possession". But, for your setup to work with maximum efficiency, you need the right profiles and sometimes you don't get those players. How the coach adapts then, is the true definition of a master tactician and Zidane showed signs of that from his Castilla days.
The possession-oriented setup wasn't working and Castilla won just one of their first six games, losing 2-1 on the opening day in a Madrid derby defeat at Atletico B, as Zidane struggled to find his best team and a tactical structure that suited his players.
Zidane then decided to switch from a possession-based setup to a more direct, more efficient setup that would work best with the players he had. Switching to a direct 4-2-3-1 was a masterstroke as Castilla went on to collect 37 out of 48 points from the remaining fixtures post-October.
Rafa Benitez has just been sacked by Real Madrid, 6 months after appointing him as head coach in the summer. Zinedine Zidane was promoted from Castilla to replace Benitez as head coach. People were surprised at first when Zidane was given the head coach role because you don't expect a club like Real Madrid to appoint a coach with zero first division experience.
Zidane had been working since 2013 for this moment and attending Pep Guardiola's training sessions at Bayern, Marcelo Bielsa's coaching seminars and working on his UEFA Pro License. In his first press conference, Zidane emphasized introducing an 'attractive attacking style' with possession and speed as the main principles of his team. He prioritized ball retention more than anything and for that, you need to get your ideas across to the players very carefully.
Their positioning, their decision-making, everything needs to be perfect for a possession-based setup.  When Gareth Bale, Karim Benzema, Cristiano Ronaldo were fit and cleared to play, Zidane used his 4-3-3.
Sergio Ramos is arguably the greatest center-back of his generation. Boasting a superb passing range, able to read defensive situations better than almost everyone, a natural leader and a goalscoring threat at the other end as well, with a player like him in the first line, the build-up was easy since he was comfortable with the ball.
Toni Kroos, Casemiro, Luka Modric, the famous midfield trio was the backbone of Zidane's Madrid. 2 elite phase II controllers like Kroos and Modric with Casemiro, a physical presence in the middle who also had a decent passing range, to circulate the ball and make sure, Madrid is able to retain possession.
When Ramos had the ball, both the fullbacks – Marcelo and Dani Carvajal would push high and act as wide outlets if the opponent has overloaded the centre and made central progression difficult. Kroos and Modric having played advanced roles earlier in their career where they operated in tight spaces and had to act quickly, had no problem receiving under pressure in phase I and progressing the ball.
The Austrian Wunderteam: The Greatest Team You Don't Know About
Casemiro on the other hand, even though he had the physical attributes to resist pressure while carrying the ball was identified as a weak link in the build-up phase for Real Madrid. A pass into Casemiro deep in Real's half was a pressing trigger for the opponents and led to several dangerous turnovers.
To counter that, Zidane instructed one of Kroos/Modric (mostly Kroos), to drop deep and form a double pivot to provide an extra option and make progression easy. You must have noticed how Kroos dropped outside the block and occupied the left back space sometimes during build-up.
With his passing range, giving him time and space with the ball is something the opponents couldn't afford. Kroos had the ability to resist the opponent press by playing 1-2s around them, dribbling if needed, playing a cross-field pass and overloading the ball side press to give his teammates an extra option. He was just phenomenal.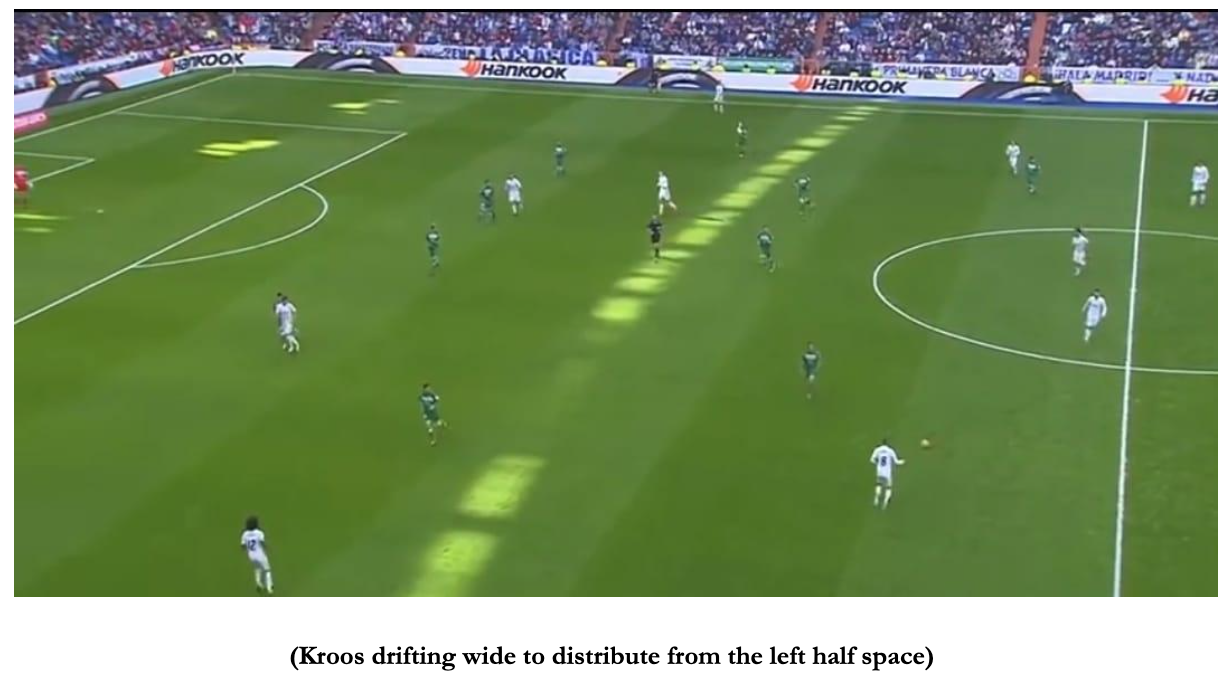 Marcelo and Carvajal had the freedom to push high and attack since they had Ramos and Varane covering the space behind them and having Modric, Kroos and Casemiro defending space with their elite sense of anticipation. Marcelo most of the times would hold width and let Ronaldo drift inside towards the left half-space to combine with Benzema. Carvajal on the other flank, operated according to Bale's movements.
Gareth Bale was a textbook pace and power winger and he could hold width and use his pace to drive forward, cross the ball or he can cut inside and use his left foot to create/score. If Bale decided to hold width, Carvajal would drift inside and occupy the right half space and if Bale decided to cut inside, Carvajal overlapped and offered width.
"Isolate to overload"- a principle Zidane used in his possession-oriented setup. We have already discussed about Kroos dropping deep and drifting wide to help progress the ball. When the ball reached the final third, Ramos instructed everyone to push high and help the forwards sustain pressure.
In this case, Marcelo-Cristiano-Kroos would form a triangle with Marcelo and Cristiano rotating according to the situation and once they had forced the opponent block to shift across, Kroos would switch the ball to the right side effortlessly where Bale and Carvajal have a potential 2v1 scenario.
Most of Madrid's attacks were left sided- 38% which demonstrates the importance of that left sided trio of Marcelo, Cristiano and Kroos. As the ball was switched, Ronaldo, Benzema and at times even Marcelo would make runs into the box to get on the end of a cross from the right flank.
Modric was able to execute the same pattern from the right side as well and so it was exhausting for the opponent block to keep shifting and making sure there are no openings to break their lines.
Karim Benzema is a very rare centre forward. Finding a similar profile in the modern game is difficult. His mobility was very important for Madrid's actions in the final third.
If the block was compact and Madrid was struggling, he would drop deep, drift wide, disrupt marking and pressing schemes, create numerical advantages and he was not worried about leaving the box empty since, Ronaldo and Bale were both filling in and were capable of beating almost everyone in an aerial duel in case of a cross.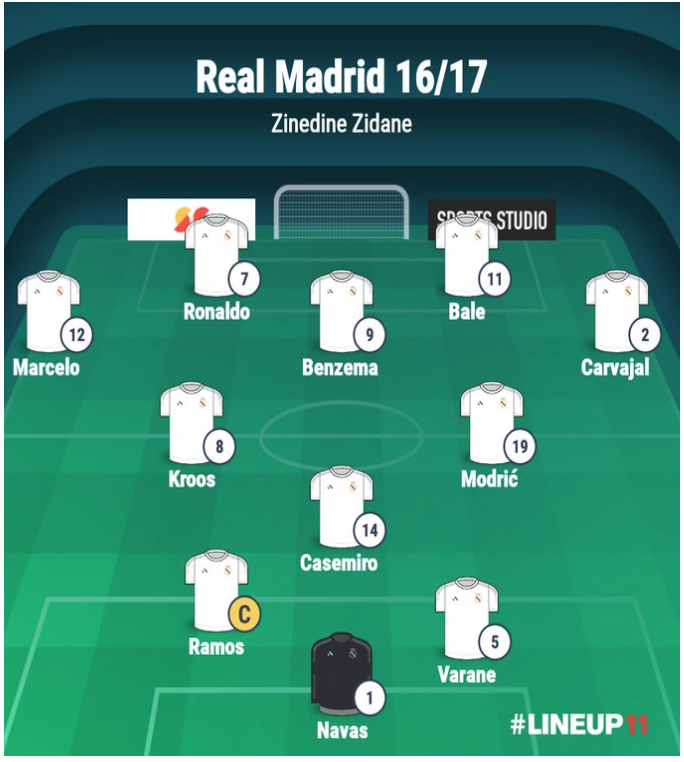 Gareth Bale was injured for long spells during the season and Zidane had to adapt. He came up with the perfect solution to replace Bale with Isco and give him a free role, to move around, create superiorities and help sustain pressure in the final third. With this change, Madrid had a numerical advantage in the middle (4v3)/(4v2) and this helped central progression.
Earlier we discussed how Benzema would move around and create wing/central overloads. This was now Isco's role. Constantly drifting across, mainly towards the left, creating overloads with Marcelo, Cristiano and Toni Kroos. Most of Madrid's attacks were created from the left half-space with Isco, Ronaldo and Marcelo occupying this zone during their positional rotations.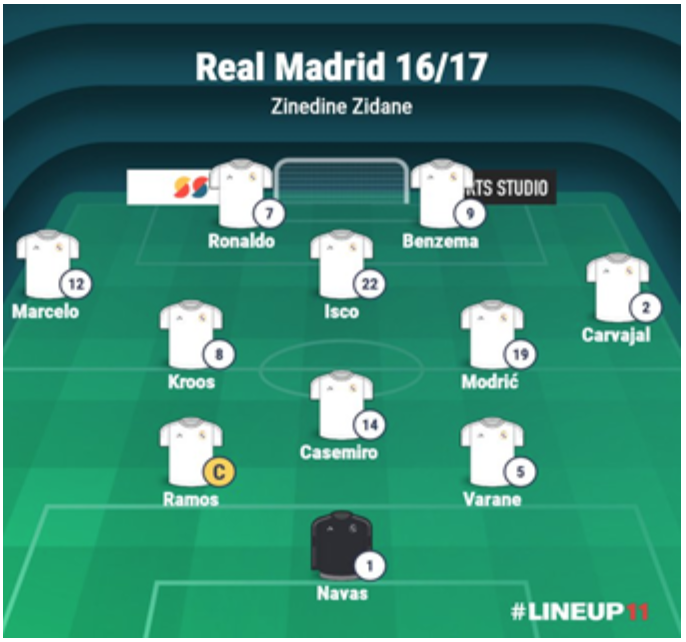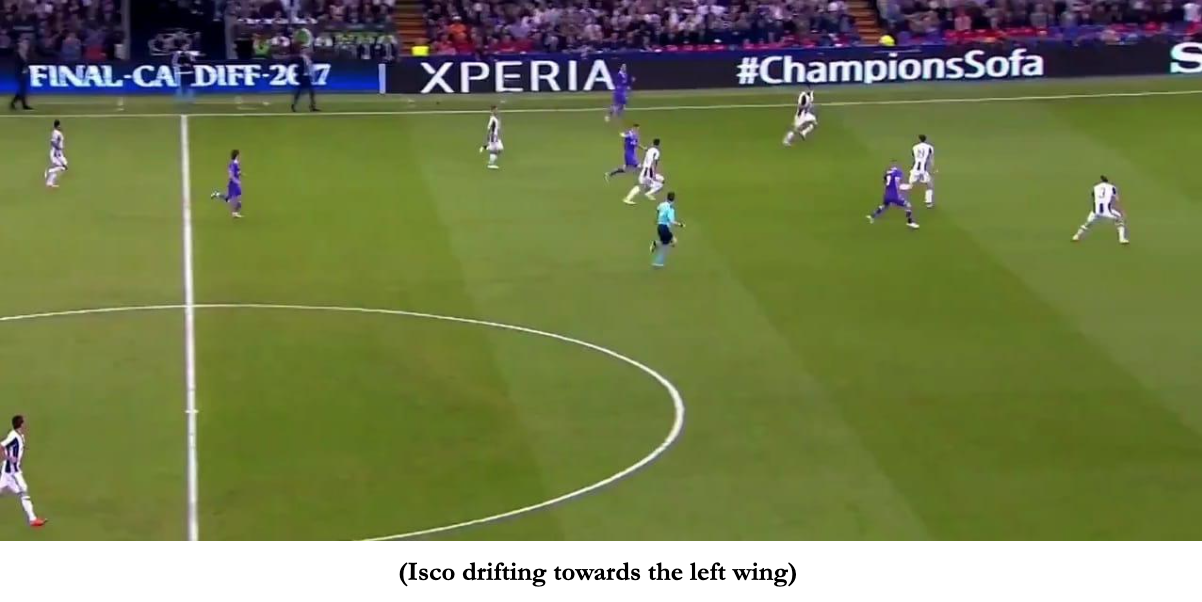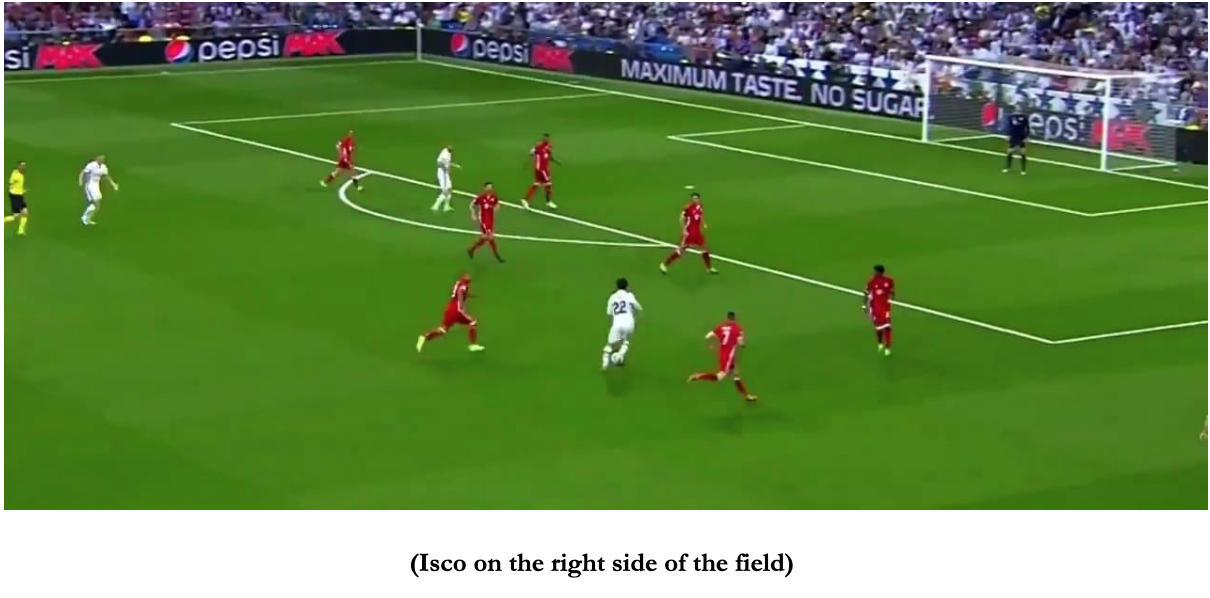 Zidane in his first season was criticized for his off-the-ball setups. Playing Kroos as a #6 with Isco and Modric and also letting him drift wide during build-up was causing problems since the centre was vacated and opponents could look to create chances using that space.
Having midfielders close ensures safe ball circulation but also gives opponents spaces to attack. Zidane then decided to stick with the midfield trio of Kroos, Casemiro and Modric. With their positional sense and intelligence, they could read the opponent's next move and were prepared to counter them through pressing or blocking passing lanes.
When Madrid lost possession in wide areas, they had about 5 players in that zone, ready to counter-press. Kroos and Modric were very important since they had to make sure, they were in the place at the right time because both the fullbacks were high and wide which could've led to a transition if they failed to execute a successful counter-press.
In case of a successful counter-press, the opponent recycled possession and decided to build patiently. Zidane then instructed his side to drop into a 4-1-4-1/4-5-1 mid-block with situational marking and pressing. Bale would sometimes drop to form a midfield 4/5 but Ronaldo at times, was left sided and high creating an asymmetric 4-4-2.
Analyzing Jupp Heynckes' Treble-Winning 2012/13 Bayern Munich Side
When Isco was in the lineup, he dropped and formed a midfield 4 with Ronaldo and Benzema upfront in a 4-4-2 mid-block.  Having players like Ronaldo, Benzema and Bale in the XI was an asset since you could always create quality chances during transitions with a world class midfield behind them. This was the 'unpredictability' that Zidane's Real Madrid possessed and what separated them from the rest of the elite clubs that season.
Zidane in his first season won the UEFA Champions League but finished 2nd in the league by 1 point behind FC Barcelona having taken over from Benitez mid-season when the club was 5 points behind FC Barcelona.
In his second season, he wanted to challenge for every trophy and for that, you need a solid rotation policy to make sure, your best XI is fit for the big games towards the end of the season.
Real Madrid had a very good squad in 16/17 with players like Isco, James Rodriguez, Marco Asensio and Lucas Vazquez filling in for the rested players and they performed really well. They played a key role in Madrid winning LaLiga that season like Isco scoring a brace away at Sporting Gijon with a winner in the last 10 minutes to secure all 3 points for Zidane and Real Madrid.
One of the greatest footballers of all time, the finest goalscorer in the history of the game, Cristiano Ronaldo was the first name in Zidane's XI. Over the years, we've seen Cristiano Ronaldo go from an out and out winger to an inside forward with freedom.
Earlier he used to pick up the ball in wide areas, dribble, cross, score. Now he initiates attacks from the left half space and as I mentioned before, the wide overload created by Marcelo, Kroos and Ronaldo, used to end up in Ronaldo cutting inside from the left half space, trying to create/score.
Boavista and Os Belenenses: The Glorious Exceptions to Portuguese Football's Oldest Rule
With age, his dribbling ability might have declined but his game intelligence has only evolved. Positional awareness, decision making, providing tactical advantages in every phase of the game. His off the ball movement, diverse finishing skills with which he was able to score from difficult angles, his heading ability and his ability to score from range was a huge asset for Zidane.
Having someone like Ronaldo in your team gave Zidane several ways to break the opponent down. If they're finding it difficult to break the lines and create openings, you can always go over the blocks with a direct threat like Ronaldo. In LaLiga, he scored crucial goals against Sevilla, Celta Vigo and Malaga in the last 4 matches, leading Madrid to their 33rd LaLiga.
In the UEFA Champions League 2016/17, Cristiano Ronaldo scored 10 Goals in the Knockout Games: Brace vs Bayern(A), Hattrick vs Bayern(H) in the Quarter Finals, Hattrick vs Atletico Madrid(H) in the Semi Final and a Brace in the Final against Juventus in Cardiff.
This goalscoring run helped Real Madrid win their 33rd Laliga and 12th Champions League, "La duodécima". When Zidane needed someone to step up, he always had Cristiano Ronaldo, who would deliver against the odds and help Real Madrid win games.
Real Madrid ended this spectacular season with a 4-1 win against Juventus in Cardiff. How Zidane set up to counter Allegri's Juventus? Let's have a look.
Zidane has always emphasized on safe ball circulation before finding the right opening to create progressions and breakthroughs. This pushes the opponent deep and as a result Real is able to circulate the ball deep inside the opponent's half with the technical quality and intelligence of Toni Kroos, Casemiro and Luka Modric.
Juventus had done a good job at controlling the centre with their 442 block which forced Zidane's side to use wide areas for ball circulation and look for openings. For Zidane's every move, Allegri had an answer. This was a tactical battle of the highest order. Having noticed Zidane using the wide channels for progression, Allegri instructed his side to switch into a 343 as soon as the pass is played to the Madrid fullback.
This gives them central security as well as blocks Madrid's wide channels. Even though it might seem like Juventus stopped Madrid from creating openings, that wasn't the case since Isco and Benzema were always able to find a little pocket of space to receive between the lines which is a dangerous situation for the opponent. Juventus' press was nullified by the technical security and the press resistance of Real Madrid.
By Madrid's standards, the 1st half was poor. Isco had started in his free role to create numerical advantages within the Juventus block but wasn't able to and had to go all the way back to receive in front of the block which leaves only Cristiano and Benzema at the top with no connecting players between the lines forcing one of them to drop and connect lines.
In the 1st half, we saw evidence of Real's willingness to build down the left when all 3 forwards- Cristiano, Benzema and Isco shifted towards the left and using combinations, tried to find Carvajal on the opposite flank where he would have positional superiority over Alex Sandro and he could then look to play a dangerous pass into the area for Cristiano and Benzema who would make runs into the box after the switch of play.
For Real's first goal, Juventus' structure was disoriented, Kroos gets past the 2nd line and drives into the final 3rd to find Benzema who was occupying the left half space whereas Cristiano was occupying the right half space. Because of this Alex Sandro was left defending a 2v1 on the left with Carvajal also joining the attack. Ronaldo finds Carvajal, who played it back to Ronaldo for a brilliant first-time finish.
Real Madrid stepped up in the 2nd half and dominated till the final whistle.  As the 2nd half started, it was clear that Zidane had asked Real Madrid to attack the wide channels more and look to create openings in that Juventus backline with simultaneous dropping off and in behind movements.
As discussed before, the left side overload of Kroos, Marcelo, Isco and Karim/Cristiano was dictating the play for Real Madrid. Juventus' 442 was now required to travel larger distances in order to close the ball carrier down and it led to fatigue and disorientation, making it easy for Madrid to push their lines higher and establish a structure within the Juventus block higher up the pitch.
Having established authority, Kroos, Casemiro and Modric demonstrated their brilliance on the ball, connecting lines using one of Ronaldo/Benzema/Isco, the timing of their passes, waiting for the opponent to step out and then finding the 3rd man via wall passes.
In this manner, Madrid had complete control of the game and they scored 2 quick goals inside 4 minutes to go 3-1 up. It was all about figuring out the triggers and manipulating Juventus player's actions off the ball. Once Madrid recognized a pattern in their movements, it became much easier for them to create openings.
Cristiano, Benzema and Isco's linkup, communication and movements became difficult for Juventus' backline to pick up and this started causing problems at the back for Juventus. Some of the attacking patterns they used:
1) Ronaldo to run at the defence while Benzema drops off to connect with Isco between the lines.
2) Benzema and Ronaldo both occupy half spaces while Isco is occupying the central space. This created a dilemma for the Juventus midfielders who were not willing to step out and press the ball carrier since Benzema and Ronaldo could've been accessed via a central Isco leading to superiority within the block for Madrid.
3) Ronaldo drops off the forward line to drift wide and connect with Marcelo while Isco and Benzema make runs at the defence.
We've already looked at Isco connecting lines, here are some examples of both Benzema and Ronaldo dropping deep or drifting wide to connect lines, creating openings within Juventus' structure.
In this manner, after a dominant display in the 2nd half, Zidane led Real Madrid to their 2nd consecutive UEFA Champions League which completed their League-European Double. They would go on to win the Supercopa Espana, UEFA Super Cup and the FIFA Club World Cup making it 5 trophies in a calendar year – a spectacular achievement.
Zinedine Zidane led Madrid to another Champions League in the following season before leaving the club in the summer only to return in 2019/20 and lead the club to their 34th LaLiga Title. After all these achievements and tactical displays, Zidane remains underrated and underappreciated. I hope people realize the fact that Zinedine Zidane is a Tier 1 tactician and it's not because of the players he had.
By: @TheMidfieldRole
Featured Image: @GabFoligno / Getty Images