David Raum: The Latest Talent Catching the Eye in German Football
The January transfer window is notorious for desperate business and last-minute loan deals as clubs pay far over market value for disgruntled stars and injury stopgaps.
For every Virgil van Dijk and Nemanja Vidic, there are countless examples of players introduced with massive expectations, only to vanish out of view almost as soon as they've arrived.
In light of the financial impediments derived from playing football behind closed doors for the better part of the last 3 seasons, many clubs have now given up on the January window all together, instead using it to build the groundwork for a successful summer period.
This is what Hoffenheim did last season, and Die Kraichgauer are now reaping the rewards of a more far-sighted approach.
Just 3-points off a Champions League spot and playing some of the most attractive football in the German topflight, manager Sebastian Hoeneß has formed a fearsome attacking outfit at the Rhein-Neckar-Arena in his second season at the helm.
Though numerous players have stood out throughout the opening 20 matchdays, one of the most consistent elements is left back David Raum.
Hoffenheim turned quite a few heads when signing Raum from Greuther Fürth on a pre-contract agreement last January, yet 12 months on it is arguably still the best piece of business done around Europe.
Since Hoffenheim announced his signature, Raum has earned promotion to the Bundesliga, won the under 21 European Championship, become a full German international, and established himself as one of the continent's best young fullbacks.
The Zweite Bundesliga: Europe's Most Entertaining League Next Season
In this player analysis, Adam Khan looks at the key aspects of Raum's game which have allowed him to go from a previously unheard-of entity to one of the biggest prospects in German football.
Want more German football content delivered straight to your inbox every Friday? Then sign up for The German Football Weekly!
Like most modern fullbacks drawing attention around Europe, David Raum is an exceptional attacking threat. Whether through a lung-bursting run, or a well-placed delivery, the 23-year old has one of the most devastating creative arsenal's in the topflight this season.
Yet, this wasn't always the case. In fact, David Raum initially struggled to find his feet in professional football. In Raum's first 3 seasons in the Bundesliga 2 for Greuther Fürth, the youngster registered just 3 goals and 6 assists.
By no means a woeful return, it nevertheless didn't speak volumes of a player we now consider a shoo-in for Hansi Flick's World Cup roster.
Without a clear pathway into the topflight, Raum took the gamble of not extending his contract ahead of the 2020/21 season, one which paid off after a slight tactical shift from Fürth's manager Stefan Leitl.
Whereas Greuther Fürth had previously set up in 4-2-3-1 shape, ahead of and during the 2020/21 season Leitl moved to a more narrow 4-3-1-2.
Though an innocuous adaptation on paper, the additional room afforded to Fürth's fullbacks allowed Raum's output to shoot up.
In 34 matches last season, Raum contributed 1 goal and 15 assists, the joint-most in the 2020/21 season and the most of any defender in the Bundesliga 2's history. Now at TSG Hoffenheim, Raum has maintained these exceptional standards.
Despite missing out on the entire preseason through his involvement at the Olympic Games, after 20 matchdays Raum has been in the lineup on 19 occasions, with his one absence coming through an ankle injury on gameweek 10.
More importantly, Raum has maintained his world-class output even amongst the tougher opposition in the topflight.
On the Road to Stardom with Croatia's Latest Rising Talent: Borna Sosa
In 19 matches he's contributed 2 goals and 6 assists, many of which have been crucial interventions like his opening goal and game-winning assist over fellow Champions League aspirants SC Freiburg.
Though he may ultimately fall short of his ludicrous 15-goal haul from the last campaign, the 6 he has provided this season not only make him the most dangerous defensive creator in the topflight this season, but also one of the best of all time.
Since the Bundesliga was founded in 1962, only 4 defenders have ever registered more assists than David Raum 20 games into a season.
Those would be Raphaël Guerreiro in 2020/21, Jan Heintze in 1996/97, Franz Beckenbauer in 1973/74, and Philipp Max in 2017/18. All players who, unlike Raum, had at least 50 Bundesliga appearances before putting up their record-breaking tallies.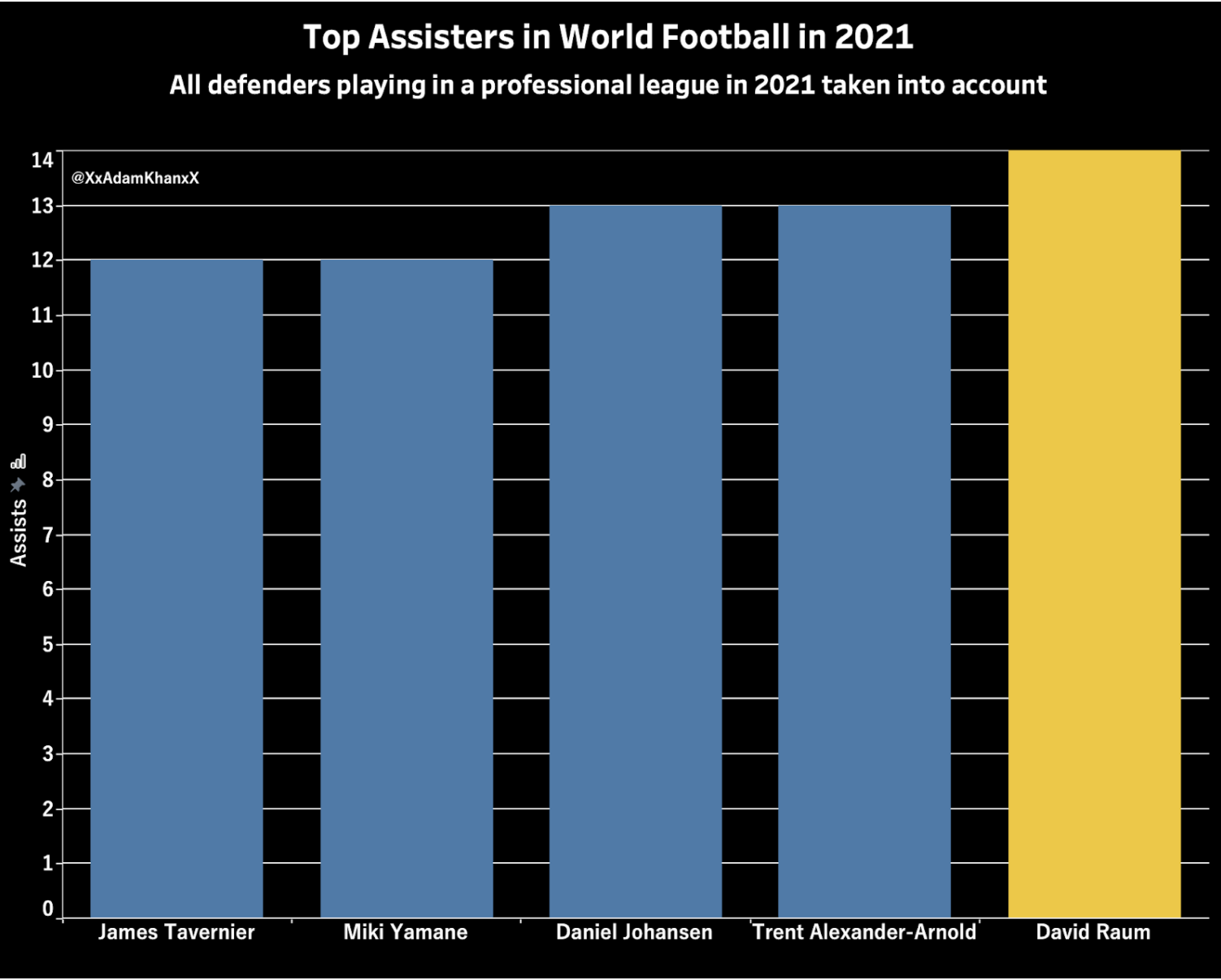 David Raum has had a fantastic 2021. One could even argue the best in the world! Between January 1, 2021, & December 31, 2021, no defender in world football contributed more assists in one, or multiple, domestic leagues.
It's clear to see that Raum is a fantastic creative presence. Regardless if he's playing in front of empty stands in Germany's second-tier or lining up for his national team in a crucial World Cup qualifier, the Nürnberg native has shown in the past 18-months an exceptional ability to provide in key moments.
Like some of the Bundesliga's other attacking wing-backs, Raum excels in his ability to pick out a teammate through an aerial delivery.
Though just 41% of his crosses have found a teammate this season, Raum's ability to get into crossing positions means his imperfect delivery is balanced out by his relentless volume.
Amongst all the defenders in Europe's top five leagues, not one player has completed more crosses or crosses into the penalty area than David Raum.
Even Liverpool's Trent Alexander-Arnold, so revered for his aerial delivery, has completed 13 fewer crosses than Raum this season despite playing almost 200 more minutes in the Premier League.
Being able to put in an extraordinary volume of crosses has a lot to do with smart positioning and great timing, but as a fullback, it's equally, if not more important, to simply have the ceaseless engine to pop up in the final third for a full 90 minutes.
David Raum embodies this non-stop tempo, leading the entire Bundesliga in sprints, placing second in intensive runs, and even registering in the top 10 for distance covered.
Alongside Mainz 05's Silvan Widmer, Raum is the only player in the Bundesliga to appear in the top 10 for all of these categories.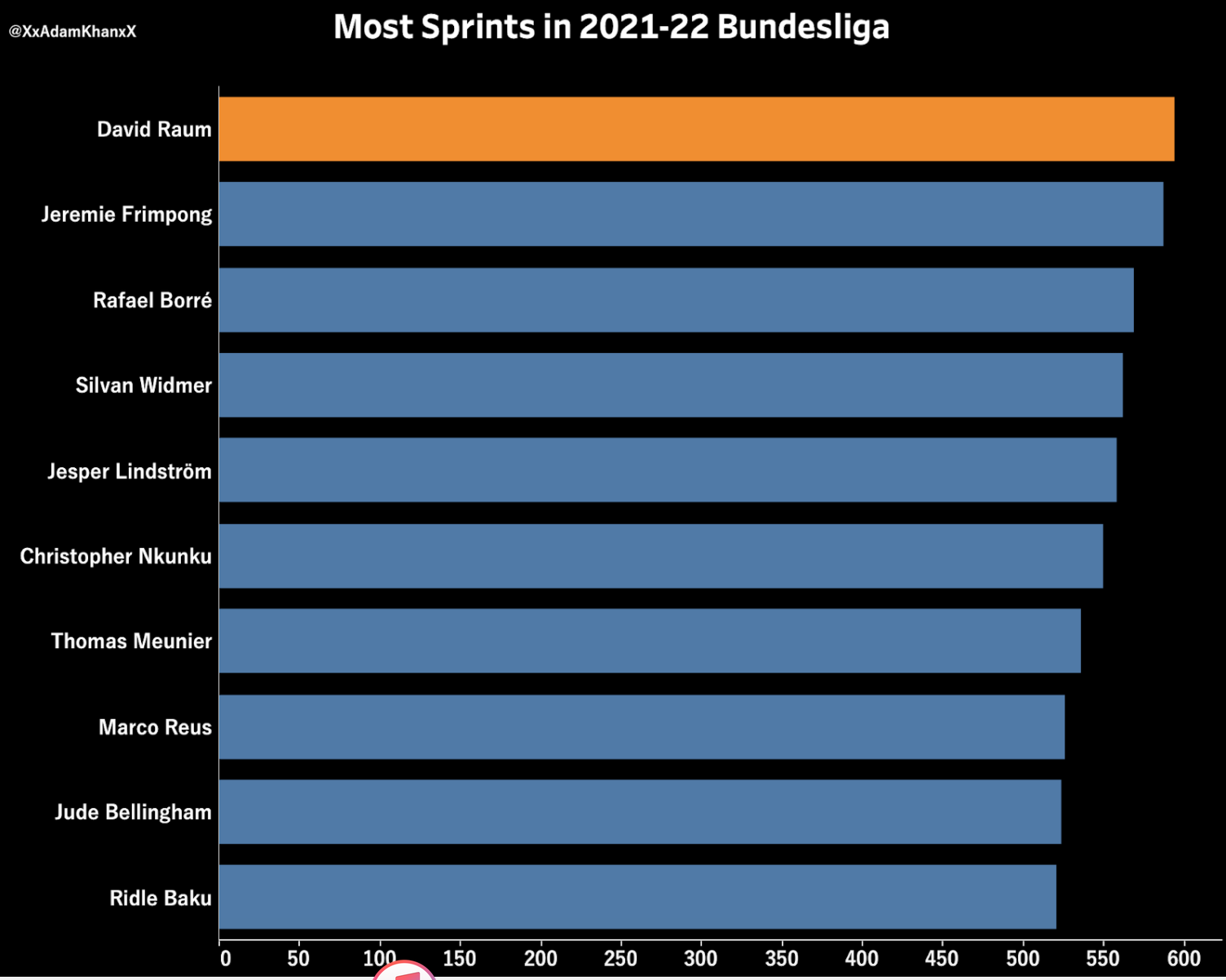 With Hansi Flick flirting with the idea of a 3-4-3 in the German national team, David Raum could be the perfect solution to keep up with the physical demands required of an attacking wingback.
Having prematurely extended his Hoffenheim deal to 2026, David Raum will not be going anywhere for the time being.
The 23-year old feels comfortable committing his future to Sebastian Hoeneß's project, and will be looking to cap off another impressive calendar year with a spot in Flick's World Cup roster.
As of now, one would expect Raum to play second fiddle in Qatar to Inter Milan's Robin Gosens, but 8 months is a long time in football, and one can only imagine the player Raum will be if he continues to improve at this astronomical rate.
Though he, and the entire German national team, will be hoping for a deep run at the tournament, this is only the first step in an international career that will undoubtedly have more highs than lows
Alongside the likes of Karim Adeyemi, Jamal Musiala, and countless others, David Raum has the potential to dominate international football across the next decade, and add that elusive 5th World Championship to Germany's trophy cabinet.
Did you enjoy this player analysis? Then why not subscribe to The German Football Weekly to never miss an update on all things Bundesliga & Bundesliga 2!
By: Adam Khan / @XxAdamKhanxX
Featured Image: @GabFoligno / DeFodi Images