Donny Van de Beek: Why Manchester United Signed Him, Why They Never Used Him and How Frank Lampard Could Utilise Him at Everton
Everton have announced the signing of Donny van de Beek on loan from Manchester United for the remainder of the season, with the Dutchman becoming the first arrival of the Frank Lampard reign at Goodison Park.
The move comes after a frustrating 18-month spell for the midfielder which brought just four Premier League starts following a £35m move from Ajax in August of 2020. But before we look at why Van de Beek has failed to impose himself at Old Trafford, we should assess why the Red Devils acquired him in the first place.

Donny was a graduate of the esteemed Ajax academy, coming into the side properly during the 2016/17 season as a 19-year-old – playing 29 games in all competitions as Ajax reached the Europa League final.
Following that season, Ajax skipper and fellow central midfielder Davy Klaassen departed for Everton (more on that later), with Van de Beek chosen as the main man to fill that void given some of the pair's similar characteristics. 
He progressed along nicely and quickly became an integral and exciting cog in one of the most famous sides of the 2010s; the Ajax side of 2018/19 which reached the Champions League semi-final.
Van de Beek, combined with the likes of Hakim Ziyech, Matthijs de Ligt, Frenkie de Jong, David Neres and Dušan Tadić swept past Juventus and Benfica, remained undefeated against Bayern Munich and battered Real Madrid – with the midfielder contributing to five goals from 12 games.
While that side didn't make it to the final in excruciating circumstances, many of their players caught the eye of Europe's elite and Van de Beek was no exception.
In the midst of him scoring the winning goal in the first leg of their semi-final against Tottenham, his entourage held meetings with West Ham, Arsenal, Manchester United and Spurs themselves – less to strike a deal, but to build bridges across Europe.
It was to be Real Madrid who made a move, though, as the Spanish giants agreed a £50m fee, but Los Blancos needed to clear the decks before the deadline to make space for van de Beek – something they were unable to do, so the deal was moved to the back burner.
He continued to shine in the meantime; scoring twice in five UCL group stage games while contributing to ten goals in the league.
Florentino Pérez reignited Madrid's interest in January 2020 in a bid to complete a deal in the summer, but the pandemic hitting in March again put the brakes on and his hopes of becoming a Galatico were seemingly dashed once more.
Arsenal, Spurs, Juventus and Atlético Madrid purportedly held interest last summer, but none of them swooped with much conviction and Van de Beek was resigned to spending another year caged in a league which he had grown out of long before.
Meanwhile, pressure was growing for Manchester United to make a move in the market following a protracted and ultimately failed pursuit of Borussia Dortmund winger Jadon Sancho.
United felt as if they needed to sign someone, with Ole Gunnar Solskjaer personally calling the Dutch international in order to broker a deal – a call which proved crucial, as the Norwegian explained his plans of how he would fit into the midfield.
Donny van de Beek had shades of United legend Paul Scholes and Frank Lampard about him in Solskjaer's eyes, and his numbers at Ajax certainly give a glimpse into that.

Of course, VDB was playing for one of the most dominant sides in the division while over in Holland and was afforded a role where he could play slightly further forward – starting plenty of attacks just off the striker in a role which made runs into the box or off a bigger centre forward easier than he would potentially experience in England.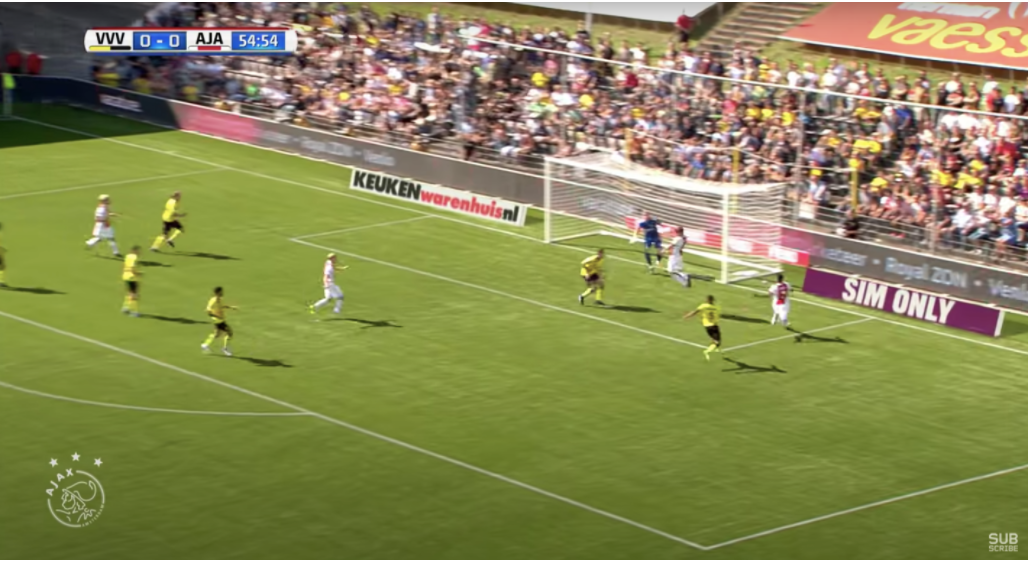 Example of a goal that VDB scored against VVV-Venlo in 2017 – making a late dart into the space vacated by the movement of Klaas-Jan Huntelaar, who nodded down for him to tap home.
Van de Beek's late runs into the box could well be utilised by Lampard's Everton, who will most likely play a 4-3-3 with Dominic Calvert-Lewin as the focal point – with only three players winning more aerial duels last season. But how United originally planned on utilising him feels more puzzling.
United had originally shortlisted Van de Beek as a playmaking option two years ago before ultimately signing Bruno Fernandes to play that role, with the Portuguese international going on to register 83 goal involvements from 108 games for the Red Devils.
Nobody can say they didn't make the right choice by picking Fernandes, even over the likes of James Madison and Jack Grealish, but to then pick up the Dutchman seems a strange move – especially considering how pivotal Fernandes has proved for United.
Things started off well for Donny in England. Subbed on against Crystal Palace with United one down, the Eagles soon doubled their lead before their latest signing ghosted into the box and picked up a loose ball following a defensive mishap.
Nathan Patterson: Another Scottish Talent Heading For The Premier League
He subtly swept the ball into the bottom corner with consummate ease, as it was something he had done dozens of times before.
His knack for taking up terrific positions in the box is well documented, but his ability to poach goals by lurking in promising areas is another aspect of his game which United surely signed him for.
Despite such a strong start, Van de Beek would soon grow frustrated – earning just 64 minutes over the course of the next eight games.

Perhaps most telling was their away victory over West Ham in December 2020. Van de Beek was awarded just a second league start as United travelled to the London stadium, but Solskjaer's side were a goal down by half-time and the Norwegian rang the changes during the interval.
Van de Beek and Edison Cavani were hauled off for Fernandes and Paul Pogba, with the pair combining for the equalising goal as United went on to win 3-1.
This felt significant as both substitutes are better than Van de Beek, and also fulfil roles that the Dutchman could have done in this United side. He wasn't seen from the start again until May of that season, as Solskjaer opted for the likes of Pogba, Fred, Scott McTominay or Nemanja Matić from then until season's end.
Trophy-Laden Dreams to Treading Water Nightmares: How Farhad Moshiri Turned Everton Into a Circus
During the off-season, the 24-year-old beefed up and returned for the pre-season visit of Brentford looking like he'd spent his summer holidays training with Bayern Munich.
He wanted to become more physically imposing in a bid to feel more suited to the league, but a running theme of Van de Beek's is that his effort hasn't always bore fruit and it proved so again.
The 87 minutes he managed throughout the first nine games of last term would be dwarfed further, as between Solskjaer and new boss Ralf Rangnick, the two would give out just 70 minutes for Van de Beek between matchday one and 22 of the season – with 45 of those coming during the former's final match in charge.
Entering the field at half-time with United in the lurch at 2-0 down, it took Donny just five minutes to make his mark – once again ghosting into the box to score from a Cristiano Ronaldo knock down to halve the deficit.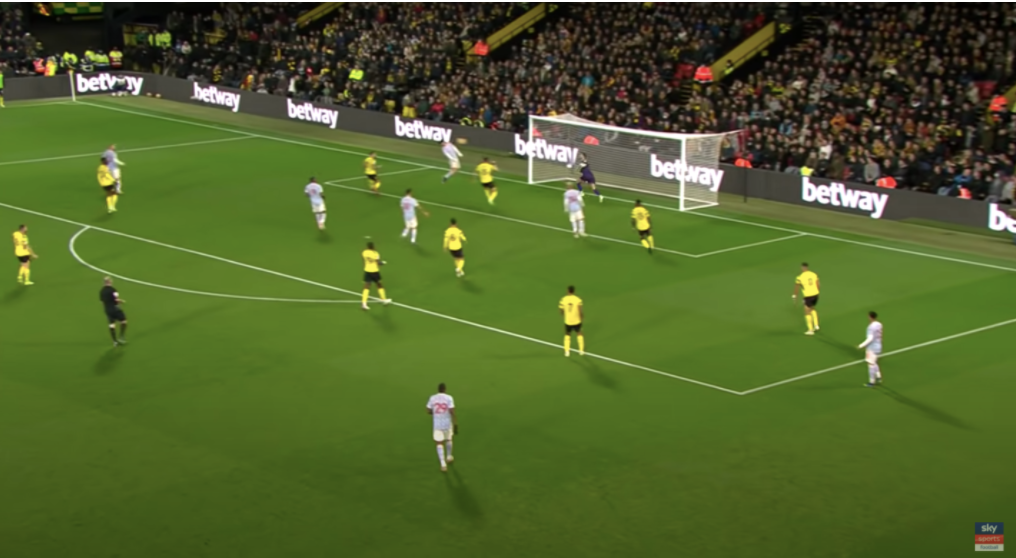 Soon after, United should have drawn level as Van de Beek dropped in, took the ball on the swivel and instantly slid Ronaldo through, but the Portuguese forward missed a gilt-edge chance to draw the away side level.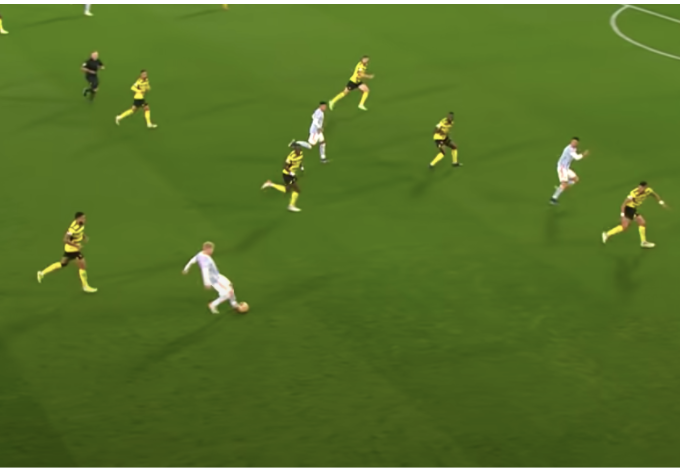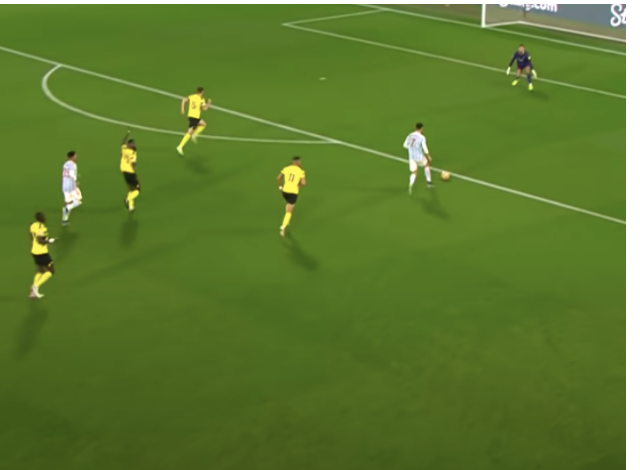 They eventually fell to a 4-1 defeat, but the Dutchman's performance felt like a source of optimism moving forward beyond the Solskjaer era. He scored one, should have created another, played three key passes and made two tackles in just a 45-minute cameo.
But it proved to be another false dawn for one-time Ballon d'Or nominee, with the incoming Rangnick choosing to utilise a two-man combination of either McTominay, Fred or Matić, with Bruno starting all but two games in front of them.
Van de Beek's plight under the German hasn't been helped by his faltering 4-2-2-2 system either, with Rangnick affording him just nine substitute minutes in the league during his tenure.
Enough was finally enough, Van de Beek sought a way out in January amid interest from Crystal Palace and a renewed bid from Everton after the Toffees had tried to bring him in during the 2021 Summer window.
He looked set for the Eagles, but Everton's appointment of Frank Lampard – a former midfielder with similar traits to DVDB – twisted his arm and he was eventually headed for L4 come transfer deadline day.
His arrival is somewhat muddied by Lampard's acquisition of Dele Alli just hours later, but focusing on Van de Beek for the time being, how could he work for Everton?
Firstly, he brings an obvious goal threat – something Everton sorely lack all over the pitch but most notably in midfield. As shown below, following the departure of James Rodríguez and Gylfi Sigurðsson (scorers of 14 goals between them last season), the Toffees have been practically toothless from a central midfield area.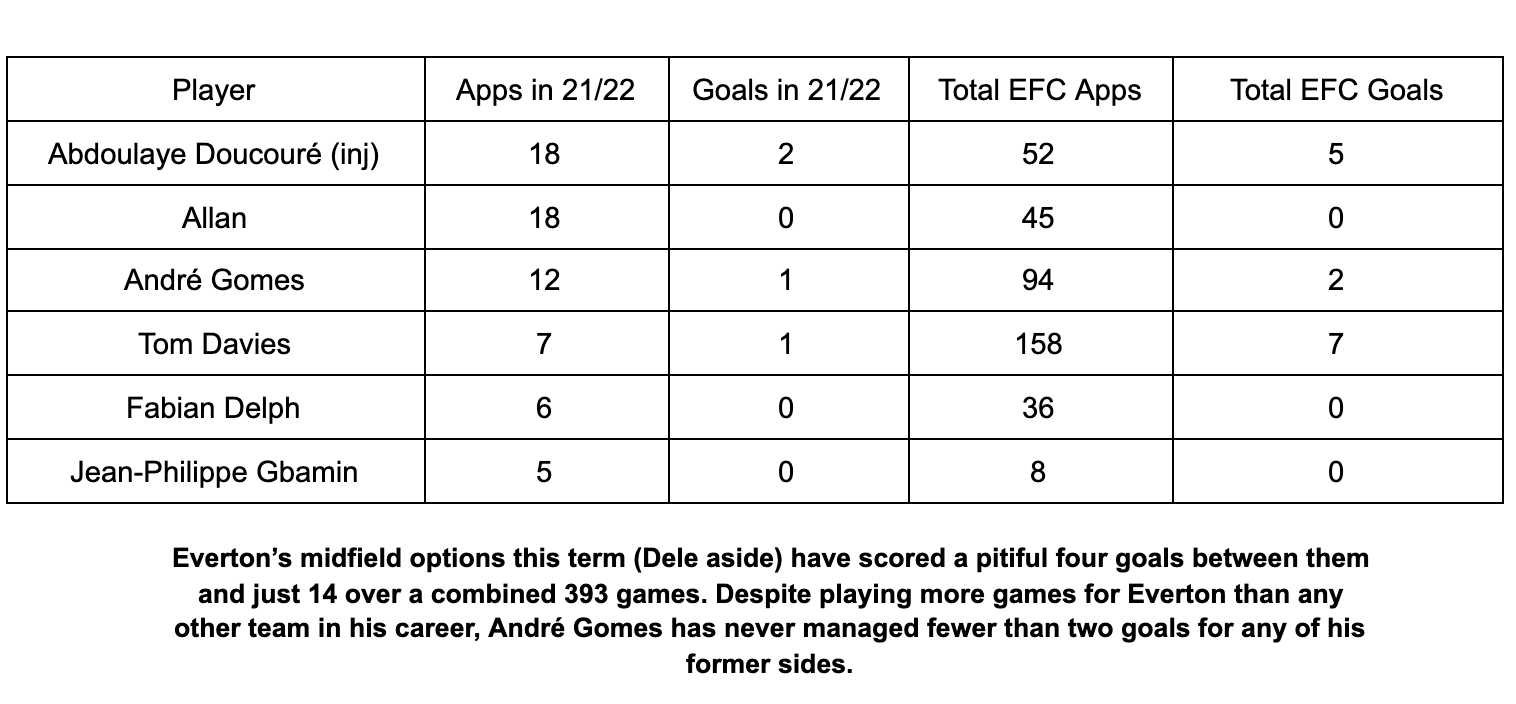 The table above is a damning indictment of Everton's haphazard recruitment process, both with the incomings but also the players they have let go down the years, too.
Goals and creativity has come from the wide areas with the likes of Demarai Gray, Andros Townsend and Anthony Gordon, but the lack of attacking options in the central area was ghastly – and something Lampard remedied within hours of being in the building.
So, it's obvious Everton need a goal scorer and somebody who can help to create – but also retain possession and get into the box. The Toffees have a lack of players all over the park who enjoy the ball at their feet – particularly in central areas – and that is something Van de Beek brings in abundance.
FBRef ranked VDB in the 96th percentile for dribbles completed and in the 89th for touches and progressive passes received in the oppositions penalty area of the last 365 days, while he finds himself in the top 70 for short passes attempted.
When playing at Ajax, he was terrific at receiving the ball, laying it off and moving off the ball into a more promising area as the side built up patiently from the back – a facet perhaps more suited to Lampard's system than any at his time at United which centred more around getting the ball from back to front quickly and bypassing the more technical Dutchman.
In Lampard's managerial infancy, it's clear his sides "enjoy the ball" (a line he reverberated during his opening training session at Finch Farm), with Derby ranking 5th for possession in the Championship and Chelsea 3rd during 19/20, with the Blues also ranked 2nd for pass completion.
Demarai Gray: The Resurgence of a Wonderkid at Goodison Park
He typically deploys a 4-3-3 – surely music to the ears of Van de Beek who is no stranger to the setup, and could play the role of the sole pressing midfield who joins the striker when attempting to regain possession (with the 24-year-old ranking in the 99th percentile for tackles in the attacking third and 90th for pressures in that area). If Lampard continues in the same vein at Everton, one would imagine VDB should prosper.
There has also been mooted suggestions that he could drop deeper and become Everton's six – a position he has stated himself to be comfortable playing in, and one that former Dutch national team coach Frank de Boer believes he plays his best football in as a deep-lying playmaker. 
Whether that is true at this level or not remains to be seen. If it was, one would imagine that Manchester United would have experimented more frequently with that approach during his time at Old Trafford, but he did look capable when deployed slightly deeper against Young Boys in the Champions League this season.
Whilst the sample size is small and affected by the match being a dead rubber versus far weaker opposition, Lampard may want to try him there, but one would predict that the new Everton boss would want to utilise him further forward.
The final conundrum would be whether Lampard can realistically utilise Van de Beek and Dele in the same XI, and one would suggest it's possible, but most likely he will need to alternate the pair – a nice problem to have.
All too often over the past 18-months, Everton have had an incredibly uninspiring bench to call upon. On many occasions, the Blues have been forced to name two goalkeepers on the bench, multiple youth products with a matter of minutes between them at senior level or less than the allotted nine allowed to take their place on the bench. Everton now have options for the first time in a long time.
An Assistant Headteacher, a 7-0 Hammering and the Son of Santiago – How Blackburn Are Fighting to Reach the Big Time
Looking at Lampard's preferred 4-3-3 shape, some have suggested the pair could work ahead of a more defensive minded midfielder, but the team would lack balance especially when considering Everton's lack of options in the number six role and Lampard's desire to push his full-backs on.
If they were to try both in that shape then one of them (most suitably Donny), would need to sacrifice so much of what he is good at and sit further back to allow Dele to move forward.
There is the chance that Van de Beek himself could operate as the six, receiving the ball on the half-turn and giving Everton a solid base to work from.
This would allow one of Allan or Doucouré to play in a more familiar role slightly further forward and have Dele in his best role – but Donny's ability in that position is dubious, and the suggestion would be he can't do it at this level yet, and why would you want to when seeing how much he has to offer further up the field?
Of course, comparisons will be made to Davy Klaassen, and while the trivial aspects are similar (hair colour, home club, nationality, struggles in England), Van de Beek is simply a better footballer than Klaassen and has already shown more during short cameos at United than Everton's 2017 arrival ever did during his fleeting career in blue. Donny is still somewhat of an unknown quantity in this country, but his style and ability differ to that of the former Ajax skipper.
There is no doubting that the Blues have signed a top-quality footballer who has shades of his new gaffer. If Lampard is the man to get him firing in this country where three others have failed, then the Toffees would be getting one of the most cerebral and technically gifted midfielders in the Premier League – and the early signs of his tenure at Goodison suggest he could fit like a glove.
By: James Pendleton / @jpends_
Featured Image: @GabFoligno / Simon Stacpoole / Offside