Lisandro Martínez – The 'Pitbull' That Manchester United Have Needed
When Erik ten Hag left Ajax at the end of last season, one of his last few words was towards the team he built and specifically crediting the players who shone through the latter stages of his time at the Amsterdam club, he said after the trophy celebrations of winning the Eredivisie. "I would firstly like to thank the players and the incredible attitude and level they've shown this season."
One of the players who showed throughout the season, the quality and attitude that Ten Hag was describing in his quotes, was the Fans' Player of the Year, Lisandro Martínez. One of the advantages that Ten Hag brings to Manchester United is his experience and expertise within Dutch football – having 8 years of management in the league, can only add value when looking to exploit the market within the league, specifically Ajax.
This has led to a summer transfer window full of constant and persistent links to the Dutch manager's former players. One link that has held strong throughout the last few weeks of the summer (that isn't Frenkie de Jong) has been Lisandro Martínez, and the Argentine is looking close to reuniting with his former manager. 
There is still skepticism from within the United fanbase about where Martínez will play; whether that's his primary position in left center-back or the supposed gaping hole of defensive midfield, but we'll get into the position conundrum later on in the article when looking at the profile of the player. Firstly, let's have a quick look at Martínez's time in football so far. 
Christian Eriksen – How Does the Dane Fit Into Erik ten Hag's Manchester United?
Lisandro Martínez is a young defender with a veteran presence. The defender started his career in his native country, Argentina, applying his trade with initially Newell's Old Boys and then Defensa y Justicia for three seasons.
His rise in South American football was noted within Europe and in 2019, after moving to Holland from Argentina as a 21-year-old to join Ajax, his immediate impact at the European level was eye-catching, putting up impressive performances against the likes of Chelsea and Lille in the early rounds of the UEFA Champions League.
The performances have shown that season, especially in Europe, gave the Argentine the platform to become a consistent name in the lineup, and it was evident from then that Ten Hag has instilled the trust in the player – Martínez being used in various positions; left-back, left center-back, and defensive midfield, in big games. 
The 21/22 season was a quantum leap in the development and status of Martínez. He distinguished himself as one of the best in his position in the Dutch top flight and potentially Europe, as once again, he showed his evident quality on the elite stage – and cemented his long-term position in the team ahead of more experienced team-mates. His exceptional season was capped off by winning Fans'Player of the Year. 
Lisandro Martínez's Style of Play 
Ptbull by name, pitbull by nature. Lisandro is a highly technical player whose mix of aggressive and physical defending, makes him the epitome of a modern-day defender. His physical stature can deceive the naked eye, but he isn't what meets the eye, despite being 5'8, he's an imposing defender who uses his speed of thought to excel on the ground and the occasional aerial duel. 
Despite this, his profile systematically and technically isn't as clear for a 24-year-old, and this is understandable given how technically and physically unique he is. As a predominantly left-sided player whether that's defensively or further advanced, his aggressive nature tends to need a more reserved and less proactive panther; allowing Martínez to maximize his strengths, technically and physically. 
At Ajax, ten Hag's center-backs are fluid vertically and horizontally, often occupying out wide in the defensive line or rotating into the midfield. Requirements like this are physically demanding on the player, from a positional standpoint, and require a dynamic approach when receiving the ball in possession.
Such an approach demands individuals to be astute in quick transitions; having to be switched on and dynamic – Martínez has shown that he has the physical and mental capabilities to adapt naturally to these instructions during his time at Ajax. 
In possession, Lisandro's technical ability comes to light, and Martinez is probably the best ball-playing center-back in the Eredivisie. He regularly executes diagonal passes towards the aerial area of his fellow teammate, as well as a through-ball across the ground or over the top; both highly technical pass types.
He has some of the most ridiculous passing numbers that I've seen and that makes him a weapon for Ajax offensively as well, mainly because they are a ball-dominant side.
His ability to play through the lines makes him a very desirable option in the build-up for any manager, especially one like Ten Hag. As mentioned, the 24-year-old is an aggressive figure, and that is seen in his execution of actions, sometimes forcing labored possession phases.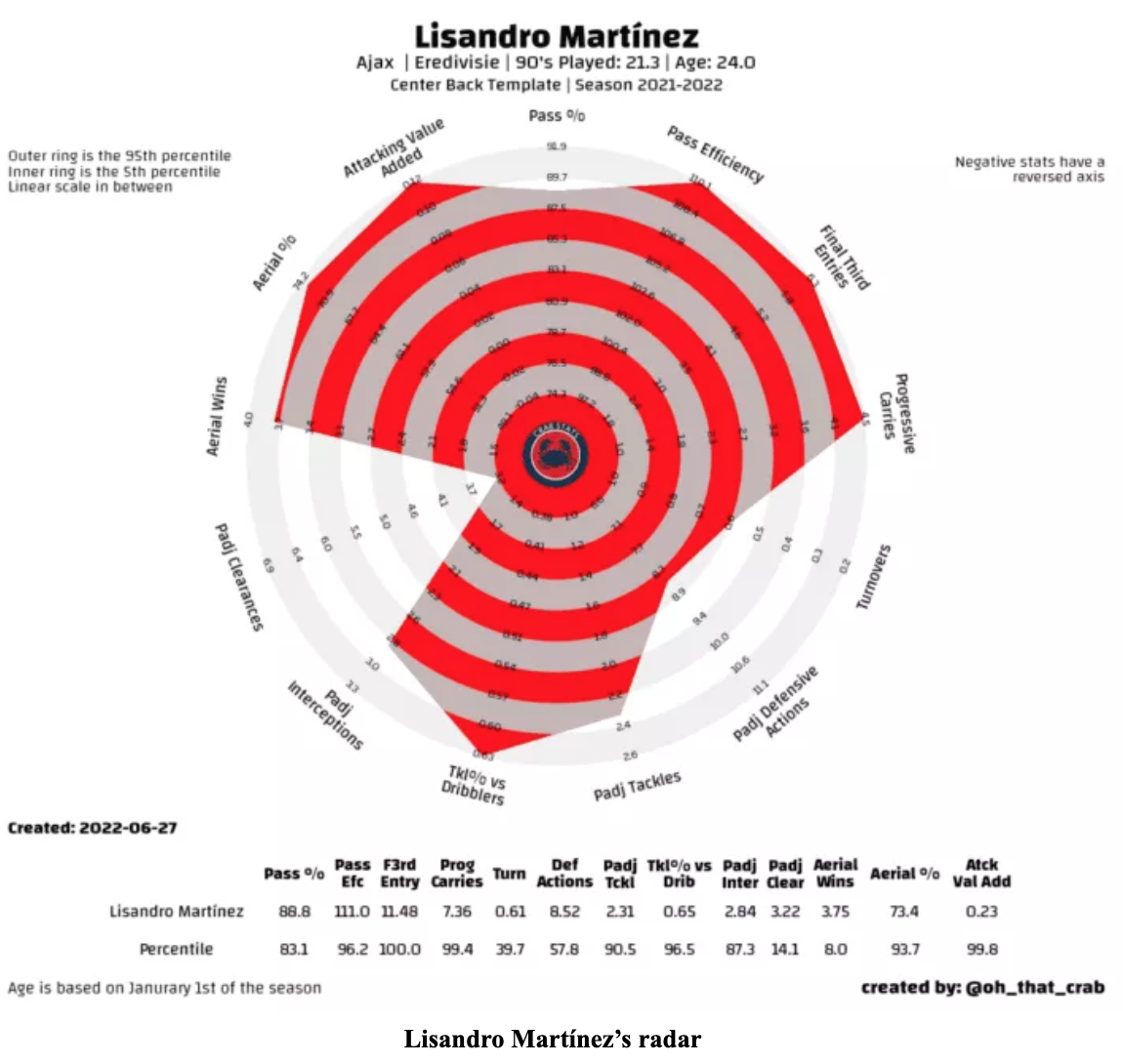 Out of possession, the Argentine is a clean tackler of the football, which is important for such an aggressive player – ranking in the top 1 percentile for defenders in the defensive aspect, 3.13 per ninety. He 'loves' a duel, which is beneficial for a high-pressuring game, nonetheless.
In isolated situations, his intelligence and ability to quickly assess the situation and make the right decision – he tends to show his opposition man down the outside using his body and then engage in the duel the closer they get to the box.
His aggressiveness can lead to an over-committal when trying to act on offensive mistakes, if his defensive action isn't successful, he often has the speed physically and mentally to recover back to a position of stability. 
Positional Conundrum
As stated before, the potential signing of Lisandro Martínez has left confusion in certain parts of the footballing world on where he will ultimately be used; left center-back or defensive midfield? Despite Lisandro being well-versed in both positions, there are altering demands that both positions would command. 
Manchester United fans have made it publicly known that they don't universally believe that the current options in defense and midfield are substantial if they are to close the ever-growing gap between them and their rivals. So I'll have a look at what he can offer in both positions and potentially which one would suit him best: 
Centre-back 
There is a strong indication that this will be the position that the Argentine steps into, and rightly so, considering he's played the majority of his football in the heart of the defense.
If he was to occupy one of the two center-back options, this would leave United with seven senior first-team center-back options, however. Axel Tuanzebe, Phil Jones, and Eric Bailly – all leaving would shorten that expectation of shared game-time and bring the quantity down to four. 
The position in the back four you would expect him to slot into would be the left side – an area mainly occupied by club captain Harry Maguire.
Maguire's position within the team has been scrutinized in the past, specifically at least this season just gone, and if ten Hag wasn't convinced by the English international, it would make sense that he bought in a player he has trusted to excel in that role. 
The position requires a technical elegance and aggression but smart aggression that has been missing in recent seasons, and Martínez would bring that in abundance.
He would also be required to form a partnership with Raphaël Varane – the 29-year-old has never been the strongest in the build-up stage, but he has the physical attributes to complement the deficiencies of Martínez, alongside the experience – both players would complement each other well.
Considering their strengths, Varane and Martínez would provide steel in a United defense that has often been criticized, but the lack of availability of the Frenchmen could provide a wall in building a strong and consistent partnership, and any ideas of that would more likely be seen in the rotation with Harry Maguire and Victor Lindelöf. 
Defensive Midfield 
Harry Maguire being named captain under ten Hag, gives an indication that the manager still has renewed trust in the defender, and still values him as a player and leader.
Maguire's availability throughout his career has been exceptional, the former Leicester man rarely misses a game unless it's to a serious injury, and this will have an impact on the opportunities of Martínez displacing him.
Now, there is moving Maguire to the right-sided position when the aforementioned Varane isn't available, but it's been evident in the past that Maguire has favored the left-hand side as a more comfortable area to maximize his play style, the same goes for Lisandro. 
This positional limitation might open up the idea of slotting  Martínez just ahead of the defense and playing him in the more defensive-orientated position of the pivot.
Scott McTominay and Fred have been criticized heavily by the footballing world for their lack of progressive capabilities and having Lisandro Martínez negates that worry, with the Argentine regarded as one of the finest ball-playing defensive options on the continent. 
There are concerns about paying him in a more fast-paced area of the field; his tendency to go to the ground more than often would be like of his potential teammate Aaron Wan-Bissaka, this is seen as a last resort in the middle of the park, and a lack of discipline can be exploited.
Another concern is related to height. I'm not going to delve too much into that, but having a 5'8 defensive midfielder can entice teams to stick their center-forward around him and looking for an easy point of attack from there, a problem that would also be seen in defense but easier to resolve with a panther. 
Ultimately, I see his short to long-term position being as a center-back, and it would be very strange to buy a player who primarily played as a center-back under the new manager and won Player of the Year in that position, and play him in a position he hasn't occupied consistently for a few seasons.
Then again, it shouldn't be a surprise to anyone if a couple of weeks into the season, ten Hag experiments and tinkers with the idea of playing the Argentine there whether that's down to underperformance by the current options or lack of activity in recruiting one in the market. 
Conclusion 
At 24 years of age, Martínez provides Manchester United with a young, talented option that can be a long-term leader in their defense, whether that's center-back or in midfield.
His technical ability is something special that shouldn't be lost on any football fan, considering the technical change that is currently happening in football today, but in a league as unforgiving as the Premier League, he may have to tone down the aggressive nature that may lead to silly mistakes. 
For Manchester United, Martínez for a potential fee of £45 million is a good deal, considering the current defensive options in the market. Left-footed defenders are somewhat of a rarity in the market and for a team heading down a possession-heavy style, it's always vital to have that option in your armory. 
By: Raphael Adelugba / @xGConvetor0
Featured Image: @GabFoligno / DeFodi Images