Takehiro Tomiyasu: A Transformative Cog in Mikel Arteta's Youth Revolution
Arsenal's final signing of the 2021 Summer Transfer Window is Takehiro Tomiyasu. The 22-year-old Japanese international arrives highly acclaimed from North Italian outfit Bologna. Tomiyasu played a variety of roles in Bologna's backline last season, filling in across the backline including at left back on rare occasions. His primary role is as a right-sided defender, a position Mikel Arteta's nascent Arsenal project has been crying out for more quality in.
Tomiyasu follows Englishman Ben White as Arsenal's second right sided, defensive summer recruit, strengthening a weakened core that recently lost veterans David Luiz and Hector Bellerin to contract expiration and loan respectively.
Of his new signing, Mikel Arteta said, "We needed a full back who could be very versatile, can play as a centre back, can play in a back three, Tomi has this capacity." Below are four different evaluations of Takehiro Tomiyasu from four different perspectives: The Eye Test, Underlying Statistics, Heat Maps, and Intangibles to Consider. 
The Eye Test
*Note: This is based on my personal evaluation of the player. I will be drawing on extensive  in-game footage as well as YouTube highlight reels to evaluate Tomiyasu in this section*
The most important, and unique element of Takehiro Tomiyasu's game is his ability to play comfortably with both feet. During his time in Bologna, Tomiyasu played primarily as a right-sided defender in a settled back five shape. When playing weaker attacking sides, Tomiyasu was asked to step a bit higher and wider to provide width and a combination option as a Right Back, this is his most likely position for Arsenal.
Tomiyasu has an incredibly consistent first touch with either foot, allowing him to stay comfortable in possession even against an aggressive opposition press. His two-footedness also opens up a variety of angles on the right touchline if he finds himself receiving a back pass after an attack breaks down.
On more than one occasion throughout my time evaluating the player's performances I saw him receive the ball with his right foot on the right-side touchline before swiveling his hips to open up his passing angles via a left-footed pass. This increases his pass options from vertically up or down the touch-line, to 90 degrees, into midfield.
This hip swivel on its own almost always creates space for a teammate higher up the pitch or Tomiyasu himself. His ability to pass with both feet means that whichever opposition player marking or pressing Tomiyasu often has no clues as to what foot will be used to make the pass.
On a number of occasions, this hip swivel baits a defender into a change of direction that opens up a passing lane. Even if this gives Tomiyasu's teammate a single extra touch, it is an incredibly valuable tool to have at his disposal. Tomiyasu's two-footedness also contributes to his positional versatility, this is where Arsenal's system under Mikel Arteta factors in.
Arteta is looking to build a highly technical squad of players who are comfortable and clean playing out from the back. Not only must the backline have the ability to pick a variety of passes when they receive the ball, they must also be able to release those passes with consistent power and accuracy to keep the build-up fluid.
Tomiyasu's technique leaves almost nothing to be desired, he is a pure technician as a defender. From his upright frame and almost robotic, yet effective dribbling style, to the shape of his foot when he hits balls into the air vs. to feet, his technical traits are varied and almost all well-developed for such a young defender. He also seems to be equally comfortable releasing a variety of passes with either foot.
This level of technical quality and security allows him to play across the backline when another Arsenal defender is out or injured. More importantly, he offers similar or better technical quality than Arsenal's most recent number one right back Calum Chambers while also having much better physical attributes. 
Tomiyasu's physical profile is exactly what Arsenal require in their Right Back. Arteta's system calls for a comfortable ball-carrier and linkman between the lines in the right half-space (RHS) to either cover for or underlap with the right winger, Tomiyasu's physical attributes also allow him to step comfortably into a midfield position.
In turn, this allows the right midfielder (often Thomas Partey) to step closer to the edge of the box and use his offensive prowess to combine with an attacking midfielder and/or winger without leaving the middle of the pitch as exposed. This was impossible before due to Calum Chambers' lack of pace and Cédric's diminutive stature. Tomiyasu fills this void immediately, he possesses a great burst of speed over five yards and stands as tall as some number 9s at around 185cm. 
Despite his quality as a stop-gap behind a flowing attack, Tomiyasu also has massive offensive potential that seems to be being overlooked a bit in recent coverage of the player. His ball-striking is incredible and the power he is able to generate with his "weaker" left foot is amazing, allowing him to play both cross-pitch switches and drill balls into a midfielder or forwards preferred foot when asked to pass toward the opposition goal.
He also has a whipped cross to the back post from the RHS in his locker. Combine this with his composure on the ball as necessitated by his role as a progressive and versatile defender and you have a potential offensive gem on your hands who can both deliver accurate balls into the box and combine effectively with players on the edge of it.
Tomiyasu's biggest weaknesses are coachable. Firstly, although he often appears hyper-focused in 1v1s and is almost never beaten in these scenarios (more on this in the Underlying Stats section of this piece), he sometimes lacks positional awareness. This may be connected to his flexible positioning. When asked to play purely as a RB he can sometimes drift too far infield, leaving too much space for a back-post run when the opposition are driving into the opposite side of the box.
He also likes to lock onto a defender when off the ball and is often asked to man-mark the best forward on the opposing team, this translates to a voracious work ethic and desire to succeed against some of the best ever such as Romelu Lukaku, Zlatan Ibrahimović, and Cristiano Ronaldo, but it also sees him lose track of where he is on the pitch, and as a result, he sometimes fails to slide over when he's supposed to be covering space as opposed to his man. 
Another coachable but clear issue is Tomiyasu's decision-making. He is often very fast to commit to a tackle or to lock on to a defender in transition, similar to the issues outlined in the previous paragraph, this sometimes means he leaves space behind or around him that can be exploited.
He is sometimes caught in two minds when he commits and realizes he has made a mistake. This sees him sometimes slipping backward or stumbling while changing tact mid-action when he realizes he was wrong. While his quick decision-making will become one of his most important traits in the long run, the consistent quality of the decisions he makes do have room to improve. 
Underlying Stats
*All stats from FBref.com and compared to other Fullbacks in the Top 5 Men's Big Leagues + European Competition. Unless otherwise noted, all stats are based on per 90 minutes played* 
From a statistical perspective, Tomiyasu provides some much needed cover in areas that Arsenal's defensive right side have lacked. Most glaring are Tomiyasu's pass completion numbers. He ranks in the 87th percentile for pass completion percentage, completing a whopping 83.9% of his passes regardless of distance.
Combining his completion percentage with the fact that he also ranks in the 86th and 89th percentiles respectively in both completed passes between 15-30 yards (Medium) and completed passes of 30 yards or longer (Long) shows that Tomiyasu is a near-supernatural passer compared to his peers.
For context, Tomiyasu ranks in the 34th and 29th percentiles for short passes completed and attempted respectively, meaning his ranking in the 87th percentile of completion percentage is heavily concentrated in passes that travel between 15 and 30+ yards before reaching their targets. 
More on Tomiyasu's passing; he passes into the final third 4.23 times per90 which places him in the 90th percentile, this stat looks even better when we see that only 0.83 of Tomiyasu's passes are intercepted per90 and only 0.92 of his passes are blocked per90. These are incredible numbers that reinforce the eye test evaluation of his passing and how incredibly hard it is to defend against a guy who passes comfortably with both feet and has the hip dexterity to open up those angles with ease. 
Defensively, Tomiyasu's statistical profile vs. other fullbacks makes him look like a central defender. This is consistent with both how he played at Bologna and how he will play at Arsenal, albeit we can expect him to be more involved offensively at Arsenal when deployed as a fullback.
His number of actions against a dribbler are low compared to other fullbacks, he tackles and contests dribblers in the 19th and 4th percentile respectively. This speaks to how narrow he plays and that he often acts as a center back when part of the defensive block. It is more useful, for the purpose of evaluating what he brings to Arsenal, to look at other defensive numbers that speak directly to consistent defensive ability as opposed to what his role at Bologna entailed.
First in this list of important defensive stats is his 1v1 ability. The most effective stat to use when judging 1v1 ability is how often he tackles the player dribbling at him. In this metric he ranks in the 92nd percentile, tackling 56.7% of the players who dribble at him per90. This reinforces his potential as a transitional defender. Since Arsenal want to play on the front foot, many of Tomiyasu's 1v1 actions will come in transition, his ability to consistently tackle these dribblers in transition will be key to his success in the team. 
Two other important stats are clearances and aerials won. A major flaw in Arsenal's right side is the lack of a commanding aerial and aggressive defensive presence, Ben White will become a bigger aerial threat with time but Calum Chambers' physical attributes have been severely weakened by injury and Cedric is quite short. In these important metrics, Tomiyasu excels.
He ranks in the 99th percentile for clearances, making 4.79 per90. He also ranks in the 99th percentile for aerial duels won with 3.50 per90. This makes him literally the best or one of the best in his position across the top 5 leagues when compared to other fullbacks. These stats show that Tomiyasu will immediately fill a massive gap in Arsenal's backline and without a doubt factored into the report put together by the scouts who helped Mikel Arteta identify him as a good fit for Arsenal's defense. 
Heat Map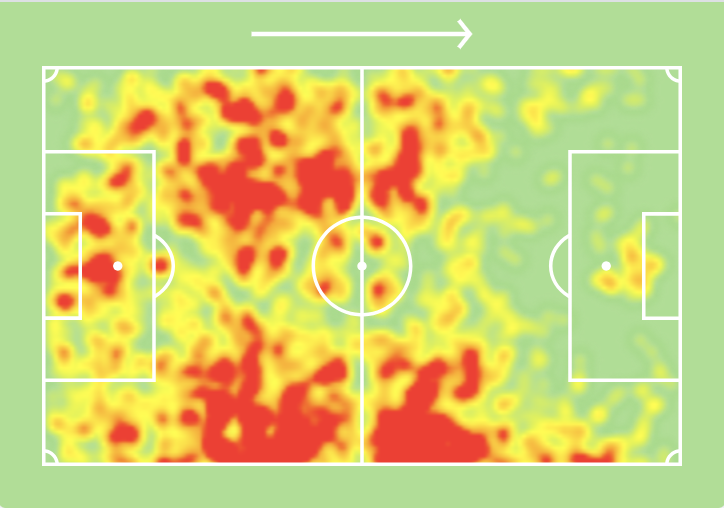 *Serie A 20/21 Season Heat Map from SofaScore.com*
Tomiyasu's heat map from the 2020/2021 season reflects his versatility as a defender and also reinforces the eye test point about his ability to step into midfield when required during the build-up phase of play. It shows a highly mobile defender who is comfortable in virtually any part of the pitch.
Heat maps are important because they also show a player's most comfortable areas of operation (darkest red), for most players these areas are concentrated and specific. Tomiyasu is an exception, his map is all over the place. It shows both comfortabilities in the box as part of a solid back four and the ability to climb the right touchline up to the edge of the area like an offensive fullback, although his favored area on the right side is just past the halfway line. 
Intangibles to Consider
*These are based on what the player offers as far as things such as mentality, leadership, as well as life and career experience*
Tomiyasu has been highly touted amongst the Japanese national team setup for a long time. He has logged almost twelve thousand minutes of game time since breaking through in Japan's first division for Avispa Fukuoka aged 17. He initially played as defensive midfielder before being converted to a defender and eventually a right back at Bologna.
As his stature rose as a youth player, Tomiyasu was compared to the likes of Dani Alves for his strong, robust frame and amazing speed for his age. He was likened to and aspired to be a Javier Mascherano  type and that is clear in his game as he is very confident on the ball in the 2nd phase of play but also has the ability to make a decisive tackle when needed.
He becomes just the 10th Japanese national to play in the English Premier League, joining the likes of Shinji Kagawa, Shinji Okazaki, Maya Yoshida, and most recently Takumi Minamino. This representation comes with a different level of international scrutiny and pressure that can often be a heavy burden for some players and his mentality will be tested which is always important, especially for young players entering the top level of domestic competition.
Tomiyasu's youth coaches often spoke to his character, stating that he regularly captained his youth sides while climbing the ranks of the academy. During his time in Serie A journalist Manuel Minguzzi stated that, "fans can always expect maximum professionalism and commitment from Tomiyasu." He also stated that "As soon as he arrived [in Serie A] he became an idol. The Japanese market is always very active on social networks and Bologna has expanded its popularity thanks to Tomiyasu." 
Final Thought
Takehiro Tomiyasu is an incredibly versatile defender with the unique ability to pass and dribble with both feet. This makes him the perfect final piece to Mikel Arteta's almost completed defense. He has the versatility to play as a centre back anywhere across a back three, as well as the link-up ability and offensive potential to play as an inverted fullback or additional midfielder in the build-up and final 3rd of what seems to be Arteta's preferred formation going forward.
His combination with Ben White and Thomas Partey will be intriguing to watch. His ability to link play and tackle outside the box will compliment similar qualities in both Partey and White, meaning that, at it's best, this right side will be a nightmare to break down both in a settled shape and on the break due to the physical ability and recovery speed of all three players.
Another exciting prospect will be watching Tomiyasu's offensive game expand under a more attack-minded coach in Arteta who will ask his new fullback to push further up in the final 3rd and encourage him to become more involved in attacking actions.
While he does sometimes struggle with how to deploy his varied skill set, his potential to grow into his versatility makes him the perfect signing to round out the defensive profiles needed to help Mikel Arteta's Arsenal youth revolution take its next steps.
By: Aden Ravi / @eyetestfb
Featured Image: @GabFoligno /
Note: This article was originally published on premierleaguenewsnow.com.