The Rise and Fall of Sead 'The Tank' Kolašinac
"When you see the quality of his performance again, you see there are still some good deals to make out there. [He has been a success] because he has the natural qualities that suit firstly his position as a wing-back and, secondly, because he has the absolute body power that is needed in the Premier League,"-Arsène Wenger.
Arsenal's legendary manager uttered those exact words nearly three years ago after a 2-1 victory over Swansea City. The recipient of the praise? Sead Kolašinac, who had scored the equalizer and set up Aaron Ramsey's go-ahead-goal seven minutes later.
The Bosnian's arrival was viewed as a major coup at the time, with Arsenal beating out interest from Everton, Milan, Juventus and Chelsea to sign the 23-year-old on a free transfer. Having joined the club in 2017 on a five-year contract, he received a hefty salary of £100,000-a-week and was widely viewed as the long-term solution at left back. However, three years into his stay in North London, Kolašinac has fallen out of favor with manager Mikel Arteta, having played just one match in the Premier League this season.
Humble Beginnings in Germany
Born in the suburbs of Karlsruhe, Germany after his parents fled the brutal Bosnian War, Kolašinac devoutly practiced two religions growing up: Islam and football. Speaking in an interview with Arsenal, Kolašinac recalled:
"My childhood memories are very positive. I still talk often with my friends about our childhood. Looking back, as soon as school finished, we'd go to the local pitch and play until our mothers would drag us away late at night. We had a clay pitch and then next to that a new astroturf cage was built, so we'd play there too."
He soon began his career at local club Karlsruher SC, spending eight years in their academy before joining Hoffenheim's youth set-up in 2009, where he would spend one year before heading to Stuttgart. After two relatively brief and unsuccessful spells in two of Germany's biggest clubs, Kolašinac joined Schalke's youth ranks in 2011.
It was here in North Rhine-Westphalia that Kolašinac finally started to believe that he would make it as a professional footballer. Playing under Schalke u-19 manager Norbert Elgert, the man who helped develop the likes of Mesut Özil, Julian Draxler, Leroy Sané and Joël Matip, Kolašinac was instilled with a confidence that helped him become the player he is today.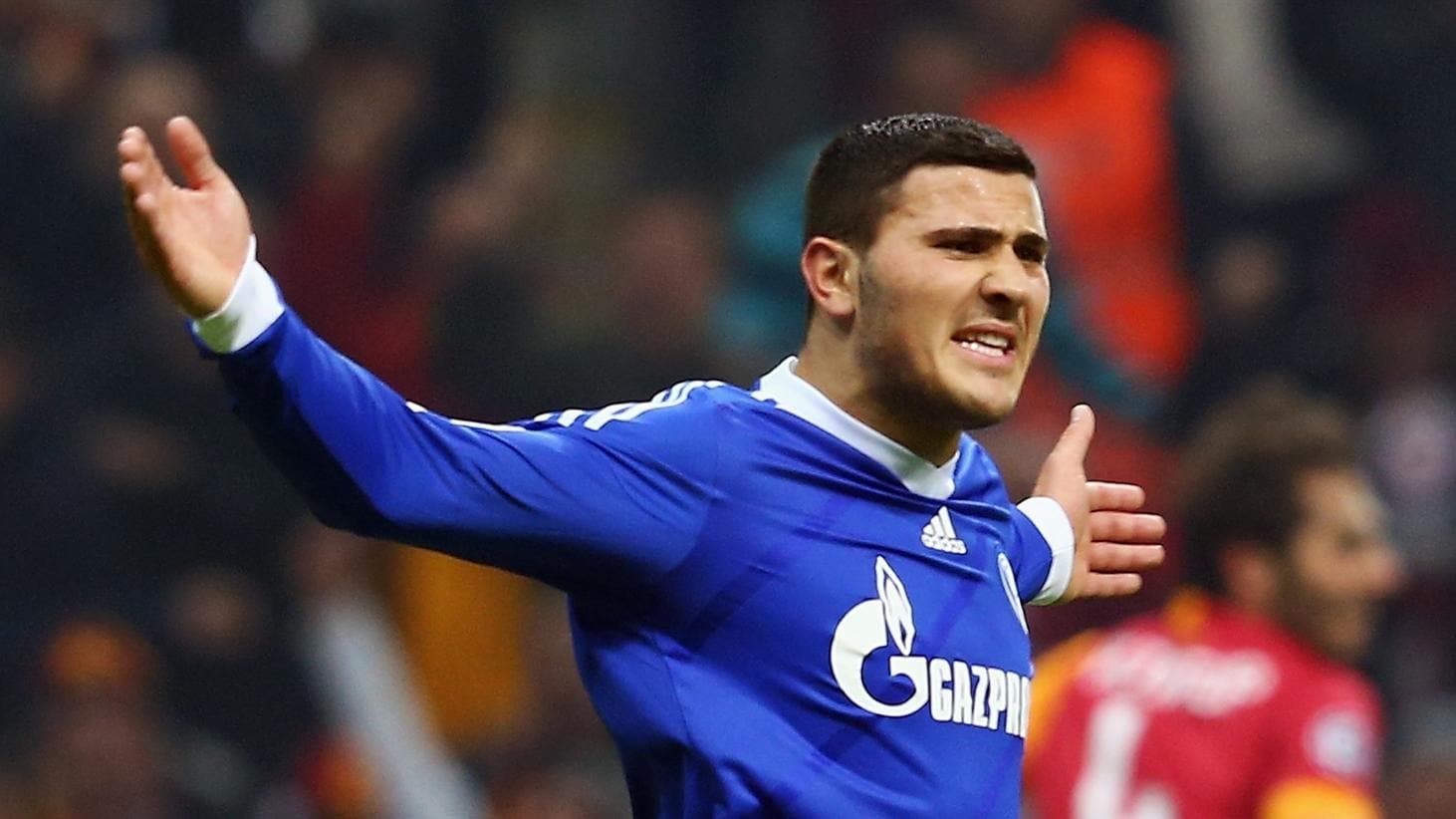 Photo: Getty Images
After one season in the youth set-up, Kolašinac was promoted to Schalke's B team, where he would register two goals in seven matches before being promoted to Schalke's first team squad. At 19 years old, Kolašinac initially alternated sporadic minutes in the first team with regular game-time in the Regionalliga West, but he established himself as a starter during the final months of the 2012/13 season.
Kolašinac continued to impress under manager Jens Keller, cementing his starting spot as Schalke finished 3rd in the Bundesliga and advanced to the Champions League knockout round. After ascending Germany's youth sides, Kolašinac switched allegiances and he received his maiden call-up for Bosnia and Herzegovina's national team on November 7, 2013. Six months later, he was included in Safet Sušić's 23-man squad for the 2014 FIFA World Cup in Brazil.
Sušić gave him the start in Bosnia and Herzegovina's first ever match at a major tournament; three minutes into the game, Kolašinac scored the fastest own goal in World Cup history as Argentina took all three points at the Maracanã. He was dropped from the team in the following match, but returned to the starting line-up in the final group stage match as the Golden Lillies defeated Iran in Salvador.
After a red-hot start to life in Germany, Kolašinac suffered the first major setback in the opening match of the 2014/15 Bundesliga campaign. 16 minutes into the season opener, he tore his anterior cruciate ligaments in his right knee and was sidelined for the next eight months. Neither Dennis Aogo nor Christian Fuchs were able to adequately fill his vacancy, and Schalke finished the season in sixth place.
The Bosnian found himself on the bench during the start of the following season, but he soon displaced Aogo from manager André Breitenreiter's starting line-up before scoring his first goal at the senior level in a 1-1 draw against Augsburg. Although he predominantly played at left back, Kolašinac clocked several appearances as a holding midfielder, a left midfielder, and a left-sided wingback. 
With an imposing physicality and his aggressive style of play, Kolašinac earned a plethora of nicknames from the Schalke fanbase such as 'The Bosnian Hulk,' 'The Tank,' and 'The Destroyer.' The 2016/17 campaign saw him solidify his status as one of the best prospects in Germany, and he beat out the likes of Marcel Schmelzer and David Alaba to earn a place in the Bundesliga Team of the Season.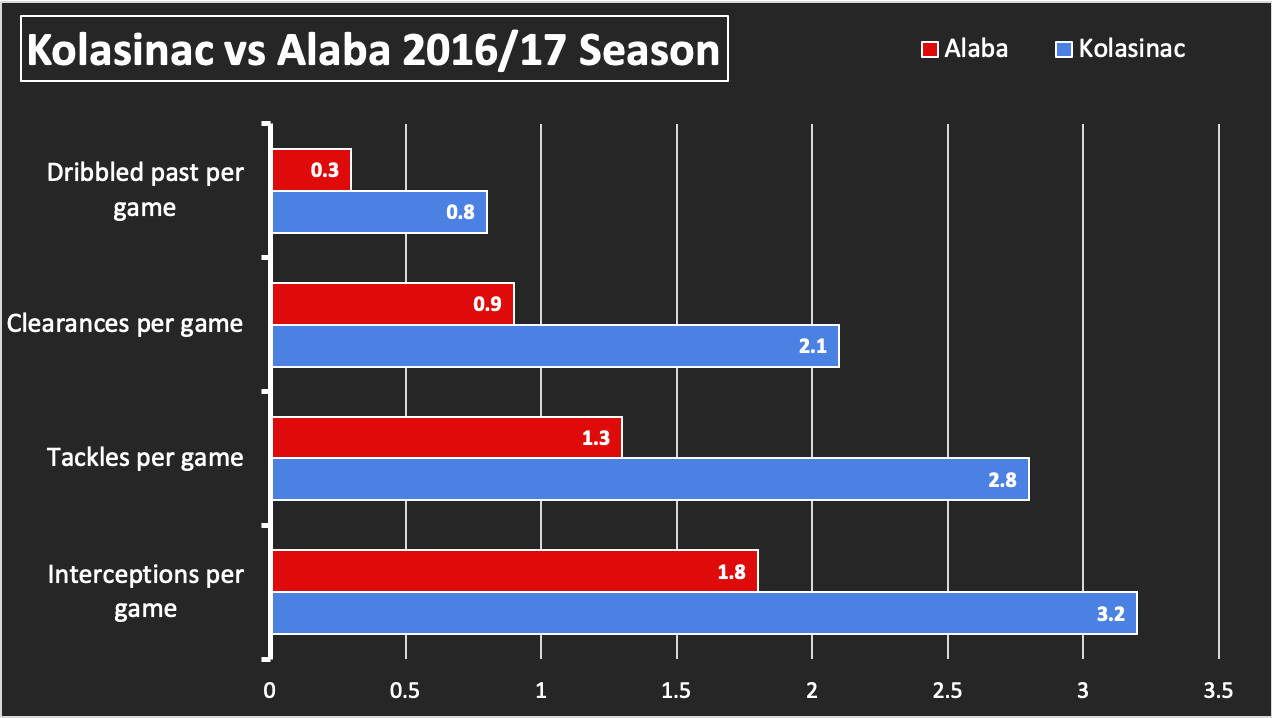 Despite playing in a wretched Schalke side that would finish 10th, he provided three goals and five assists and marshalled a Die Königsblauen defense that conceded just 40 goals — the joint-third-best defensive record in the Bundesliga. It's why after six years at the club, Kolašinac left Gelsenkirchen and headed for North London in the summer of 2017.
A Topsy-Turvy Spell in London
It didn't take long for him to make his mark at Arsenal. Having made his debut as a substitute in the Community Shield against Chelsea, he announced himself in stunning fashion by scoring a thumping header past Thibaut Courtois to equalize in the 82nd minute. Arsenal would go on to win 4-1 on penalties, with Kolašinac lifting the first trophy of his senior career at Wembley Stadium.
Five days later, he started in Arsenal's Premier League season opener against Leicester City. Playing as a left-sided center back in a back three, Kolašinac kept Riyad Mahrez quiet on the right flank whilst providing the assist for Danny Welbeck's equalizer. Arsenal prevailed with a 4-3 victory at the Emirates Stadium following late goals from Aaron Ramsey and Olivier Giroud, but it was Kolašinac who stole the show.
"[Kolašinac] uses quite well the strength of his body without violence and when he intervenes it doesn't look to be a foul, he just uses his body strength," Wenger stated after the match. "It is an important quality to help adapt to the Premier League."
For the most part, Kolašinac adapted to the Premier League like a fish to water, winning seven of his first 10 matches and providing two goals and three assists along the way. Surging down the left flank like a freight train, his overlapping runs overwhelmed defences and provided an extra weapon going forward.
On the defensive end, the early signs were positive too. His muscular build allowed him to bully and harass the smaller, weaker wingers into submission or force them to try to play around him, but the beauty of the back three meant that Nacho Monreal or Laurent Koscielny, who split time as the left-sided center back, often helped in blocking that avenue and allowing their Bosnian teammate to push further forward in the wing-back position.
However, his manager was not as convinced by his individual defending ability as the numbers would have suggested. Whenever Wenger opted for a 4-2-3-1 formation, Kolašinac regularly found himself on the bench for Monreal. Regular omissions from the line-up coupled with niggling injuries saw Kolašinac miss out entirely in league matches against Liverpool, Chelsea and Tottenham Hotspur.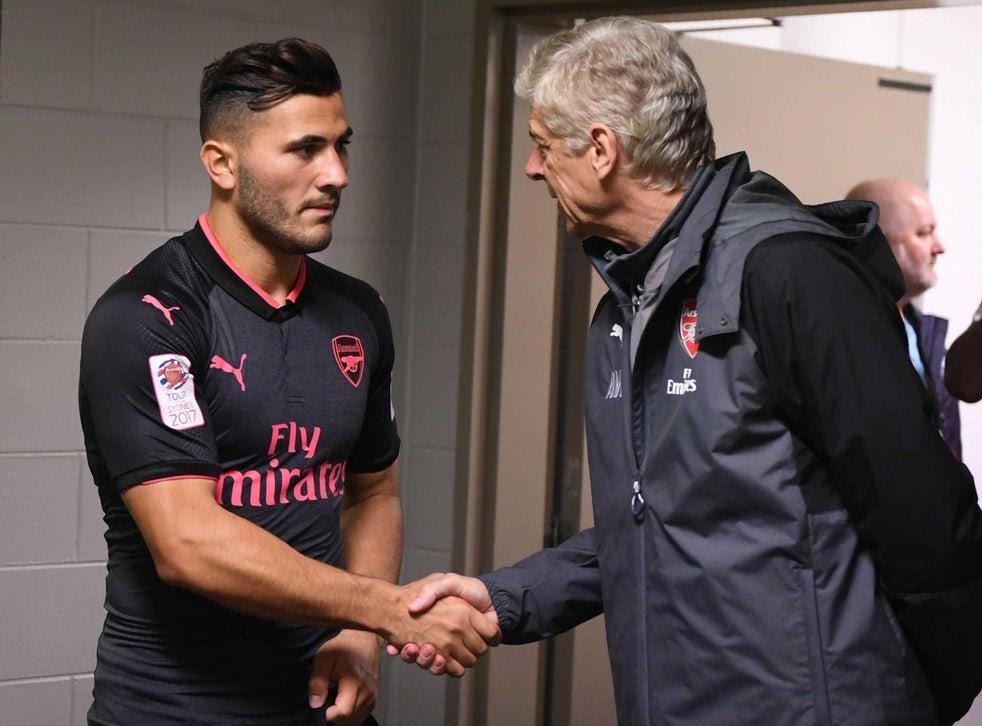 Photo: Arsenal FC / Getty Images
The season ended in disappointment, with Arsenal losing to Manchester City in the EFL Cup Final and Nottingham Forest in the Third Round of the FA Cup, as well as being eliminated by eventual victors Atlético Madrid in the UEFA Europa League semifinals. They finished a point behind fourth-place Liverpool, causing them to miss out on qualification to the UEFA Champions League for the second straight year after previously making the past 19 editions of the tournament.
Amid subpar performances and mounting pressure from the fanbase, Wenger announced his decision to step down from his managerial position after 22 years at the helm. He was replaced by Unai Emery, who resigned from role as Paris Saint-Germain manager that same summer. Emery eventually settled on a 4-2-3-1 formation to accommodate the wealth of attacking options at his disposal, infamously claiming in his first press conference, "I prefer to win 5-4 than win 1-0."
After being sidelined for two months with a knee injury, Kolašinac returned to action against Qarabağ, starting as a left-sided wingback as Arsenal took a commanding 3-0 victory in Azerbaijan. He would have to wait another month before making his first start in the Premier League, but after delivering an impressive performance in a 1-1 draw against Liverpool, Kolašinac quickly nailed down a starting spot under Emery.
The Basque manager's gung-ho approach played into Kolašinac's hands, as he could showcase his aggressive, all-action style as a left back or as a left-sided wingback, pressing high up the pitch and providing width down the flank. He provided 7 assists in league play and was included in the UEFA Europa League Squad of 2018/19, but it wasn't enough to prevent the Gunners from enduring another calamitous end to the campaign.
The Beginning of the End
After taking 4 points from a possible 18 in league matches against Everton, Watford, Crystal Palace, Wolves, Leicester City, and Brighton, Arsenal narrowly missed out on top four, with crosstown rivals Tottenham Hotspur finishing one point above them. It meant that their only chance of qualifying for the Champions League rested in Baku, Azerbaijan.
Arsenal faced off against Maurizio Sarri's Chelsea — who had already qualified for the Champions League — in the Europa League Final. Playing as a left-sided wingback, Kolašinac wasted countless chances and failed to pick out Pierre-Emerick Aubameyang in goalscoring areas. Chelsea would go on to win 4-1; Emery, meanwhile, decided it was the final straw.
On August 8, 2019, Arsenal completed the purchase of Kieran Tierney from Celtic for £25 million. Having won five Scottish Championships with the Hoops, the 22-year-old was considered one of the brightest left backs in Europe, and although he made just three starts in the league under Emery, there was a common expectation that when he eventually steered clear of injuries, he would be starting over Kolašinac rather than merely competing with him.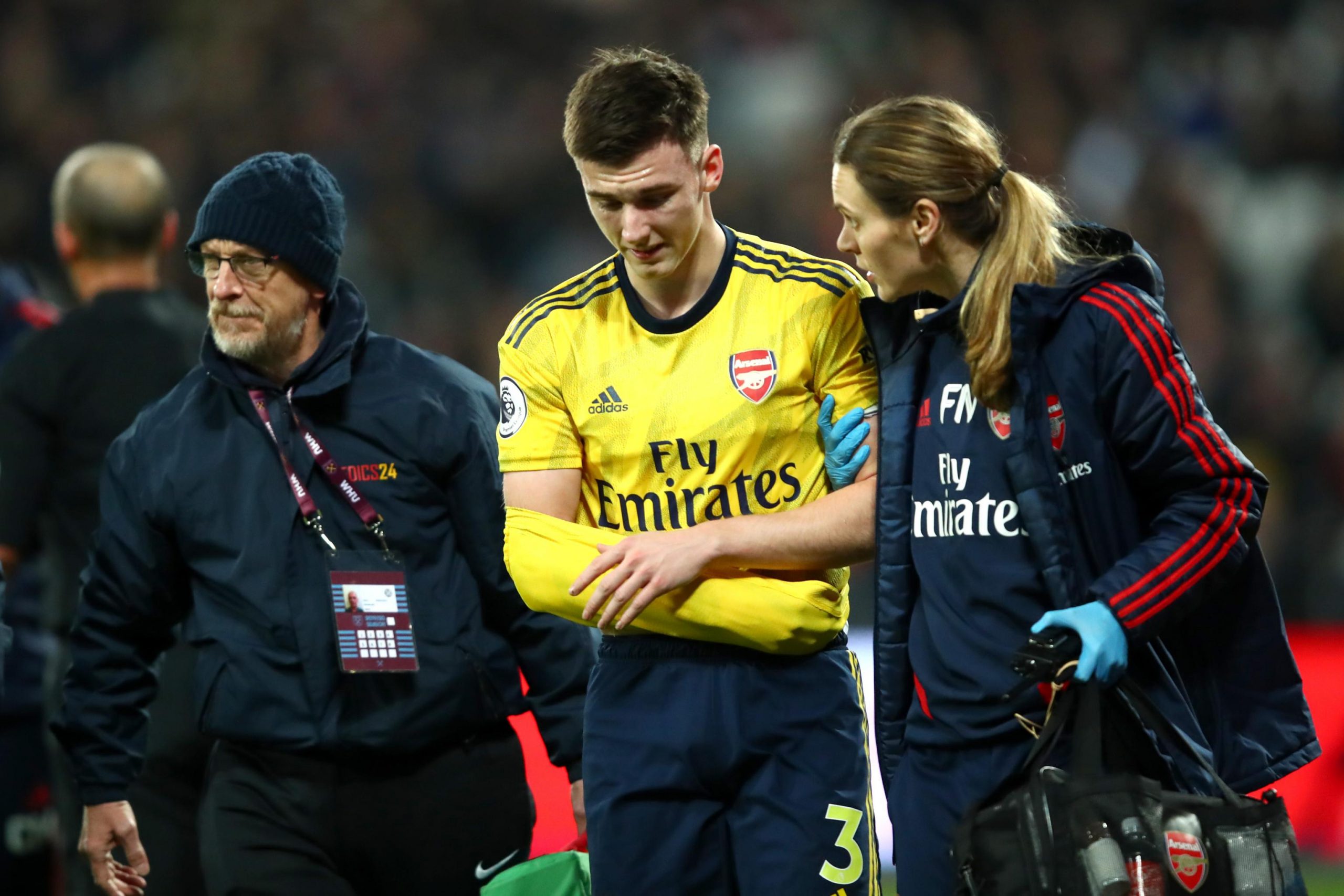 Photo: Julian Finney / Getty Images
Indeed, after the resumption of Premier League football, Tierney cemented a starting spot under Arteta, who took charge of Arsenal on December 20 following Emery's dismissal. The Scotland international won Arsenal's Player of the Month award for the month of June and has continued to demonstrate his potential in a wide variety of positions, having been given the start over Kolašinac in the FA Cup Final.
If it wasn't Tierney starting at left back, it was Bukayo Saka. The then 18-year-old began to establish himself at the left back position due to Tierney and Kolašinac's injuries, and he has since become a vital part of Arteta's first team — whether playing at left back, on either flank, or as the most advanced central midfielder. Saka has provided five goals and 13 assists in 52 appearances for Arsenal; Kolašinac has provided five goals and 15 assists in 112 appearances.
Similarly to Saka, Ainsley Maitland-Niles has ascended Arsenal's Hale End academy to become of a jack of all trades in Arteta's first team squad. After looking set to depart North London in search of game-time, Maitland-Niles started at left wing-back in the FA Cup semifinals against Manchester City, nullifying Mahrez and enabling Arsenal to progress to the Final. Maitland-Niles kept Mason Mount in his back pocket across 78 minutes until he was subbed off for Ross Barkley, as the Gunners sealed their 14th FA Cup trophy.
The below table combines the the goal-scoring actions per 90 minutes with shot-creating actions per 90 (GSAp90 + SCAp90). By analyzing actions such as passes, dribbles and fouls won, we can get a better glimpse of how Arsenal's four "left backs" fare in attack.
Unsurprisingly, Saka ranks first, although it's worth noting that he has played in advanced positions such as left wing or right wing with far more regularity than any of his competitors. On the other hand, despite playing more 90-minute appearances than Maitland-Niles and Tierney, Kolašinac ranks dead-last in terms of GSAp90 + SCAp90.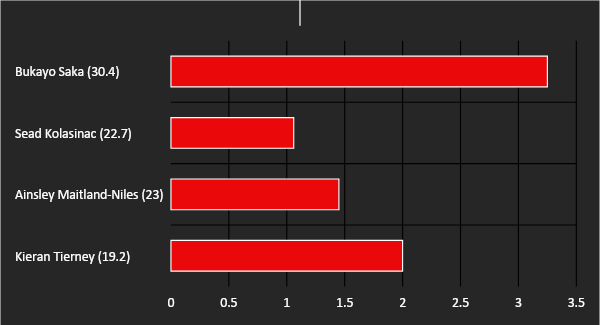 Kolašinac had his best season in an Arsenal shirt during the 2018/19 campaign, but if we rake the underlying numbers from his first season under Emery, we can see that not all that glitters is gold. He mis-controlled the ball 44 times and was dispossessed 20 times, more than any other defender at the club, whilst he also had the worst dribbling percentage (51%) of any player bar Koscielny and Henrikh Mkhitaryan. 
Out of the Arsenal players who completed more than 1,000 passes, Kolašinac had the second-lowest completion possession of 78.7%. This could suggest he was attempting some high-risk-high-reward passes, but his progressive pass distance towards goal suggests otherwise; he ranked amongst the lowest performers at the club in this metric.
To make matters worse, the outcome of these passes was far from advantageous. From the players who completed more than 1,000 passes, his passes were blocked more than any other Arsenal player (76), intercepted 36 times (3rd-lowest) and went out of bounds 35 times (3rd-lowest). 
He didn't fare much better on the defensive end. Despite having a strong physical presence, his percentage of aerial duels won was the worst of any Arsenal defender with more than 10 appearances (34%). It is little surprise that Monreal, who was 31 years old when Kolašinac arrived at the club, was often preferred at left back during Arsenal's biggest matches under Wenger and Emery, or left-sided center back whenever they opted for a back three.
Despite being eight years Kolašinac's senior, Monreal ranked above his former teammate in terms of tackles, blocks, interceptions and clearances. Even at 34, the Basque defender shows little signs of slowing down, having started nine matches at the left back position for Real Sociedad this season.

In a last-gasp attempt to convince Arteta of his worth, Kolašinac started as the left-sided center back against Tottenham Hotspur, with Pablo Marí, Arsenal's only left-footed center back, unavailable due to an ankle injury. Arsenal opened the scoring early on via a goal from Lacazette, but they relinquished their lead just three minutes later.
Having failed to pick out a forward passing option in time, Kolašinac was forced to recycle it backwards after being closed down by Harry Kane. However, his back pass to David Luiz failed to meet its intended target, and Son Heung-min scooped up the loose ball before slotting the equalizer past Emiliano Martínez. Tottenham took the lead in the 81st minute via a set-piece goal from Toby Alderweireld, and Arteta promptly hauled Kolašinac off for Reiss Nelson.
From that moment onwards, Arteta has typically opted for Tierney at left center back and Saka at left wing-back whenever he has gone for the 3-4-3, although he has also gone with a 4-3-3 and a 4-2-3-1 in recent weeks. Kolašinac has started just two Premier League matches since then — a 1-0 loss to Aston Villa and a 2-1 victory over West Ham. However, he has started both of Arsenal's matches in the EFL Cup as well as all but one of their matches in the UEFA Europa League group stage, having missed out on their away match against Molde after testing positive for COVID-19.
Kolašinac looked close to joining Bayer Leverkusen during the final weeks of the summer transfer window, but his wages and Arsenal's asking price of €11 million proved to be a stumbling block. Leverkusen and Roma are reportedly keen on signing him in January, and if Arsenal fail to permanently offload him next year, they run the risk of losing him for free in 2022.
At 27 years old, Kolašinac finds himself at a crossroads in his career. He has failed to live up to expectations at Arsenal, and it's clear that a move abroad is best for all parties involved. Only time will tell if Sead 'The Tank' can rev up his engine again.
By: Toby Rathborne
Featured Image: @GabFoligno / Stuart MacFarlane – Arsenal FC