Six Footballers Flying Under the Radar
The January window has come and gone with barely a hint of significance, the biggest deal being Ajax's €22.50m signing of Sébastien Haller. Even in the Premier League, a division renowned for its tendency to overspend on foreign talent, we have seen the least net spend for almost 9 years, with all 20 clubs collectively spending less than Liverpool did on Virgil van Dijk 2018.
As football continues to be played behind closed doors, purse strings are tighter than ever, forcing clubs at all levels of the game to become more shrewd in the transfer market. Whilst the search for under the radar players has always been an important step in the recruitment process, now more than ever clubs will need to rely on their scouting range or analytics department to get the most out of a volatile market where one mistake can make the difference between a sustainable future or insolvency.
Using the market values available on Transfermarkt, we have compiled a list of 10 undervalued players who could make an impact at your club next season.
Borna Sosa
Age: 23
Position: Left Back
Market Value: €6 million
VfB Stuttgart are brimming with talented youngsters, each carving out a reputation in the German topflight this season as the newly-promoted side remain in the race for Europa League qualification. Though the attacking forces of Silas Wamangituka, Nicolás González, and Sasa Kalajdžić have grabbed most of the headlines, one of the unsung heroes of Die Schwaben's success is Croatian left back Borna Sosa.
Sosa initially found the adjustment to German football challenging, constantly plighted by injuries and uncomfortable as a left wingback in Pellegrino Matarazzo's 3-5-2. Having not featured regularly since joining the club in 2018, few expected Sosa to play a significant role in Stuttgart's first season back in the topflight, casting the 23-year-old aside as a youngster who was never able to come good on his early promise.
However, 21 games in and Sosa is an irreplaceable figure for Stuttgart, perfectly complementing the attack-minded Silas Wamangituka at RWB. Particularly the Croatians aerial delivery has deserved praise, completing the most crosses per 90 in the Bundesliga, and the second most of all players in the top five leagues.
With the tallest player in the Bundesliga, Sasa Kalajdžić, to aim at, Sosa's whipped deliveries have provided a gold mine for Stuttgart's game going forward, contributing a team-high 5 assists this season.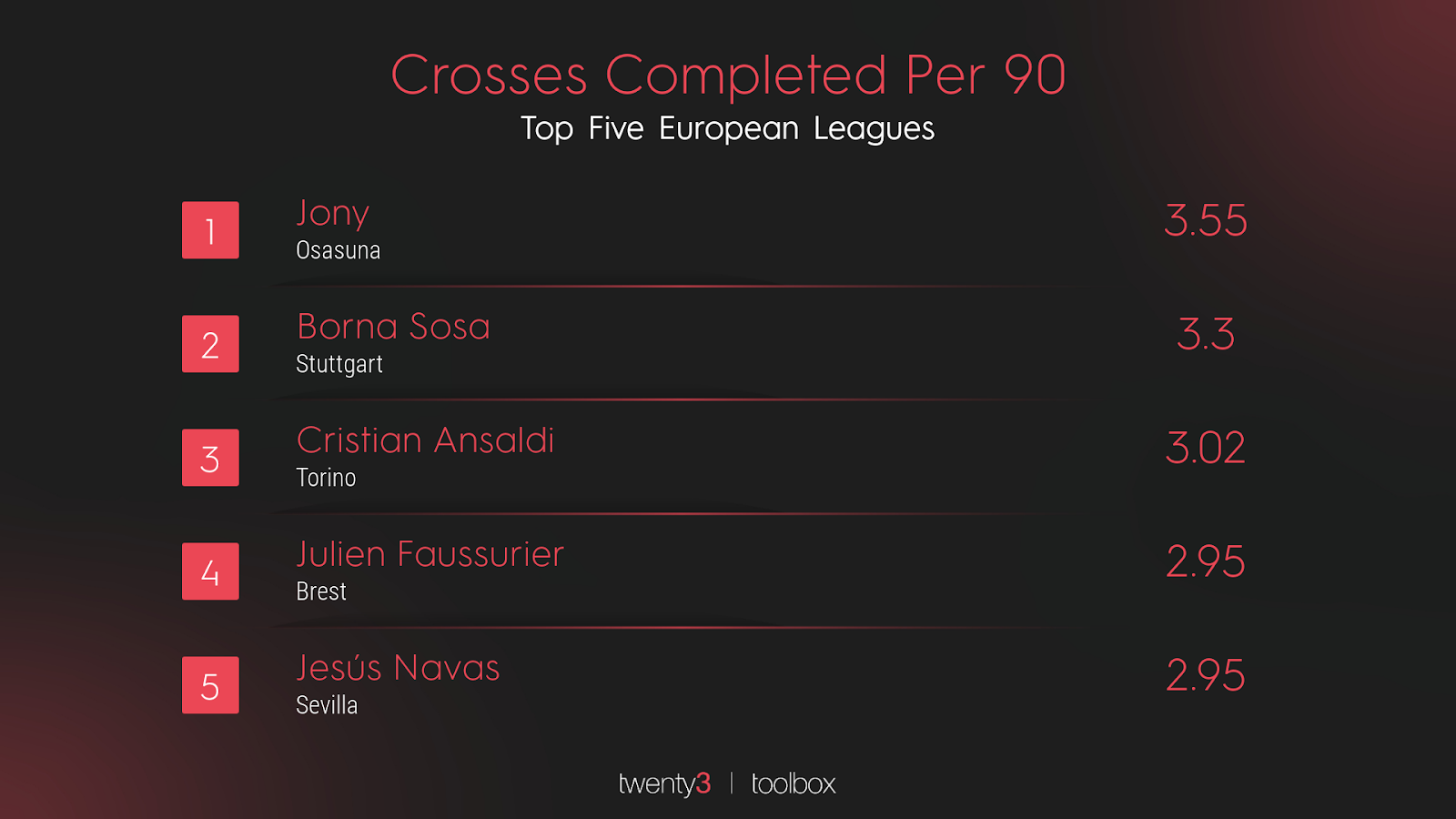 At just 23 years old, Borna Sosa is already amongst the very best crossers in football. With 3.3 successful aerial deliveries per 90, Sosa is the best crosser in the Bundesliga, and only behind Osasuna's left-winger Jony when it comes to the top five European leagues.
Though Wamangituka is primarily tasked with progressing possession, showcased in his staggering 5.16 dribbles per 90, Borna Sosa is not far behind. With 3.72 per successful dribbles per 90, Sosa is perhaps not on the absurd levels of his Congolese teammate, however, his success rate of 80% is unmatched for all players with over 50 dribbles in the Bundesliga this season.
Sosa is a player who not only possesses the ability to beat his man but has a sensible understanding of when it is the right moment to go into an attacking duel, a crucial skill in a position where turnovers can lead directly to a dangerous chance for the opposition. Capable of creating crossing opportunities through his exceptional dribbling, and then capitalizing with an unmatched aerial delivery, he is on his way to becoming one of the most feared attacking fullbacks in the modern game.
Though recurring injuries continue to derail the youngster's career, an estimated value of just €6 million makes him a steal for various Premier League sides regularly spending three times that sum for a player with a similar age and output profile. With FC Bayern already beginning to sniff around the possibilities of bolstering their left flank with the Croatian this summer, sides will need to act fast if they want to bring in Stuttgart's rising star. 
Teun Koopmeiners
Age: 22
Position: Central Midfielder
Market Value: €15 million
Being the most exciting player at a club renowned for its talent production is already a significant accomplishment. But captaining that side despite being just 22 years old, now that is truly extraordinary.
Though the likes of Ryan Gravenberch and Donny van de Beek have stolen much of the headlines as the future of Dutch football, Teun Koopmeiners is establishing quite the reputation for himself at AZ Alkmaar. Commanding the center of the park for "The Cheeseheads" since he was 19 years old, it is only a matter of time before Teun Koopmeiners' talents are recognized with a big move to one of the top European leagues.
The tremendous leadership Koopmeiners possesses is just a small piece of what he has to offer, boasting a technical and physical profile reminiscent of some of the best Dutch midfielders in recent memory. Operating primarily as a screen in front of Alkmaar's defense, Koopmeiners is the tempo setter in AZ's attacking game, receiving and completing the third-most passes of any player in the Eredivisie this season.
With an abundance of attacking talent throughout the Alkmaar squad, Koopmeiners is the perfect midfielder to transition the side from the defensive third into areas of the pitch where their forwards can create goal-scoring opportunities. This is reflected in the types of passes Koopmeiners is making, not simply circulating possession around the defense, but looking for penetrating balls between the lines.
Despite playing as the deepest midfielder in AZ Alkmaar's 4-3-3, Koopmeiners has completed the 4th most final third passes in the Dutch topflight, producing equally outstanding passing metrics in the condensed areas around an opponent's goal as he does in build-up phases under minimal pressure. The refined technique associated with Dutch football is not just evident in Koopmeiners' passing game, but on full display once more when Koopmeiners is given the opportunity to shoot.
With four direct free kicks and numerous other long-range strikes over the past two seasons, Koopmeiners brings a tremendous goal threat from central midfield. Though half of his goals have come from the penalty spot this season, Koopmeiners' is a constant threat around the opponent's goal, reflected in his team-high 12 goals and 4 assists in the Eredivisie this season.
Defensively Koopmeiners rarely operates like a solitary defensive midfielder, often leaving his position to smother danger higher up the pitch. Though his proactive style may not be well suited to a side looking to soak up pressure in a deep defensive block, putting Koopmeiners in a high-octane pressing outfit will see him flourish.
Reading the game well to intercept possession, as well as completing over 43% of his successful defensive actions in the opponent's half, Koopmeiners would be an ideal fit for a side that looks to win back possession in the opponent's third with a high press intensity. Out of the Europa League and unlikely to feature in Holland's Euro squad this summer, Koopmeiners could be one of football's best-kept secrets come July.
Whilst other young midfielders will find their price tag monumentally inflated as a result of a good Euro's performance, he will continue to fly under the radar. An ideal signing as a long-term replacement for Fernandinho at Manchester City, or as a dynamic midfielder to slot into Marcelo Bielsa's high-intensity Leeds United, Teun Koopmeiners could be one of the most astute pickups this offseason. 
Noa Lang
Age: 21
Position: Left Winger
Market Value: €8 million
Club Brügge have perhaps already made the biggest deal of the upcoming summer window, activating the €6 million option to buy Noa Lang on a permanent basis from Ajax Amsterdam. A 21-year-old winger whose career had seemingly stalled a year ago, Lang is now the most exciting player in the Belgian topflight, breaching opposition defenses at an unparalleled rate.
Though Brügge will do everything in their might to hold on to Lang past the summer, if he continues to perform at these exceptional levels, it is unlikely the Dutch youth international will still be in the Belgian Pro League for the 2021/22 season. At 21 years of age, Lang is leading the club's title charge alongside the likes of Bas Dost and Charles De Ketelaere.
Marred by the heavy competition, and his own disciplinary problems off the pitch, Lang made the difficult decision to leave Ajax, his hometown club which he had represented since the youth age groups. Despite some early teething problems in his new challenge in Belgium, he has established himself as an undroppable figure for Phillipe Clement's Brügge side, contributing 18 goals in 16 Pro League starts. 
This ruthlessness in front of goal was always the factor missing from Lang's game going forward, an incredible attacking talent with bags of trickery, but minimal end product. Across youth age groups, the Dutch second division, and Eredivisie Lang never put up more than 5 goals in an individual competition, yet less than six months into his spell at Brügge, he has more than doubled that output.
Whilst at Ajax Lang would always want the ball to feet, now he is more readily looking to run in behind the opponents, timing his runs perfectly with an unmatchable turn of pace. It is no coincidence then that 8 of his 12 goals in all competitions have come in the second half, capitalizing on tiring minds and bodies in the opposition defensive lines. Lang's creative output has never been an issue and is once more on full display in the blue & black of Club Brügge. Combining an immense dribbling ability with the awareness and timing to spot a better-placed teammate, his 9 assists in all competitions are an understatement to the work he has done on either flank.
With the most through balls and 4th most progressive runs per 90 of any attacker in the Belgian Pro League, Lang is regularly carrying possession up the pitch, drawing opponents onto himself, and then unleashing a teammate for an easy finish on goal. In a side looking to exploit a counter-attacking opportunity, Noa Lang's creativity, speed, and goalscoring output is the perfect profile to elevate the efficiency in the final third. 
Though the attacking numbers Lang has produced this season may suggest it, the Ajax graduate is far from the ready-made product. In the Champions League group stage, Lang far too often fluctuated in his performances, displaying the full extent of his talent in a 3:0 drubbing of Zenit, but flying under the radar in both home and away fixtures against Borussia Dortmund and Lazio Rome.
One of Europe's elite clubs may still be a step too far this summer, however sides operating in the mid-table of the top four leagues who rely on quick counter-attacks, and transition moments will be the perfect next step for him. Teams like Aston Villa, VFB Stuttgart, and Atalanta could be exciting prospects for the Dutch youth international to blossom into Holland's next attacking diamond.  
Stephen Humphrys
Age: 23
Position: Striker
Market Value: €250,000
Few people reading this piece will have heard of Stephen Humphrys, however, if the Englishman continues his prolific run of form, that will soon change. 23 years old and in his first season on the books of League 1 (the third tier of English football) club AFC Rochdale, Humphrys is blossoming into one of the most complete strikers in the lower divisions of English football.
Though his 7 goals in 16 appearances don't immediately ring of a player destined for a bigger challenge, Humphrys prolific pace, heavyset frame, and deft technique that challenges the stereotypes associated with lower league football mean he won't be stuck in League 1 for much longer. Particularly his dribbling is eye-catching, carrying the ball at tremendously high speeds, whilst using his strong frame to hold off opponents.
With 4.57 completed dribbles per 90, Humphrys ranks just third amongst League 1 strikers, however, his completion percentage of 86% is truly eye-catching. No other striker in the top four leagues of English football completes more than 2 dribbles per 90 at such a tremendous completion rate, putting Humphrys in a class of his own when it comes to beating a man in the final third.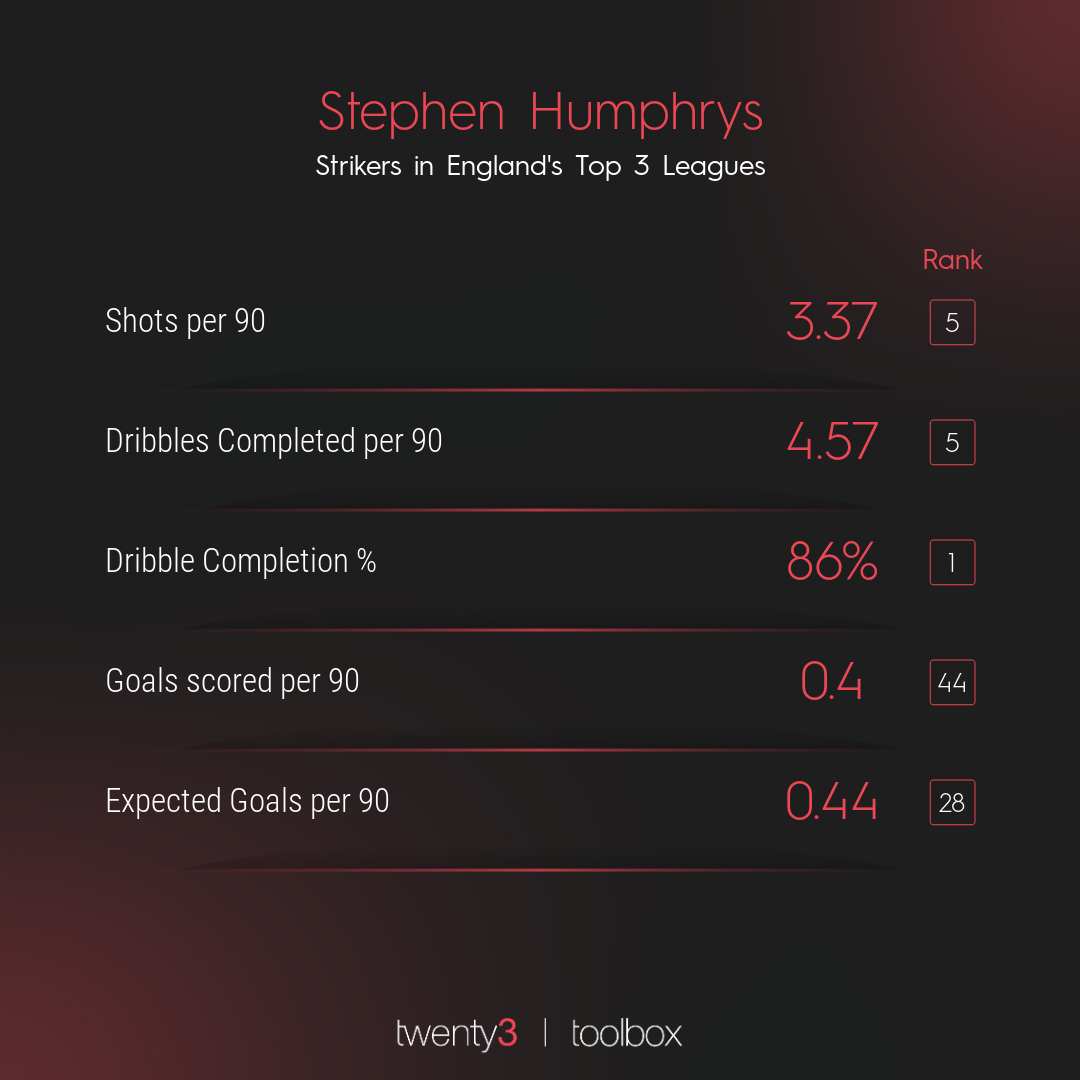 Humphrys' underlying stats display all the signs of a top striker, getting off a high volume of shots which he is able to generate through his own dribbling ability.  If Humphrys improves on his finishing, the Fulham academy graduate could have a big career ahead of him.
His consistent ability to get the ball into dangerous areas around the opposition goal is reflected in his shots per 90, the second-best in League only .11 below the Premier League's most prolific, Harry Kane. Though it is a slight worry that Humphrys has translated his 59 shots into only 7 goals, if he were to fine-tune this aspect of his game a future well beyond the lower tiers of English football is a feasible goal. 
With Rochdale entrenched in a relegation battle, Humphrys' presence will be crucial in their bid for a 7th consecutive season in the third tier. Like all clubs in League 1, 'The Dales' have been hit hard through the pandemic, unable to count on the matchday receipts that are fundamental to the survival of the lower leagues.
Though they will want to keep hold of their star striker for another year, Humphrys' contract runs out in 2022, meaning they will want to cash in this summer in order to get a much-needed transfer fee that could make the difference between life or death depending on how much longer English football is without fans. Expect Humphrys to be a feature in the Championship next season, most likely getting the move to a side in the lower half of the division. 
João Pedro
Age: 28
Position: Central Attacking Midfielder
Market Value: €18 million
Despite boasting a talent-packed squad tipped to compete for the Europa League places this season, Cagliari sit in the relegation zone after 23 matches, picking up just 5 points in their past 16 Serie A games. The season has been rich with underperformers, from veteran defender Diego Godín to the highly lauded Giovanni Simeone upfront. However, one player who has taken the side on his shoulders is captain João Pedro, his goals being perhaps the only reason why the Sardinians still have a fighting chance with 15 games to go. 
Whilst most of the Cagliari squad have fallen off a cliff since their performances in the early half of the 2019/20 season, João Pedro has picked up right where he has left off, scoring another 11 goals so far this season to add to his 18 in the previous campaign. What is so impressive about the Brazilian's goalscoring feats is not necessarily an incredible technique, scoring just 2 of his 29 goals across the previous two Serie A seasons from outside the box.
Instead, it is his ability to sense where crosses will come to or deflections will fall, timing his runs into the box exceptionally. In this sense, João Pedro is reminiscent of Thomas Müller, similarly interpreting the space available on the pitch to position himself for an easy chance on goal. Whereas similar high-scoring midfielders like Bruno Fernandes and Lars Stindl have average shot distances of 22.80 and 20.50 meters, João Pedro's is 14.90, reminiscent more of a striker than a midfielder primarily tasked with linking up play.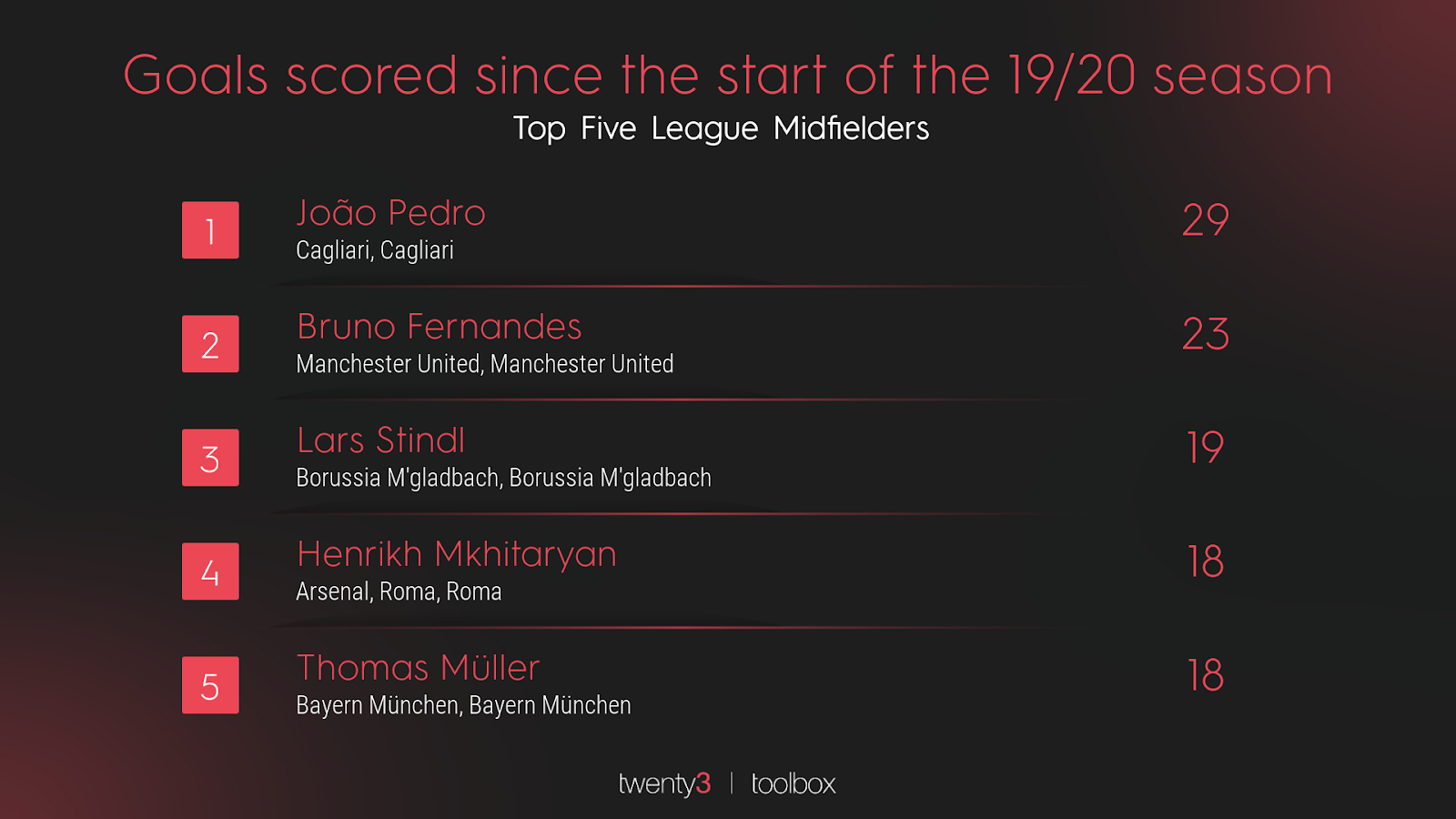 Despite playing for a side battling for top-flight survival, João Pedro is far and away the most prolific goal-scoring midfielder in Europe's top five leagues. With a direct involvement in 54% of Cagliari's league goals this season, it is scary to think where the Sardinians would be without their captain's goal contributions. 
It is still unclear whether João Pedro would be as prolific at another club, having spent the past 6 seasons at Cagliari, carving out a very distinct role for himself that would not be as readily found at another club. For example, João Pedro does very little in possession phases and against the ball, attempting the least defensive actions and passes of any of Cagliari's midfielders.
Whilst the Brazilian is able to change the state of a game with his clinical nature in front of net, utilizing João Pedro in the tip of a three-man midfield means the side is always one light in build-up phases and scrambling for cover when defending. His availability hangs on Cagliari's ability to remain in the topflight this season.
Though the Sardinians are 5 points adrift of safety, the new appointment of manager Leonardo Semplici could perhaps revitalize a squad that has more than enough firepower to remain in the top flight. However, if Cagliari were to plummet into Serie B for the first time since 2016, holding onto their prized asset may be a tough task, and João Pedro could be available for a cutthroat price cheaper than his current estimated value of €18.00m.
If he were to go, one would expect him to sign for another club in Italy or Portugal, two leagues he knows well. Alternatively, a return to Brazil or even a payday in the middle east could be an option, particularly interesting seeing as João Pedro is closing in on his 30s without ever becoming a top earner in the Cagliari squad.  
Jordan Amavi
Age: 26
Position: Left Back
Market Value: Available on a free transfer this summer
Fans of Aston Villa will likely remember the name Jordan Amavi, a 21-year-old fullback seemingly overloaded with talent after arriving for €11.00m from OGC Nice. By all accounts a future Premier league star and Les Bleus starter, a shocking ACL tear, and Aston Villa's relegation compounded to see Amavi quickly shuffled out the door, returning to France with Olympique Marseille.
There, Amavi has developed into the player which The Villans were hoping for all those years ago, and now 26 years of age with just a couple of months remaining in his contract, teams should be lining up to bring him in. However, new president Pablo Longoria and new manager Jorge Sampaoli will likely be doing everything they can to keep him in the French Riviera for a few more years.
Whereas 6 seasons ago Amavi was renowned for his blistering pace, and attacking impetus, the Frenchman has developed into a stalwart defender at OM. In a league renowned for its tricky wingers and pacy attackers, Amavi is an immovable object in 1v1 situations, dribbled by 0.24 times per 90, the least of any fullback in Ligue 1 this season.
In possession Amavi may not be the marauding fullback he threatened to become in his younger years, however, in controlled build-up phases, the Frenchman is still exceptionally well versed. As well as boasting the lowest intercepted passes per 90 of any Ligue 1 fullback, Amavi is capable of dealing with intense pressure in tight corridors, still finding the right pass instead of aimlessly lumping the ball up the pitch. 
The attributes Amavi brings are reflected in OM's performances with and without him on the pitch. When Amavi has featured in the league this season, OM have lost just once, keeping 4 clean sheets in 11 matches including a 1:0 victory over PSG.
However, in the other 14 matches which he missed through suspension and injury, OM won just two of them, completely dropping out of contention for a Champions League spot in the process. Though his attributes often go overlooked, it is clear to see the difference Amavi makes in Marseille's side, a reliable oppressor defensively, and a composed technician in possession. 
For Jordan Amavi, the Premier League is unfinished business, and a return to the English topflight could be on the cards this summer. Particularly Arsenal could be a favorable destination, with Mikel Arteta already expressing his interest in the Frenchman during the winter window, and forced to use right back Cédric Soares on the left side when first choice Kieran Tierney was injured. Though perhaps no longer the interesting youngster capable of getting fans off their seats, Amavi is a reliable figure with a capacity to improve any squad in the mid-table of the Premier League. 
By: Adam Khan
Featured Image: @GabFoligno / ANP Sport / Getty Images Sport / echo-news.co.uk / INA FASSBENDER / AFP