The Impact of Argentina's National Team's Scouting
Being a winner gives you many benefits, confidence is one of them. But for a coach, the comfort of being able to work in peace without receiving so much criticism on a weekly basis is a great relief. We know that today the clubs and national teams are not patient with the results.
The vast majority are more concerned with the team winning on the weekend than with the team building a good project that can be sustained over time. Here opens a debate as extensive as it is impossible to define: the taste of each person.
But what cannot be denied is that a project that has its sights set on daily work and that gradually grows, without letting itself be carried away by losing one or two games, despite seeing the team well, is going to obtain those results, sometimes.
Argentina's National Team went 28 years without winning a single trophy until obtaining the Copa América in 2021 at the hands of Lionel Scaloni, a former player who had his first experience as a coach in -neither more nor less- than the National Team of his country.
From Rejection in Argentina, Triumph in Chile and Uruguay, to Achieving Glory in MLS: The Redemption of Taty Castellanos
Since that last trophy in 1993, with Alfio Basile as coach, they have spent six World Cups and 11 DTs. All criticized by the public and the press. To a greater or lesser extent, why? It was due to not getting results. The trophies did not reach Argentina.
A former player arrived who had not stood out enormously as a footballer and came from being a field assistant to Jorge Sampaoli, a coach fired after the 2018 World Cup and after a process of total transformation of the Argentine National Team, betting on those with the best current status in their clubs, and with a job rarely seen in recent years.
Three years after taking office, he got that title that the Argentine people wanted so much, not the most desired yet (the World Cup). Having this title on their shoulders, the entire squad feels more relieved, united and confident of what lies ahead.
From this mentioned, Scaloni has a greater spectrum to move through, having the ease of not having a sniper on his back who is watching every move he makes.
This is how, in addition to a lot of work, the call that most surprised the soccer people in recent years of the Argentine National Team arrives: seven young soccer players unknown by many who were included in the list to face Venezuela and Ecuador, for the last two dates of the South American Qualifiers heading to the World Cup in Qatar.
That's not all, there are two Spanish players, yes, born in Spain. Well, let's get to the point. Who are these young people and why were they summoned?
On April 14, 2021, Argentina´s Football Association released an official statement announcing the start-up of a new project: the creation of the International Scouting Department, based in Madrid, Spain.
A project led by Juan Manuel Tassi, a specialist in youth training, with a master's degree in High Performance Sports, as well as experience in various Argentine soccer clubs.
The objective of this new area is to be closer to players who are abroad and have Argentine nationality, that is, who may be eligible for the Argentine National Team.
Julian Alvarez: What to Expect From City's Argentine Signing
Using advanced scouting programs, collecting information on those born between 2001 and 2011 (at the time of the announcement). A great advance of the Argentine Confederation thinking about the future.
Lionel Scaloni presented his pre-list of 44 soccer players for this double qualifying date and everything was a surprise there. And not everything was there, because at the time of publishing its final list of 33, the seven players remained there. Go for it: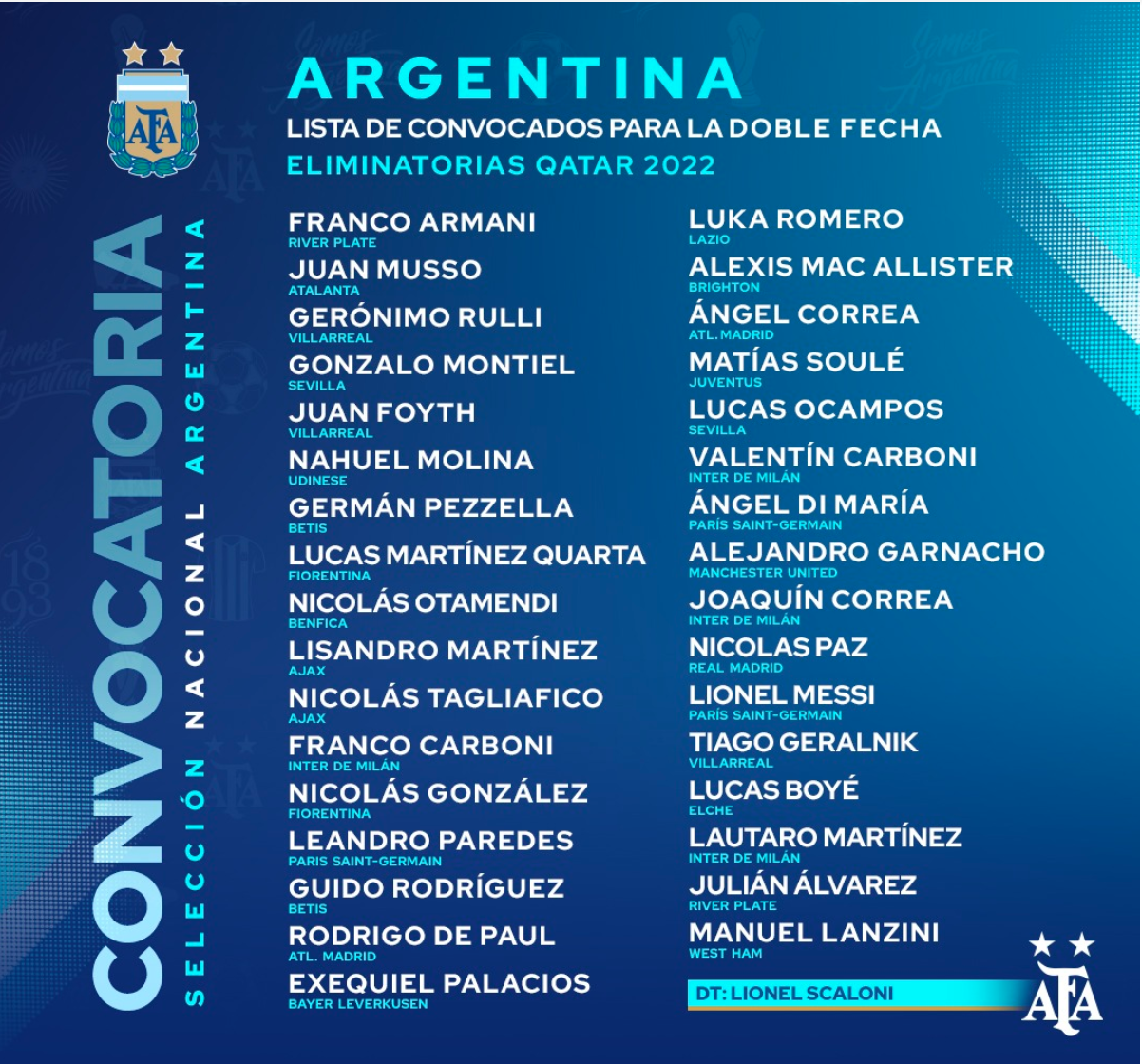 Matias Soule (Juventus)
18 y/o. The only one of them who had already had a call. One of the talents chosen by Massimiliano Allegri, Juventus manager, to appear in the Veccha Signora squads, and who made two appearances this season with the Turin first team.

Matías is a right winger, his left foot is skillful and he has a great shot, in addition to his speed and dribbling.
Luka Romero (Lazio)
Rodrigo De Paul: Diego Simeone's Argentine Box-to-box Midfielder
17 y/o. Perhaps the most media. The youngest player to debut in a First Division team in La Liga history. Emerged from the youth academy of Mallorca, left-handed, very skillful with the ball dominated and plays as a playmaker, creative.

Of triple nationality: he could choose to represent Mexico, Spain, but he chose the light blue and white shirt. Nicknamed in its beginnings as the "Mexican Messi".

He is currently a footballer for the Lazio first team, under the guidance of Maurizio Sarri, who tries to give him a place little by little and be able to be the protagonist of the development of the youth team.
Alejandro Garnacho (Manchester United)
17 y/o. The first Spaniard in question. Born in Madrid. He did his first years in football at the Atlético de Madrid academy, until a Manchester United recruitment strategy discovered him and led him to theirs.

He currently plays for the "Red Devils" U-23, although he has appearances for the U-18, as the latter plays in the UEFA Youth League.

He is a left winger, fast, skillful, with a great shot and very unbalanced. He already played in the U-18 of the Spanish National Team, that's why Argentina wants to "steal" him so that he stays on this side.
Franco Carboni (Inter Milan)
18 y/o. The first of the Carboni brothers mentioned. Left winger and one of the top figures of Inter Primavera, but who already trains with the first team and was on the substitute bench in the first leg against Liverpool, for the UEFA Champions League.

He can play in any of the positions in the left lane: be it as a winger, as a lane, as a midfielder and even as a winger. Usually, he does it as a lane for his offensive qualities in that lane.
Valentin Carboni (Inter Milan)
17 y/o. Valentine's brother. Also Inter Milan player. Both are sons of a former Argentine player and DT, Ezequiel Carboni. When he arrived in Europe to be coach of Catania, his children entered the academy of said team and there they were seen by Inter scouts.

Considered one of the great Argentine prospects abroad. Creator of all rule. Left-footed and with a lot of quality to drive the ball. Great assist, but also great finisher.
Nicolas Paz (Real Madrid)
17 y/o. The second one born in Spain, precisely in Tenerife. Son of a former Argentine soccer player who played in the 1998 World Cup in France, Pablo Paz. Nicolás is in the Real Madrid academies and is one of the club's greatest promises, currently in the U-18 (Real Madrid B and C).
Tiago Geralink (Villarreal)
18 y/o. Emerged from the River Plate quarry, he decided to go free to Spain at the age of 16, after having been one of the great promises of the Argentine institution.

He arrived at Villarreal B and is being rotated in said team, with increasing participation. His greatest virtue, the great long shot and the ability to get rid of defenders. Great talent.
What can be said about Lionel Scaloni is that he is a manager with guts. He accepted the challenge of taking the reins of a National Team that was not in a good moment, he is leading it in a great way, fulfilling objectives and not only thinking about the present and the immediate future, which is the World Cup, and everyone's obsession the Argentines, but also in the long-term process of the selected one.
By: Santiago De Ciancio / @santideciancio
Featured Image: @GabFoligno / Rodrigo Valle / Getty Images