UD Almería – La Liga's Striker School
Recently, Arsène Wenger stated that due to his concerns over what he deems a lack of specialist strikers in football, clubs should begin to establish dedicated 'striker schools'. He told Miguel Delaney of The Independent, "I think it's something that will be addressed. Now, after 15 years of age, we have to start specialisation and positional play.
Finishing under pressure. Finishing by being challenged and the quality of the movement… to get that responsibility on their shoulders, that their focus every day is to score, to fix them targets. So maybe we have to create striker schools, internally inside the club, or more specific work. I think it's on the way to happening now."
As FIFA's 'chief of global football development', Wenger is well placed to make this claim. However, there are some clubs with an established reputation for producing quality talent in this specific position. One such case is that of Unión Deportiva Almería, one of the smaller La Liga clubs, based out of a 15,000-seater stadium in Andalusia. Under the ownership of a savvy Saudi politician, they've become specialists in providing a platform for top young strikers and selling them on for a substantial profit. 
Largie Ramazani: The Belgian Winger Set For a Breakthrough Campaign at Almería
In this piece, I'll examine how Almeria have managed to repeat this process three times over, using shrewd recruitment to find forwards often overlooked by Europe's elite, before providing opportunities for them to showcase their abilities.
Darwin Núñez – 2019/20
We begin in 2019. Still a second-tier club, Almería are bought out by Saudi politician and businessman, Turki Abdulmuhsen A. AlAl-Shikh. Quick to get to work and establish Almería as a La Liga club, an ambitious but calculated spending spree began. Signed to spearhead the first campaign under new ownership was a rangy 20-year-old, arriving from Peñarol, by the name of Darwin Núñez.
This was not the Darwin we know today. Lean, raw and without much evidence to back up his potential. He'd appeared just 22 times for Peñarol back in Uruguay, scoring only four times. It doesn't sound much to base a record €15m investment upon. But what had caught Almería's eye was his international form. Fresh out of the 2019 U-20 World Cup, Darwin had scored twice in four games, but had looked like a star in the making. 
Evidently a step above his opponents physically, with a frame and explosive speed which allowed him to dominate. Coupled with intelligent movement in the box and a powerful shot, he'd caught the eye. During his year in the Segunda, he'd be even more dominant. Almería opted to trust him with a starting role, empowering him to demonstrate his abilities and reach a new level.
30 appearances, 28 of them starts. 16 goals and 2 assists, with a red card to boot. Darwin tore the second division to pieces with his speed, movement and explosive power. He even demonstrated the fiery competitiveness that Premier League fans would later become acquainted with. His athleticism was a standout attribute, as Llew Davies identified at the time for Scouted Football, 
"Athleticism is the one truly extraordinary attribute that the striker boasts, and it is difficult to overstate just how effective it was in Spain's second division. Excellent acceleration and sprinting speed is the defining facet of his athletic skillset. He likes to shoot and shows little hesitation to do so when an opportunity arises. Combined with his physicality, it makes him a recurrent menace in attack. Moreover, his shooting technique mirrors his physicality – it is explosive and robust, preferring power to finesse."
At Benfica and later Liverpool, Darwin's perceived technical weakness in the build-up would see him deployed in the left half-space pushed up to sit on the shoulder, and being the last man at the end of moves. In his year in Spain however, he had no such technical deficiency. His biological advantage meant that he played as an all-action nine and seemed to have enjoyed himself greatly.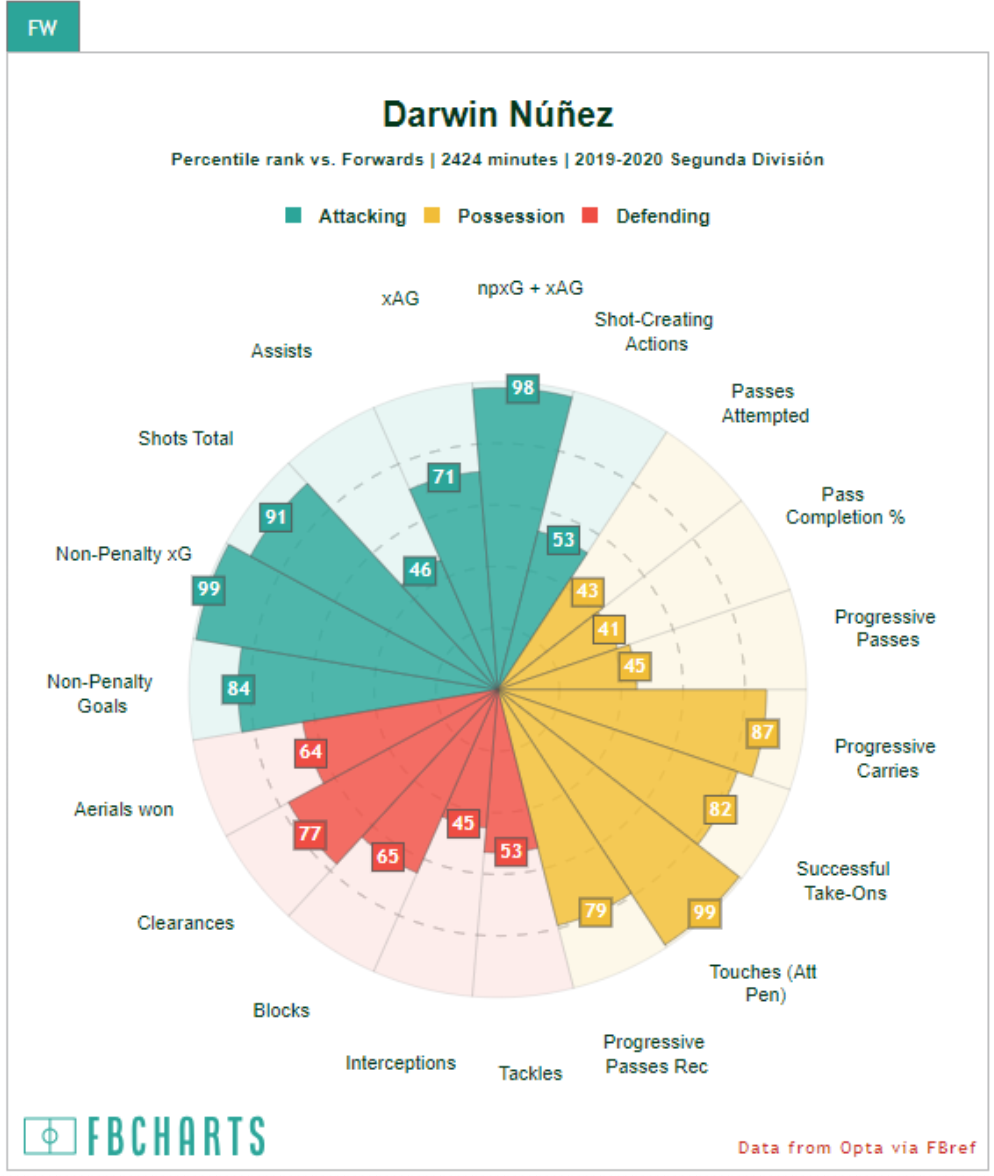 The radar above paints a portrait of a player focused almost solely on getting to goal and shooting. He offers little in terms of link-up play with his teammates, but helps them in a different way with his relatively strong off-the-ball work. This version of Darwin was raw, direct, and powerful. Using his build and athleticism to dominate opponents, who were often physically unable to stop him. A term comes to mind, defined by Urban Dictionary as…
"Noobstomp – To employ strategies that will mercilessly and utterly destroy a noob, meaning someone who is inexperienced in a particular activity. Sometimes involves exploiting and spamming mechanics that many new players will not be familiar with, but oftentimes results merely from a gap in skill level."
This was a formative experience, in an unlikely setting. The new ownership had managed to entice a top-level talent from South America and had given him a platform to shine. They'd deemed him a wise investment even at a club record fee and Darwin repaid their faith, despite the club missing out on promotion.
Sold to Benfica for €34m just one year on, the 20-year-old had shown that he could be a genuine attacking asset in the European game, whilst Almería had shown that they were a good destination for any young striker looking to demonstrate their goal-scoring talents.
Umar Sadiq – 2020/21, 2021/22
How to replace such a fantastic asset, particularly one so shrewdly acquired from under the noses of Europe's elite? Well, another equally smart acquisition of course! Umar Sadiq had been on a rather confusing and frustrating path up until joining Almería in 2020. Having emerged from a touring Nigerian squad, playing a youth tournament in Croatia, he was snapped up firstly by Spezia, then AS Roma. He made his Roma debut in 2015, before joining the Nigeria squad for the 2016 Olympics. 
Four goals in six games, in a third-place finish. Sadiq's trajectory was immensely promising. However, just five years after his debut, he had been farmed out to no less than eight different clubs in four different nations. A handful of appearances, horribly chosen moves and irresponsible loan management from his parent club held back Sadiq's development and dented his prospects. 
He'd leave Roma for Partizan Belgrade, where he would finally be trusted with a starting role. He repaid Partizan for the opportunity by scoring 18 in 34 games, catching the eye of Almeria, who had identified their Darwin replacement.  Then-Almería manager José Gomes claimed that he came across Sadiq by accident, having originally travelled to Serbia to watch a different player altogether.
"He dazzled me, and I told the Almería managers that he had to be signed straightaway. Not only a scorer, he contributes a lot to the team's game. He has lived a lot in 24 years and can improve. He is a boy who responds to confidence"
Gomes handed Sadiq a starting role and instilled the confidence and belief that had been missing for years. His gamble paid off, with Sadiq scoring 40 goals in 79 appearances, a goal every other game, across two seasons with Almería. This campaign would bring disappointment once again. Sadiq's 20 league goals helped Almería to a fourth-place finish which resulted in play-off heartbreak.
Back again the next year with renewed fire, nothing but success would do. Sadiq bagged another 18, along with nine assists. First place and promotion were finally secured.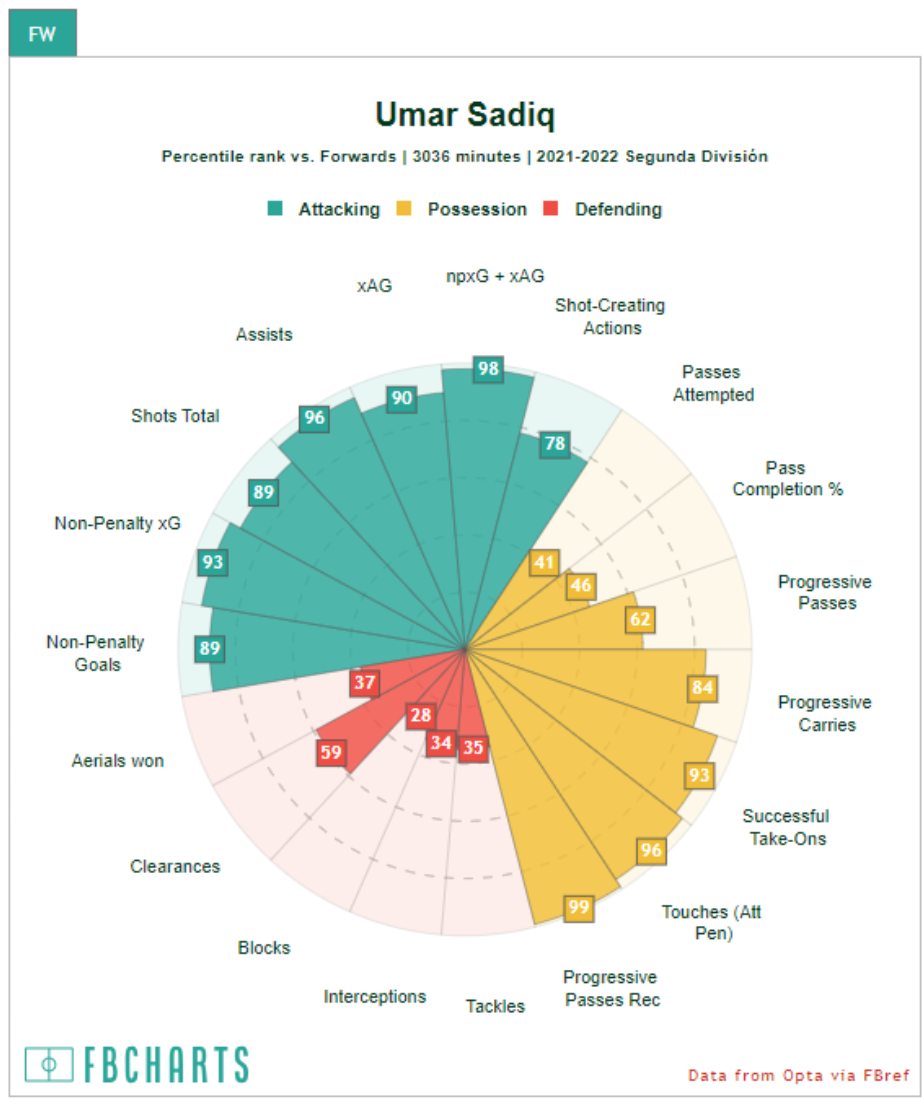 As we can see above, Sadiq shared a lot of Darwin's qualities. A keen eye for goal and an ability to consistently get into valuable positions made him a deadly threat to Segunda defences. However, Sadiq appears as a more complete forward, as Gomes alluded to. He offers more to his teammates than just hard running, ranking highly for assists and progressive carries. Almería were by this point, a more complete team, meaning Sadiq was surrounded by talent to work with.
With such an achievement, came interest from Spain's best. Real Sociedad's €20m bid was accepted. Almería recouped a healthy profit from their €9m investment two years prior, but the real value was in what Sadiq had led them to. Their first time in La Liga for seven years, but with another striker-shaped hole to fill…
El Bilal Touré – 2022/23
This time around, the challenge had evolved. The requirements for a centre-forward in an underdog team in the top division, are different from those of a good Segunda team. Almería ideally needed an efficient goalscorer. Still young, in fitting with the strategy of developing and selling on, but able to score from more limited service. 
No longer were Almería able to provide a boatload of goalscoring opportunities. They would often have to play deeper, catching teams on the break, requiring more explosive pace than before. Proven La Liga assets such as Colombian striker Luis Suárez and Brazilian veteran Léo Baptistão were brought in and trialled at centre-forward, but neither could match the impact of a 20-year-old striker signed from Stade de Reims.
El Bilal Touré: The Malian Forward Attracting Interest From Everton
El Bilal Touré was part of a crop of exciting young talent signed by Almería last season, as they looked to continue their model of development and profitable player trading. Centre-back Kaiky and attacker Lázaro had both arrived from Brazil for decent fees, but it was Touré who would stand out most of all.
Just two goals in 21 appearances for Reims the season before, Touré was never deemed to be the goal scorer that Almería needed in order to avoid relegation. A career-best season followed. Seven goals and two assists in 21 games, scored in a team fighting at the wrong end of the table. Touré adapted to his new surroundings to contribute vital goals from limited opportunities.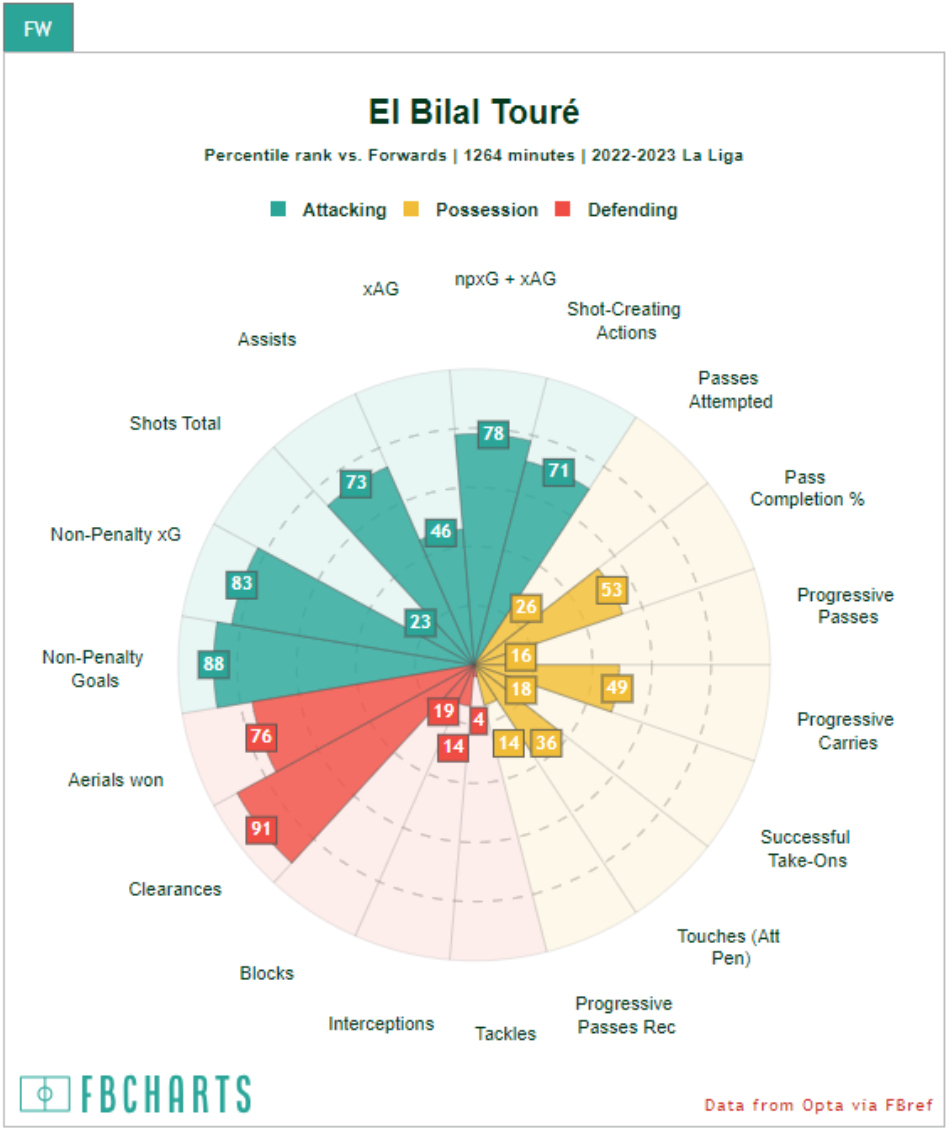 This efficiency is reflected in his radar. Touré took remarkably few shots last year when compared to other strikers. Despite this, he ranked highly for expected goals, indicating that he often got into good attacking positions. He also outscored his xG, indicating that Touré is a high-level finisher. To be in the 88th percentile for non-penalty goals, whilst in the 23rd for total shots, is sensational.
A good number of aerial duels won, despite being just 5'9" tall, shows a commitment and physical intensity. Add this to his exceptional attacking skill set and it is clear to see that Touré is an outstanding young striker. Born in Mali, he left Africa after turning 18 and moved to Reims in 2020, spending two years at the French club before making the move to Andalusia.
Almería survived in 17th place and a huge amount of credit has to go to the recruitment team. To gamble relatively high fees on mostly young players takes bravery in any case, particularly as a newly promoted side. El Bilal Touré was 8m well spent. However, like Darwin and Sadiq before him, his talent wouldn't go unnoticed, as Serie A contenders Atalanta saw a €28m bid accepted this summer. Almeria's gamble had paid off yet again, this time to the tune of survival and twenty million in profit.
Conclusion
Through these three examples, we can see a clear trend in UD Almeria's recruitment strategy since its takeover by Turki Abdulmuhsen A. AlAl-Shikh. They have targeted promising young talents from all over the world, particularly those who slipped under the radar of Europe's elite. Their particular specialty seems to be in identifying and empowering centre forwards. 
Darwin was a slightly late bloomer, who grew into his frame by age 20. His unorthodox style of play and direct 'goal first' approach may have been deemed a limited skill set by some scouts. Almería took the chance, played to his strengths and reaped the benefits.
Umar Sadiq was an extremely promising young talent, whose career threatened to be wasted through a series of irresponsible and ill-fated loan moves. Free from the infinite 'loan cycle' which so often traps Italy's young talent, Sadiq found a stage upon which he could showcase his talent. We saw another case with Touré last season. All three of these players are clearly talented, but just needed the opportunity to be the main man, so often overlooked by clubs in the past.
None of these players stuck around in Andalusia for very long, so it's not as if Almería had developed them from the ground up. These players were already good enough but needed trust, a starting role and confidence in order to perform to their best. Almería offered these players the opportunity to demonstrate their talents. In return, they received a total of 63 league goals and a profit of approximately €50m from just three players.
Who's next then? That's unclear. There was no obvious replacement signed for Touré, other than the returning Luis Suárez. Perhaps the next big sale will be versatile Brazilian forward Lázaro, or defender Kaiky? Even Sergio Arribas, signed from Real Madrid this summer?
After falling to a 2-0 home defeat to Rayo Vallecano in the La Liga opener, Arribas would open the scoring within three minutes against his former club, only for Jude Bellingham to grab a brace and inspire a 3-1 comeback win. They were able to clinch a draw in Cádiz despite playing down a man for nearly an hour, with Kaiky's 95th-minute goal securing a point away from home, whilst they looked set for a point after drawing level via Sergio Akieme and Arribas, only for Willot Swedberg to restore Celta de Vigo's advantage in the 87th minute and snatch a victory for Rafa Benítez's side.
Almería would take the lead in the 44th minute via Akieme, but Villarreal would equalize before the break via Gerard Moreno, whilst Alexander Sørloth's 94th-minute winner would see the Yellow Submarine come away with a late victory. They followed that up with a 2-2 draw to Valencia, with Arribas recording a brace. They currently sit bottom of the table with two points, one behind Granada and two behind Celta de Vigo and Sevilla, and they'll be looking to pick up their first win of the season at Sevilla before kicking off October with another early relegation six-pointer against Granada.
It's unclear who their next attacking superstar will be, and it remains to be seen whether they can escape the drop and secure a third consecutive season in Spain's top-flight, but one thing's for sure: Almería will not stray from the model that has brought them success so far. Efficient, profitable, exciting – the identity of La Liga's next hidden gem is for Almería to know and for us to find out.
By: Oliver Haines – @OTG_UK
Featured Image: @GabFoligno / Quality Sport Images / Getty Images