Starting from Scratch: What Will a Conte-Led Tottenham Look Like?
The irresistible force paradox is perhaps the most famous of its kind. So famous, in fact, that it's one of the first questions presented to young students when they begin to learn how to critically think. The paradox is quite simple – what happens when an unstoppable force meets an immovable object? 
The reason why a question so simple on the surface is viewed with such fascination is because there are a number of contradictions embedded within those ten words. The paradox implies the existence of two things – unstoppable forces and immovable objects – that we know to be physically impossible. Further, it implies the existence of both of them simultaneously.
If the unstoppable force is parried by the immovable object upon collision, it is not unstoppable. But if the immovable object budges under the impact of the unstoppable force, it is not immovable. There is no answer to a seemingly simple question.
That is, unless you've got your eyes fixated on Hotspur Way in north London.
Enter Antonio Conte. The tactical visionary. A winner everywhere he's been. Synonymous with success and a stranger to losing. The unstoppable force.
Antonio Conte: Tottenham and Daniel Levy's Extraordinary Coup of an Elite Manager
Now, Tottenham Hotspur. The Premier League's metaphorical punching bag. Trophyless since 2008. A club so devoid of happiness that they've become the namesake of an adjective specifically meant to deride a team for choking, underwhelming, or falling apart. The immovable object. 
Something must give.
Background
On November 3, Tottenham Hotspur unveiled Antonio Conte as their new head coach. But this is not where their story begins.
Tottenham's managerial search after the simultaneously-shocking-yet-unsurprising dismissal of Jose Mourinho in April was well documented. After bringing in the coaching icon to replace club legend Mauricio Pochettino, poor results and alienation from the supporters led to his sacking just days before the club were scheduled to play in the Carabao Cup final against Manchester City.
It was instead former Spurs midfielder and youth coach Ryan Mason who led the team out of the Wembley tunnel that day. A man who had been involved with the club since age 8 but was forced into early retirement due to a skull fracture suffered on loan at Hull City, Mason was the best option to succeed Mourinho in the interim.
While Spurs lost the cup final to Manchester City thanks to an Aymeric Laporte header deep into the second half, Mason's brief tenure was actually decent – he won four of his six league matches in charge and became the youngest manager to coach and win a Premier League fixture. But everyone knew it wasn't permanent.
While Mason was getting the chance to manage his boyhood club, Antonio Conte was busy leading Inter Milan to its first Scudetto in eleven years – a side managed by, ironically enough, Jose Mourinho. In just his second season with the club, Conte, who won Serie A thrice with Juventus in the early 2010s and sparked the club's nine-year reign of terror over Italian football, returned to Serie A with one of the club's biggest rivals and became the man to end it.
And it was Conteball to a tee. Wingbacks flanking up and down the sidelines, vertical passing patterns initiated by the goalkeeper and centre backs, an elite striker pairing of Romelu Lukaku and Lautaro Martinez, and that aggressive but structured press that has become a staple of Antonio Conte's philosophy created a beautiful display of energetic, passionate football that again showed the football community why Conte was one of the best in the world.
Then, he was sacked.
The story goes that Conte and the Inter board had disagreements on transfer business for the upcoming summer window. The board felt the club needed to liquidate to offset losses suffered due to the coronavirus pandemic, while Conte didn't want to see his title-winning, world-class side be stripped for parts.
After all, he isn't exactly one for a long-term rebuild. If someone searched  'win-now manager' on Google, page 1 would likely be cluttered with videos of the Italian shouting demands at his side while marching a few steps onto the pitch itself.
Back in England, Tottenham were still in the hunt for a new manager. Their top target, Leipzig's young tactician Julian Nagelsmann, looked like a real possibility until he was mesmerized by the vacancy at Bayern Munich left by Hansi Flick, who left for the German national team.
Brendan Rodgers and Graham Potter drew the allure of the Spurs board, but they both kindly rejected as well. The club even went out for former Juventus manager Max Allegri, who had been out of a job for close to two years but opted for a Juve return over a Spurs move. Then, the club went for Conte.
The move was always looked at as a pipe dream for Spurs supporters. Conte was a world-class manager. What did Tottenham have to attract a manager like that? A defense in pieces, a chairman who won't spend, and a talisman actively looking for a way out of the club made Tottenham look like a dumpster fire of a destination to prospective managers.
But largely thanks to the presence of new Managing Director of Football Fabio Paratici, with whom Conte is a close friend, the accoladed manager didn't immediately laugh in the face of the club. He still said no, obviously, but he waited just long enough to make Spurs fans hopeful.
Of course, Tottenham ultimately settled on former Wolves boss Nuno Espirito Santo after a search that went on for over 100 days. A tenure that started promising with a 1-0 win over Manchester City and the August Manager of the Month award quickly turned sour with embarrassing London derby defeats to Crystal Palace, Chelsea, and bitter rivals Arsenal.
Disappointing returns in the Europa Conference League and a less-than-supportive fan base led to pervasive "#NunoOut" campaigns, and a humbling home loss to Manchester United in late October was the final nail in a coffin that only took three months to construct. This time around, Tottenham wasted no time and made the ruthless, albeit correct decision to cut ties with the Portuguese manager.
By the end of the day on which Nuno was sacked, the club were being heavily linked with Conte, who was still without work. Within twenty-four hours, reports confirmed that a deal was in place. Finally, just two days after Nuno's sacking, Antonio Conte was unveiled as the new head coach of Tottenham Hotspur Football Club, an appointment that sent shockwaves through not just English football but the European scene as well. 
Conte's Style
Like every coach, Conte's tactics have evolved some since he first began his managerial career. That said, some attributes remain constant, like his desire to play with three at the back, prioritize defensive structure, and play quickly and vertically with the ball. For a more in-depth analysis on Conte's tactics, take a look here.
Defenders must be comfortable in possession and possess the ability to play the ball. Wingbacks must have the energy to not just get up the pitch in possession but to press wide players out of possession. The side requires a defensive midfielder who can act as a metronome for the attack playing behind two more advanced midfielders who can dictate play in the opposition half, create overloads on the wings, and make late runs into the penalty area.
Forwards must be complete and possess the willingness to be the first line of defense when pressing out of possession. When Conte is at the helm, playing with width, verticality, and aggression are paramount. Everything else is simply a byproduct of those three components. So what does that look like when applied to this Spurs side?
The Likely XI
Antonio Conte will undoubtedly want to tinker with his new squad in the first few weeks of his tenure, but in the meantime, he'll need a base XI to start from. What could that look like?
Conte's first major decision comes in the defense, where he has a number of names to choose from but none that are particularly threatening to an opposition. That's with the exception of Cristian Romero, who should take the first place in Conte's preferred back three.
Cuti is a comfortable defender who can play with his feet and step into midfield to make a tackle or play a ball forward, making him an ideal defender in a Conte defense. After Romero, Conte can choose from names like Eric Dier, Davinson Sanchez, Joe Rodon, Ben Davies, and Japhet Tanganga. Dier looks to be in line for a place due to his physicality and tendency to hit long balls, meaning the final place in the three will come down to Sanchez, Rodon or Tanganga.
While Tanganga has had shown good form this season and Rodon is a quality ball-playing centre back that Conte will like, the final place will most likely be Sanchez's to lose. A ball-winning, no-nonsense defender, Sanchez is the kind of player that could thrive in a three-man defense.
The wingbacks in a Conte system are arguably the most important positions in the side. Luckily for Tottenham, there are a number of players in the team that can fit that role dutifully. On the left, Sergio Reguilon is the clear first choice. Reguilon has played as a left back in a back four since his arrival at Spurs in the summer of 2020, but it's clear that his best abilities are ones that he can unlock when he advances forward.
He possesses bursts of pace that allow him to get past defenders and into open space on the flank and he puts in a good cross, which is a main role for a Conte wingback. In fact, if there's one player that could benefit most from the appointment of Antonio Conte, it's Tottenham's second-year left back.
There's something of a positional battle on the other side of the pitch as both Emerson Royal and Matt Doherty could properly deputize as the team's right wingback. Doherty played in a similar role during his time at Wolves, but in the back four shape that Spurs have predominantly used since his arrival in the summer of 2020, Doherty has struggled significantly and has been consistently left out of the XI.
A switch to a back five is good news for a player like Doherty, but he will likely still have to wrestle the starting job away from Royal, a more defensively-minded fullback than his Irish counterpart. Royal earned the starting nod in Tottenham's first match under Conte in the Conference League against Vitesse.
The center of midfield is where we find another crucial position in a Conte formation – the holding midfielder. This player must be capable of not only slowing down opposition attacks and winning the ball but also act as the metronome for the attack and facilitate the team in the build-up phases of the game.
While this could be a tailor-made role for Pierre-Emile Hojbjerg, I actually think we may see Conte hand this role to young Oliver Skipp, who has been a mainstay in the team since rejoining the team following a loan spell at Norwich.
Instead, Hojbjerg may be better served as one of the two more advanced midfielders who can link with Skipp, play the ball to the flanks, cover ground, and use his energy to create overloads. We saw during the Euros how effective he can be with a more advanced role.
The final midfield place should be a creative player who can pull the defense out of position and make runs into the box. While Spurs don't have a player who perfectly fits that mold quite yet, I'd be interested to see Giovani Lo Celso win that responsibility. Lo Celso can be the one to create overloads on the right and play a role similar to that of Nicolo Barella from Conte's time at Inter.
While not like-for-like midfielders, there are some similarities that carry over, such as their abilities to dribble forward with the ball and create shooting opportunities (both are in the top 10 percent of midfielders in shot-creating actions).
In fact, Lo Celso might even be able to offer something that Barella didn't – defensive contribution. The Argentine is in the 99th percentile of midfielders in tackles, tackles won, dribblers tackled, pressures, successful pressures, and tackles+interceptions. In other words, he's a player that Conte will fall in love with.
The attacking two isn't rocket science. Harry Kane and Heung-Min Son already create one of the most prolific attacking duos in Premier League history, and they will only improve with a rigid structure that include progressing the ball to them quicker and more frequently.
Kane will act as the complete forward who can drop in and receive in the half-space while Son will be the one to get wide and make runs in behind.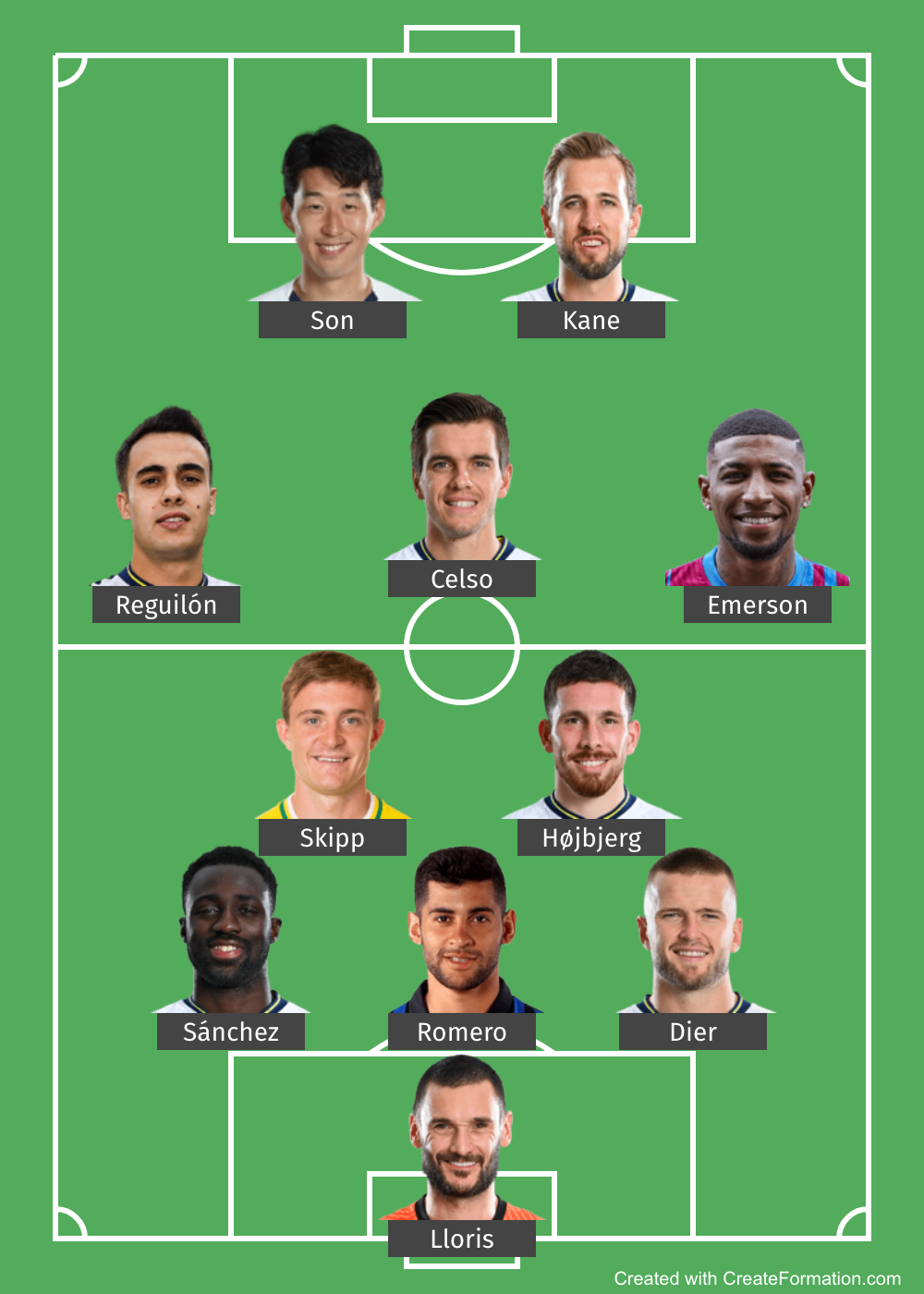 Lloris; Dier, Romero, Sanchez; Reguilon, Lo Celso, Skipp, Hojbjerg, Royal; Kane, Son.
Outside the Box
There are other ways that Conte can set up his Spurs, though. A benefit of Conte's 3-5-2 is that it provides plenty of flexibility, and the depth that Spurs have at certain positions means Conte has the potential to plug in different players to play different roles. One such player is a name from earlier: Joe Rodon.
A physically imposing, ball-playing, all-around centre back who emerged as one of the Championship's best defenders when at Swansea, Rodon has found minutes hard to come by in north London since his move but boasts potential that could intrigue Conte. A manager who likes his centre backs to be able to play the ball with their feet would surely like a centre back like Rodon, and he offers more than a player like Davinson Sanchez when the side plays out from the back.
In midfield, Pierre-Emile Hojbjerg may end up being Conte's biggest weapon. While I think he's best served as a midfielder with freedom to advance up the pitch, he can also fill that all-important holding midfielder role perfectly.
Hojbjerg is a truly metronomic midfielder who can advance the ball horizontally and vertically, win possession of the ball, and patrol the space in front of the centre backs without requiring help from another midfielder in a double pivot.
Lo Celso is a logical option to keep his place in midfield with Hojbjerg now occupying the deepest role, but how about Dele as the most advanced of the three? Conte has said on record since his arrival that he thinks Dele is an impressive player who will receive every chance to earn a starting place in the team.
While he certainly comes with his share of frustrations, might there be a place for him in a system in which he can effectively hide behind two centre forwards instead of one? Son and Kane both playing centrally mean there will be plenty of space to exploit, and despite his rocky form, Dele is one of the best players in the locker room at finding and exploiting gaps in the final third.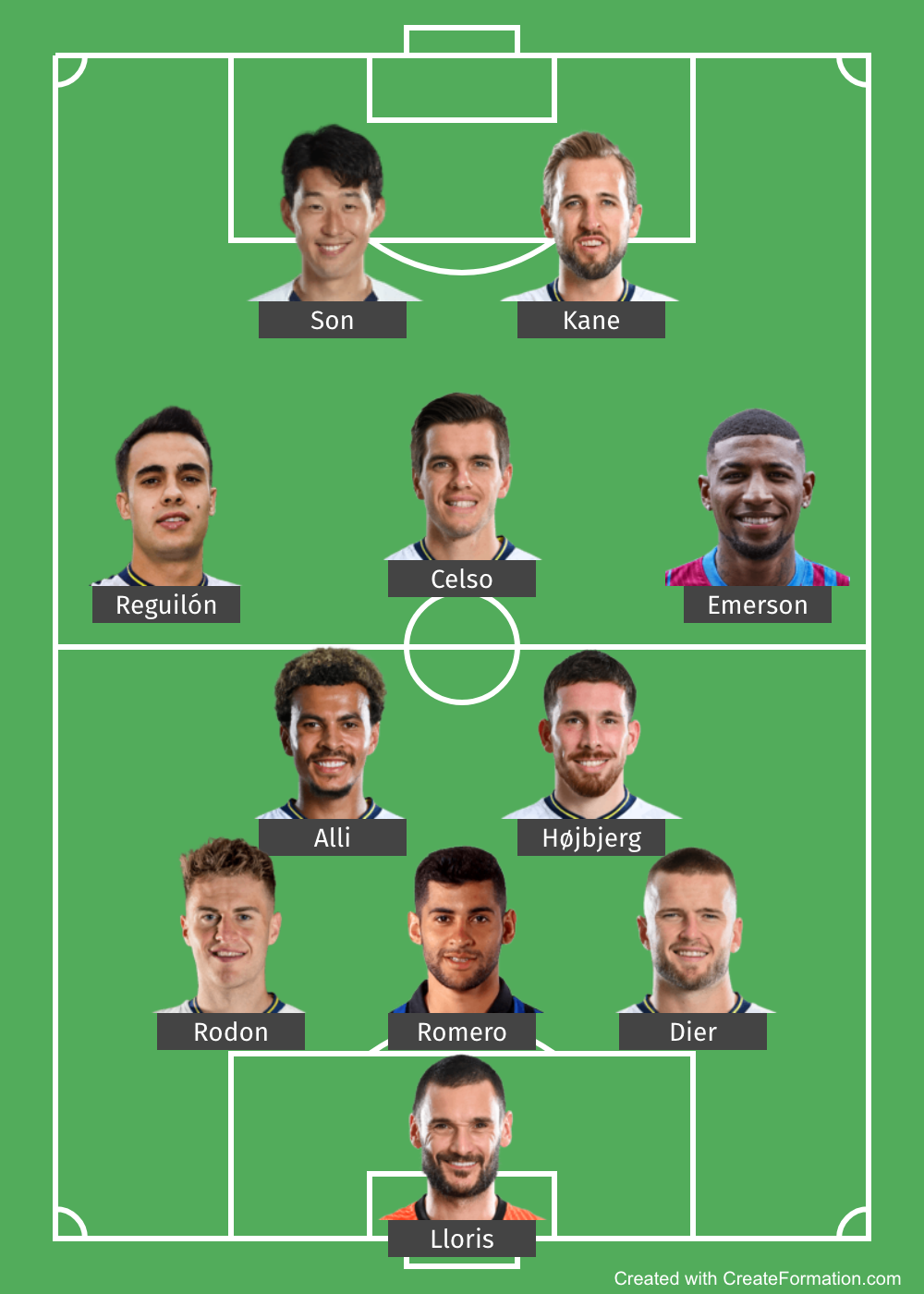 Lloris; Dier, Romero, Rodon; Reguilon, Dele, Hojbjerg, Lo Celso, Royal; Kane, Son.
Absolute Anarchy
If Conte wants to unleash absolute chaos, for better or worse, there are a couple of really intriguing things he could try. This is more of a pipe dream than anything, but boy, would it be fun to watch. Instead of having the deepest midfielder prioritize defensive solidity and initial phases of ball progression, what if Conte played Tanguy Ndombele as a regista?
It's so crazy that it just might work, and it isn't a new concept to Conte either. When he was busy winning Scudettos with Juventus at the start of the 2010s, Andrea Pirlo was sitting at the base of midfield, pinging balls all over the park, and contributing next to nothing in defense.
Although Ndombele is probably closer in quality to Danny Drinkwater than he is to Andrea Pirlo, he's still Tottenham's best line-breaking midfielder, both with his passing ability and dribbling panache. It would require Hojbjerg and Lo Celso – two hard-working central midfielders – to partner with him to keep balance in the center of the pitch, but in terms of chance creation, Ndombele may be the best option to sit in that pocket.
Let's get even crazier. I want to see Lucas Moura at right wingback. There, I said it. Lucas is a technically skilled, hard-working, pacey forward who could create all kinds of trouble when isolating the opposition's fullback. He could stay wide, stretch the defense, and look for a ball centrally, or he could cut infield, open space for Lo Celso and Son to get into on the right, and create gaps for everyone still in the center.
Defensively, his high work rate and tenacity lead me to believe he'd be better than most people expect (think Victor Moses, who was a winger at Chelsea until Conte turned him into one of the best wingbacks in the league when they won the title in 16/17).
Compared to attacking midfielders and wingers, Lucas is in the 94th percentile in tackles, the 88th percentile in tackles won, and the 82nd percentile in interceptions. Against teams that sit in a low block, Lucas could be a valuable asset in that position.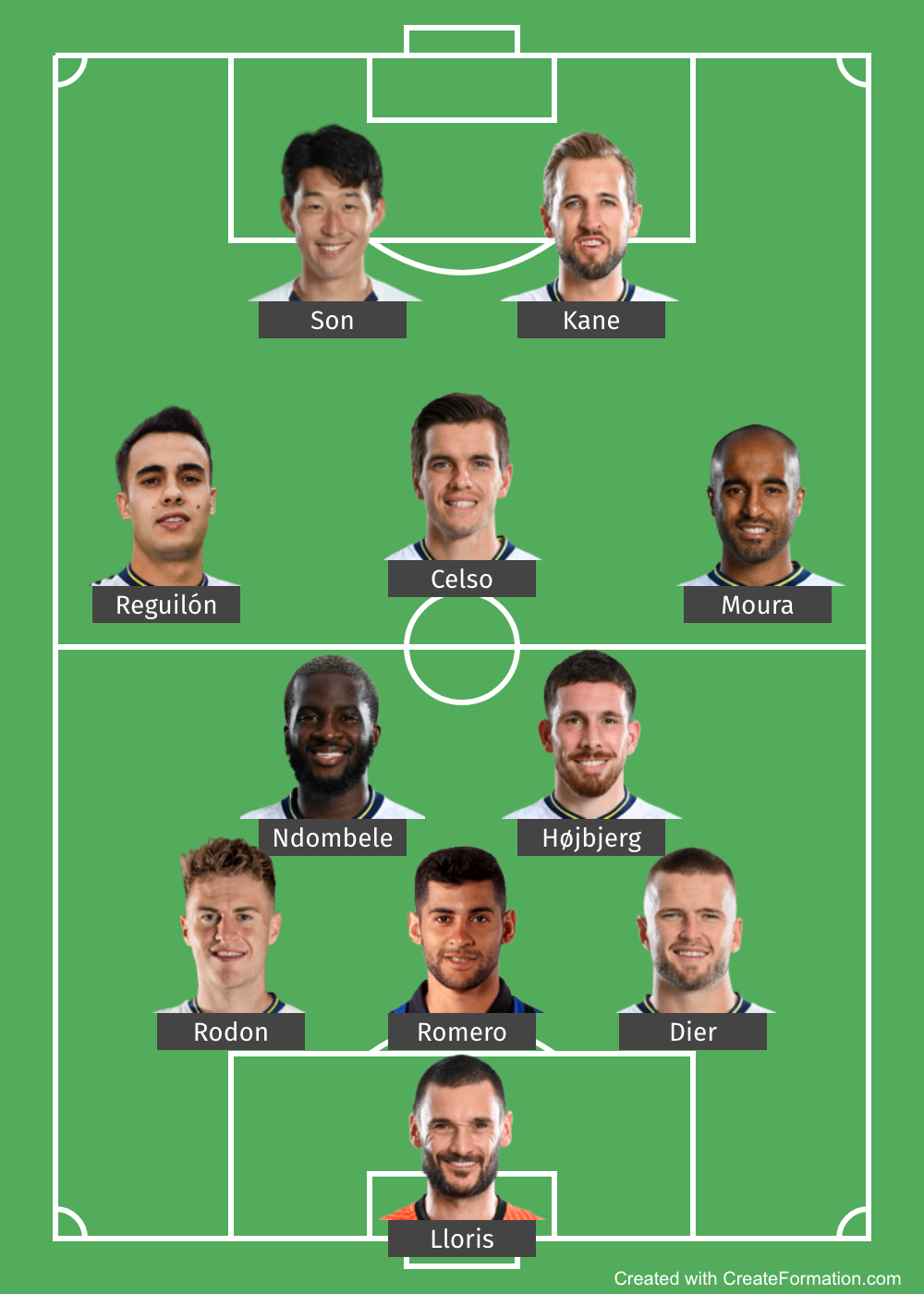 Lloris; Dier, Romero, Rodon; Reguilon, Lo Celso, Ndombele, Hojbjerg, Lucas; Kane, Son.
Post-Transfer Window
It's no secret that this Spurs team is far from a finished product, but with Antonio Conte at the helm, Spurs supporters can actually expect the club to make signings. The club will likely recruit heavily from Serie A, given Conte's history in Italian football and Fabio Paratici's familiarity with the league. So how much different will Spurs look post-transfer window?
Conte will want to bring in at least one more centre back, and the likes of Stefan De Vrij and Milan Skriniar, both of whom Tottenham have been linked with in the past, seem to be likely candidates. Both were key pieces of Conte's title-winning Inter side from a season ago and understand his philosophy to a tee. Physical defenders who can play the ball, they both would waltz into the Tottenham XI if signed.
The Italian manager will also be looking for a true holding midfielder that can sit in front of the defense and initiate the attacking moves a la Marcelo Brozovic at Inter a season ago. While Spurs have been linked with Brozovic recently, they also seem to be close to a deal involving Milan midfielder Franck Kessié.
The Ivorian is playing in a similar role with I Rossoneri, and with a contract that expires at the end of 2021/22 season, Conte and Paratici are already manufacturing a deal to bring him to north London. A defensive midfielder by trade but not afraid to drift forward, Kessie would provide the perfect cover to allow the more advanced midfielders like Hojbjerg and Lo Celso to stay advanced.
While not being linked heavily at the moment, a midfielder like Lazio's Sergej Milinkovic-Savic could also be of interest to Conte at Tottenham. A creative midfielder who likes to get forward and create goal-scoring opportunities, it must be only a matter of time before a midfielder involved in as many transfer rumors as Milinkovic-Savic gets a move.
The Serbian has fantastic shooting, goal/shot creation, and progressive passing numbers, and while his pressing statistics are below average, he does like to carry the ball from midfield. Don't be surprised if this link regains steam as the January window approaches.
Finally, the big fish in a revamped Tottenham under Antonio Conte will be a talismanic striker who can play alongside or eventually replace the currently unsettled Harry Kane. Lautaro Martinez is a popular name and may be interested in reconnecting with his old manager despite the two having their differences at the end of the 20/21 season, but the more likely name at this stage is Fiorentina's Dusan Vlahovic.
Vlahovic is reportedly one of the first names that Conte asked for as soon as he joined Spurs and it's not hard to understand why. The Serbian international broke onto the Serie A scene last year by scoring 21 goals in his first season as a regular starter, and this season, he's one-upped himself in the goals per 90 department. 
The Serbian forward is more than a poaching target man, though. His heat map suggests that he's the type of forward that likes to hunt for space anywhere in the opposition's defense, whether that's centrally or in a wide position.
He's technically refined and excels in hold-up play, which is also thanks to his imposing figure that allows him to consistently win aerial duels and bully defenders when he chooses to play with his back to goal. Vlahovic is far more of a complete forward than he looks.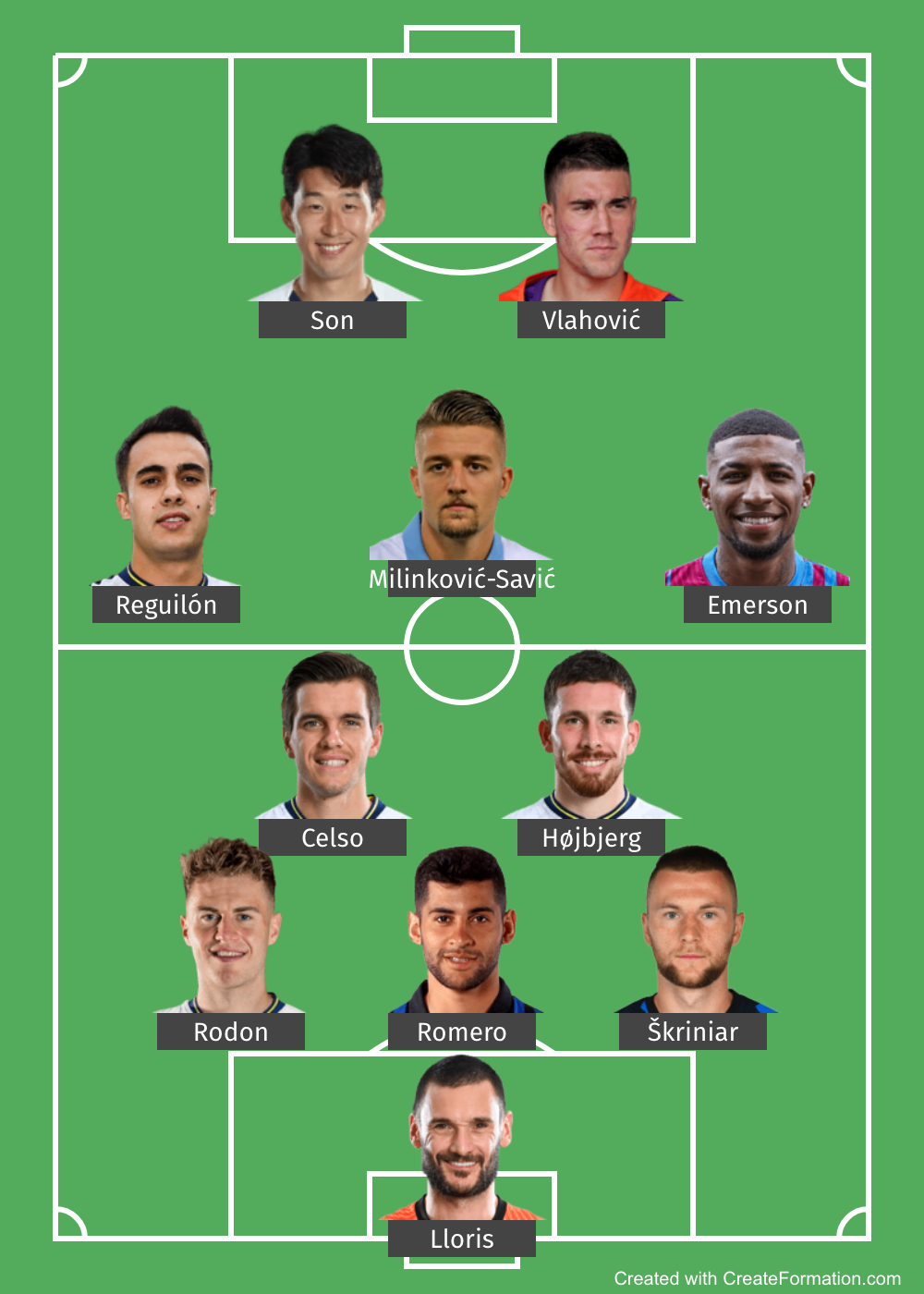 Lloris; De Vrij/Skriniar, Romero, Rodon; Reguilon, Lo Celso, Kessie/Hojbjerg, Milinkovic-Savic/Hojbjerg, Royal; Son, Kane/Vlahovic.
Conclusion
Ridicule all you'd like – Tottenham Hotspur have the potential under Antonio Conte to rejoin the top-four hunt and potentially find themselves in a title race. With a manager who is known for intensity and getting the absolute most out of his players, this Tottenham side with plenty of individual talent but a historical inability to maximize it could reach heights it hasn't reached since the mid-2010s when it was one of the best sides in the Premier League. That said, as Conte has already admitted to, it will take time.
Is it a weird marriage? Certainly. I doubt many people could have foreseen one of the best managers in present-day football choosing to go to Tottenham until he actually signed on the dotted line. After all, we've already established that Conte is no fan of a long-term project, and Tottenham aren't exactly a club ready to challenge for trophies.
But even a chairman as shrewd and frustrating as Daniel Levy doesn't bring in a man of Conte's caliber without some expectation to prioritize on-pitch success over off-pitch profit, meaning under Conte's tutelage, Tottenham could once again rejoin England's elite.
So, what does happen when an unstoppable force meets an immovable object? Watch Tottenham Hotspur. We'll soon find out.
By: Will Fowler / @WillFowler5
Featured Image: @GabFoligno / Tottenham Hotspur FC / Rob Newell – CameraSport