Season Preview: Manchester United
Manchester United fared variably in the Coronavirus-affected 2019/20 season- with the season-long squad overhaul resulting in inconsistencies due to injuries and certain underperforming individuals getting significant minutes (think Andreas Pereira). But despite stringent spending and lethargy in the transfer market, the outlook on the 2020/21 season should be positive.
United have already established a strong starting XI and have also shipped off squad misfits such as Alexis Sánchez, Romelu Lukaku, Chris Smalling, Marcos Rojo and Ashley Young since José Mourinho's departure. Additionally, the likes of Phil Jones and Andreas Pereira should be getting next to no game-time this coming season.
In the ongoing transfer window, United seem to have taken the approach of signing players for positions where depth is an issue. Donny Van de Beek (£40 million) is the only notable addition so far, adding depth to the attacking midfielder area (discussed in detail later), while Real Madrid left back Sergio Reguilón appears to be United's latest target for a mere £20 million. This does render the right-wing position completely neglected thus far, with no deal being made for Jadon Sancho.
As discussed previously, United should be looking to sign a #6 to sit alongside Paul Pogba in a pivot — with Thomas Partey available for a mere £43 million, one can only wonder why this addition has not been made. Dayot Upamecano has the potential to be the world's best centre back, but the fact that no offer was made for him has seen him get an upgraded contract at RB Leipzig. Manchester United have made their transfer strategy obvious, and they must now prove that it was the right approach.
The immediately apparent benefits of signing players to improve depth means that United can play with more versatility than before. Last season saw United play a 532 in 'big' games, and a 4231 in most others. The Van de Beek signing means United can tinker and rotate in the midfield, as well as not overusing Bruno Fernandes at #10.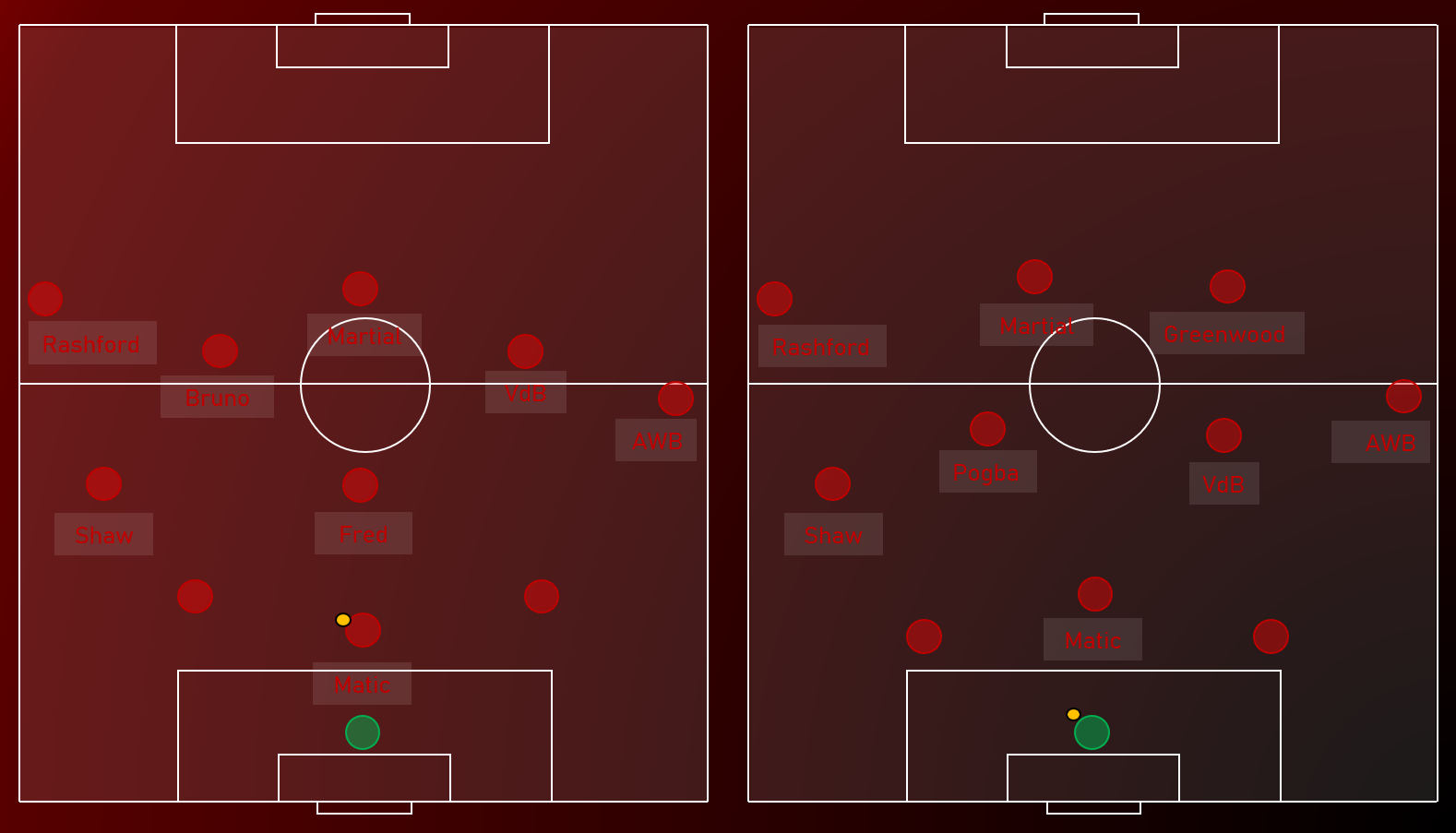 Van de Beek allows United to play a 433 (alongside Pogba and ahead of a #6), whilst also being a capable replacement for Bruno. Van de Beek can also play the inside-wide role should United opt for a creator over Greenwood. This gives United greater ability to break deep blocks from the offset of games, with additional dynamism off the bench through Mason Greenwood and Daniel James.
The final point regarding United's new signing; Van de Beek offers a distinct profile to Bruno at #10. Bruno is an aggressive player on the ball, attempting ambitiously creative actions very frequently, whilst seeking to receive between the lines. He prefers to receive and turn to create, or flick round the corner to a fellow attacker before receiving again facing the goal, in order to pick passes.
Van de Beek roams into pockets between the lines, as he is a similarly intelligent player, but vitally, Vhe looks to receive in more dangerous positions rather than passing into such positions. Figure two helps to exemplify this notion.
Such a profile also allows Anthony Martial to drop deeper to combine, in the knowledge that his Dutch compatriot is attacking space in behind with runs from deep/third man runs. The dynamics in this area of the pitch are vastly improved by the signing of Van de Beek.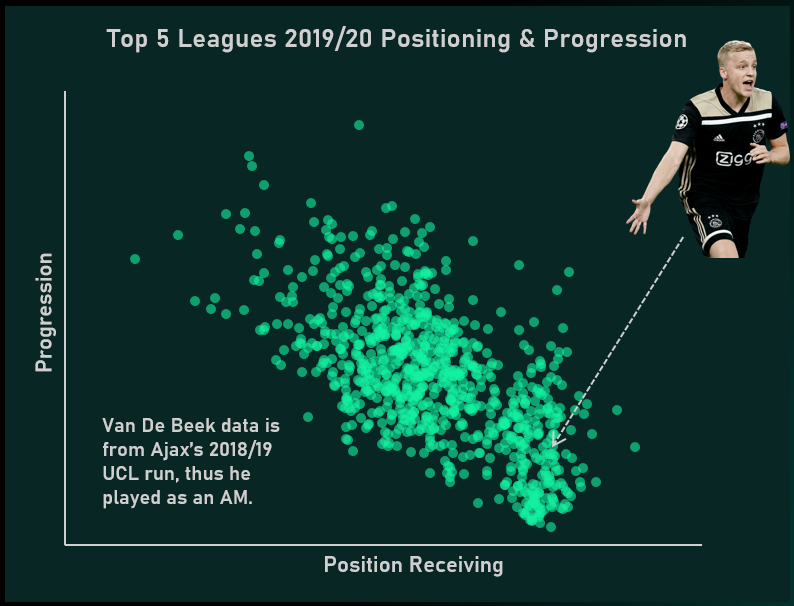 Early Season
Manchester United have the first Gameweek of the season off after their Europa League exploits extending the 2019/20 season well into the summer break. Their trip to Burnley is rescheduled until the new year. A home game to Crystal Palace opens United's league campaign on Saturday the 19th September before a trip to face Brighton on the South coast a week later. United could feasibly start with 6/6 points.
A home game against Tottenham Hotspur follows, as Mourinho returns to Old Trafford for the second time as Spurs manager. United then travel to Steve Bruce's new-look Newcastle, before a home game to big spenders Chelsea.
It may be fanciful to suggest that United have the means to start with five wins out of five, as each game poses its own unique challenge. But if United make a strong start and extend their 15-game unbeaten run in the league, they could be sitting in a very good position; all of City, Liverpool, Chelsea and Arsenal face a difficult start, while Spurs don't have the means to seriously challenge for the title.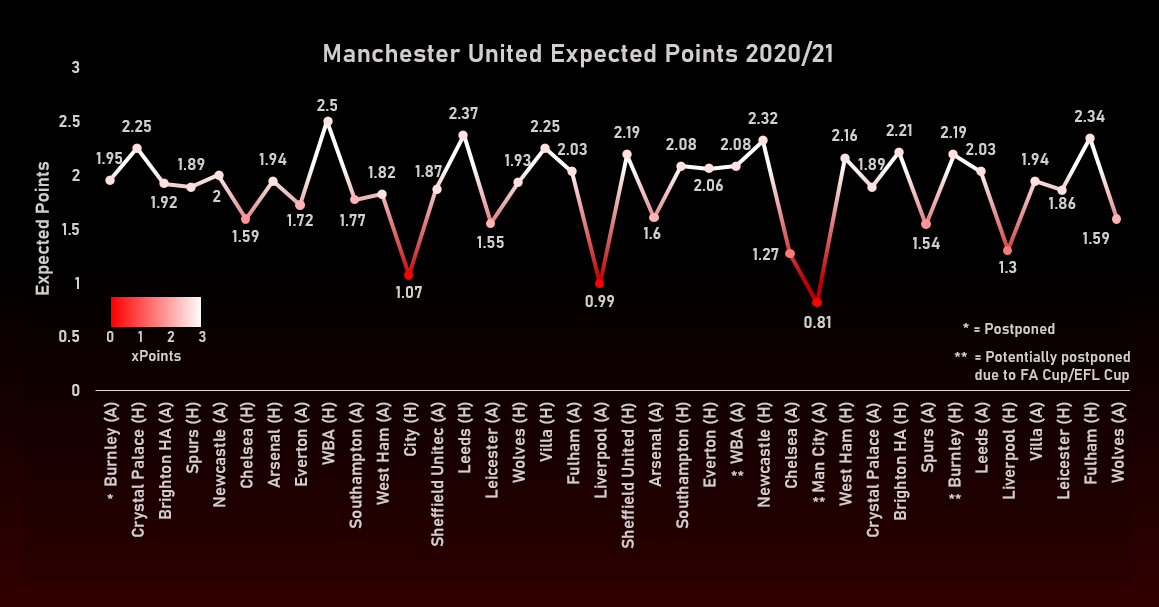 Manchester United's difficult fixtures are spread out well, meaning that United will have the opportunity to pick up points around trips to Anfield or the Etihad, rather than seeing a run of poor results. Their best run appears to be early on, as discussed previously. The Christmas period looks challenging, but there is a reprieve in January to early February.
This, in conjunction with FA Cup fixtures, could allow United to remain fresh for the potential Champions League knockout run starting in February. United finish up with Leicester and Fulham at Old Trafford, before a trip to Wolves. Regardless of United's goals this season, they will not want to be requiring a victory coming into the trip to Wolves, as this is a tough fixture.
Tactics
Manchester United are likely to resume with their formations from last season. This entails a 4-2-3-1 as a default formation and the 5-3-2 for big games.
The 4-2-3-1 appears to get the best out of Pogba (in the pivot) and Bruno (at #10), while allowing Rashford to play at left wing and Martial up front. Questions remain over the best candidate to play alongside Pogba in the pivot; Fred has shown competency, but he is far better in chaotic games, and Matić shows composure but is aging and lacks dynamism in possession.
The pivot member must be able to essentially control the first phase of build-up; dropping between the centre backs to either find Pogba in 2nd phase or spread wide to either centre back, who have the license to make progressive carries.
The 5-3-2 has been very effective at shutting opposition out while hitting them in transition. The midfield consists of a pivot, usually Fred and another player, and a defensive #10 who is tasked with shadowing the opposition's #6. The midfield two operate zonally, covering the half-spaces (and zone 14). The use of three centre backs means that the fullbacks can push onto opposition fullbacks preventing dangerous crosses from deep.
The front two usually remain high, ready to run in behind upon United forcing a turnover. Daniel James is more important for this formation, as an option at right forward in some games. Martial and Rashford are the undisputed starters up front, however.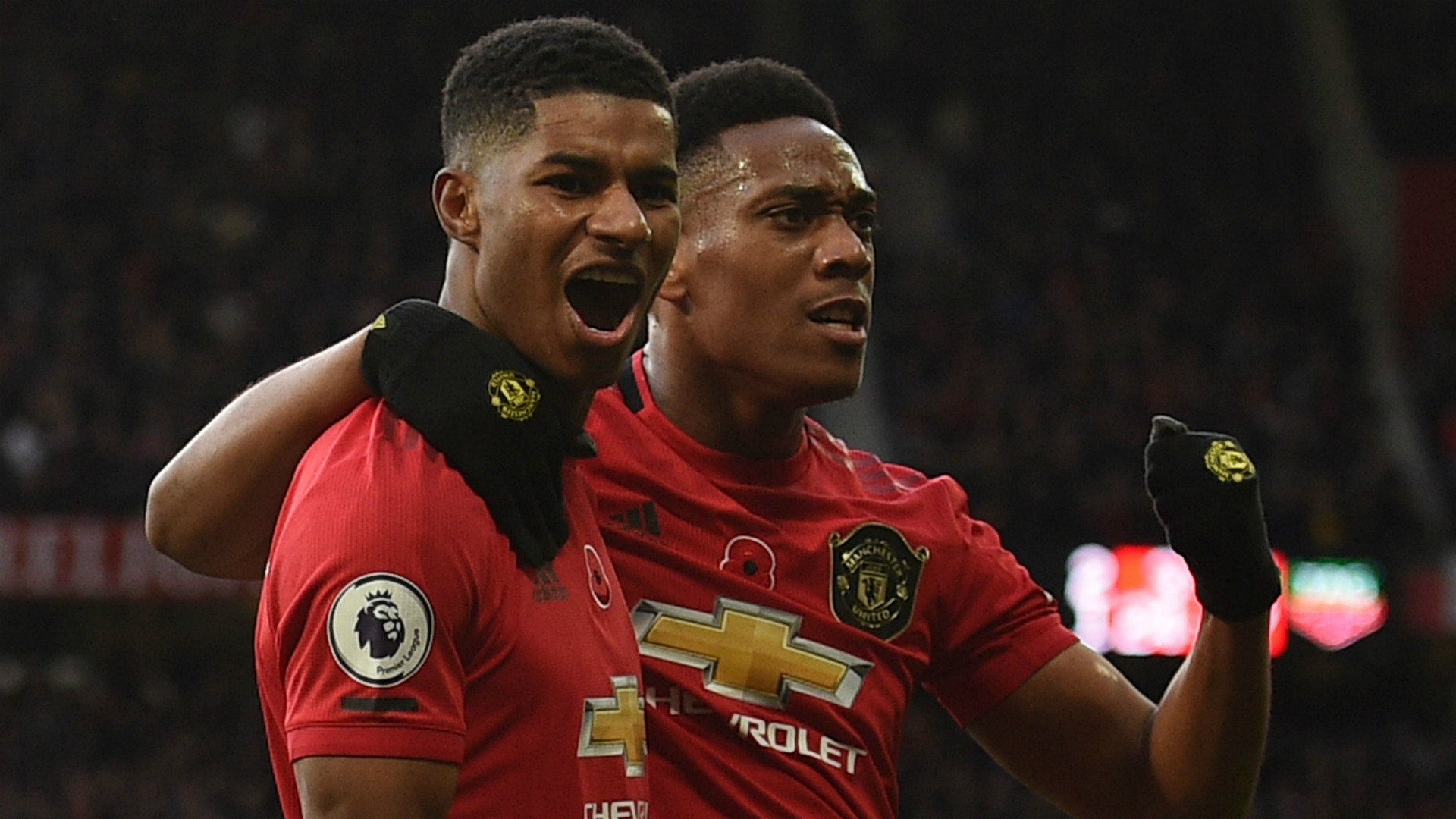 Photo: Getty Images
Questions remain over the 4-4-2 diamond, despite United's plethora of profiles for the midfield positions. It could be utilised in game-specific circumstances, or as a one-off (just as it was used at Goodison Park last season). A benefit of the formation would be simultaneously freeing up Pogba in the left interior position, and Fred as more of a box to box on the right side. Matić would hold and Fernandes or Van de Beek would play at #10.
What is interesting is the impact of assistant first team coach Kieran McKenna; his input is known to be very innovative when it comes to attacking strategies. He has given detailed instructions to impact substitutes in-game in order to ensure they have the desired effect on the team.
Manchester United appear to have clarity regarding their tactics and formations, which gives rise to an organised recruitment approach. This therefore means that this season should be moderately consistent, with little change or surprises, unlike 2017-18 or the first half of last season.
Predictions
Position: 3rd: This may seem optimistic but Manchester United still have the third best first XI in the league, despite Chelsea's many signings. Should the main candidates stay fit for United, they have the capability to have a strong league campaign.
Top Scorer: Anthony Martial: Anthony Martial is a top finisher, makes smart movements to get into scoring positions, is fast in behind and a strong presence in the box. If he gets a full season unencumbered from injuries, he should be United's top scorer, with 20+ in the league.
Player of the Season: Paul Pogba: Paul Pogba is United's best player. When playing consistently, he is a world class operator. His progressive passing from a double pivot position gives United so much impetus, allowing Bruno Fernandes and the front three to combine and create. His net impact to the team is far greater than any other player.
Young Player of the Season: Mason Greenwood: This is a somewhat of a cop-out; Mason Greenwood is an exceptional talent. With over 1,000 minutes of League football last campaign, and 17 goals to his name in the first team at the age of 18, Greenwood looks set to develop into a top player.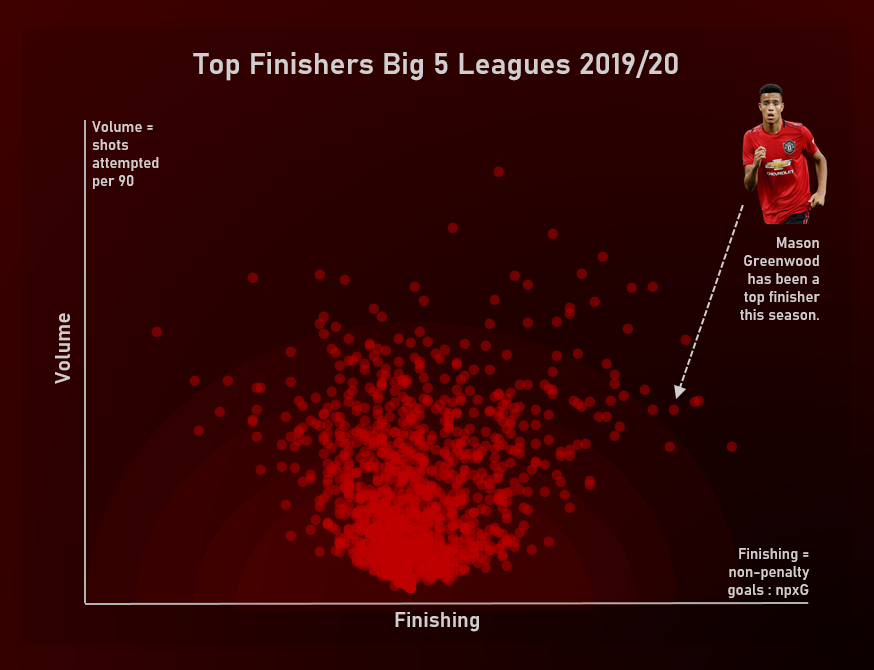 Most notable is his incredible ability to be so consistently clinical in front of goal. His shooting technique is sublime on both feet, as he aligns his head over his shooting foot to increase vertical control to his powerful shooting action. Without a doubt, Greenwood will make an impact, off the bench or otherwise, when he gets minutes, he scores.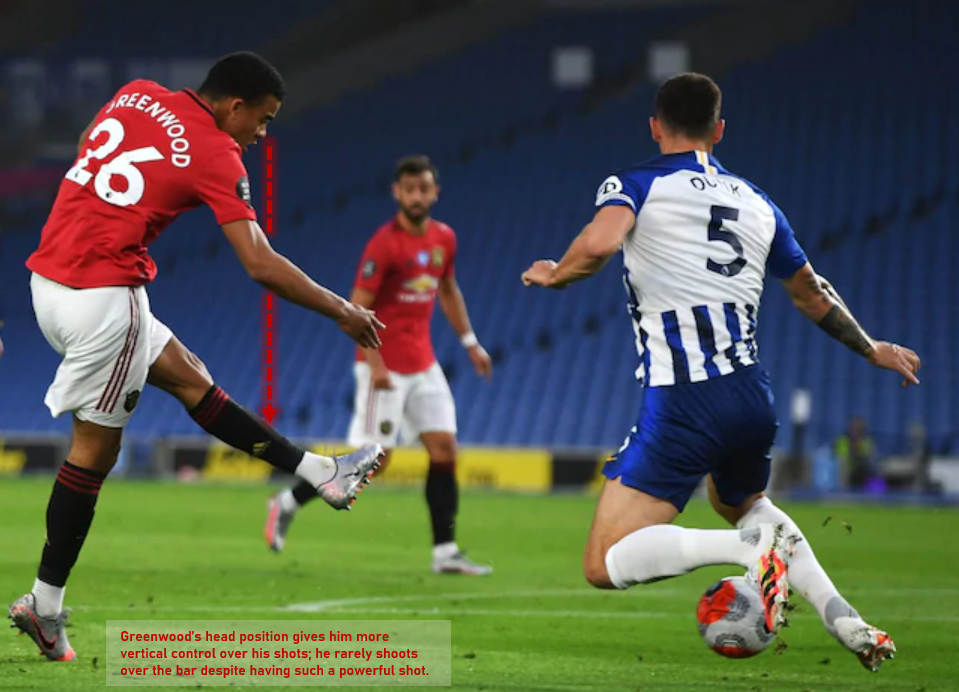 Breakthrough Star: Ethan Laird/James Garner depending on who gets more minutes. One gets the feeling that one or both will get opportunities as a result of injuries and no significant signings in their respective positions- fullback for Laird/#6 for Garner.
By: Jamie Scott
Featured Image: @GabFoligno / Pool / Getty Images Sports / Equipe