Disrupted, Disregarded, Maligned and Disliked: AFCON Deserves Better From European Onlookers
In 2012, then-Manchester City manager Roberto Mancini said he 'hoped' that Ivorian trio Abdul Razak, Yaya and Kolo Touré didn't go to the upcoming African Cup of Nations, due to the disruption it would have to the Citizen's season. All three, rightfully, travelled to the tournament, as City eventually finished 2nd to Manchester United in the league – eleven points behind their city rivals.
The impact the competition had was dubious: City remained unbeaten in the four league games that the trio were away, winning and drawing two apiece as well as progressing in the FA Cup – a competition they reached the final of – before losing the first game upon their return.
Yaya played 90 minutes in 30 of his 32 appearances that term, and was an integral cog in the Citizen's engine room, but Mancini still had the likes of James Milner, David Silva, Samir Nasri, Gareth Barry and Javi García – amongst others – to call upon dependant on what role he wanted the former Barcelona man to fill.
Kolo, on the other hand, managed just 15 appearances in the league that term, and spent seven of the ten games following the tournament on the bench.
Florin Răducioiu and Stevan Jovetić – Football's Unlikely Journeymen
He was used as an understudy for most of that season before a free switch to Liverpool in the summer, as he played the fourth choice behind Vincent Kompany, Joleon Lescott and Matija Nastasić – a cause worthy of missing an international tournament for, supposedly.
But the most ridiculous of the lot was the desire to keep 19-year-old central midfielder Abdul Razak at home, a player the Italian utilised for just three minutes of the 2012/13 league season, over the same amount of appearances.
Prior to AFCON, Razak sandwiched a month on loan at Charlton in between two single minute cameos for the Sky Blues. But after the tournament (where he played the full 90 in Ivory Coast's third group game), he featured in just two matchday squads, playing just one minute of football as a late substitute against West Brom.
Roberto Mancini wanted to keep a player he utilised for just 0.087% of the minutes available. Not only did he want to deprive the nation of one of their brighter young stars two months before the tournament, but was also happy to deny Razak the chance to go to what would turn out to be his only international tournament with Ivory Coast, and perhaps the pinnacle of a relatively disappointing career.
But it's this sort of disrespect AFCON has had to cope with from the media and those involved in football for far too long, and the narrative doesn't appear to have changed. 
How Burkina Faso Defied the Odds to Reach the 2013 AFCON Final
In the run-up to the ongoing 2022 tournament, Ajax and Ivorian forward Sébastian Haller was asked if he would honour a call-up to his national team, as he will miss a minimum of two league games including a top of the table bout with PSV. He had this to say;
"This statement shows disrespect for Africa, of course I will go to the Africa Cup to represent Côte d'Ivoire. That is the highest honour. Would this ever have been presented to a European player towards a European Championship?"
Powerful words, and the last line is perhaps most pertinent. Never would a European or South American player be asked if they would turn down a call-up to an international tournament to such levels (unless they were nursing an injury), despite there too being so many pitfalls with tournaments that take place in the summer months.
Leonardo Spinazzola is yet to kick a ball in anger this season after suffering an Achilles tendon rupture during Italy's successful Euro 2020 campaign – a victory presided over by the aforementioned Mancini, missing nearly 40 games for club and country in the process.
While injuries are part and parcel of any sport or competition (and players who travel to AFCON can still suffer injuries), Spinazzola has missed over an entire league season worth of games after traveling to an international tournament.
These summer competitions come at the end end of long, arduous seasons where some have played up to 60 games in just a nine-month period – asking players who have fought on four or five fronts throughout a campaign to go again for another massive occasion, with all the training, travelling and potential jetlag that comes with that.
For those who then go deep into the competition, their following pre-season preparations are disrupted and players often start seasons late or are visibly drained from such a busy summer (take Harry Maguire or Luke Shaw's form for Manchester United this term as an example).
Everton forward Richarlison featured in 46 games during 2020/21, before going on to play a further 13 games over the summer – is this schedule not far more ludicrous than a few games in the middle of the season when players are match fit?
Of course, the stick that has been used to beat AFCON with is that it takes place in the winter months and during the regular European season – a reasonable predicament that is worth discussing, but that is the case for obvious reasons.
This year, we will see a World Cup held in winter for the first time ever, as a cesspit of corruption, collusion and profiteering has collapsed into the beautiful game to give Qatar the rights to the 2022 tournament – a country whose summer temperatures make a usual tournament impossible.
The story is similar in Africa; too many parts of the continent will suffer from severe heat or rain at that time of year, making a winter tournament more feasible (although cooling breaks are still required to combat the heat).
That's looking through a European lense, however. The African Cup of Nations, unsurprisingly, works around the African footballing calendar – with the competition taking place during the continent's summer and during the regular season break period.
Why should they need to pander to the demands of European clubs? Why can English clubs not finally incorporate a winter break that stretches over the tournament? The logistics are difficult – but AFCON shouldn't be used as a makeweight for other competitions.
In 2021 – during a pandemic – UEFA hosted a pan-European, 'romantic' edition of the European Championships to celebrate 60 years of competition, with crowds peaking at just over 67,000 people. But, just six months later, there were calls to suspend AFCON for a second time, as Covid raged on across the globe.
Sources even claimed that Gianni Infantino was prioritising the Club World Cup (which starts at the start of February) over AFCON, despite the competition holding little to no precedence when compared to what is one of the major international competitions.
There is a debate that no competitions should be held at this current moment, but if the Euros, Copa América and Olympics can all take part over the same summer (as well as the Arab Cup in winter), how can AFCON not happen?
The calls to postpone it generally don't come from a player welfare standpoint, but the selfish thought that their club is missing a few players for a couple of games.
Then you discuss – again from a playing standpoint – whether going there midseason and playing games every four or five days is good, but once more it doesn't differ from the usual European schedule, especially for the players from the biggest clubs.
The tournament was eventually moved to the summer for the 2019 edition, and the same was meant to happen in 2021, but further difficulties led to a return of a winter competition – a decision which Liverpool manager Jürgen Klopp labelled a 'catastrophe' for his side, but you can't have it both ways.
Don't Stop Them Now: How Rayo Vallecano's Feel-Good Tale Has Made a Neighborhood Dream
The German manager has made headlines once again this winter for discussing 'player welfare' amid Covid and a hectic Christmas schedule – once more a fair topic of debate, and one the likes of Thomas Tuchel and Ralf Ragnick have banged the drum at in recent weeks.
But with the aforementioned issues that summer tournaments bring, 'player welfare' is tossed aside, especially when it comes to AFCON. During the 2019 Summer trial, Ugandan captain Denis Onyango was stretchered off after heat-related difficulties, while Nigerian Samuel Kalu fainted in training. 
Klopp also stated the club may look away from signing African players in the future, despite the success they have found through Mohamed Salah and Sadio Mané, but once more there would be no noise of missing out on signing South American players who routinely travel 15-20 thousand miles for midseason frieldies and return little over 24 hours before Premier League games on some occasions.
The 'catastrophe' he discussed wound up meaning two of his star players – plus midfielder Naby Keïta – will miss just two Premier League games, while an extension allowed them to feature in their crucial game with Chelsea at the turn of the year.
They are to be missing for both legs of their Carabao Cup semi-final with Arsenal too, but this is a competition Klopp has routinely undermined in favour of bigger tournaments (as is his right), meaning there's a lack of sympathy for the former Dortmund boss on that one. 
It will be frustrating for managers to miss out on players during this time of the season, but the disrespect has gone on for far too long – especially when you consider how much Africa has done for the game of football.
Morocco's 1986 Surprise – When Africa First Roared In The World Cup
World Cups feel so often incomplete without stories of Senegal, Cameroon or Nigeria for example; the memories of Roger Milla, Siphiwe Tshabalala and the 'wardrobe's' winner against France live long in the memory. European Championships are great and provide their own headlines and fairytales, but they can't compete with the World Cup – Africa is one of the main reasons why. 
Football has never been a game purely for the superstars, but the likes of Didier Drogba and the Touré brothers dazzled the Premier League, before Mané, Salah, Riyad Mahrez and Pierre-Emerick Aubameyang took over the baton.
But think of the cult heroes; Steven Pienaar's 'God is Great' vests, Yakubu hammering home 20-goals a season, Jay-Jay Okocha sprinkling stardust in a legendary Bolton team, Tony Yeboah's consistent slobberknockers, Nwankwu Kanu rounding Ed De Goey to spank home the most iconic of Premier League hat-tricks before carrying Portsmouth to an FA Cup. 
Africa has made a firm imprint on the English game, not to mention Samuel Eto'o, Sammy Kuffour and Ballon d'Or winning George Weah and others further afield, with a wealth of players sharing African roots.
It is a beautifully diverse continent; by land it's massive, by volume of countries it's huge and by languages spoken it's gigantic – all different in their own glorious way. Like anywhere on Earth, Africa is far from perfect, but how many better unifiers are there in the world than football?
Iraq's Asia Cup win in 2007 is perhaps the greatest example of that, but AFCON (especially with its extended capacity of 24 teams) is littered with countries to back and stories to follow.
How Three Africans Became the First Fighters in German Football's War on Racism
Comoros are competing in their first-ever tournament, with their 815,000 inhabitants making it the second smallest country to ever feature behind Cape Verde by population, and the smallest ever by landmass. Reliant on a strong bond and team spirit, the Islanders will need to cause a major upset to survive the group of death with Ghana, Gabon and Morocco.
Gambia are also new to the party; sat 150th in the world rankings, but with three points on the board after a win on matchday one.
Many will look to see how Nigeria recover from a turbulent build-up to the tournament which has seen them lose a manager and a handful of key players, while Morocco, Algeria, Côte d'Ivoire and Senegal will all consider themselves as favourites.
There are wars and insurgencies dividing Ethiopia, Mali, Sudan, Tunisia and hosts Cameroon, with this competition an opportunity to – however temporarily – reunite fractured nations for the briefest of times.
So, with all the potential, superstars and players to catch the eye, how has the coverage been? Poor, to say the least. Sky Sports have the rights to all 52 games at AFCON – with free-to-air BBC having the rights to ten – but Sky have shown a great lack of ambition with the product on show.
Just one commentator churned his way through the opening ten or so AFCON games, while little attention is paid to pre or post-match analysis, half-time is sparse and afterwards things get even worse.
I managed to catch just a few minutes of Sudan's clash with Guinea-Bissau after work on Tuesday evening, and hoped to be recapped by at least a highlights package from the game. But instead, the final five minutes of the programme duration was made up of a David Beckham free-kick tutorial for children – we wish we were joking!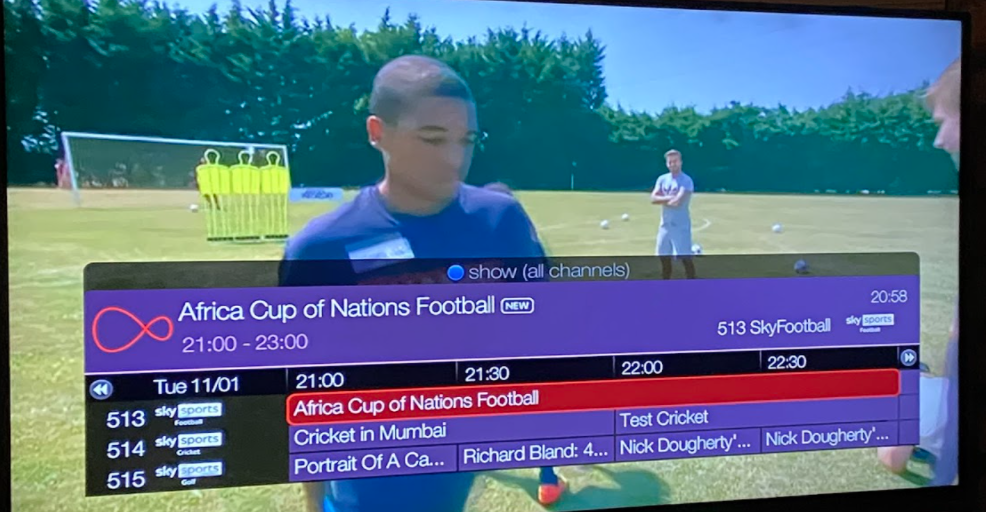 I learned that the most important part of taking a free-kick is to 'get it over the wall', quelle-surprise..
After refining my set-piece routine in the back room, the hope was that the following two-hour long programme titled 'African Cup of Nations Football' would be a highlights and analysis package from the games so far, as matchday one finished its penultimate day.
But no, it was the full 90 minutes of the 0-0 clash between Algeria and Sierra Leone – complete with this graphic of the reigning Champions' starting lineup.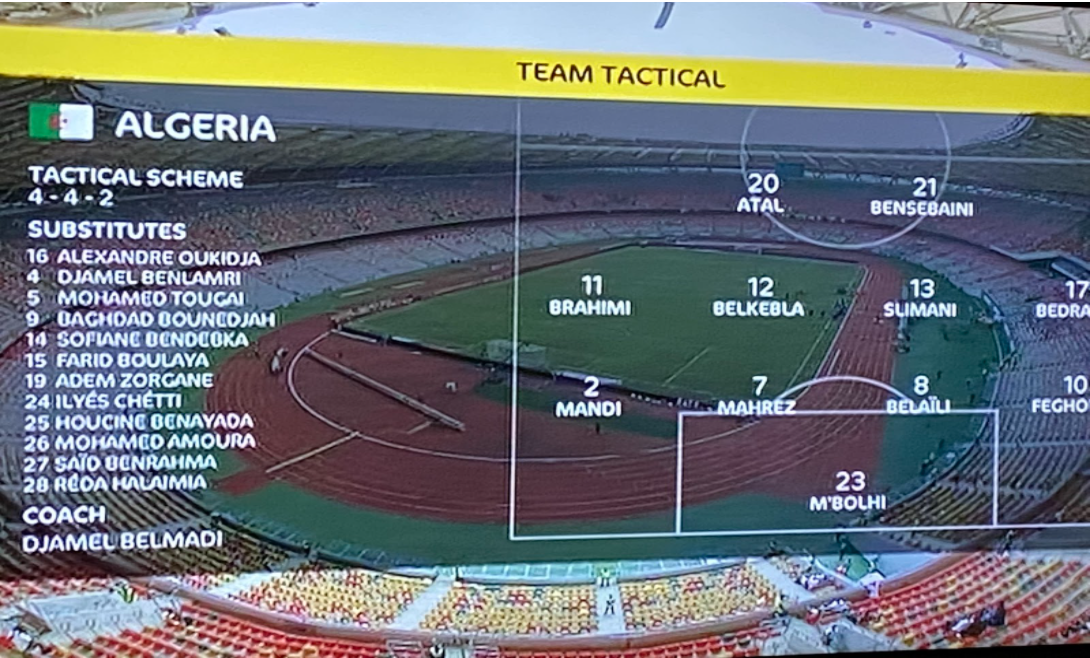 A higgledy-piggledy lineup in number order with Riyad Mahrez in the back four, full-backs up top and the nation's all-time leading goalscorer – bustling centre-forward Islam Slimani – anchoring the midfield.
The time in between Gambia's bout with Mauritania and Côte d'Ivoire's opening game against Equatorial Guinea was filled by a 15-minute video on former Swiss international and Arsenal defender Johan Djourou's 'One2Eleven'. If you can't even preview one of the tournament's favourites – who boast a host of familiar names – then what is the point?
Of course, the pictures have been pulled from the world feed – but this simply isn't good enough. What is stopping them from at least owning their own feed and graphics or putting together a panel of expert opinion mixed with former internationals to discuss, if not every game, the events of the day? Sky Sports simply have to do better if they want to do the tournament justice.
Prior to Algeria's opening game, Riyad Mahrez was met by hundreds of jubilant Algerians who had travelled nearly 2,000 miles to get even the briefest glimpse of the nation's greatest ever footballer.
Following the match, Sierra Leone goalkeeper Mohamed Kamara broke down in tears as he received the Man of the Match award after a stellar display for the Leone Stars – amassing seven saves as his nation returned to the competition for the first time since 1996.
These are the storylines Sky could be following, and just a small insight into the untapped potential the tournament holds. We said that football has never just been a game purely for the superstars – AFCON is the living embodiment of that.
Sierra Leone Gets the Unlikeliest of Points Against Defending Champions Algeria
The tournament is set to return to summer for the 2023 in edition in Côte d'Ivoire, and the following 2025 competition in Guinea – a decision which should appease European fans and managers, while hopefully building some positive noise around AFCON in the meantime.
If Sky continue to broadcast the competition, they too should learn lessons from how poorly received their lacklustre coverage has been, with plenty of time to unleash the immense potential from within. 
AFCON is a vital component to keep African football ticking over, with revenues from the competition coming from the games themselves, but it is also a scouting wonderland. Overall, 211 of the 660 registered players currently ply their trade in Africa, while many find themselves playing in the middle-east and Asia, too.
Player sales are huge for clubs; whether that's actually from Africa, or sell-on clauses from sales that come directly as an influence of their AFCON performances. If European clubs want to continue to bear the fruits of African players – we must support the African Cup of Nations.
Much maligned by managers and the media, but loved by the participants and a real festival of football – Africa deserves a chance to celebrate football at home, and do it in their own time. On a human level, viewers should revel in people having a chance to show how proud they are of where they come from, and all the trials and tribulations needed to reach the international stage.
By: James Pendleton / @Jpends_
Featured Image: @GabFoligno / CHARLY TRIBALLEAU / AFP