Arsenal's Striker Search: Three Targets Analyzed
Arsenal are in need of a new center forward. The team's flourishing form under Mikel Arteta is due in part to the magnificence of French striker Alexandre Lacazette who has put in a number of dominating performances since December that have helped push Arsenal into the top four race, helping them to win four of their last five.
However, if history is an accurate indicator, Lacazette's form may not last and his on-field weaknesses are still plain to see. While Lacazette has held the ball up brilliantly, he hasn't looked like a real goal threat this season, having netted only 3 times in 15 appearances for The Gunners.
With the exile of captain and out-of-form striker Pierre-Emerick Aubameyang, Folarin Balogun's recent loan to Middlesbrough, and Eddie Nketiah's inconsistencies, Arsenal need reinforcements, and according to many in the media, Technical Director Edu Gaspar is hard at work at just this.
Serbia and Fiorentina striker Dusan Vlahovic has been concretely linked with a move to Arsenal in recent weeks and, while he looks the most likely to actually join the club, it's worth looking at two other options who may fit the style and quality Arteta is looking for to fully optimize his free-flowing system.
Breaking Down Fiorentina's €80m-rated Sharpshooter Dusan Vlahovic
Along with Vlahovic, both Alexander Isak, and Ivan Toney have also been linked to the club in recent months via pundits, journalists and of course, Football Twitter. Let's dive deeper, starting with Vlahovic — Fiorentina's red-hot forward who is set to be a free agent in less than 18 months.
The Serbian is an archetypical Mikel Arteta signing. He's young at just 21 years of age, he possesses superb technical quality, and has a highly developed physique for a player yet to hit his prime. Vlahovic's work ethic is also rumored to be very good and one principle Arteta must be respected for is the requirement that his entire team be professional and play their heart out for the club.
Vlahovic has a ridiculous goalscoring record over the past year, having netted 37 times in his last 57 appearances for Fiorentina. He is scoring at a ridiculous rate this season in Serie A where he leads the league with 16 goals in 20 matches.
While he is overperforming his xG quite significantly according to UnderStat (16 goals from 10.42 xG thus far), it is worth mentioning that the very best strikers in world football typically do. The likes of Sergio Aguero and Harry Kane historically overperform their xG on a regular basis.
If anything, his overperformance speaks to something plainly evident when you watch Vlahovic play, he knows how to score goals. His penalty record for Fiorentina is exemplary (12/12 in his career for I Viola) and he finishes in a variety of ways.
He has angles in his game and is actually quite two-footed. You can see this in the way he turns his body when receiving the ball, if the angle doesn't work for his left, he will try to re-position and make something happen with his right.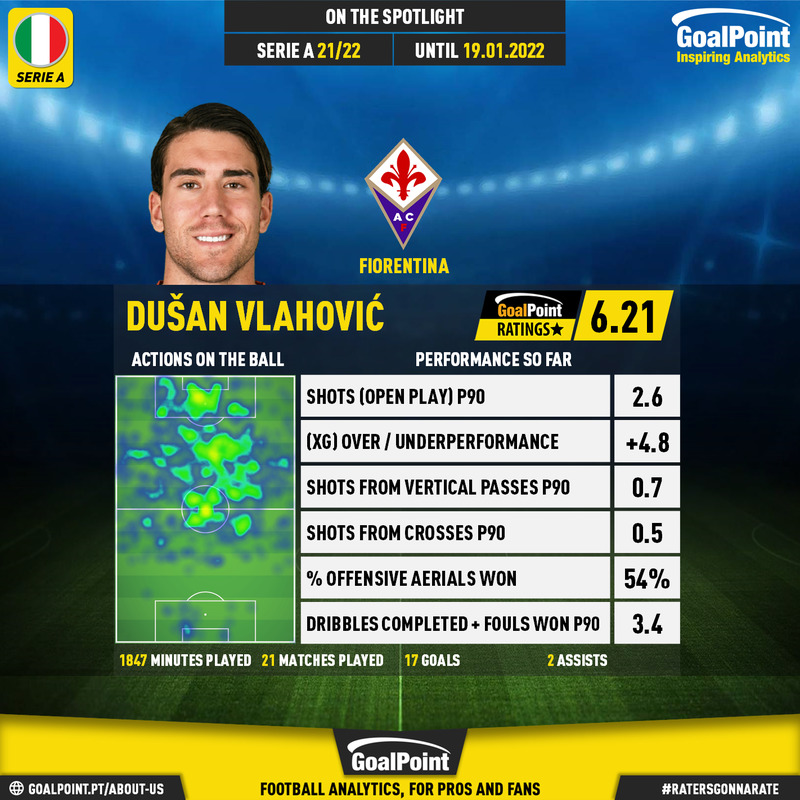 By: GoalPoint / @_GoalPoint
He is comfortable playing passes with both, something that is exemplified by his 11 key passes completed with his right foot to just 9 with his left this season according to Understat. 
In terms of pure goalscoring and technical ability, Vlahovic is a standout talent. While his passing and back-to-goal game aren't super-refined, there are games this year where you can see him trying new things out such as the match against Atalanta in April.
There are a few moments where he shows his technical quality, such as in the 74th minute when he chests a long ball down on the right wing, takes a touch to set himself, then delivers a high arcing switch of play from one touchline to the other delivering the ball right to the feet of his left back.
Another moment from the same game, a loose ball rolls toward Vlahovic while his back is to the opposition goal in the 49th minute, and without knowing exactly where the defender is, instead of trying to take a touch and hold him off, Vlahovic spins expertly into the space over his right shoulder letting the ball roll onto his favored left foot and pushing his right arm out to ward his marker off.
A few touches later and he's sliding teammate Christian Kouamé in on goal with a perfectly weighted through ball between the lines. 
But all that glitters is not gold. Vlahovic's speed is an issue at times and his running gait is a bit loose, and this combined with the fact that he's a quite heavy guy means that Vlahovic isn't super great in a sprint.
Another thing I've noticed is that Vlahovic is not comfortable holding the ball up; he prefers to lay it off or switch the play as quickly as possible when he receives it with his back to goal. This is the only puzzling thing about reports linking Vlahovic to Arsenal, does this mean Arteta doesn't want someone who can trap and hold the ball to allow players to run off him?
Is linking play being preferred to dropping deep? Vlahovic's arrival might not force a rehaul of the system but Arsenal will certainly look different without a back-to-goal false 9 in the squad.
Maybe Vlahovic has more quality in these areas than I am giving him credit for but via the eye test, he isn't a better fit than another name on this list. Regardless, it seems obvious that Arteta admires Vlahovic's game and sees his potential to grow with age. 
Onto Alexander Isak, the electrifying Swedish striker starring for Real Sociedad in La Liga. The first thing that stands out to me about Isak is the limitless angles he can and has scored from. Isak has a powerful, devastating shot that, like Vlahovic, can often be impossible to stop.
He is also an elusive, effective dribbler which makes him a nightmare to mark in and around the box and is often used to set up tightly angled shooting opportunities. He can hit it with his left or right and has interestingly overperformed his "left foot" xG in the past three seasons.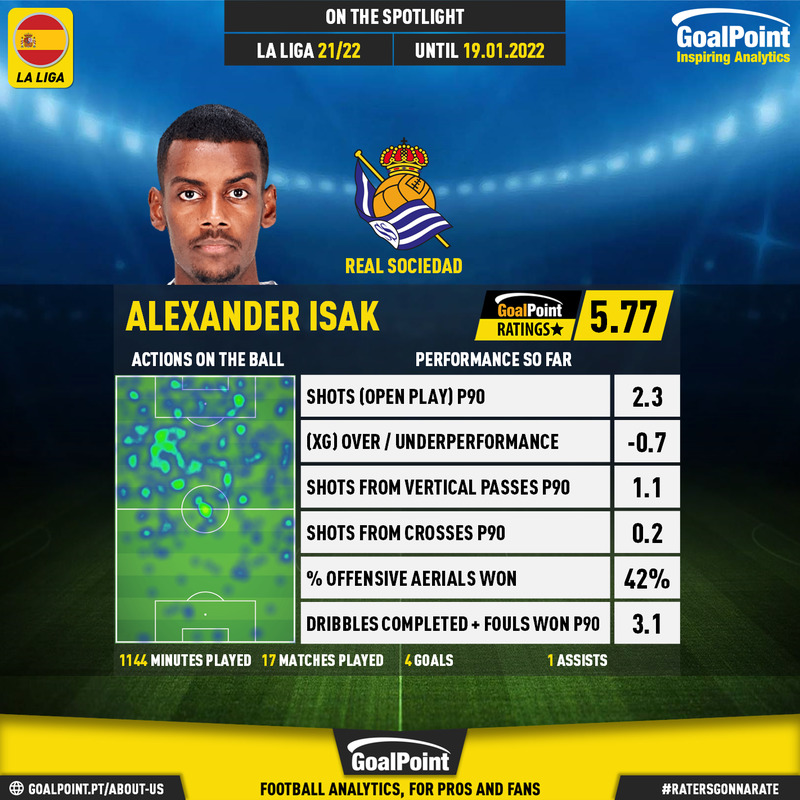 By: GoalPoint / @_GoalPoint
Isak is a lot more involved in overall build-up play in Sociedad's setup than Vlahovic is in Fiorentina's. Isak is asked to take on defenders like a winger in the second phase and he ranks in the 91st and 92nd percentiles respectively for dribbles attempted and completed when compared to positional peers according to StatsBomb and FBref.
Across his 141 appearances for Real Sociedad, Isak has 41 goals and 9 assists. In the league last season, Isak netted 17 times and added 2 assists, which lines up with his xG of 15.5 xG in La Liga according to StatsBomb.
His shooting technique is superb and probably one of the most refined elements of his game. His shots on target percentage of 55% places him in the lofty 96th percentile when compared to positional peers.
This level of efficiency is something found mostly in veteran players who have honed their shooting technique over years and years.
For reference, Heung-Min Son gets 43.7% of his shots on target with a similar number of total shots per90 (Son shoots 2.33 times per90 to Isak's 2.77), these numbers put Isak in the elite category in terms of his composure in front of goal and ability to get an effective shot away. 
Isak's pace and dribbling are his X-factors, they carry him through games and make his overall contribution to the team extend beyond scoring and creating goals. He relishes the opportunity to take on defenders and likes to duel.
If you need an indication of his speed, check out his highlights against Real Madrid in February 2020. He torches the Madrid backline multiple times on deep runs, and that was when he was just 20 years of age.
His body has developed steadily and this season he looks a more physical presence on the pitch, however, his long, thin legs may be tested in the more grueling Premier league where strength is a massive factor in a center forward's ability to affect play.
He is afforded much more space to dribble in La Liga but if he were to move to the PL, I wouldn't be surprised if defenders try to actively test him by pressing hard and daring him to duel with them. It's certainly something Isak should be looking to improve on as he grows. He isn't great in the air either despite his 6'3 frame. 
Isak is another one who doesn't seem to be a stylistically perfect fit for Arsenal's current system, however, his similarities to Pierre-Emerick Aubameyang can't be understated, he likes to take up positions in the left-hand channels and drive the ball from there or make runs into the box, while his hold up play isn't stellar, he does have the ability to dribble and take on players from this area.
Why Alexander Isak Could Be One of the Revelations of the 2020/21 Season
That all being said, the re-emergence of Gabriel Martinelli this season has seen Arsenal transition into a much more creative and fluid system with Martinelli as the wide left outlet, allowing Lacazette's central hold-up play to be the facilitator of moves and giving more balance to the squad overall.
It seems unlikely that Arteta would change the system again if Isak were to join, and with him in the squad Arsenal would undoubtedly lose some of their central compactness because when Isak drops deep it's typically in the left half-space, not the central zones.
Finally, Brentford's Ivan Toney, who is my personal favorite out of these three elite strikers in terms of how he fits in the current Arsenal setup.
At 25, Toney is both the oldest and most underrated of the three striking options presented here. He is a gritty, back-to-goal center forward who relies on power and a feathery first touch to make an impact.
His aerial ability is superb and what he lacks in pace he makes up for in his awareness and ability to track the ball in flight. Since Brentford have been promoted, Toney has played as essentially a number 10 who is asked to step into the midfield to control goal kicks or long passes from Brentford's backline.
Toney's aerial domination of Liverpool early in the season is a standout example of how he affects games without scoring, creating space and playing in his teammates with a variety of headed flick-ons and beautifully weighted passes.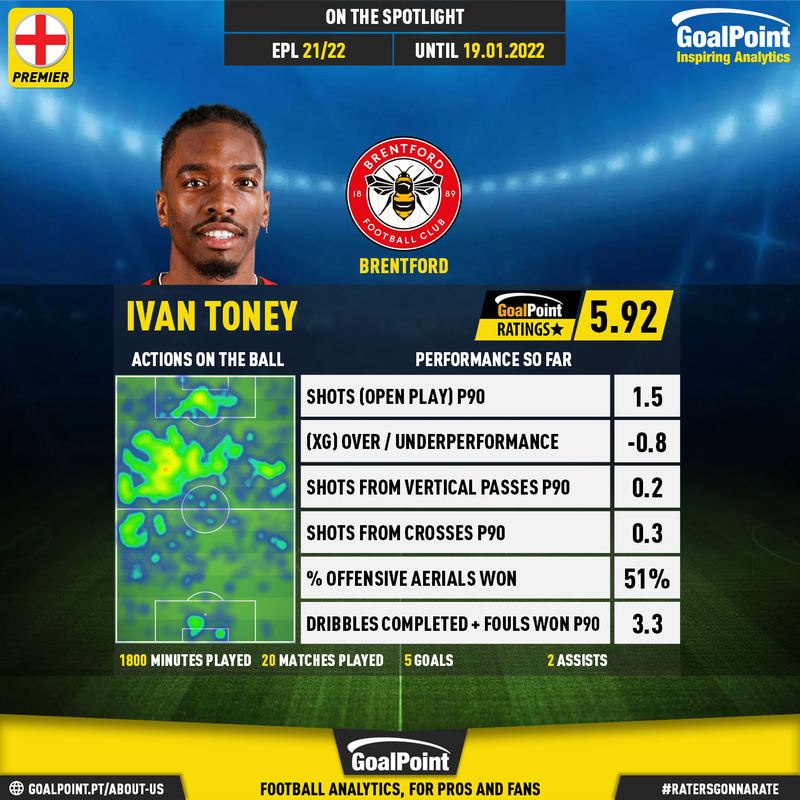 By: GoalPoint / @_GoalPoint
While Toney's goalscoring record this season has been underwhelming (just 4 goals in 18 appearances), he is basically hitting his xG and xA which is an indicator of his altered role in Brentford's relegation battle given their step up to the Premier League.
Last season in the championship, Toney broke records when he scored 31 goals and registered 10 assists across 45 league games. Most of Toney's goals come from inside the box via a variety of headers or shots from close range, he is also an exemplary penalty kick taker with a perfect record for Brentford since he joined in the summer of 2020.
There is no doubt that Toney's finishing variety could be better but since he is the most technically gifted attacker in the Brentford side he is asked to facilitate more than attack the box like last season. He's only shooting about 2 times per90 and his goals per shot ratio is way down in the 3rd percentile among positional peers according to StatsBomb.
On the flip side, Toney is in the 78th percentile for xA amongst other forwards and his passes into the final third as well as his overall progressive passes per90 are both standouts when reading his stat sheet. 
Toney's overall style is that of a taller, more physically imposing Alex Lacazette with similarly refined passing technique and ball-striking. Toney is the ultimate pressure-reliever with his ability to pick balls out of the air with frequency and efficiency.
He's one of the best aerial duelists around, with 4.61 aerials won per90 and a win percentage of 48.3% which puts him in the 81st percentile. One thing to note that won't show up on the stats sheet is Toney's amazing ability to play through balls behind the defense into the path of a runner.
Why Ivan Toney Is Destined for Success in the Premier League
It's a rare ability in a striker to have the vision and weight of pass to consistently hit the guys who run off him in stride and onside, but Toney is an expert.
Whether he's leading a counterattacking and facing the opposition goal or bringing down a long ball and swiveling into a reverse pass, Toney's ability to play through balls is really his X-factor for me and the element of his game that would flourish if he signed for Arsenal.
The Gunners have a plethora of adept back shoulder runners such as Gabriel Martinelli, Bukayo Saka, Emile Smith Rowe, and even the bombarding Kieran Tierney at times.
At Brentford, Toney's most common target for these defense-splitting balls is Bryan Mbuemo who is a master of running off the shoulder, and their link-up can be seen regularly and was quite evident in the game against Liverpool where they often operated as a left-sided partnership to great effect. 
While Toney does struggle with pace over short distances and isn't the best striker of the ball in the world, his overall game more than compensates and joining a team like Arsenal would definitely increase the quantity and quality of goalscoring chances he receives.
That being said, Toney to Arsenal is probably the least likely transfer of the three discussed here given how important he has been to Brentford's 23 points thus far this season. It is very unlikely that such an important member of a newly promoted team would be allowed to go easily. 
Arsenal's striker search may well conclude this month with reports from multiple reputable sources claiming that the North London outfit have put a massive offer on Fiorentina's table for Vlahovic.
If they don't sign someone in January, there is no doubt that a striker will be prioritized in the summer and, given Vlahovic's overall style, Mikel Arteta may not be looking after a direct replacement for Lacazette (Toney) or a hybrid of both Lacazette and Aubameyang (Isak) like many Arsenal fans have speculated in the past months.
As always, we are at the mercy of the coaches and ownership of the teams we support but that won't stop us from writing our opinions or enjoying the ride that is the transfer rumor mill.  
By: Aden Suchak / @eyetestfb
Featured Image: @GabFoligno / Juan Manuel Serrano Arce – Getty Images / NurPhoto / David Horton – CameraSport