Finding a Casemiro Backup
On July 27, 2019, Casemiro was set to board a flight from São Paulo to Orlando, where he had aimed to spend a week vacationing in Disney World with his mother, sister, wife, and daughter. After a trying campaign that saw him win Copa América with Brazil and suffer the worst season of his Real Madrid career, Casemiro was prepared to recharge his batteries and soak up the Florida sunshine before heading back to work.
A few hours later, Real Madrid lost 7-3 to Atlético Madrid in a preseason friendly in New Jersey; Casemiro knew that his team needed him now, not in a few weeks, and changed his plans. He took a flight on Saturday night from São Paulo to Madrid, and by Monday morning, he was training with the first team.
This past season, Casemiro has been the lynchpin of a team that won their first league title since 2017 thanks to a defensive fortitude that few teams in Europe can rival. The 27-year-old was the only player in Madrid's entire squad who was a natural defensive midfielder, and although Federico Valverde has been tried in a deeper role to cope with his absence, he was well off the ex São Paulo man's level.
With Marcos Llorente joining Atlético Madrid last summer, Los Blancos were deprived of a player who could fill in Casemiro's role whenever he was injured or suspended — although they didn't pay the price, with Casemiro going on to make 46 appearances in all competitions.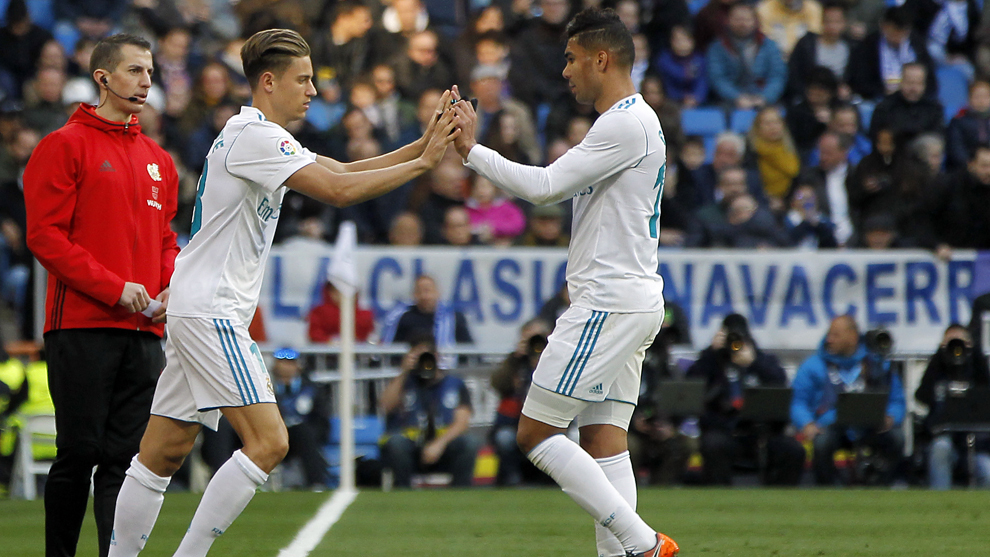 Photo: Angel Rivero
The Brazilian has played a fundamental role behind Madrid's 2019/20 excellent season, and he hasn't suffered a long-term injury since a sprained ankle in November 2018 kept him sidelined for a month. However, with Madrid set to participate in an abnormally congested season due to the COVID-19 shutdown, Casemiro's luck may not be the same in 2020/21.
Whilst President Florentino Pérez has remained adamant that there will be no major signings this summer due to the economic repercussions of the pandemic, it would be flat-out irresponsible and risky to go into another season without a natural backup for Casemiro. Let's take a look at several players who Madrid could buy this transfer window as a fill-in for Casemiro.
Statistical Profile
First, let's take a look at Casemiro's statistical profile to see how he ranks up against some of his compatriots.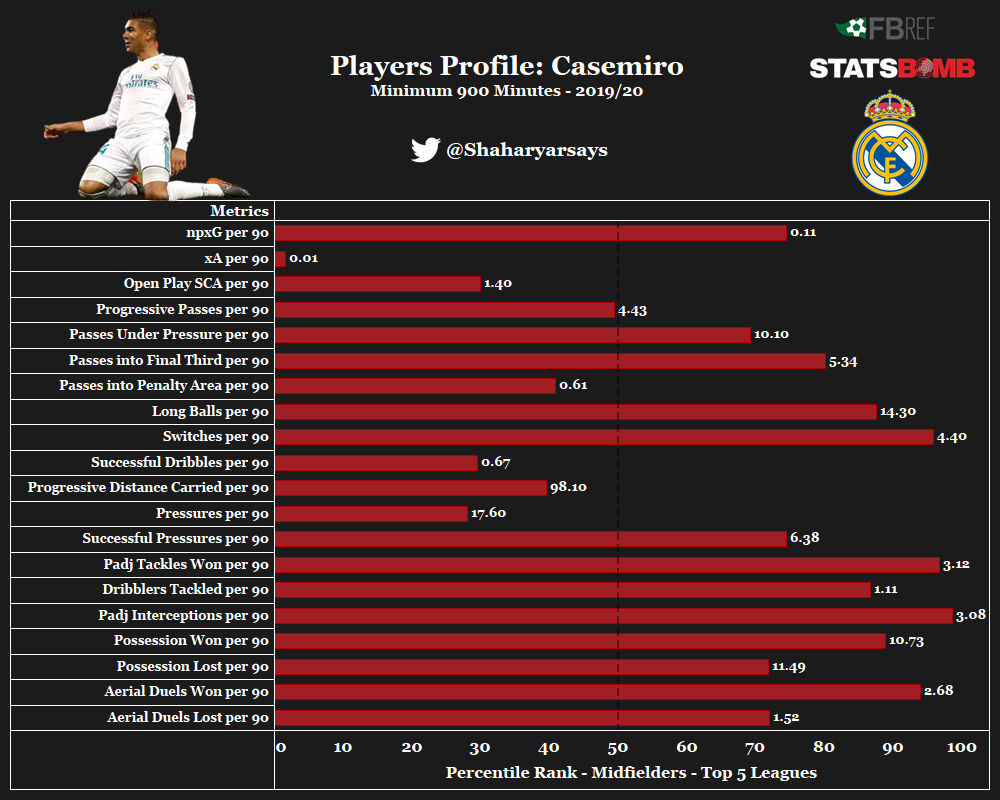 These stats do a great job at laying out Casemiro's style of play. The Brazilian excels at the defensive phase of the game, as highlighted by his defensive duels and aerial ability. However, he is still not proficient with the ball at his feet, as highlighted by his progressive passes and progressive distance carried numbers.
Despite that, Casemiro plays an important role in possession for Zidane as he excels at delivering long balls and switching the play. All these statistics will be important when looking at a potential replacement.
Criteria
Since we are looking for someone who will be happy to play as a deputy for Casemiro and who will have potential resale value if he decides to leave two or three years down the line, we'd need a young profile, which is why we will be looking at the midfielders who are 23 years old or younger.
Only the players playing in the top 5 European Leagues will be considered since the advanced metrics for these leagues are readily available and easily comparable. Moreover, only players who have played more than 900 minutes will be eligible to qualify. This number is kept low in order to account for the early suspension of Ligue 1. 
Now that we have the eligibility criteria set, we will be looking at their performances from the 2019-20 season in the following aspects.
Defensive Contribution
Casemiro has made a strong case for being the best defensive midfielder in the world. The Brazilian plays in the heart of Real Madrid's midfield and functions as a pure destroyer. He is a no-nonsense defender and has a great awareness of closing down threatening attacks.
For this section, we will compare his defensive stats to those of his potential replacements.
Aerial Ability
Not only does Casemiro have a good aerial presence, he is also required to join the defensive line when the ball goes wide to overload the defensive penalty area and clear out any danger that may come his way. Hence, in the current Real Madrid structure, the importance of aerial ability of a defensive midfielder is further increased. 
Ball Security
This is a key aspect for any player who plays in a deeper role. Since you're mostly required to stay in the zones closer to your own goal, any mistake could end up being more dangerous. Hence, it is important to gauge a player's security on the ball.
For this reason, we will analyze the ability to pass under pressure and net contribution in terms of possession.
Ball Progression
Casemiro is often criticized for being a poor passer of the ball, and while he has improved in this aspect, he often presents himself as a liability when it comes to progressing the ball against a high-pressing team. An example of this was evident against in the Champions League Round of 16, where he was exposed by the fierce pressing of Pep Guardiola's Manchester City.
Although this is not as much of issue in La Liga, if the chosen player is expected to potentially succeed Casemiro at some stage, it will be important for him to be proficient in this aspect. 
Data Analysis
With all the rules set, let's find some players who perform well in the above metrics and compare their performances to Casemiro's.
Defensive Contribution
This is the most important area of Casemiro's game and hence this will carry the most value. First, we will take a look at the players who excel at Possession Adjusted Tackles and Possession Adjusted Interceptions.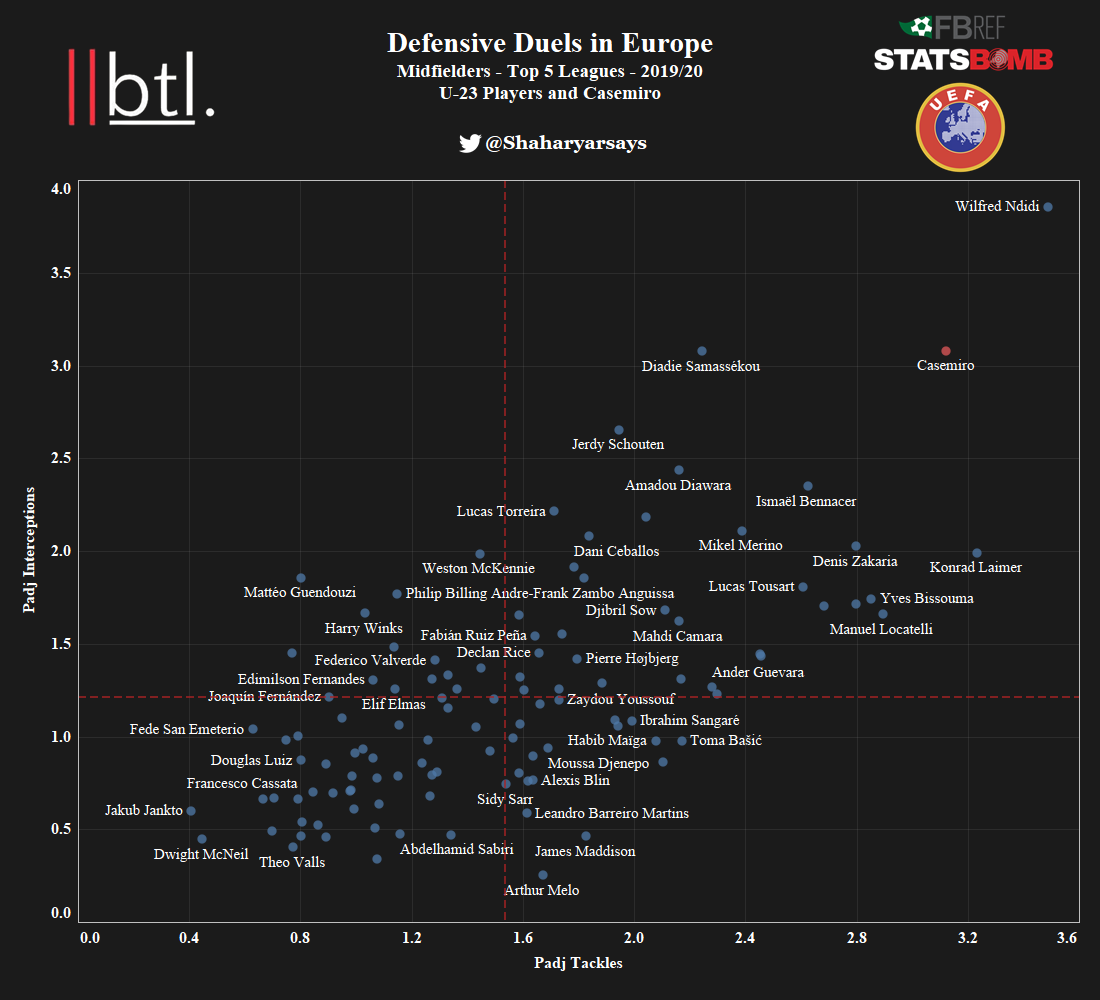 Taking a look at the above graphic, Leicester City's Wilfred Ndidi comes out as the most noticeable name. Casemiro is highlighted in red colour for the ease of comparison.
Hoffenheim's Diadie Samassékou and and Bologna's Jerdy Schouten particularly excel at possession adjusted interceptions, whilst RB Leipzig's Konrad Laimer, Sassuolo's Manuel Locatelli and Brighton's Yves Bissouma look good in possession adjusted tackles.
Roma's Amadou Diawara, Milan's Ismaël Bennacer, Borussia Mönchengladbach's Denis Zakaria and Real Sociedad's Mikel Merino are the other standout performers in these metrics.
Now, we will take a look at how these players apply pressures with a special focus on the middle of the park.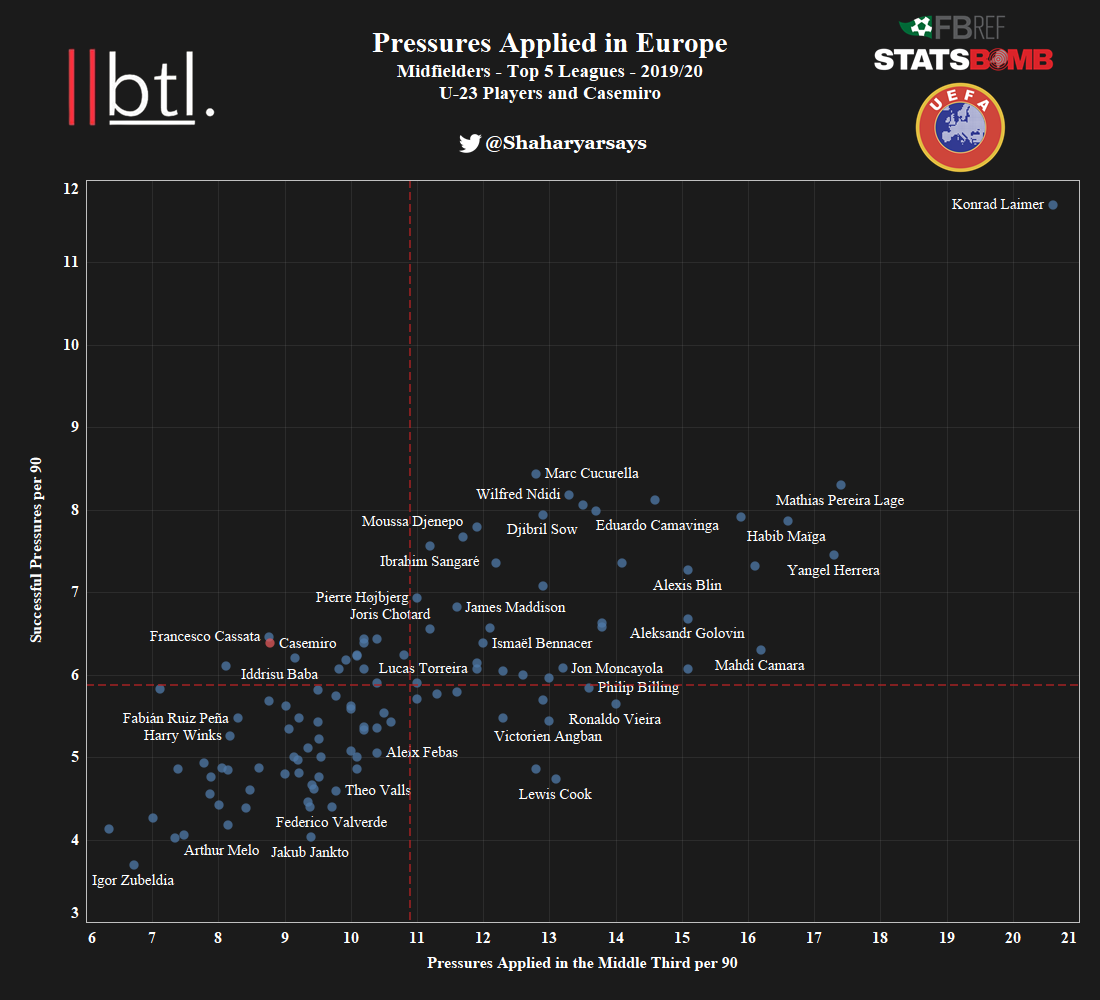 Casemiro ranks above average in Successful Pressures per 90 but he does not apply too many pressures in the middle third. However, this could be due to his tendency to not roam too freely and instead focus on the sweeping danger from defensive areas. 
Laimer is a pressing machine and it shows in this graphic. Angers's Mathias Pereira Lage, Granada's Yangel Herrera (on loan from Manchester City), Getafe's Marc Cucurella, Rennes's Eduardo Camavinga and Ndidi also perform considerably well in this department, showing their mobility in the middle third of the pitch. 
The fouls that these players commit in deeper areas could come out to be dangerous, especially when it is a regular occurrence. Let's take a look at how these players deal with dribblers and the amount of fouls they commit.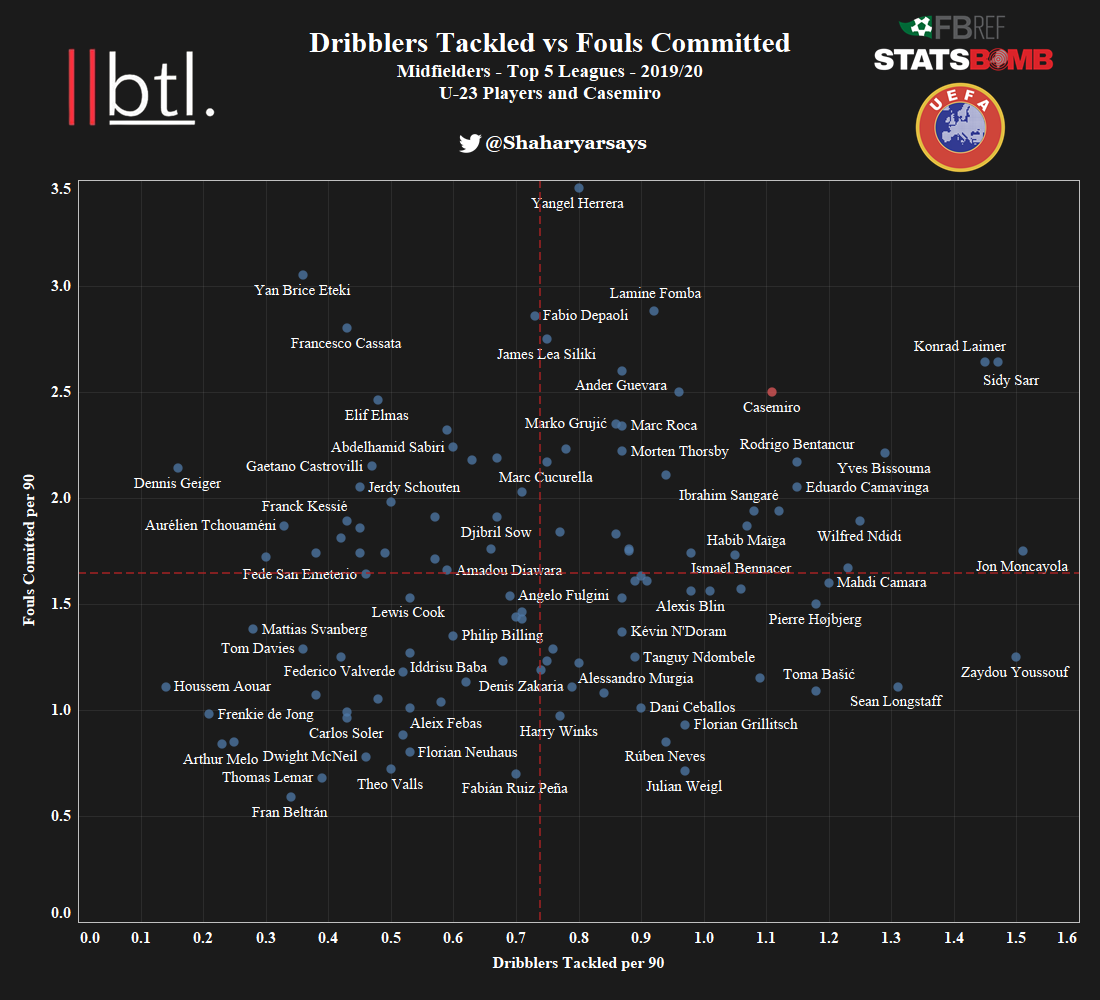 Casemiro is a high-volume defender and it shows by his high number of tackles and fouls. Saint-Étienne's Zaydou Youssouf, Newcastle's Sean Longstaff, Osasuna's Jon Moncayola, Nîmes's Sidy Sarr and Laimer are the standouts here.
Aerial Ability
Aerial ability is an important aspect of the "Casemiro" role, although it's hard to get the right balance of aerial duels won and lost. Since there are not many players who win a large number of aerial duels without losing a lot of them too, this graph does a good job of accounting the volume of air duels.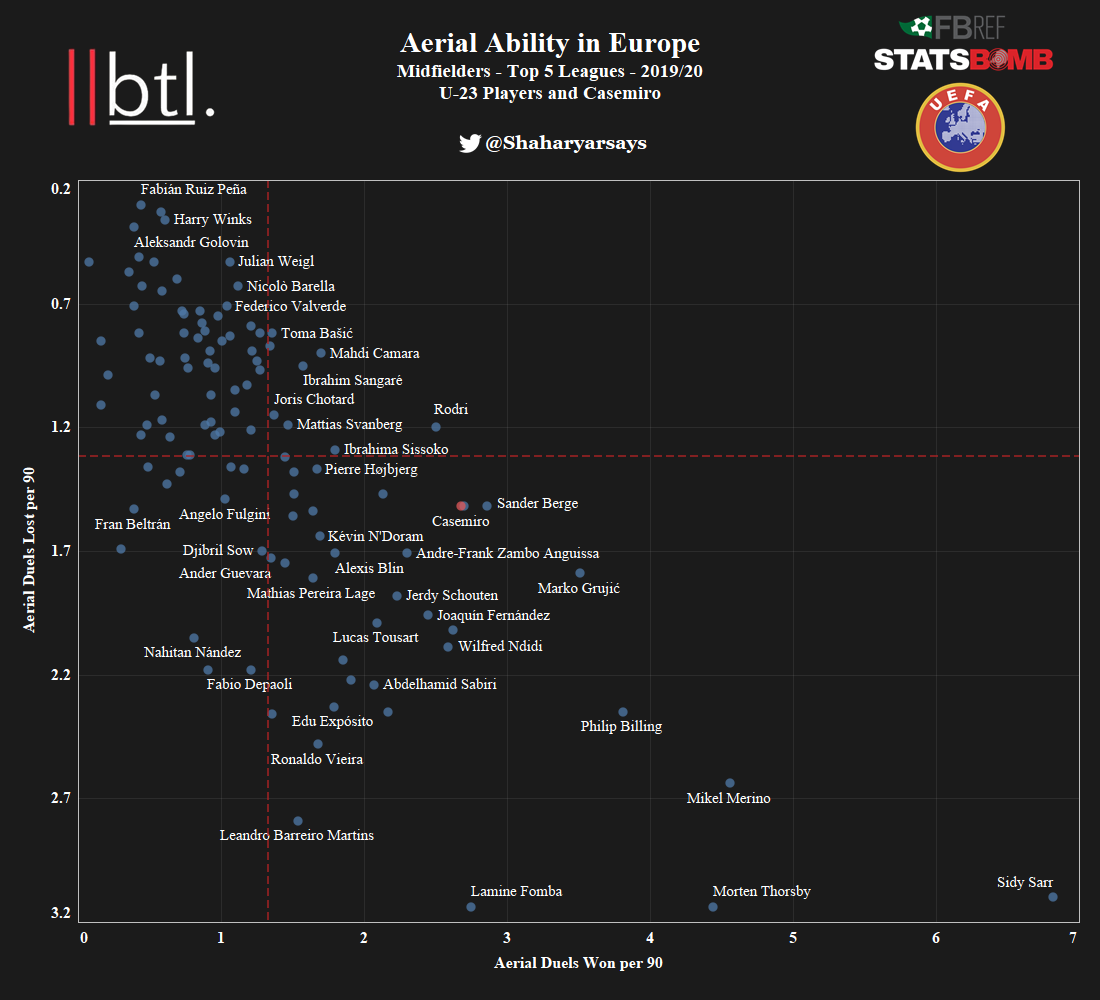 Now just to take a look at the duels won, we should use the aerial duel success rate.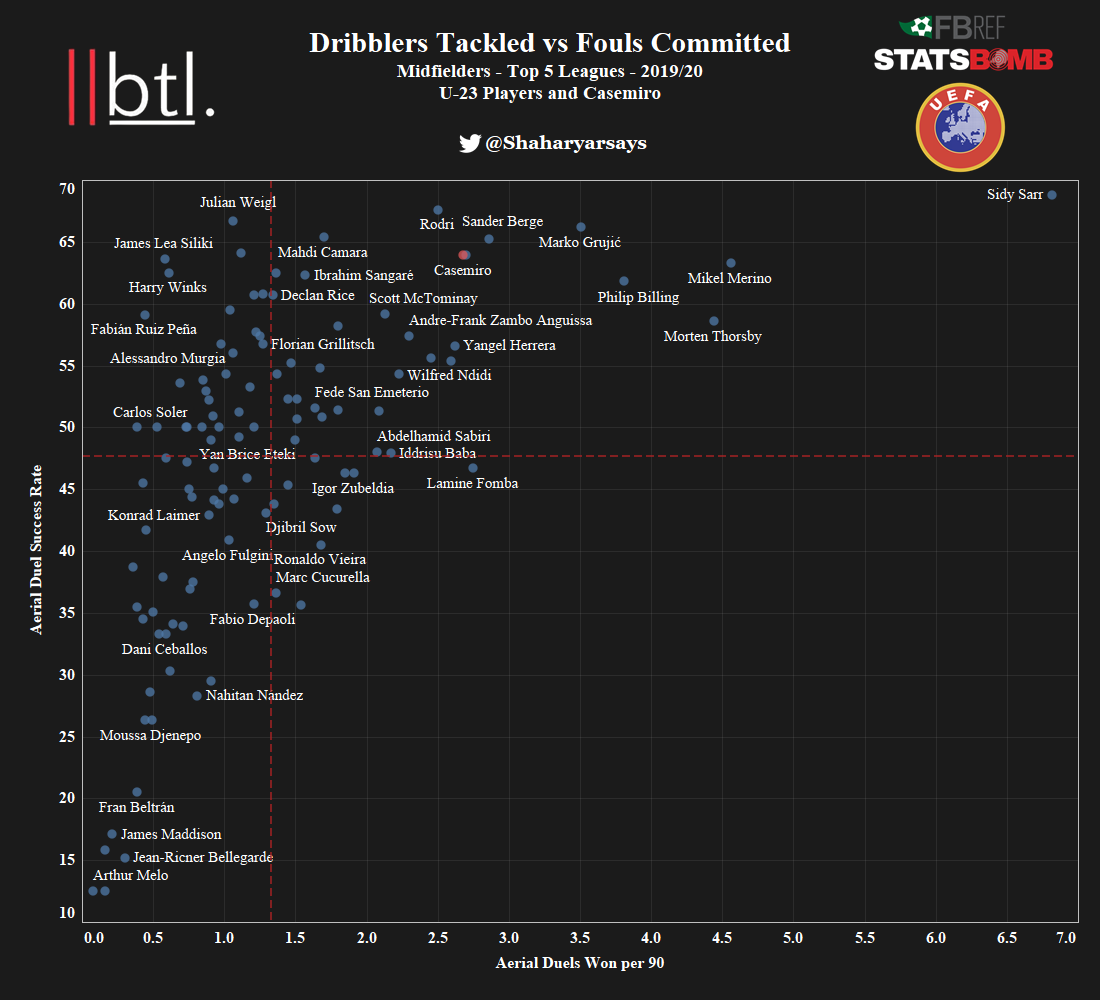 This graph is a better representation of Casemiro's aerial ability. Sarr is an outlier here, although his numbers could be inflated by playing just 1100 minutes for Bernard Blaquart's Nîmes.
Merino, Bournemouth's Philip Billing, Hertha Berlin's Marko Grujić (on loan from Liverpool), Sheffield United's Sander Berge and Manchester City's Rodri also perform really well here.
Ball Security
Net Possession is found by the number of times a player wins the ball – the number of times the ball is lost. Hence, it helps in calculating the net impact of a player's possession which is important for a deep-lying midfielder.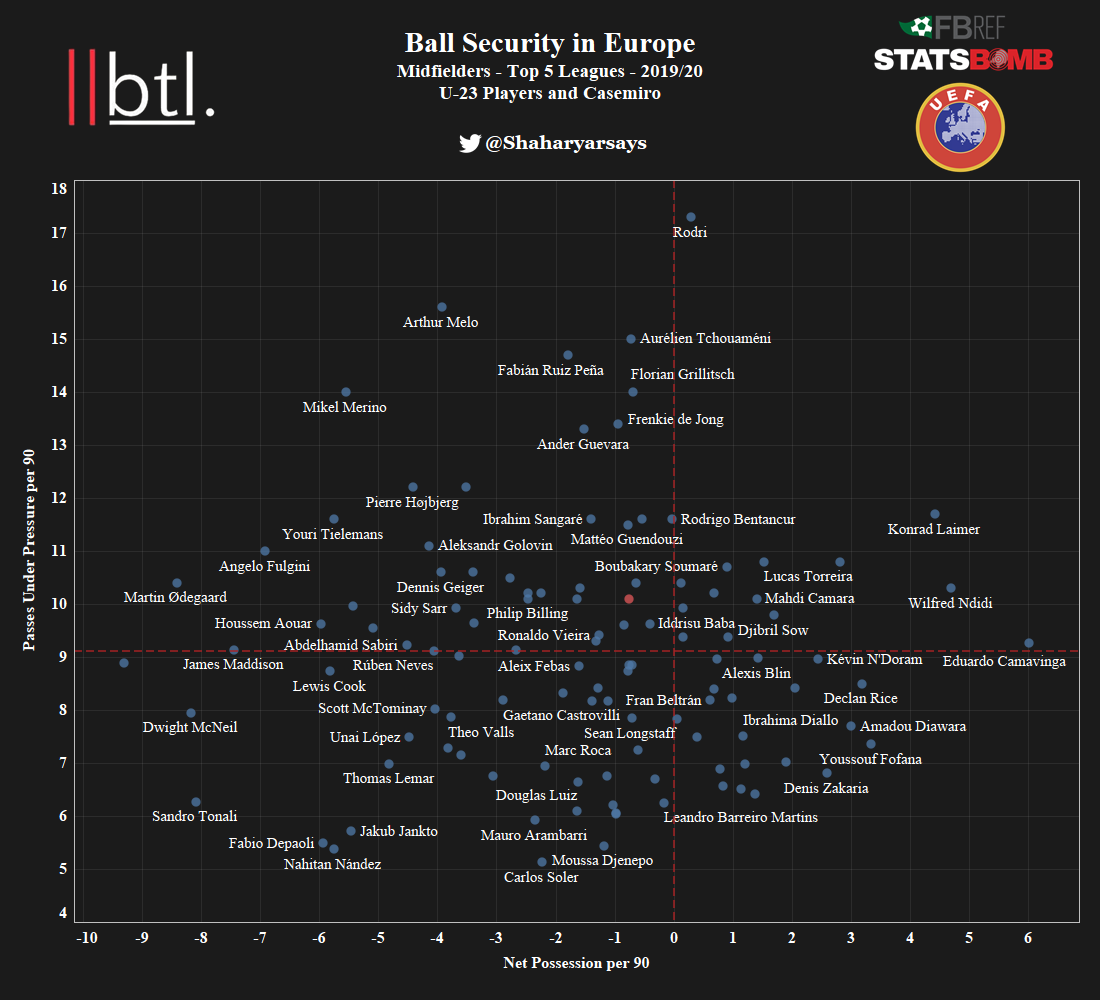 Casemiro does not excel at his ability with the ball but he is still very capable in terms of shielding the ball. Looking at the above graphic, Rodri, Laimer, Ndidi, Camavinga perform considerably well in this metric.
Ball Progression
Whilst Casemiro far from the number one progressive passer at the Santiago Bernabéu, he can be counted on to make the right pass in order to advance possession. As such, it's vital we judge his competitors on their ability to progress the ball from deep.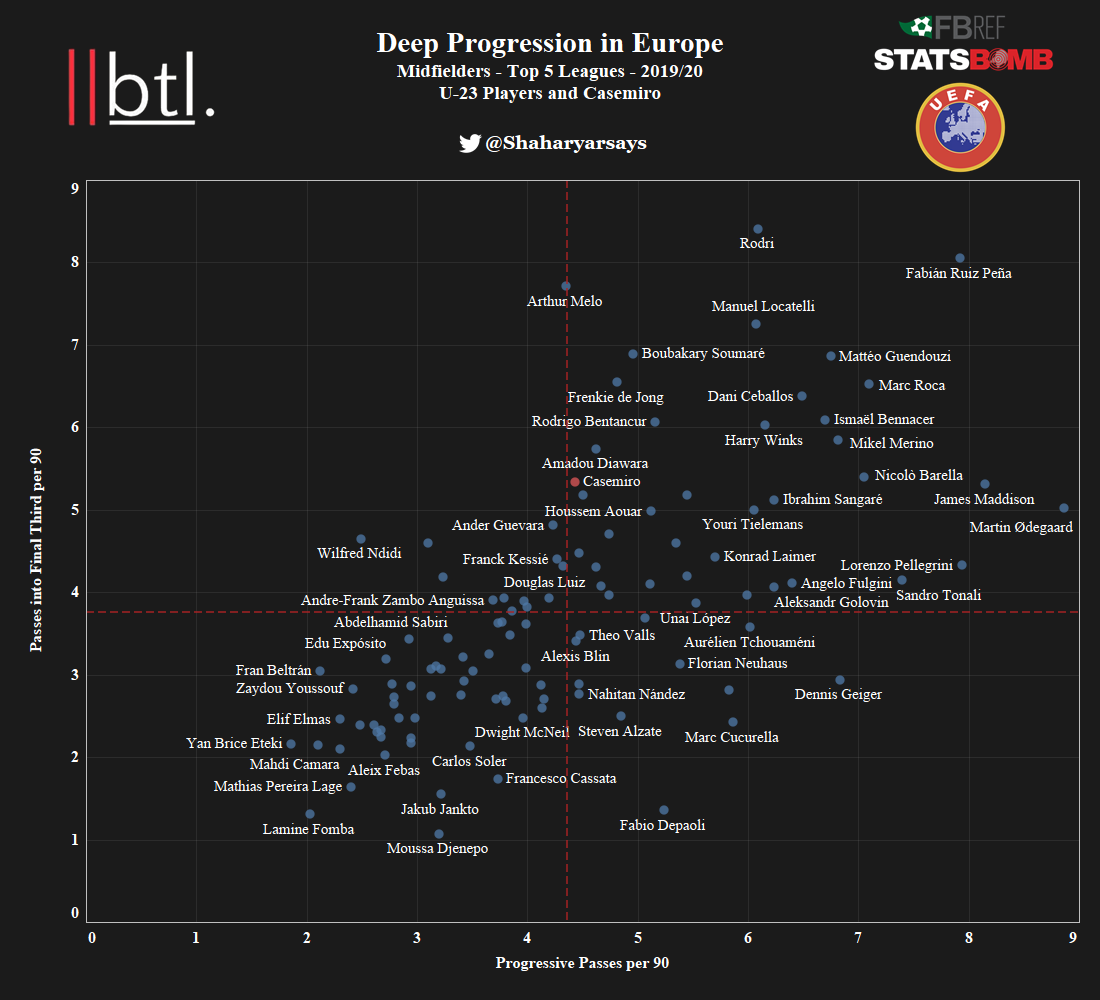 Looking at the deep progression statistics, players who play in the central midfield role shine. Napoli's Fabián Ruíz, Locatelli, Rodri, Arsenal's Mattéo Guendouzi, Lille's Boubakary Soumaré and Espanyol's Marc Roca impress along with some other players.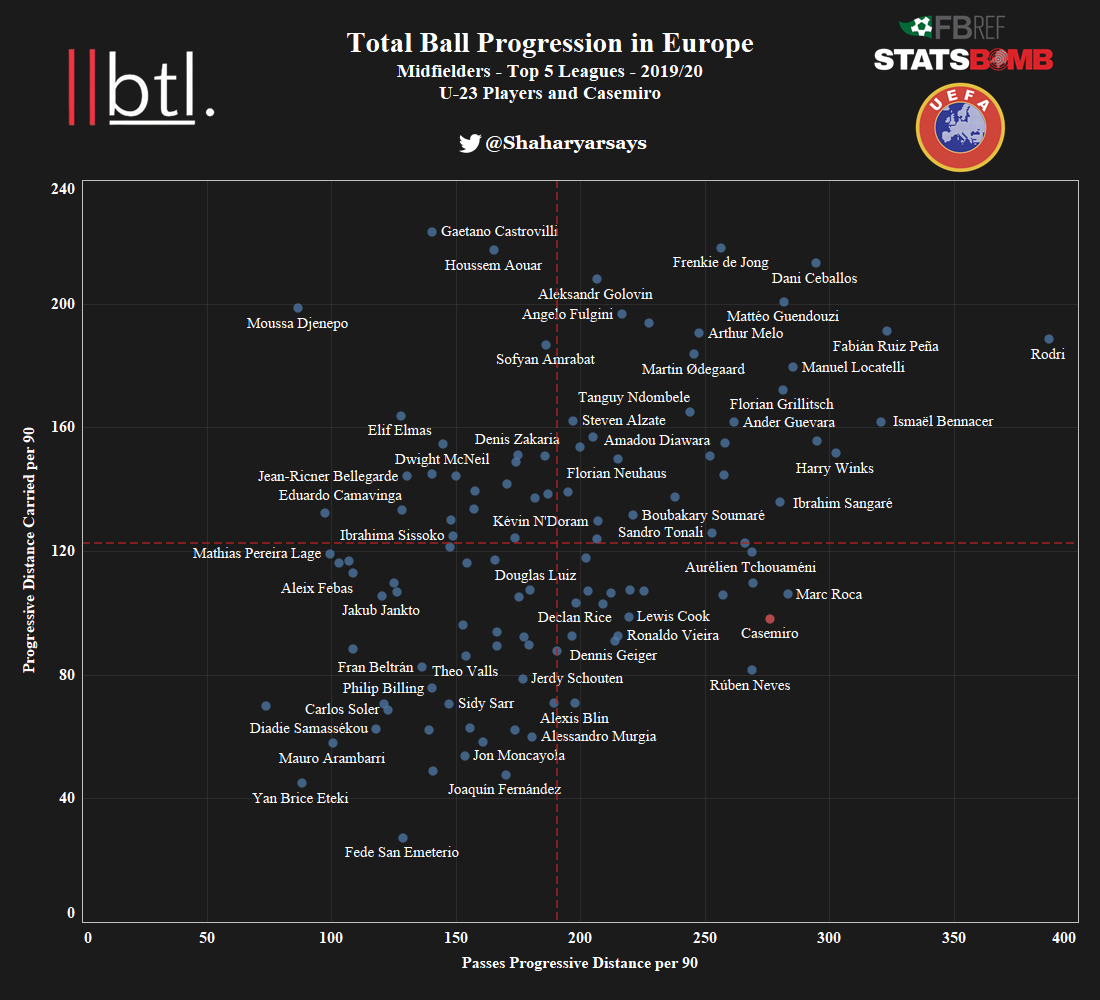 Now, let's take a look at the total progression these players provide. Since Casemiro is tasked with delivering long balls from deep, his progressive distance through passing is very decent. However, due to his poor ball carrying ability, he is not very comfortable in progressive dribbles.
Again, players with more on-the ball responsibilities like Barcelona's Frenkie de Jong, Arsenal's Dani Ceballos (on loan from Real Madrid) and Guendouzi shine. The likes of Rodri, Locatelli and Bennacer also show up well here.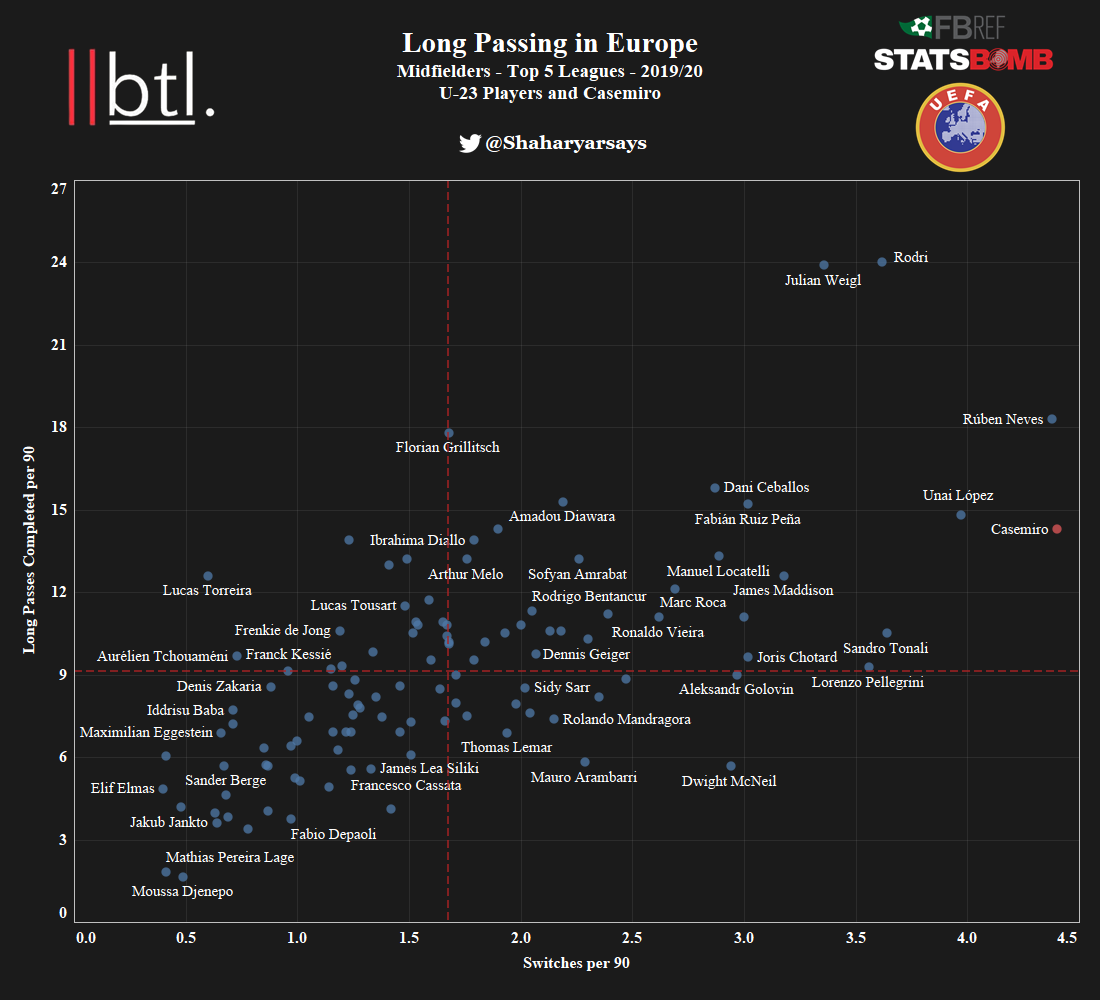 Finally, taking a look at long passing ability. Zinedine Zidane uses Casemiro to switch the play and initiate threatening attacks very often, which is why he shows up very well here. Benfica's Julian Weigl (formerly of Borussia Dortmund), Wolves's Rúben Neves, Athletic Club's Unai López, Rodri, Ceballos and Fabián show up very well here.
Similar Profile
The likes of Rodri and Fabián have been ignored since they are not the players who would be willing to play as a bench option for Casemiro. First, let's look at the players who can potentially fit the Casemiro profile.
Wilfred Ndidi
In terms of a like-for-like profile, Ndidi is the closest it comes to Casemiro. He has been a vital player for Leicester City this season as he is quick at sniffing out danger and covering for the fullbacks when they roam forward. His importance to the Foxes was apparent when he was out due to injury, as Brendan Rodgers's side's form went off a cliff in the first two months of 2020.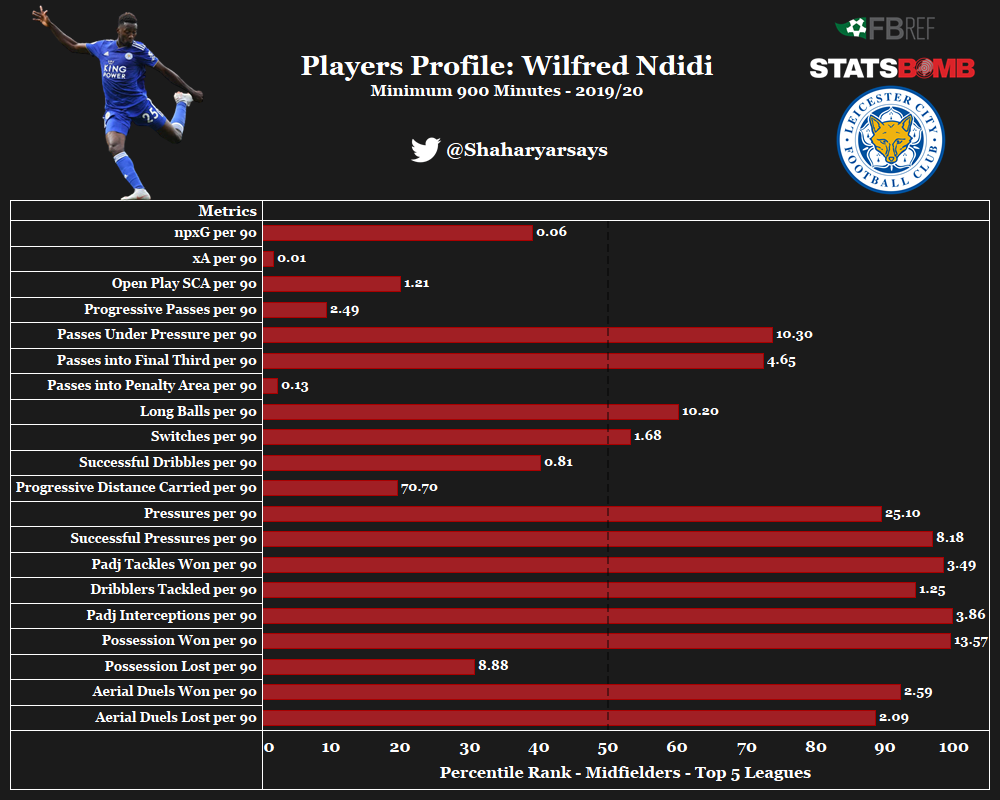 Like Casemiro, the Nigerian struggles at progressing the ball, but his defensive contribution more than makes up for it. He is also very aware of his weaknesses in possession, which is why he does not try too many risky passes, hence preserving the possession.
His long passing – or the lack of, is concerning in that role. Although Ndidi fits the mould of Casemiro perfectly, it's unlikely that Madrid would pay an expensive fee for a player who would join to become a backup midfielder.
Ismaël Bennacer
Since joining from Empoli after an impressive AFCON performance, Ismaël Bennacer has had a brilliant season for AC Milan in a midfield pivot alongside Franck Kessié. The Algerian is more comfortable on the ball than both Casemiro and Ndidi, although his aerial ability will be a big question mark in that role.
Not only is Bennacer adept at progressing the ball, he is also very capable of getting beyond challenges to get the ball out of tight areas. In addition, Bennacer's defensive stats are very solid. Not only can Bennacer help in providing cover for Casemiro, he can also potentially play alongside him with more freedom to roam forward than the Brazilian.
A New Outlook
However, Real Madrid can also look to sign a few players who may not be in the Casemiro mould but provide a different outlook to the team. They could play as a lone pivot, or in a double pivot with the likes of Federico Valverde and Luka Modrić. This is not a likely outcome, but doing this could provide Real Madrid with a new impulse. 
Konrad Laimer
It has been a historic season for RB Leipzig, who advanced to the Champions League semi-finals for the first time in club history. Konrad Laimer led the way in midfield along with Marcel Sabitzer in Nagelsmann's lung-busting 3-5-2, and at 23 years old, he's still years away from entering his prime.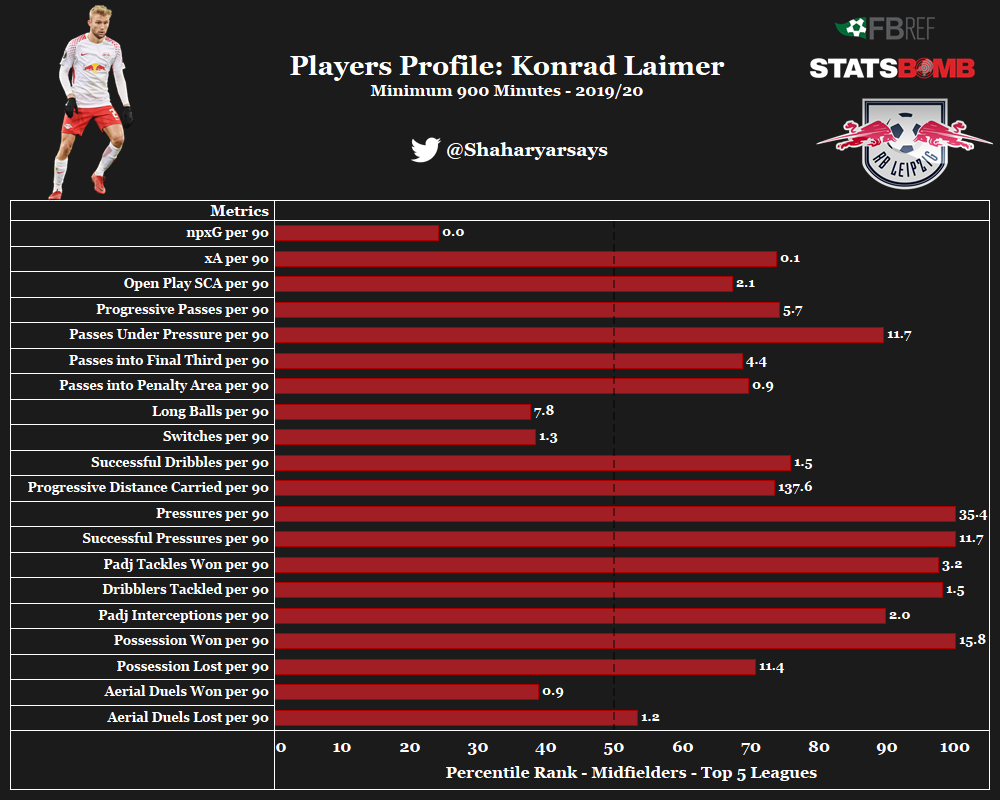 Not only is the Austria international extremely versatile in the roles he can play, but he is also extremely capable of pulling them off. Although Laimer has played the role of a deep-lying midfielder for Nagelsmann, he is at his best when he is able to roam freely in a midfield.
For this reason, it would be appropriate to use him in a pivot with a partner in order to take advantage of his mobile nature. Laimer is very capable with the ball at his feet and although his long passing needs improvement, he is extremely press resistant. His defensive and pressing stats are also very encouraging, although he lacks aerial ability.
While he would be an unconventional option to replace Casemiro, he would give a new dimension to this Real Madrid side.
Manuel Locatelli
Like Laimer, Manuel Locatelli is far from being a like-for-like replacement for Casemiro — he's a different profile, but at 22, he's still worth considering as someone who would come to sit on the bench and learn from Casemiro as he bides his time in the team.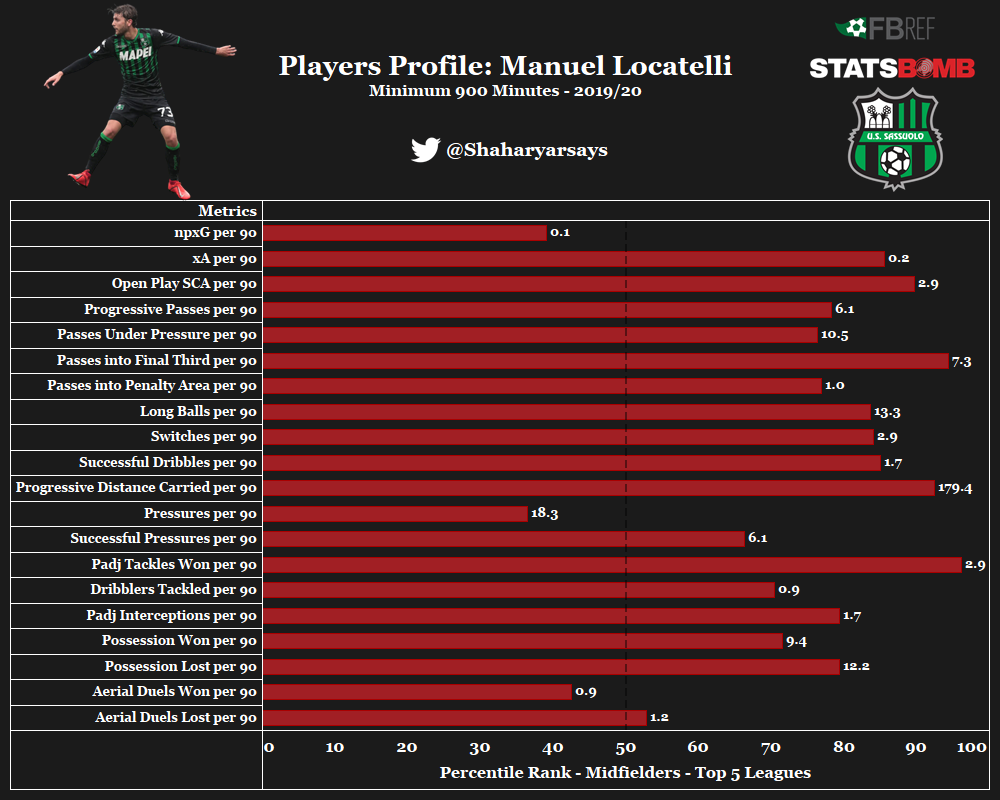 Usually playing in a double pivot for Roberto De Zerbi's Sassuolo, Locatelli has impressed with his maturity on the ball at such a young age. The Italian has every pass in his locker and can dictate the play from deep. But unlike most players of this profile, he is not a slouch by any means.
Despite his good physique, the 22-year-old is below average when it comes to aerial ability. Although this is a slight flaw in his game, Locatelli can provide a different approach and a new outlook to this Real Madrid team.
Planning for The Future
Eduardo Camavinga
At 17 years and nine months old, Camavinga became the youngest player to be called up by France's national team since World War II this week, and it's only the latest milestone for a player who looks destined for greatness.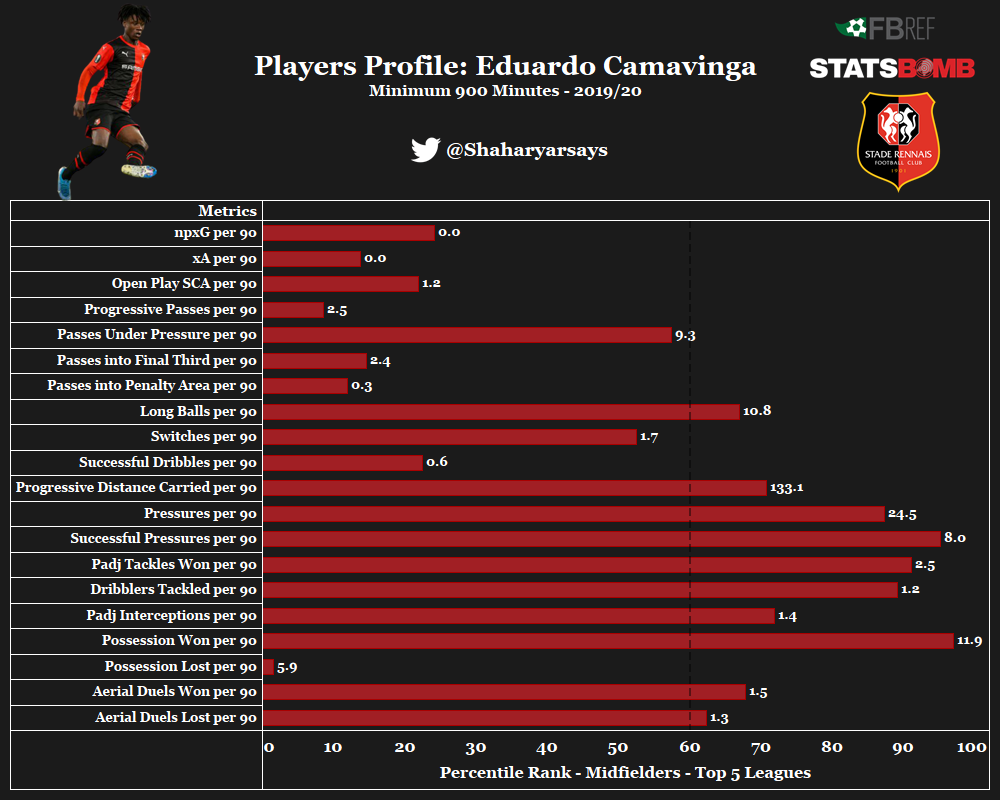 Looking at Camavinga's statistical profile, you can see that he is still not the finished article. However, whilst the French sensation tends to play as a box-to-box midfielder alongside the more conservative Steven N'Zonzi, his defensive contribution and ball security is what makes him such an interesting proposition. There's a reason why the teenager is already in demand by the biggest clubs in Europe.
Similarly to Ndidi, Camavinga is one player that will probably be too expensive for Real Madrid over the next 12 months, and it's unlikely he'd accept a bench role in Madrid either. Still, he is certainly one to keep an eye on as the teenagers prepares his ascent into Europe's elite.
By: Shaharyar Atique
Featured Image: @GabFoligno / Quality Sport Images