Player Analysis: Rodrigo Bentancur
After four-and-a-half seasons at Juventus, Rodrigo Bentancur has been sold to Tottenham Hotspur as the English Premier League club reinforces the squad for new manager Antonio Conte. The 24-year-old was purchased from the Italian giants for €19 million plus another €6 million in bonuses while 30 percent of the transfer fee will go to his former club Boca Juniors in Argentina. 
Pierluigi Gollini and Cristian Romero were signed from Atalanta in the summer, and in addition to signing Bentancur in the winter transfer window, Spurs have increased their former Serie A contingent by also acquiring Dejan Kulusevski from Juve. What can Bentancur provide for Tottenham and how can moving to North London shape his career?
The Uruguayan international is often considered to be a central midfielder but it is not easy to pigeonhole him into one particular midfield role. He has operated as either a defensive midfielder, a box-to-box midfielder, and even as an attacking midfielder, but he lacks the dependability to be classified as a jack of all trades or a utility player. 
The coaching changes at Juventus have not helped his development as a player too. Since arriving from Argentinian giant Boca Juniors in the summer of 2017, Bentancur was coached by Massimiliano Allegri, then Maurizio Sarri, Andrea Pirlo, and Allegri again.
Depending on the choices of formation and other personnel available, the Uruguayan's role in the team would change. He made 27 competitive appearances throughout the 2017/18 campaign but he only started nine times during his first season with the Bianconeri.
Allegri often implemented the 4-2-3-1 formation and he preferred the more experienced duo of Miralem Pjanić and Blaise Matuidi over the young Bentancur. The German veteran  Sami Khedira would also be selected over the Uruguayan whenever he was fit enough to play.
However, he earned more playing time at club level after impressing for Uruguay at the 2018 World Cup in which the Celeste reached the quarter-finals. Under veteran tactician Óscar Tabárez, Bentancur played all five matches for his country at the tournament before eventual winners France eliminated the South Americans.
The Juventus midfielder played as a central midfielder in a 4-4-2 formation in Uruguay's first two matches but Tabárez switched to the 4-3-1-2 for the remaining games at the World Cup.
Bentancur's positioning on the pitch was often closer to star strikers Edinson Cavani and Luis Suárez than it would be with the midfield trio of Nahitan Nández, Lucas Torreira, and Matías Vecino.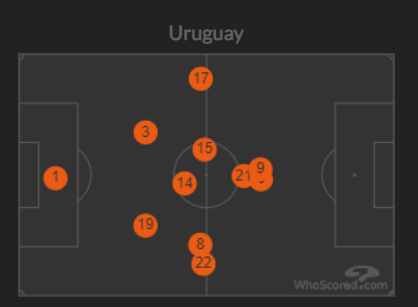 Uruguay player positions in the 3-0 victory against Russia at the 2018 World Cup [WhoScored]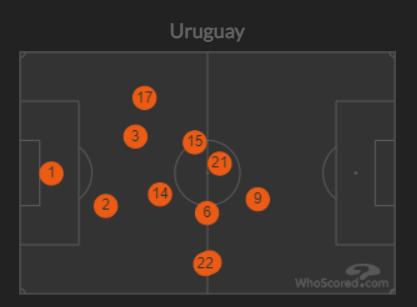 Uruguay player positions in the 2-1 victory against Portugal [WhoScored]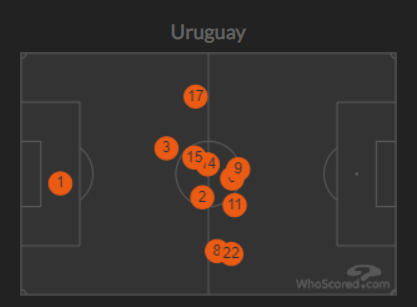 Uruguay player positions in the 2-0 defeat to France [WhoScored]
As the graphics above illustrate, Bentancur's role after the first two matches at the 2018 World Cup allowed him to play further up the pitch than he did at Juventus. 
Wearing the #6 jersey, you can see that he was often close to his strikers and in the win against Russia, his average position was further up the pitch than Cavani and Suárez's. It is possible that he could play in a more advanced role, but while Tabárez could identify that, Bentancur's coaches at Juve did not see things that way.
In the win against Portugal, Suárez was Uruguay's most advanced player, but Bentancur was not too far from Cavani, the other star striker for the Uruguayans.
Meanwhile, in the defeat to France, most of the team was confined to the middle of the pitch, but Bentancur was still very close to Suárez and nearby the other striker, Cristhian Stuani.
His most important contribution in the tournament was his assist for Cavani's second goal in the 2-1 victory against Portugal in the Round of 16.
Antonio Conte's Biggest Tactical Problem at Tottenham: He Has Defenders That Aren't Comfortable on the Ball
La Celeste went on the counter-attack, and the young midfielder passed the ball to his experienced teammate to the left of him, who curled a first-time shot with his right foot into the far corner. 
Since that tournament, Bentancur has played at two editions of the Copa America and he has earned 47 caps so far for the Celeste. He also scored his first goal for his country on February 2 this year in a 4-1 victory against Venezuela in a World Cup qualifier. 
When he came back from the World Cup, Bentancur went on to play 40 competitive matches throughout the 2018/19 season, which included 30 appearances in Serie A. He also scored two goals in the only campaign when he scored in the Italian league. 
Allegri used a variety of formations during that campaign. Whenever he used the 4-2-3-1 or 4-4-2, Bentancur would play as one of the central midfielders. When he switched to the 4-3-3 or 3-5-2, the Uruguayan would play as either a right or left central midfielder.
Juventus won its eighth consecutive Serie A in that season but Allegri was still dismissed. Despite winning five successive domestic titles, Allegri's Juve played dour football, and he was not able to break La Vecchia Signora's Champions League drought after losing the 2015 and 2017 Champions League Finals to Spanish giants Barcelona and Real Madrid respectively. 
For the 2019/20 season, Juventus hired Maurizio Sarri as manager and went on to win the Serie A title for the ninth time in a row. However, he was not able to successfully implement his exciting "Sarrismo" or "Sarriball" philosophy, and he was sacked after French side Olympique Lyon eliminated the Italian giants in the Round of 16 in the Champions League.
Despite that, Bentancur arguably had the best season of his career. Operating as a mezzala destra (right central midfielder) in the 4-3-3 formation, the Uruguayan was La Vecchia Signora's leading assist man in Serie A with seven in 30 matches.
According to WhoScored, the Uruguayan midfielder also averaged 52.1 passes, 1.5 key passes, 0.7 crosses, and 1.2 dribbles per game. He also had a passing success rate of 88.9 percent. 
Defensively, he was quite sound as well. He averaged 1.9 tackles, 1.1 interceptions, and 0.9 clearances per game, but he also averaged 1.8 fouls per game and received nine yellow cards, displaying a bit of aggression in his game.
Lucas Moura's Path to Tottenham and His Importance to the Lilywhites
It seemed that he finally had a settled role at Juventus, but Pirlo was brought in to replace Sarri for the 2020/21 campaign, changing his role again.
Pirlo often used the 4-4-2 formation, and Bentancur would often play as one of the central midfielders, but his partner in the middle would regularly change.
Statistically, the 2020/21 Serie A season was his best ever. He made 33 appearances and had a successful passing rate of 89.8 percent. He also averaged 55 passes, 1.2 clearances, 1.4 blocks, and 3.2 long balls per game. 
However, those numbers don't reflect on the errors that we were creeping into his game or being masked less. Those passes that failed to find a teammate would be detrimental, and despite the increase in long passes compared to other years, his shorter passing choices would often result in going for a safer option.
Bentancur made a costly mistake when Juventus was eliminated by FC Porto from the 2020/21 Champions League in the Round of 16.
In the 2-1 defeat to the Portuguese giants in the first leg, Bentancur tried to play a back-pass to Wojciech Szczęsny, but Mehdi Taremi was able to get to the ball before the Bianconeri goalkeeper and the Porto striker slid in to score.
Ben Davies Is Antonio Conte's New Successful Experiment in Tottenham's Defense
Juventus finished fourth in Serie A under Pirlo and it also won the Coppa Italia as well as the Supercoppa Italiana, but he suffered the sack after one season, and Allegri was brought back in the hope of replicating his previous success.
The Bianconeri are currently fifth in Serie A after 23 rounds of the 2021/22 season on 42 points, a long way from where the Italian giants would prefer to be and too low on the league table to what they are accustomed to.
Bentancur made 19 appearances for Juve but he often struggled to make a positive impact in games. With the likes of Weston McKennie, Adrien Rabiot, and Manuel Locatelli earning more playing time as well as Arthur starting to gain fitness, a place in the team was becoming limited. 
The arrival of Denis Zakaria from German side Borussia Mönchengladbach was also a further sign that Bentancur's days in Turin were numbered.
Fabio Paratici, the Managing Director of Football at Spurs, knew Bentancur from his time as a Juventus director and he lured the Uruguayan to North London. It will be intriguing to see how he fits into Conte's system.
Antonio Conte's First Premier League Match at Tottenham Wasn't a Classic – But the Signs Were There
The Italian tactician has so far used the 3-4-3 and 3-4-2-1 formations, but the arrival of the 24-year-old might see him switched to his preferred 3-5-2 formation.
After being coached by three different tacticians at Juventus, Bentancur will have to learn a new system at Tottenham. However, Conte has been a successful coach in both the Serie A and the Premier League, and he has the ability to make his players buy into his ideas.
It seems that Bentancur is not the finished article yet and perhaps he just needs a coach that will help him gain confidence. Conte will have to identify where the midfielder needs to improve most and also which role suits him best. 
The inconsistent and uninspiring performances at Juventus might have been concerning, but if the Uruguayan takes Conte's instructions on board, he still has enough of a skill set to become an important midfielder in North London.
By: Vito Doria / @VitoCDoria
Featured Image: @GabFoligno / Nicolò Campo / LightRocket