Premier League preview: Can Frank Lampard's Chelsea win the Premier League?
"I am immensely proud to be returning to Chelsea as head coach. Everyone knows my love for this club and the history we have shared, however, my sole focus is on the job in hand and preparing for the season ahead. I am here to work hard, bring further success to the club, and I cannot wait to get started."
These were the first few words of Frank Lampard when he was appointed as Chelsea manager last year. Since then, Chelsea finished fourth on 66 points, got eliminated in the Round of 16 of the Champions League, and lost the final of the FA Cup against Arsenal.
While losing Eden Hazard during a transfer ban was a big loss, Chelsea still qualified for the 2020/21 edition of the Champions League. However, they had to buy new players to improve as a team.
This is why Chelsea have been busy this summer. Kai Havertz has joined Chelsea from Bayer Leverkusen for a reported fee of £71 million after signing a five-year deal. He becomes Frank Lampard's sixth summer addition, joining Germany team-mate Timo Werner, Hakim Ziyech, Ben Chilwell, Thiago Silva and Malang Sarr.
In this analysis, I will break down what we can expect from Chelsea during the 2020/21 season. I will talk about how they played last season, what they could improve, and how their new signings will fit into their squad. I will go back and forth on multiple concepts so you can get the full picture.
Formations
Since the restart, Frank Lampard has decided to play either in a 3-4-2-1 or in a 4-3-3. The latter has been their most used formation throughout the season, as it has been deployed during 18 of Chelsea's 38 league games.
Above, this is Chelsea's position map from the 2019/20 season. As you can see, there are two positions without any title. I decided to leave a blank because I didn't know how to name them. I will come back to it later on in this article.
Chelsea's Build-Up
Chelsea's build-up shape varies according to the opponent and the personnel on the pitch. They either have one holding midfielder who will receive on the turn with the full-back on the side of the ball deep to receive and find the winger on his side.
The main issue with their build-up lies in their central progression. The holding midfielder seems to not always have the same task and Lampard lets his holding midfielder act the way he wants. This is pretty easy to see since Jorginho, N'Golo Kanté and Billy Gilmour have all played there this season.
Below, we can see Jorginho splitting the centre-backs to receive, something Kanté doesn't.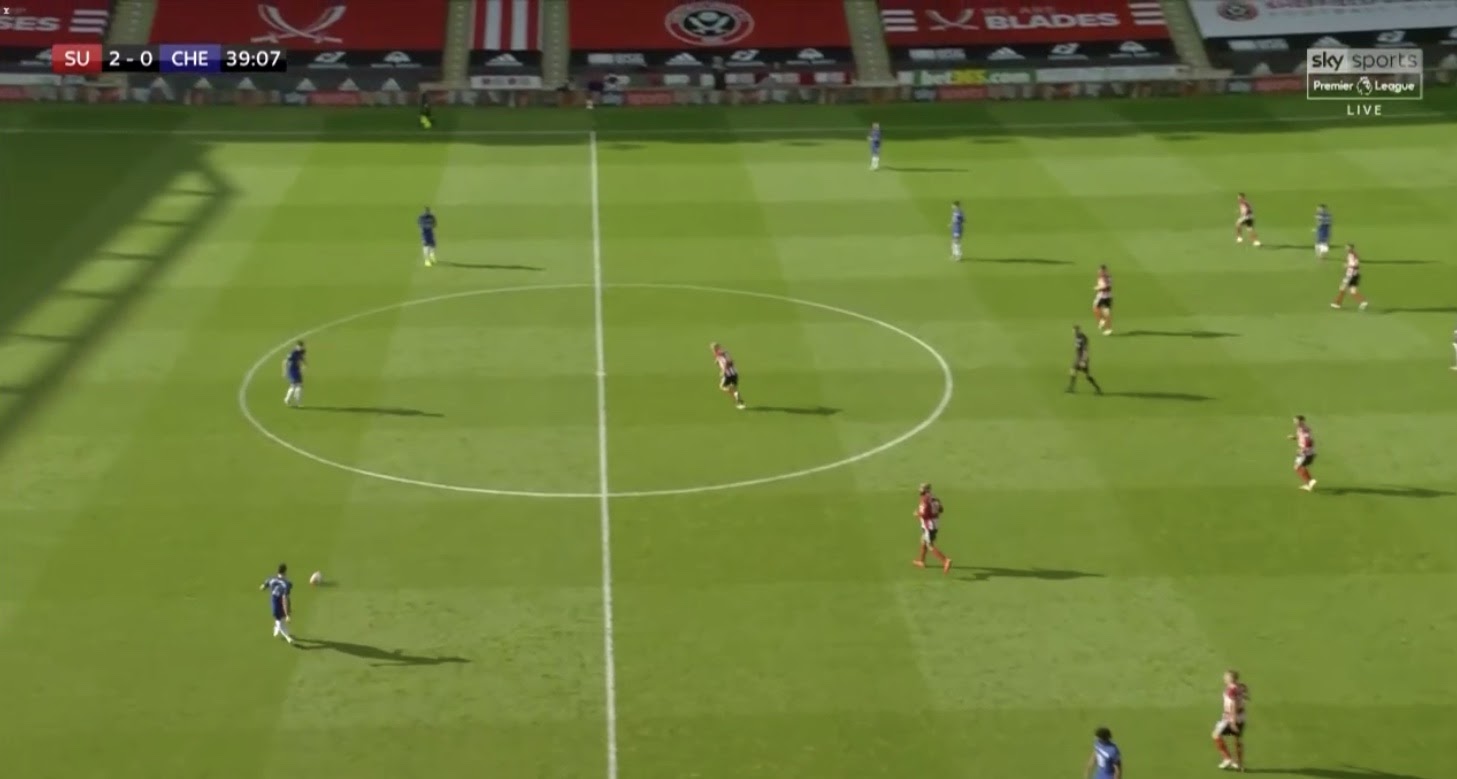 Then, we can also see a difference between Kanté and Gilmour when they take the ball on the turn in the middle of the pitch. This is highlighted below through both clips.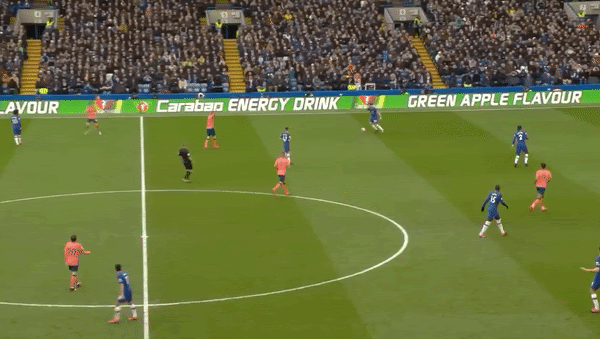 Thanks to his first touch, Gilmour was able to bypass Everton's first line of pressure and it resulted in a goal for Chelsea.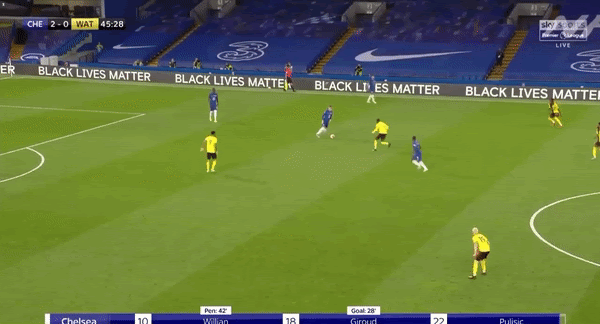 On the other hand, Kanté receives and takes a bad first and second touch, which doesn't allow him to find someone in between the lines. 
Adding to this, Chelsea's centre-backs have been criticized for their lack of progressiveness as they don't necessarily break lines with their passes. However, one can argue it isn't only due to them. Indeed, the graph below shows all of them were better progressors of the ball under Maurizio Sarri than under Frank Lampard.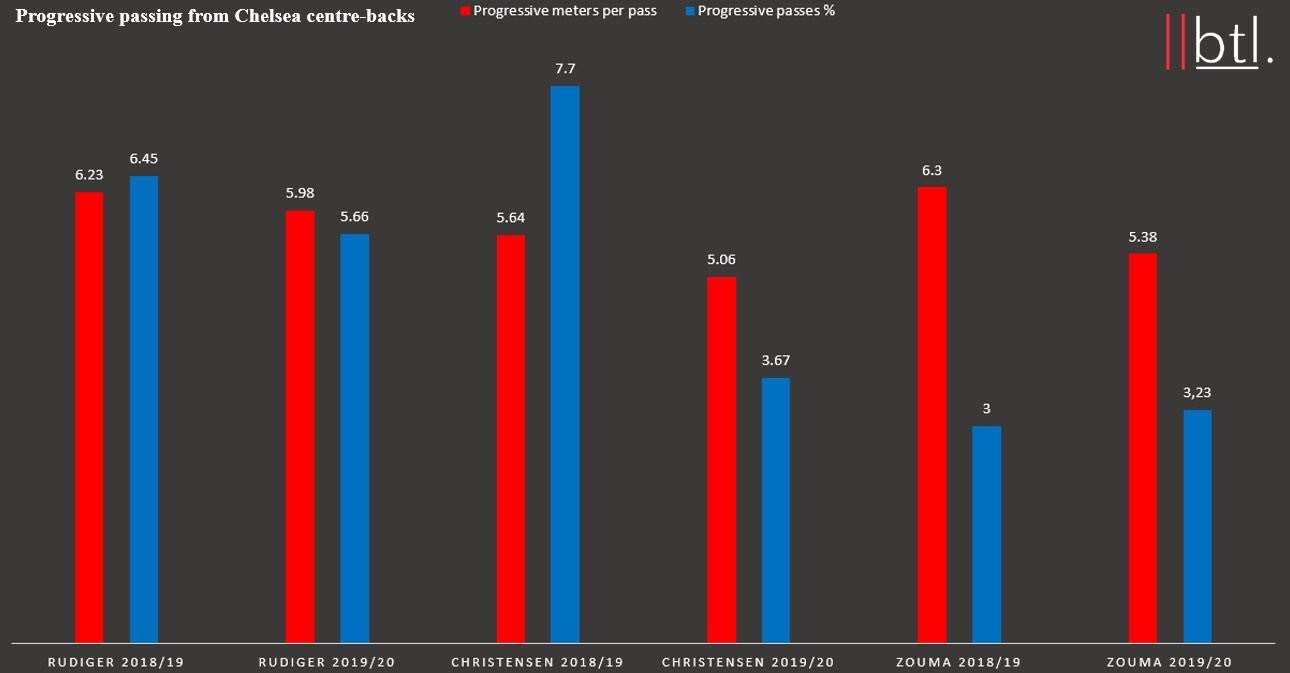 This lack of central progression made Chelsea's build-up focused on wide areas and it gave us things like the pass map against Lille shown below.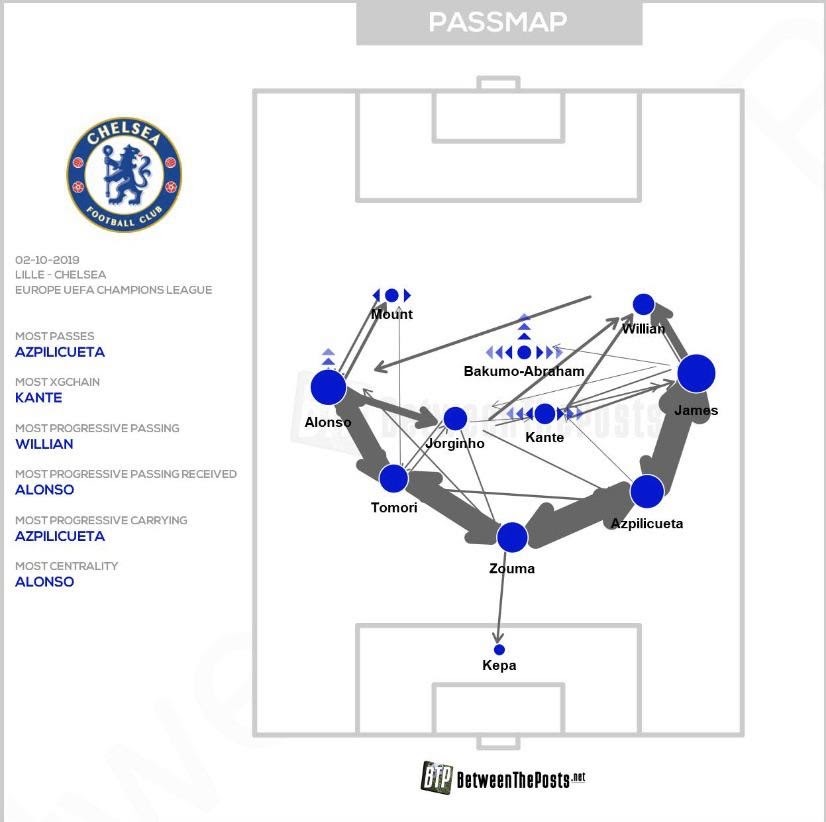 It doesn't come as a surprise then that César Azpilicueta, Reece James, and Marcos Alonso were in the top four for most progressive passes per 90 minutes in this Chelsea side during the 2019/20 season. This is where Ben Chilwell can be a nice addition.
According to StatsBomb, the English left back is in the 88th percentile for deep progressions (6.28). It means his ability to progress the play from deeper areas will make Chelsea able to keep that strategy of ball progression through wide areas efficient.
If their opponent closes space to prevent ball progression, Chelsea players will act differently. In this case, both centre-backs and both full-backs are tasked to play a long ball towards their striker who will come deeper to win his aerial duel and give it to one of his midfielders.
He can also attract the opposite centre back without necessarily taking the ball in the air. He can also come short to make a little flick back to one of his midfielders. Meanwhile, one of Chelsea forwards will run in behind into the space vacated by his striker. This is depicted below.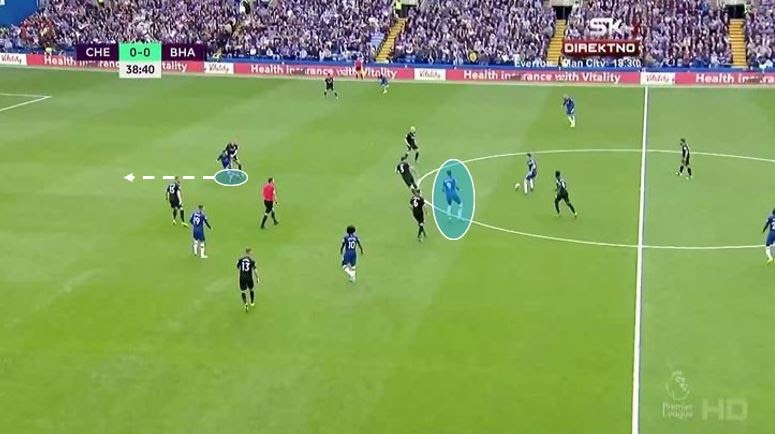 This is reminiscent of José Mourinho's Chelsea in the Portuguese's first term, as highlighted below.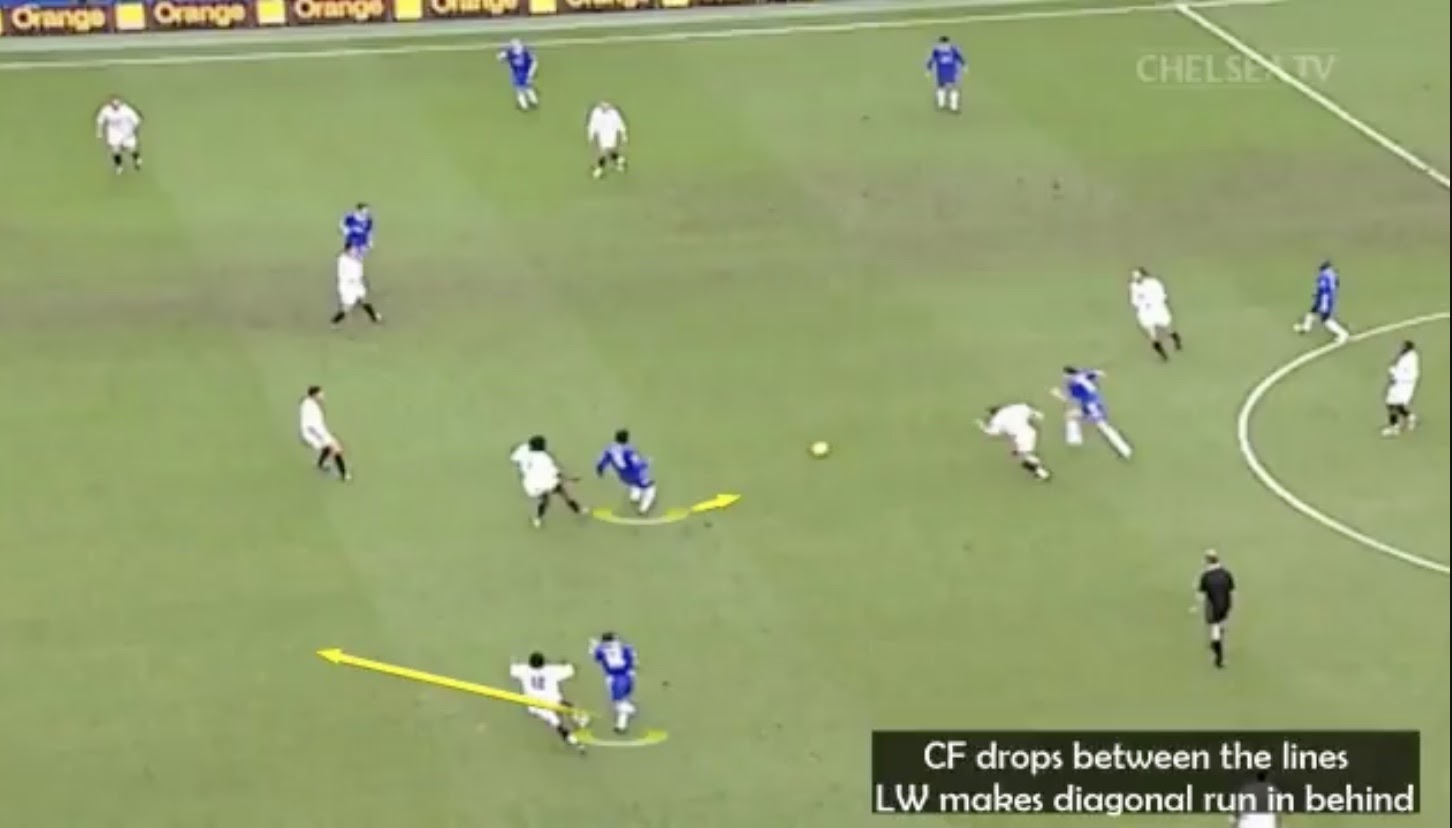 This strategy of launching long balls if they struggled to play out the back has seen Chelsea scoring more than once from this situation. However, this is something they might have to change if they play Werner up top instead of either Olivier Giroud or Tammy Abraham.
Chelsea have multiple ways of progressing the ball and Lampard has tried to make them progress the ball better centrally. He has decided to opt for Ross Barkley and Mason Mount as midfielders positioned in the half-spaces.
If Barkley receives the ball centrally instead of Azpilicueta wide, it creates a predicament for the opposition as their wide midfielder doesn't know if he has to commit inside or stay wide to prevent a pass to the overlapping full-back. This is highlighted below.
Barkley was able to receive on the turn between two West Ham players and Azpilicueta was already taking the overlap to provide a passing option to Barkley. Thanks to this, Chelsea can also use one of their main strategies of chance creation: crosses.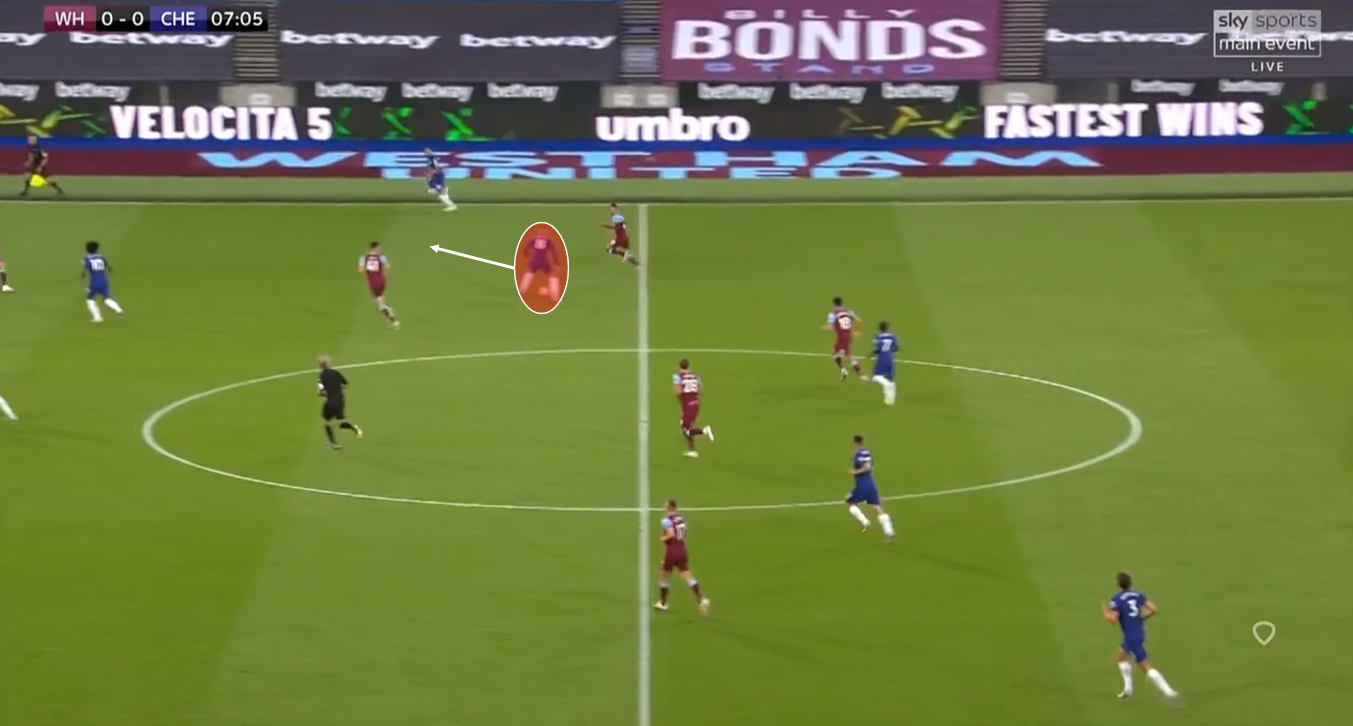 However, this strategy made Chelsea more vulnerable to counters, as we will discuss later on.
On the other hand, their strategy to launch long balls and play with quick touches and interchanges has proven to be efficient. But now, we have to debate whether or not Werner and Havertz can make this strategy as efficient as Giroud and another Chelsea forward. 
This season has seen Werner take a new step in his game. He now drops deep to link up play, as seen on the far left of the picture below. His movement of dropping deeper can free some space higher up the pitch for a Chelsea forward to run into.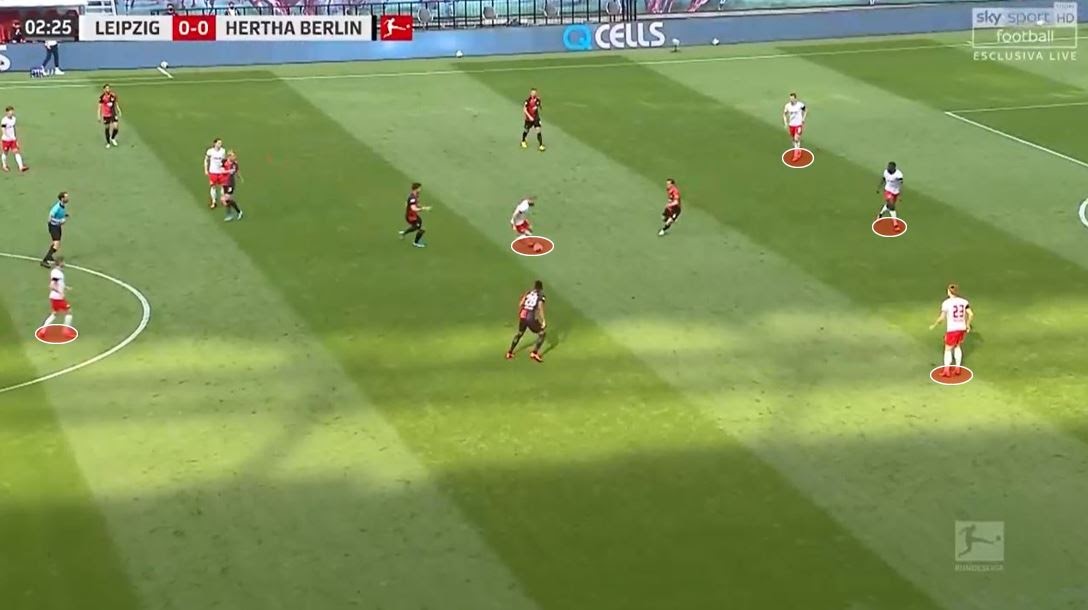 Havertz is also able to manipulate the opponent's shape thanks to his spatial awareness in between the lines, as depicted below. In this case, he is playing as a false nine but decides to drop deeper to open a passing lane and facilitate his team's ball progression.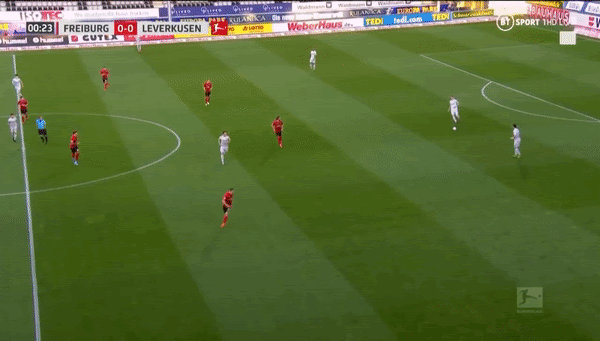 Both Werner and Havertz will be able to alternate their movements of dropping deeper and this will only help those quick interchanges Lampard value so much. 
Final Third Principles
These quick interchanges I just talked about are prominently used higher up the pitch at Chelsea. Lampard wants two forwards close to his striker to link up play in tight areas and be able to attack the channels, which is highlighted below.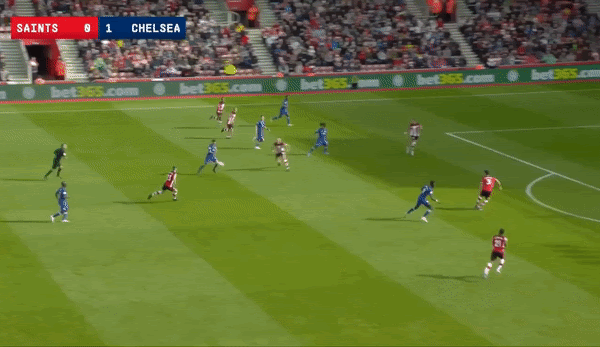 With two forwards close to the striker, Chelsea need width, hence why their offensive shape often looks like a 2-3-5, as seen below.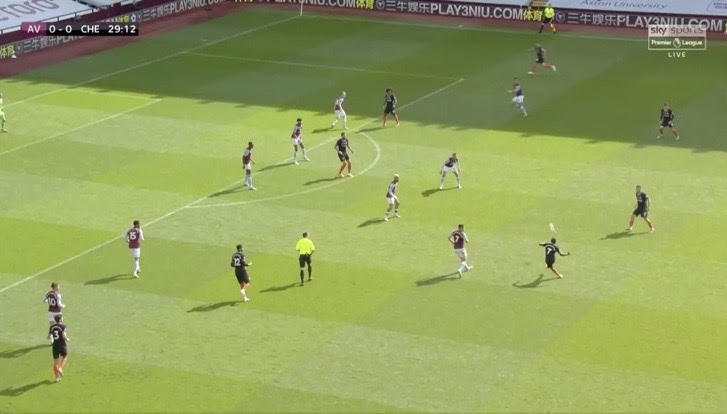 At first, I thought the box in midfield they create was something they have worked on but it seems like it's more due to their shape in the final third. Attacking with five players will automatically create it but this shape still has his pros.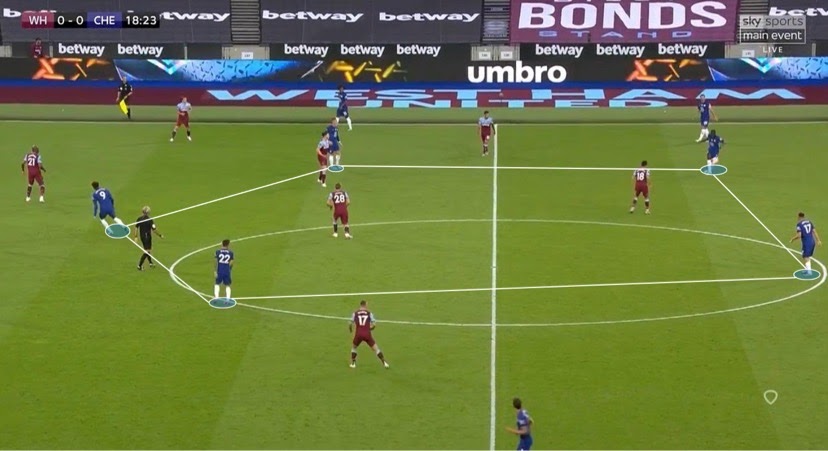 Firstly, it allows the team's deeper players to find their teammates higher up the pitch more easily. In addition, this allows the team using it to quickly circulate the ball from one side to the other when they are higher up the pitch as it naturally creates a connection between the inside forward and the wide player in an advanced position on the same side.
If needed, the inside forward can pass it to either his striker or the opposite inside forward to find the opposite wide player very quickly. This way, the team using the box midfield can move their opponent's shape, therefore, opening up space to run into for the inside forwards.
Lampard opted for this box midfield as it helps to provide width as well as making it easier to find players inside the pitch, two crucial things if you want to break low-blocks, something Chelsea have been relatively inconsistent at since the start of the season.
While it allowed them to progress the ball and create a predicament for their opponent, Chelsea had to push their full backs high up the pitch and they struggled to handle defensive transitions.
Defensive Transitions
Since the start of the season, Chelsea have conceded 6 goals on the counter in the league only. This is one of their main issues and something they have to solve for the upcoming season.
We will go through multiple counter-attacking situations to see where Chelsea have failed to prevent transitions.
Below, we have the first situation, where five Chelsea players come back on the same side while Wilfried Zaha is able to receive into space without anyone marking him. He turns himself and scores from long range. Here, Chelsea fail at thinking about the free man when they are in possession, which ultimately results in them letting Zaha alone.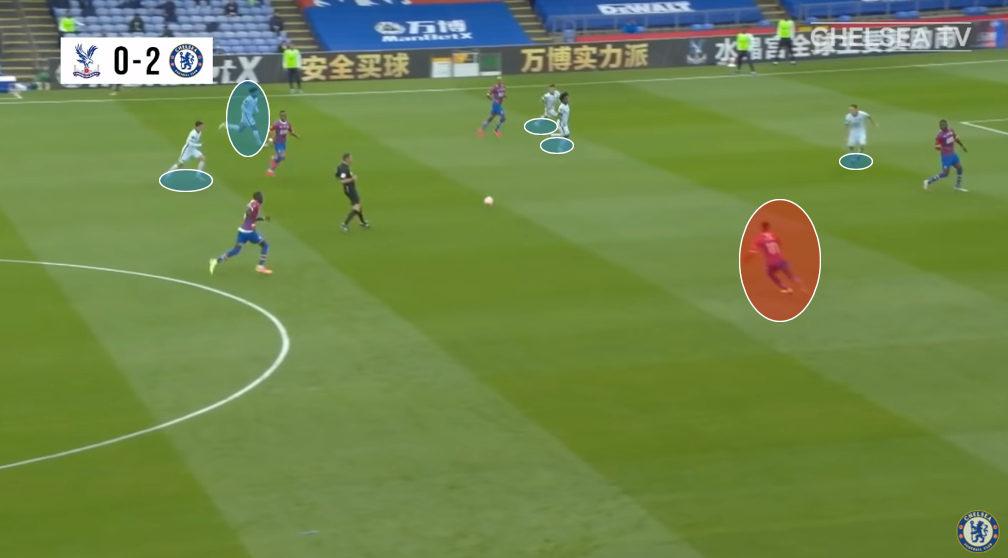 The second picture, below, highlights once again their struggles on transitions. Kanté and both full-backs were pushing high to win the game, which has often happened during the game, as seen below. This trapped Andreas Christensen in a 1v1 situation against Michail Antonio with Andriy Yarmolenko only covered by Antonio Rüdiger on the opposite side of the ball.
By committing this many players forward, Chelsea found themselves exposed at the back, with Yarmolenko scoring West Ham's third goal on the last counter of the game.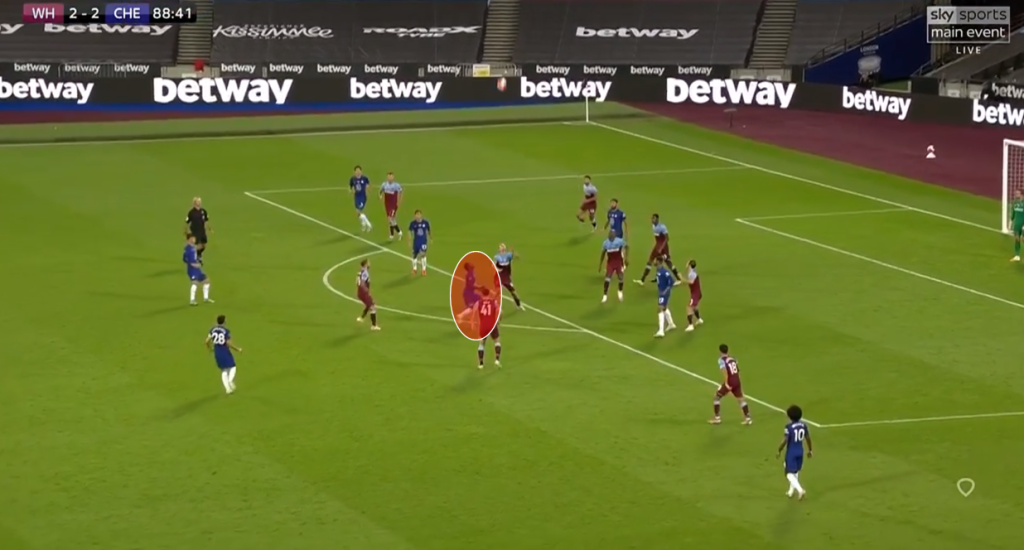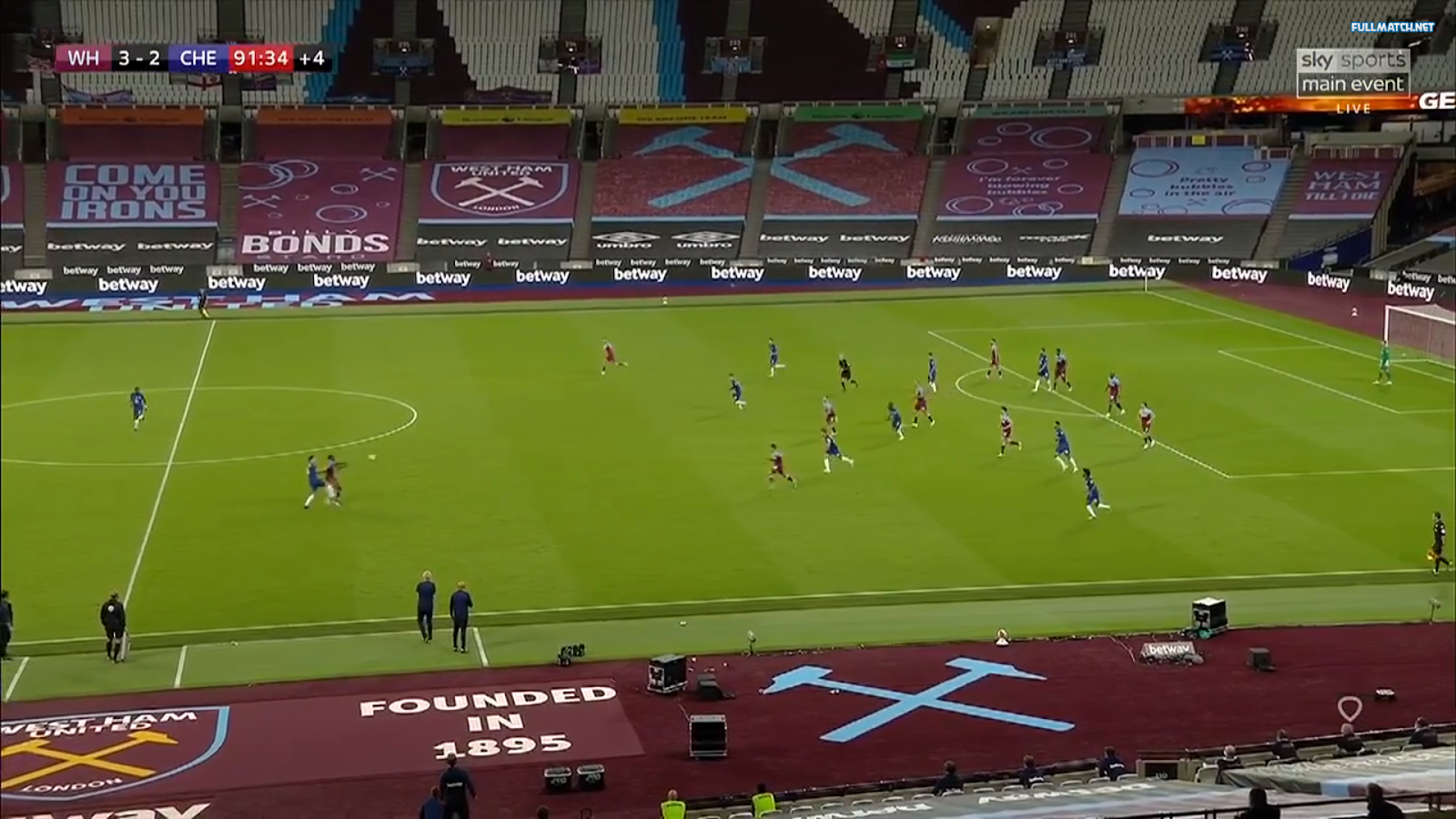 Against Leicester, Chelsea were once again playing with Kanté at the base of the midfield. With Lampard tasking his holding midfielder to press the opposition, Chelsea often let ample of space between their midfield and their last line. There, we can see Leicester midfielder having ample space to carry the ball.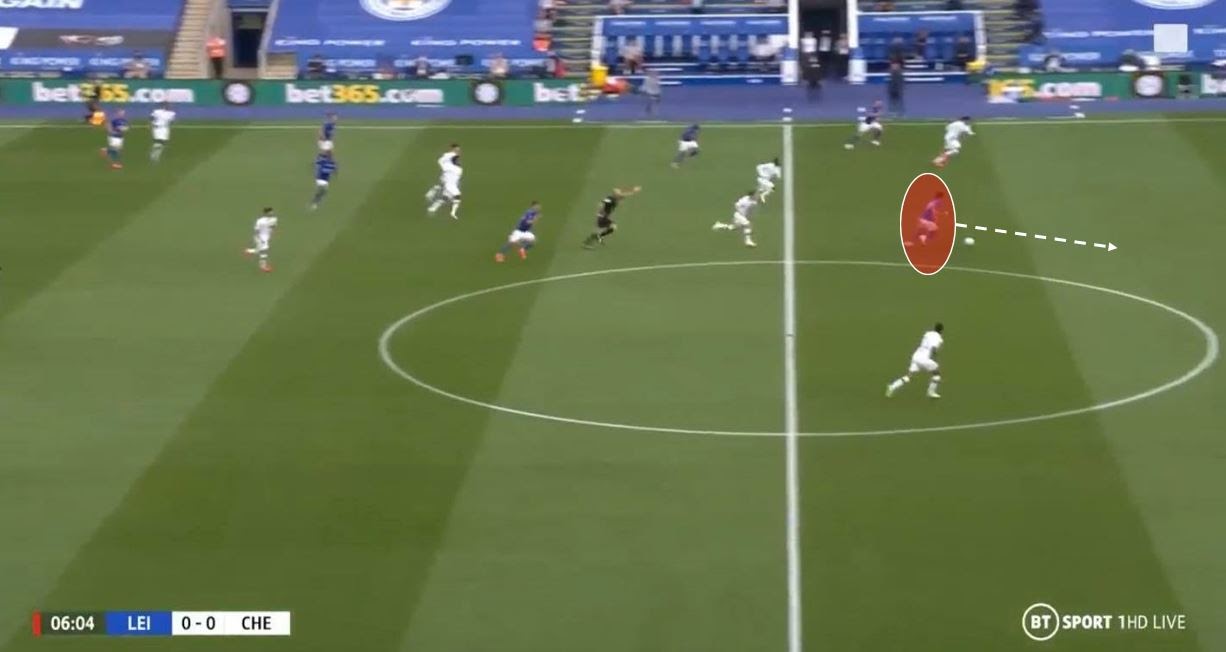 Defensive Set-Up
Lampard asks his players to play in a 4-5-1 with a mid-to-low block where Olivier Giroud controls the opponent's holding midfielder. 
Frank Lampard has tasked his full-backs to follow their opposite winger high up the pitch when they are on the side of the ball. It often creates a predicament for Chelsea because the opponent's full-back can take the overlap behind Chelsea's full-back.
This is what happened and multiple occasions since the restart and one of them is highlighted below. Reece James follows his man inside and Crystal Palace's left back, Patrick Van Aanholt, that we can't see on the picture, takes the overlap to receive the ball and make an assist.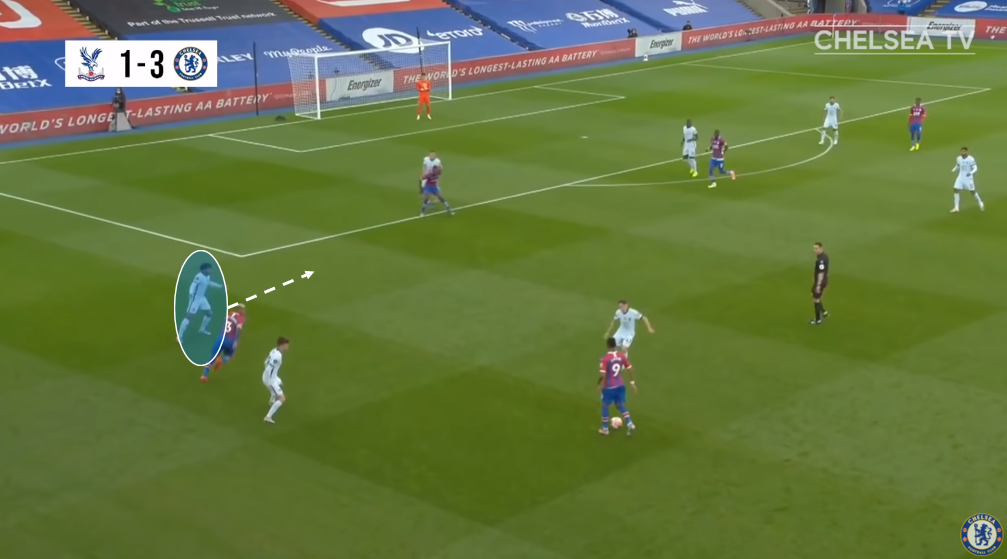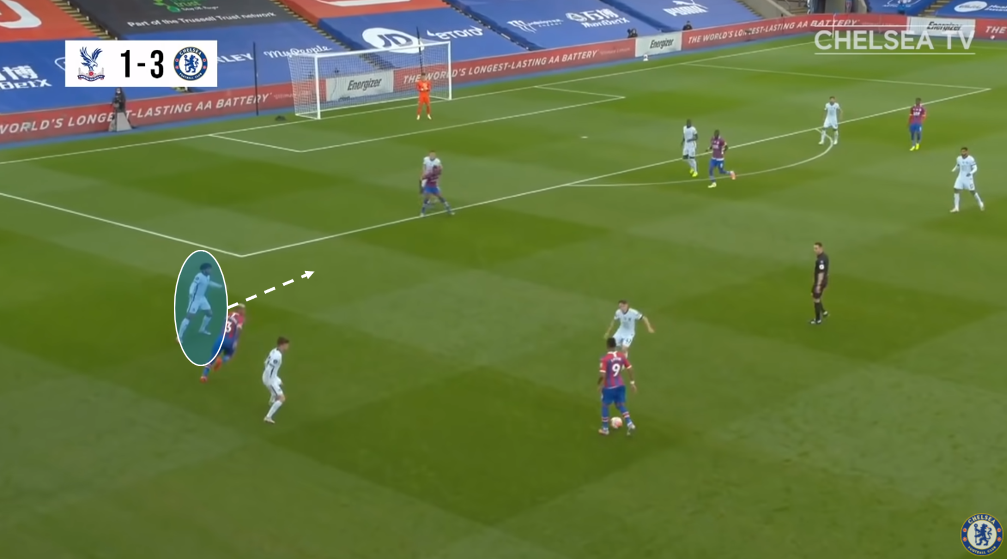 Something I have seen happening more than once is how Rüdiger is attracted to the ball when his right-back has to tightly mark the opposite winger. Below, it creates a space between Chelsea's centre backs that Jamie Vardy decided to exploit.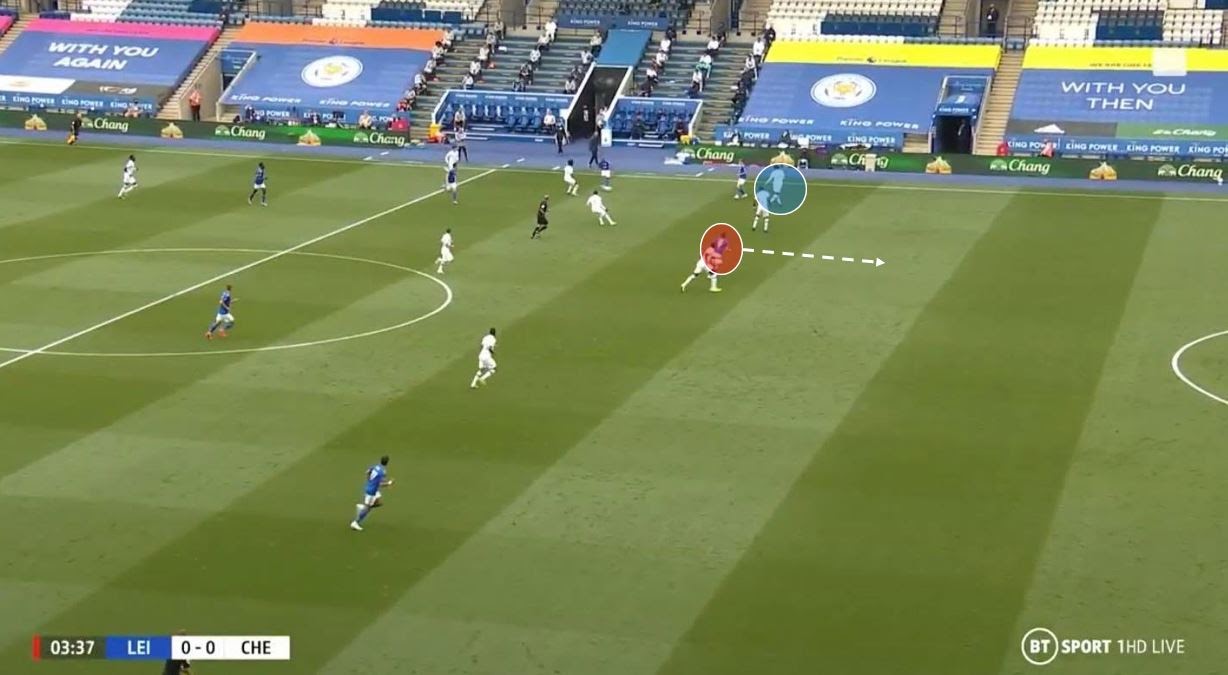 Sometimes, Kanté decides to press wide and vacates the space he has to cover. This is highlighted below. Mateo Kovačić doesn't rotate to protect the space in front of his box and Michail Antonio is able to receive in between Rüdiger and Chelsea's left back with Jarrod Bowen alone on the underloaded side. West Ham scored from this situation.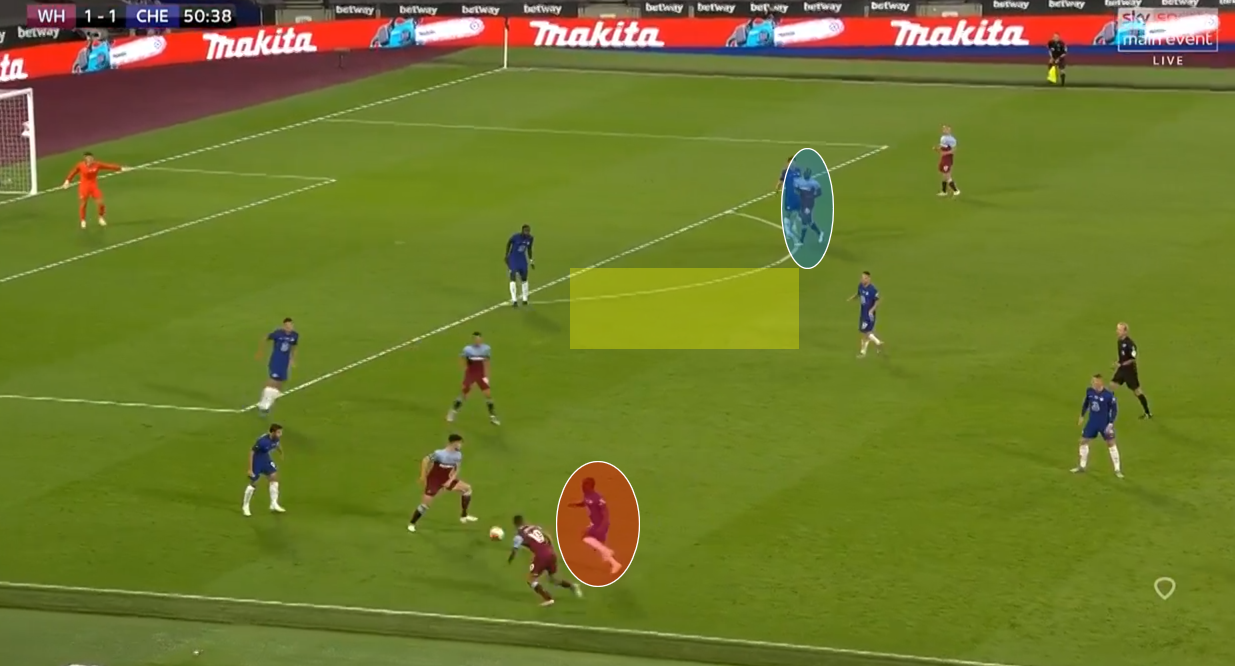 A very similar situation happened when Jorginho and Kanté were playing together in a pivot. Kanté decided to press high which left someone in the middle of the pitch open. Jorginho couldn't close space in time and James' lack of positional awareness also got exposed.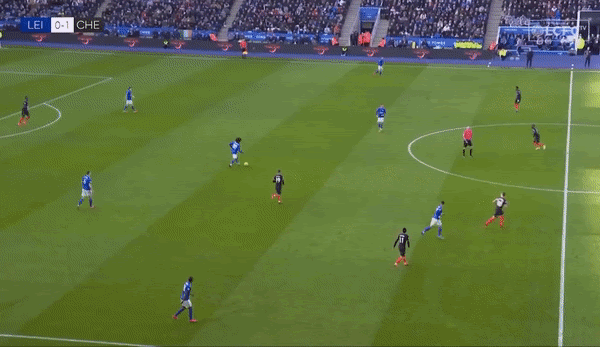 Finally, I decided to look at how Chelsea make their pressures. This is highlighted below.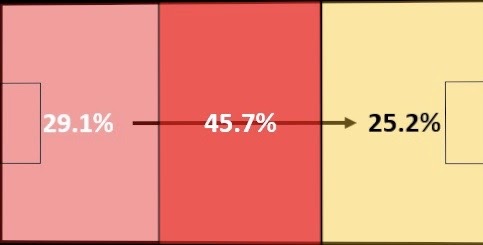 We can see that most of Chelsea's pressures are done in the middle third, which doesn't come as a surprise since Giroud, Chelsea's most advanced player defensively, is between the middle third and the final third, not pressing his opponent's centre backs.
Barkley or Kovačić will press the centre-back who carries the ball to force him to go long or pass the ball wide. Chelsea press well and are able to recover the ball in good situations. 
Chelsea's main struggles lie in their compactness in the middle of the pitch. Lampard tasks his midfielders to commit high which leaves ample space in between the lines for Chelsea's opponents. The English coach has to change this for the 2020/21 season. However, they severely underperformed their metrics as they conceded 16 goals more than expected.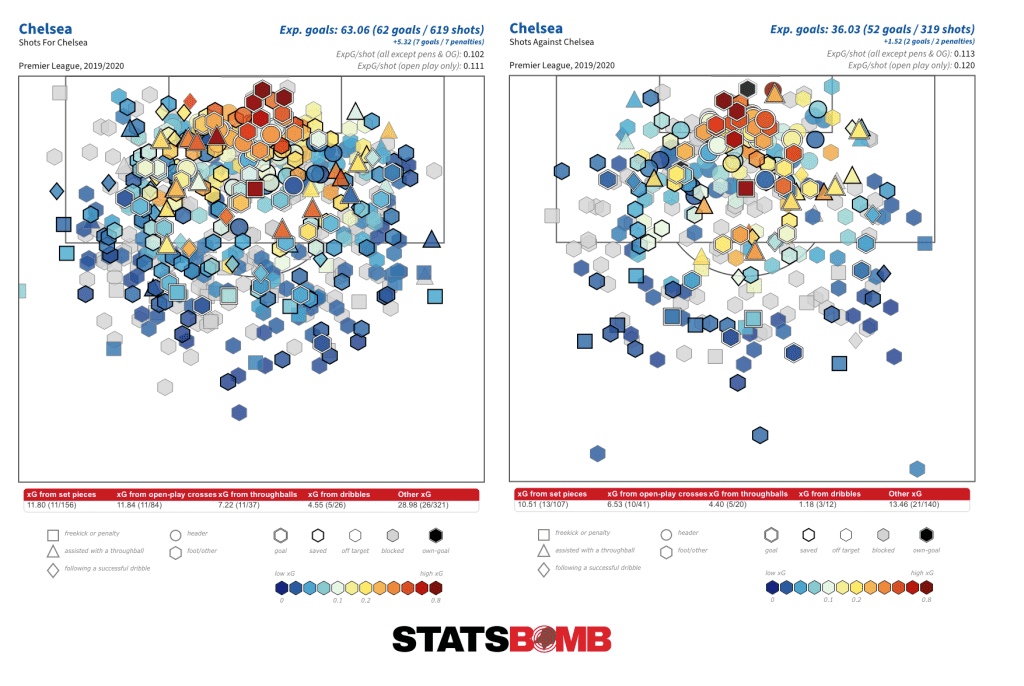 Source: StatsBomb
Although they concede high-quality shots (4th highest in Europe's top five leagues), Kepa Arrizabalaga has done a horrible job this season. With Édouard Mendy from Rennes being linked with a move to Stamford Bridge, it is quite evident Chelsea are actively looking for a replacement.
How Can Chelsea's Line-Up Look Like Next Season
While Havertz, Werner, Thiago Silva, and Chilwell seem to be nailed on as starters, we have to know if Ziyech can be a starter in this Chelsea side. 
Christian Pulisic seems to have found his place as a Chelsea starter. After losing Eden Hazard to Real Madrid for €115 million last summer, fans expected Pulisic to fill the Belgian's boots. Many questioned whether the American would adapt well to the Premier League. And we can say that Pulisic's first season with the Blues was a success despite his injuries. Indeed, he produced 10 goals and six assists in 2250 minutes, which equals to one goal or assist every 140 minutes.
Out of Chelsea's 69 league goals this season, Pulisic contributed to nine goals and four assists, which equals to 18.8% of Chelsea's league goals this season for the left winger despite only playing 1,738 minutes. The American is also Chelsea's fourth best creator of chances while being Chelsea's best creator of goalscoring opportunities. Callum Hudson-Odoi who was hailed as a new starter for the upcoming years couldn't get in the starting lineup because of Pulisic's performances.
We will first look at heat maps from Pulisic, Werner, Havertz, and Ziyech to see if and how they could fit together.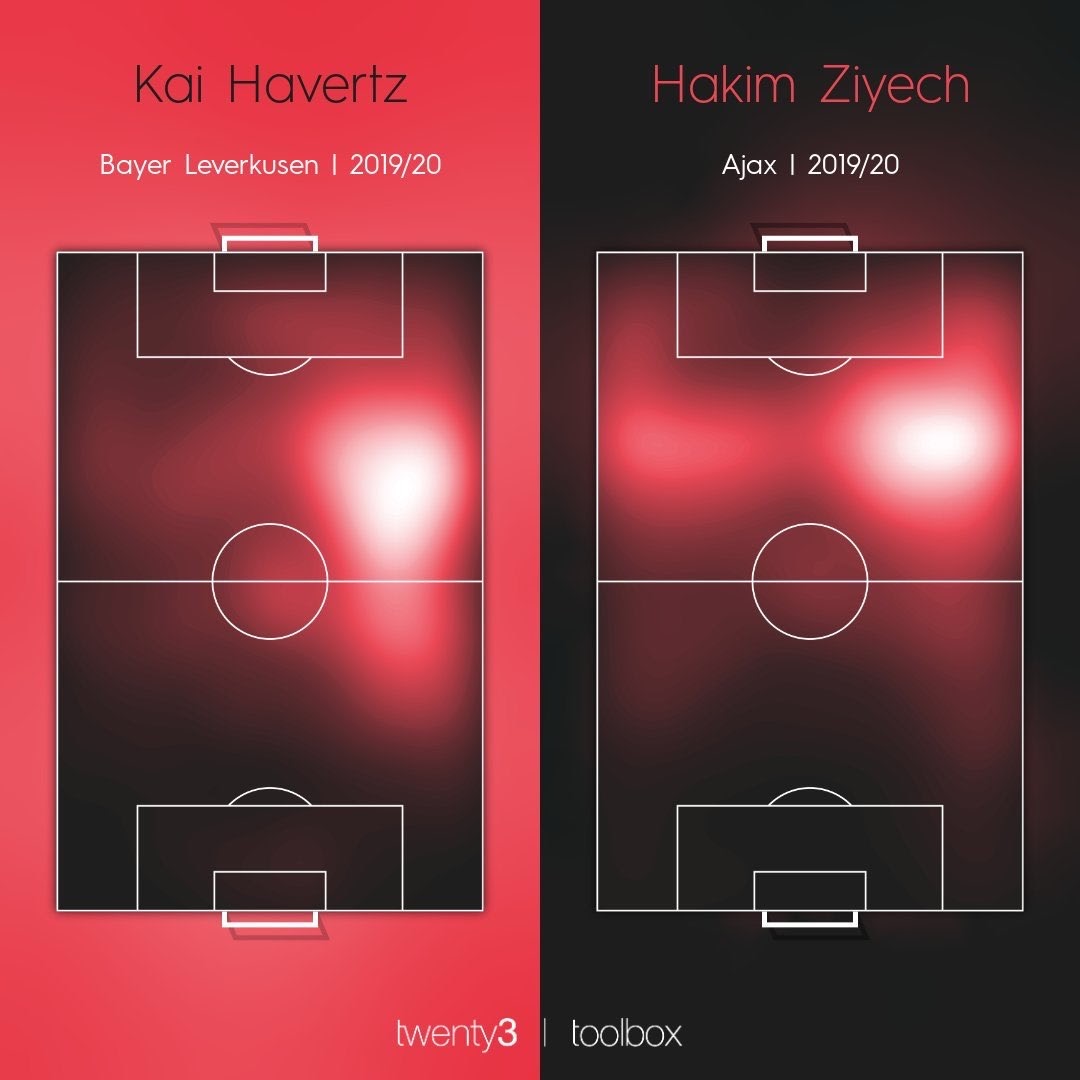 Photo: Twenty3sport
While Ziyech and Havertz occupied the same zones, Pulisic and Werner also occupied the same zones last season. One would then think they can't operate together. My take is that Lampard's willingness to perform rotations in the final third will massively help all four of them to coexist.
Indeed, we have often seen Barkley and Pulisic close to their striker while Willian and a left back was keeping the width. We also saw Pulisic and James keeping the width while Mount and Willian were close to the striker. Whether it is Pulisic, Werner, or Havertz, all of them can act either as a runner or as someone you can play off. 
Below, you can see Havertz dropping deeper. He passes it to one of his teammates and quickly makes a run in behind to score. Werner can do the same.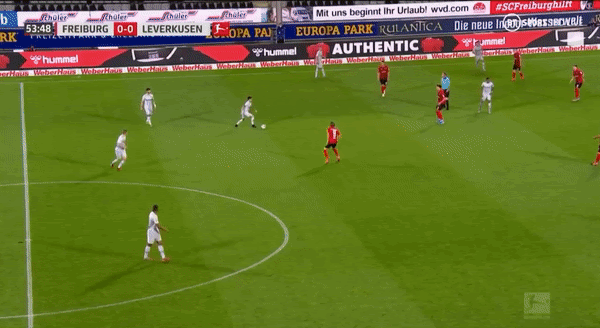 Werner is also used to performing rotations, as seen last season under Julian Nagelsmann. He was often seen on the right to receive, as depicted below. The German forward typically played off the shoulder of a target man during his time at Leipzig, whether it was Yussuf Poulsen or Patrick Schick. It remains to be seen whether he will play with either Olivier Giroud or Tammy Abraham, or if he will play up top with Havertz behind him.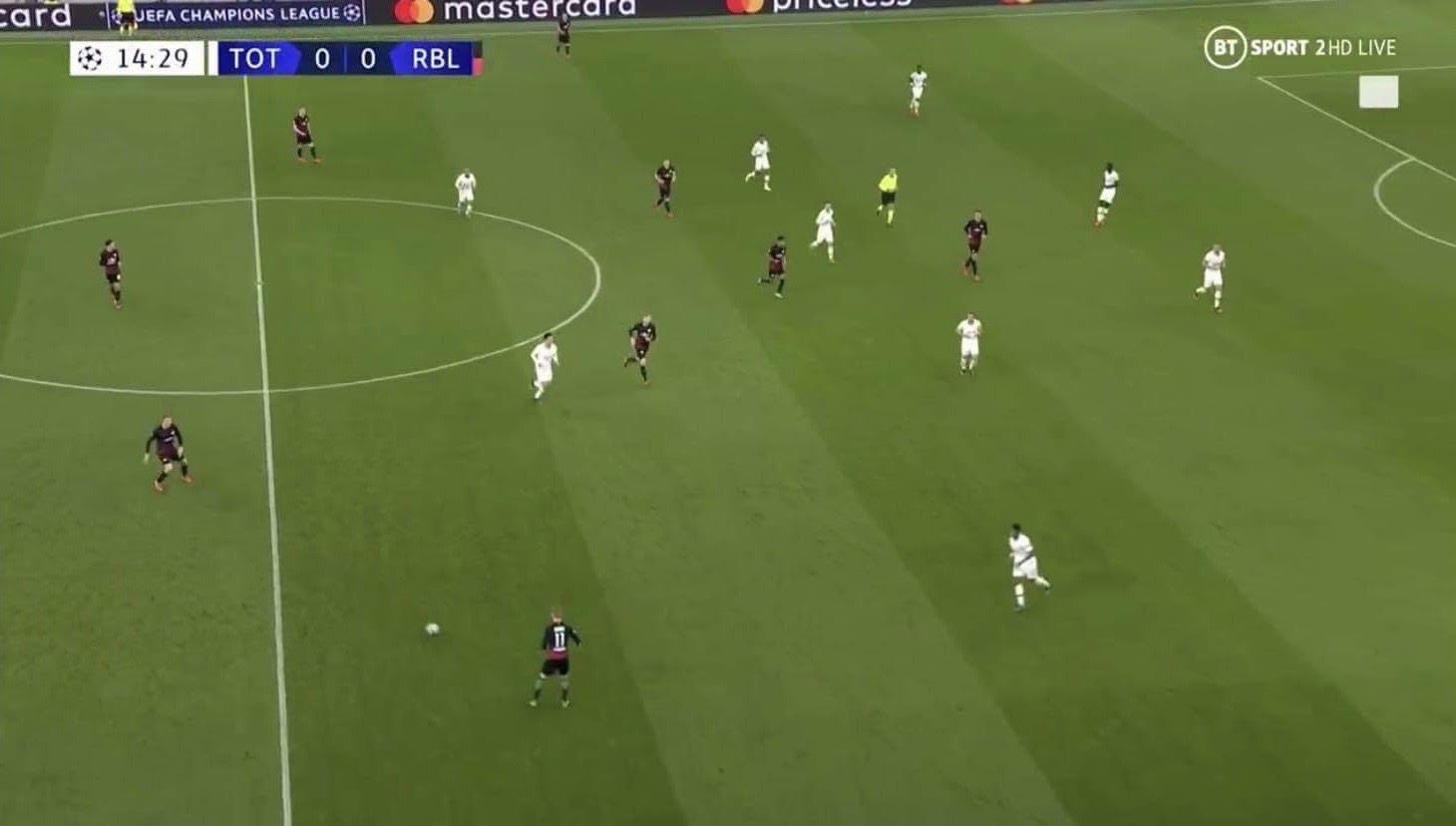 Finally, all three of them have mastered the run to the far post. They will benefit from Chelsea's cross heavy strategy with James or Azpilicueta crossing to the far post, as highlighted below.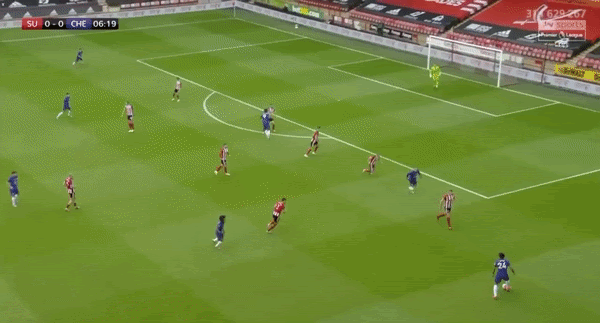 But Ziyech's impact shouldn't be undermined. While he is very wasteful in his shooting (0.07 Goal/shot this season, Pulisic is at 0.15, Willian had his worst season in that regard with 0.07.
Ziyech was at 0.05 Goal/shot in the 2018/19 Champions League), the 27-year-old has a superb final ball and his crosses from the right to the far post are lethal; Werner and Pulisic will definitely appreciate them.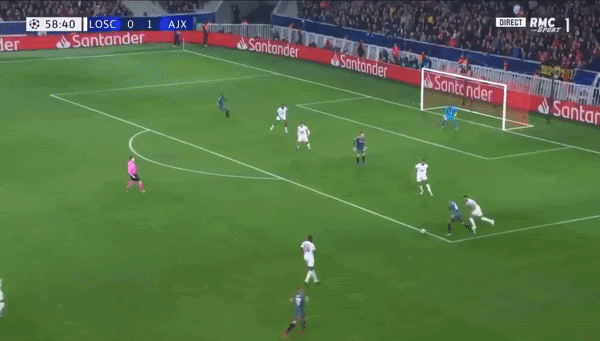 Chelsea either played in a 2-3-5 shape or in a 3-2-5 shape offensively. In this front five, you can have different options, as highlighted below.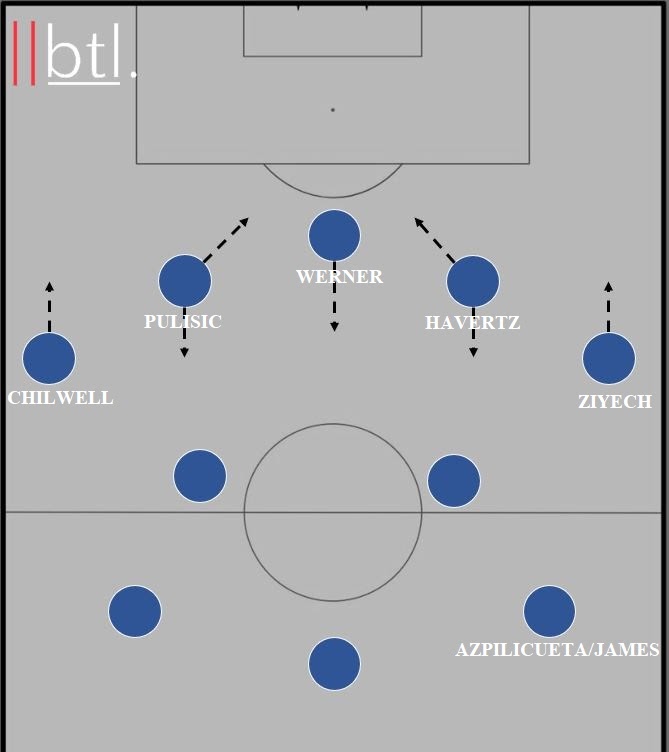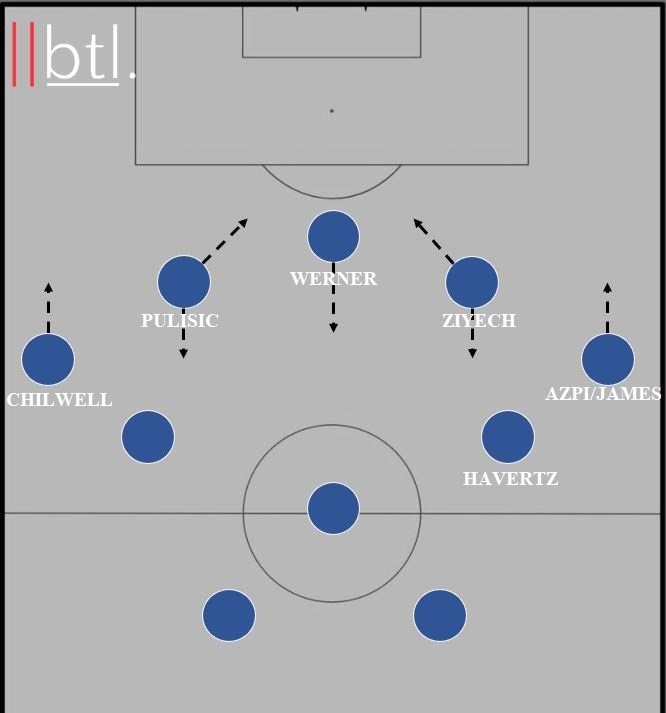 On both occasions, the wingers positioned inside (i.e. inside forwards) can also interchange with their full-backs who will underlap instead of overlapping. But what you see above shouldn't be taken at face value since Lampard wants his forwards to perform transitions.
When Werner will drop deeper, either Pulisic or Havertz could play off him. If Havertz plays in the middle of the forward line, both Werner and Pulisic will be able to play off him when he drops deeper. Both Havertz and Werner can play both sides of Giroud or Abraham if needed, and they can all interchange and all three forward signings could play with Pulisic.
Conclusion
However, my main worry is their depth. At Liverpool, the lack of depth is worrying but at Chelsea, there will be too much depth to keep everyone happy and most importantly to build chemistry on the pitch. They will have seven forwards to which you will have to add Mason Mount, Barkley, Kovačić, Kanté, Gilmour and Jorginho. While Jorginho and Barkley will probably leave, their forward line will be too stacked while their midfield will now be short in number and even more in terms of variety of profiles.
So where should expectations be set for Chelsea this season? With Manchester City likely to perform better during this upcoming season, the points gap to Liverpool and Manchester City is probably too large to overcome in a single campaign.
However, they should aim for solving the issues they have faced. Lampard acknowledged as much: "I understand that those last season issues will come again. It's just that I, and we as staff, have to double down. We have to work harder. We have to analyse why we conceded 50 goals, and not just me saying, 'yeah, it's because of him', and 'he could have done better'".
We also have to take into account the fact their signing will most likely not immediately click. At least four of them will be starters and a chemistry has to be built before pretending for a 80 points finish. Nonetheless, if previous problems also persist, Lampard's job may well be at risk.
By: @JKFootball
@GabFoligno / Darren Walsh / Chelsea FC via Getty Images