KRC Genk: The Starting Point From Some of Football's Biggest Current Stars
Situated in eastern Belgium near the German border, KRC Genk are one of the country's biggest football clubs. Belgian champions just a season ago, Genk have enjoyed a very successful spell since the early 2000's with three Belgian First division titles in total as well as three Belgian Cups and four Belgian Super Cups.
With jaunts into the Champions League on occasion in recent memory coupled with regular Europa League appearances in between, Genk have now substantially grown into one of Europe's most underrated sides. With a real focus on youth development, the club have nurtured some of Europe's current best players including Kevin De Bruyne and Thibaut Courtois to name but a few of their former youth products. 
Situated in the Belgian province of Limburg, KRC Genk were only formed in 1988 by way of the merger of Waterschei Thor and KFC Winterslag. Since then, Genk have become one of Belgium's most successful clubs in recent years with a plethora of domestic titles to their name. Part of the Belgian First Division since the 1996-97 season, it's in the club's academy and through their youth recruitment system where the real magic lies, however.
With one of central Europe's strongest academies, Genk's youth setup has proved to be the building blocks for the club's recent domestic successes. De Bruyne, Courtois and Christian Benteke, amongst many others, started their illustrious careers in east Belgium with Genk whilst Blauw-Wit have also played a major part in the development of players such as Christian Kabasele, Timothy Castagne, and Leandro Trossard.
Since their formation in 1988, KRC Genk have held a remarkable track-record of producing some of the biggest stars in European football and by way of that, the club has played a huge part in the rise of the Belgian national side in the 2010's. Now one of the world's best international sides, the success of the countries first team and their previous rise to number one spot in the FIFA rankings owes a lot to Genk's approach to youth development.
"The DNA and philosophy of the club is to develop and give a chance to young players in the first team," Head of Youth Koen Daerden explains.

"In general, the academy's aim is to develop talented players and help them grow into professional footballers. We need the academy; we try to develop more and more players for the first team."
Photo: BELGAIMAGE / ISOSPORT
This comment speaks volumes about a club that wants to succeed but not at the expense of missed opportunities for the young players amongst their squad and academy. Granted, Genk are happy to cash in on their youngsters as it keeps them sustainably financially, but their willingness to listen to and accept offers at any point in a young player's development is refreshing.
Genk's academy is built to look for local and homegrown talent whilst it's youth recruitment programme isn't scared to look to foreign shores for outstanding young talent. Courtois heralds from Bree which is situated less than 25 kilometers from Genk's academy complex, whilst former youth products Yannick Carrasco, Steven Defour and Dennis Praet were all born in surrounding cities.
In Belgium, the club have scoured the length and breadth of the country, from the Northern coast where they found Liverpool's Divock Origi to the country's southern border with France in order to improve their youth sides.But as mentioned before, the club also possesses an extensive scouting programme that covers much of Europe and other areas of the world.
This network has previously brought them Nigerian midfielder Wilfried Ndidi, Senegalese defender Kalidou Koulibaly and Jamaica's Leon Bailey, amongst many others, who are all now playing at larger European outfits. Daerden and his staff are keen to keep adding to Genk's recent star exports where possible. "It's now our goal to develop, not the next Kevin De Bruyne as such, but I'm sure that we have a player who has qualities to be another top-level player," Daerden adds.
The system in place at Genk includes age groups from the youngest at under 7's level all the way through to the club's under 21 team, the youth academies coaching staff is also now viewed as one of the very best, not only in Belgium, but across the whole of Europe. But what's the secret ingredient? 
Education, Education, Education. There's a huge focus in Genk, like with many other award-winning football academies now, that education is the way forward for their young players. There's a need not only to create world-class footballers where possible but to help these youngsters grow as people and human beings, to further the communities they're from.
Genk is in fact so big on education that most players, especially those from further away, will attend boarding schools in the local area rather than commuting. Football and education here is intertwined, there's not one without the other for these young players. 
The process here is simple but effective too when it comes to recruitment. The club targets players that have strong technical skills and footballing sense rather than physical attributes and when you see a list of recent alumni, it's easy to see that in context. The ball is always the centre of attention during training.
Photo: Stadionweldt
"We have patience with the physically small players. Good feet and a good football mind are our priorities," Academy Director Roland Breugelmans explains.
Discipline is fundamental as well; youth players have to all wear black boots and will collect cones and balls when training is finished for the day to keep them grounded. Staff are regularly looking to improve upon their level of coaching and often look at other larger clubs for inspiration.
Daerden explains, "We believe in what we are doing and keep our eyes open to other suggestions and expertise from other countries and clubs to help us as well." Like many other smaller European clubs with fantastic youth set-ups, the management at Genk understand that the Belgian side cannot compete when the big teams come calling for their players.
The club are usually unable to match wage demands but instead of departures being tinged with bitterness, the club's staff talk players through their options in an effort to make their transition to the bigger clubs as comfortable as possible. It's a real sense of community and it has to be understood that Genk's staff want to see these young players play at the highest level in the future whether with the Belgian's first team or abroad.
Former Players
KRC Genk's list of former players is extensive. With many former youth products, whether natured from an early age or signed later on in their development, now plying their trade in Europe's top leagues, Genk's alumni is remarkable. 
We start with a man who needs little introduction; Kevin De Bruyne. Joining KRC Genk from rivals Gent at the age of 8, De Bruyne enjoyed spending four senior years with the former Belgian champions.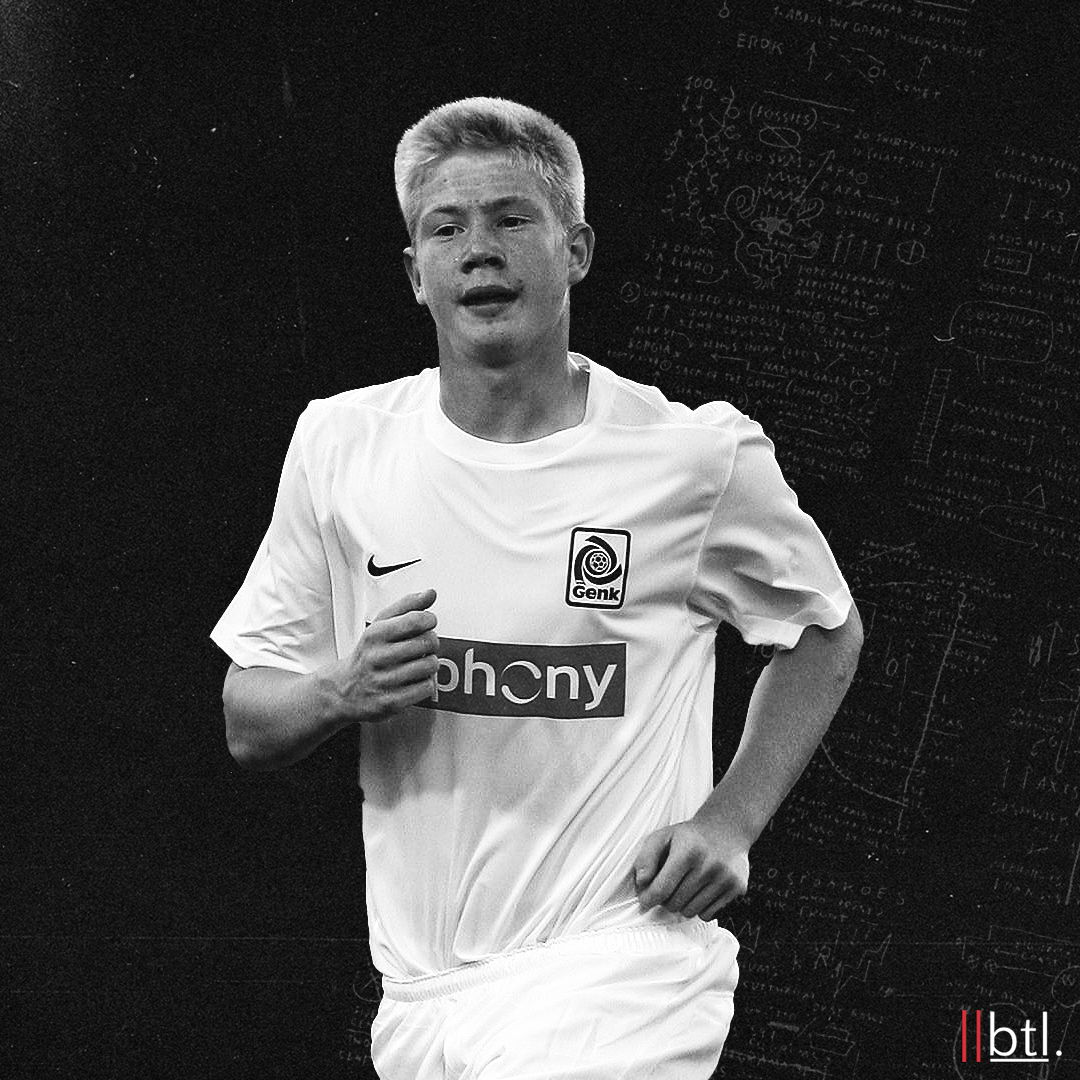 Helping them to three domestic trophies during his time in the east of Belgium, De Bruyne moved to Chelsea in 2012 for a fee reported to be around £7 million. His original career in England with the Blues never got up and running, however.
Expecting more game time at Stamford Bridge after a successful loan spell with Bundesliga side Werder Bremen, the Belgian and manager José Mourinho came to different conclusions and the midfield moved back to Germany with VFL Wolfsburg in 2013.
After a season where he claimed the 'Bundesliga Footballer of the Year' title, De Bruyne moved to Manchester City prior to the 2015/16 season and since has developed into one of football's biggest stars.
Spending 12 years in the Belgian side's academy, now Real Madrid goalkeeper Thibaut Courtois also represented Genk alongside De Bruyne in the late 2000's. Now heralded as one of the best goalkeepers in the world, Courtois signed with Genk back in 1999 where at first, he surprisingly played as a left back.
Quickly shifted to the spot between the sticks, Courtois rapidly developed within the Belgian side's youth academy. Standing at 6 ft 6in and dominating in goal, it came as little surprise to the club's staff when he moved to Chelsea in 2011 for a reported fee of around £8 million.
Leaving the Blues to join Spanish side Atlético Madrid on loan for three seasons, the shot stopper went on to play 111 times in the Spanish top flight for Los Colchoneros, winning La Liga, the Copa del Rey and the Europa League along the way.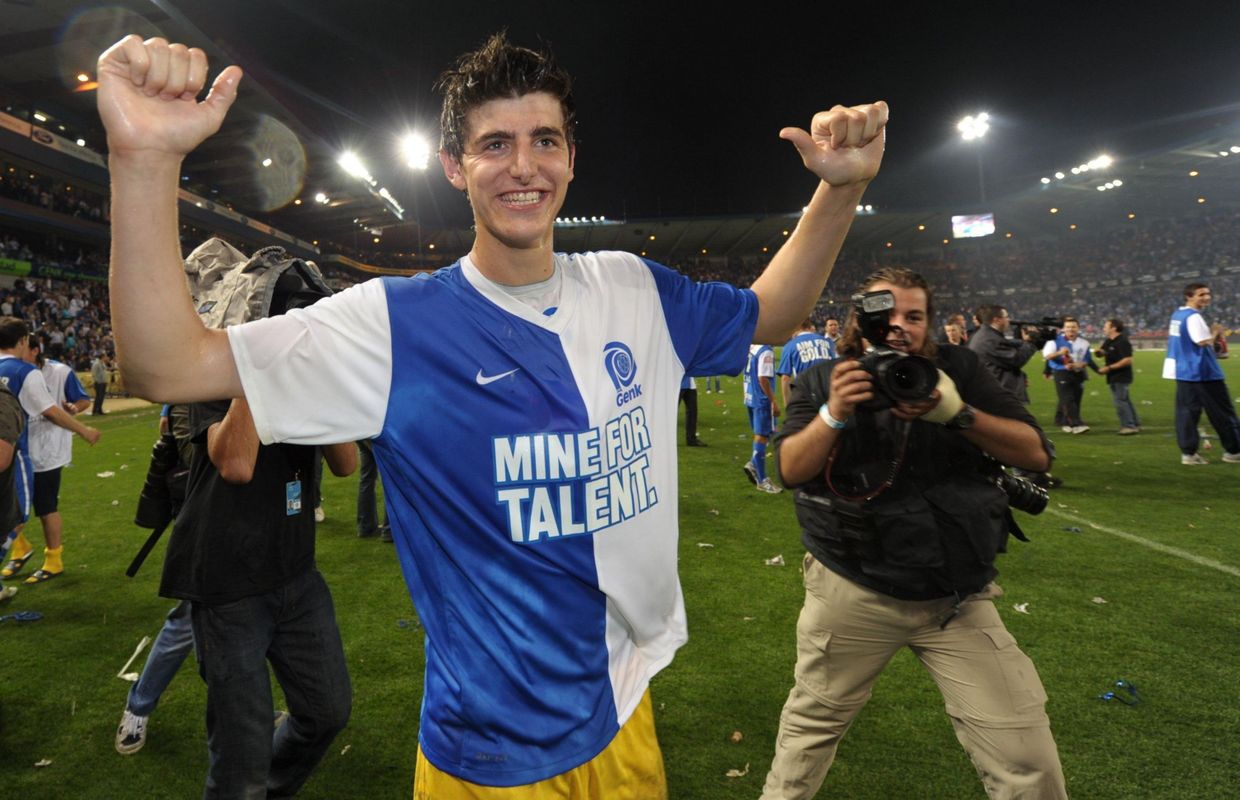 Photo: Belga Image
On his return to London, Courtois featured in 154 matches across all competitions for Chelsea, keeping 58 clean sheets in the process. The Belgian international won the Premier League twice with Chelsea, the FA Cup and the EFL Cup as well as a number of personal accolades including the 2016-17 Premier League Golden Glove award.
In 2018, Courtois returned to Spain and Madrid but this time to join Real for a transfer within excess of £30 million. Since then, he has continued to dominate in net, playing 76 times for Los Blancos and keeping 31 clean sheets, becoming a La Liga champion again this term. On the international stage, Courtois has been capped 79 times by Belgium to date and has featured in two major competitions. 
Two more players that will be familiar names to Premier League fans and have played for Genk in their younger years are Crystal Palace's Christian Benteke and Liverpool's Divock Origi. Starting with the more experienced Benteke; the Belgian striker enjoyed two spells with KRC Genk, either side of a spell with Standard Liege, early in his footballing career. The striker first joined the club in 2006 at the age of 16 and enjoyed a three-year stint in Genk before joining rivals Standard Liège.
In August 2011, Benteke again joined Genk for an undisclosed fee where he went on to score 19 goals in 37 league matches with De Smurfen. His hefty goalscoring that season led to a move to Premier League side Aston Villa for a reported £6 million.
In 101 matches with the Midlands side, Benteke bagged 49 goals and a move to Liverpool followed in 2015 rumoured to be worth around £32.5 million. Unfortunately, the pressure of his huge transfer proved too much and the physical striker only made 42 appearances for the Anfield outfit before swapping Liverpool for London and Crystal Palace.
It's been much the same in South London at Selhurst Park where Benteke has shown great determination but little end product, only mustering 23 goals in 115 matches for the Eagles. Fortunately, his international career has shown more promise and to date, the powerful forward has made 37 international appearances for his adopted home country. 
Already making a bigger impact than Benteke did in Liverpool is fellow striker and Genk graduate Divock Origi. Origi himself spent nine seasons with Genk, joining the club back in 2001 aged just 6.
During his time in Belgium he never made a first team appearance though and by the age of 15, Origi had already joined Lille in France for a nominal fee. In terms of famous alumni, Origi has little company when it comes to players that were sold before they play in the Genk first team but despite this, the forward has still enjoyed a solid career to date.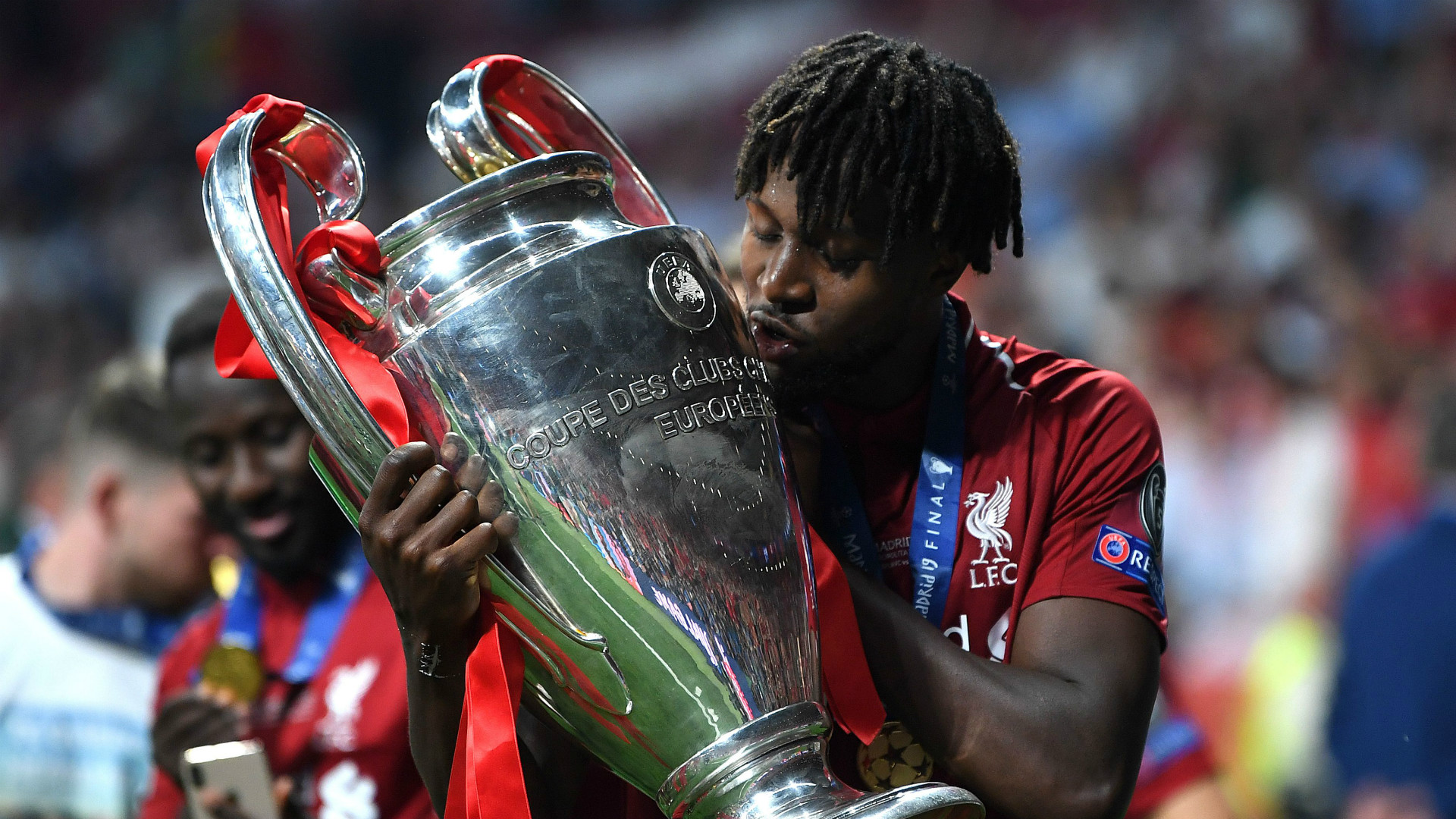 Photo: Getty Images
In 2014, the Belgian striker joined Liverpool and since he has become a fan favourite. Origi isn't the most technical or skilled striker the club has seen but his heavy work rate means that he is the type of player Liverpool manager Jurgen Klopp favours.
The pinnacle of his career so far came in the 2019 UEFA Champions League final where Liverpool beat Premier League rivals Tottenham 2-0 and Origi sealed the win with his side's second goal. He became only the second Belgian player to score in a Champions League final after fellow Genk graduate Yannick Carrasco did so for Atlético Madrid back in 2016. 
Other famous talents such as Jelle Vossen, Atalanta's Timothy Castagne, Brighton's Leandro Trossard and Leicester City's Dennis Praet all came through Genk's famous academy. As well as homegrown talent though, KRC Genk also boast a fantastic track record of scouting and signing young stars from abroad who they have made huge profit from.
The list of players that Genk have signed from abroad for a relatively cheap price is incredible. Players that the Belgian club have brought into the limelight include Wilfred Ndidi, Sergej Milinkovic-Savic, Kalidou Koulibaly, Leon Bailey, Sander Berge, Christian Kabasele, Mbwana Samatta, Steven Defour and many many more.
From selling these players to bigger teams in more reputable leagues, the club has made around £189 million in transfer sales in the last ten years. For a small, relatively young, Belgian side, that represents an astronomical turnover especially when you consider the club have only put around 20% of that figure back into player purchases.
Former Genk Youth Players Starting XI
And if you think that this is all part of the past, you'd be wrong. 
With a Champions League group stage appearance as recently as a year ago after winning the Belgian Pro League for the fourth time in 2019, KRC Genk are still producing some of the best talent found in central Europe.
This season, the Belgian side have a first-team squad whose average age is just 22.64. In defence the club have Colombian centre back pair Jhon Lucumí and Carlos Cuesta, 22 and 21 respectively, who are touted as very bright prospects whilst at right back, Joakim Maehle, still only 23, has now already made 114 first-team appearances for Genk. 
In midfield, the trio of Dries Wouters, Bryan Henen and Kristian Thorstvedt, all still aged under 23, operate in one of Belgium's strongest central midfields, whilst out wide, Benjamin Nygren and Joseph Pantsil excite fans with their pace and trickery despite their young age.
Up front, forward Stephen Odey, who joined in the summer from Swiss side FC Zurich for £3 million aged 22, is the club's latest youthful signing who they expect to make a profit from in the future.
Photo: KRC Genk
Despite only forming independently as a club in 1988, KRC Genk already boast one of Europe's best youth academies who have played a major part in the development of a plethora of famous former stars.
With an extensive scouting network who are constantly on the lookout for that next star player either at home or abroad, the future is extremely bright for the former Belgian champions and the young players that the club help to nurture.
By: Nathan Evans
Featured Image: @GabFoligno