Who Should Manchester United Replace Cristiano Ronaldo With?
According to reports, Cristiano Ronaldo is seeking a move away from Manchester United just one year after his remarkable return. United's lack of movement in the transfer window, and the club missing out on Champions League football (meaning a 25% pay decrease), are supposedly the two key factors leading Ronaldo to make this decision.
There's a very big debate to be had over whether Ronaldo's second spell at United has been a success, and if his departure would actually be a positive or negative thing for the club, but we'll save that for another day. One thing is for certain: the Portuguese's potential departure would throw a big spanner in the works of the club's plans for the transfer window, and the 2022/23 season altogether.
While United have money to spend, they have never exceeded the £200m mark in a single transfer window, and that doesn't look to be changing this time around. The squad needs a major revamp, and that transfer budget will likely need to be spread across four, five, or six areas, and a Cristiano Ronaldo replacement was not intended to be one of them.
Additionally, it looks like the club have already committed to spending a hefty chunk of that transfer budget on Barcelona's Frenkie de Jong, leaving a (relatively) little amount of money left to spend. So, where does this leave us?
In a position where United were already thin on the ground, Erik ten Hag may need to replace one of the all-time great players on a limited budget, whilst trying to implement a specific style of play, and without compromising on his plans to make a number of signings in other positions. Not an easy task, but let's take a look at how he might go about achieving it, and analyse some of the available options.
First things first: one of the key reasons United were so keen to bring ten Hag in was that he has a specific style of play and footballing philosophy, and whoever he signs needs to fit within that philosophy. We can see what that might mean for a centre-forward by looking at his two most successful Ajax teams, and who was leading the line in them.
That would be Dusan Tadic in 2018-19, and Sebastian Haller in 2021-22, two strikers who had different roles within different systems, but who both brought a similar set of attributes to their teams. We can use Smarterscout's ratings to see those differences.
Smarterscout gives players a rating between 0 and 99 in a number of areas, based on their real-life performances and statistics. (For more detailed explanations of these ratings, click here).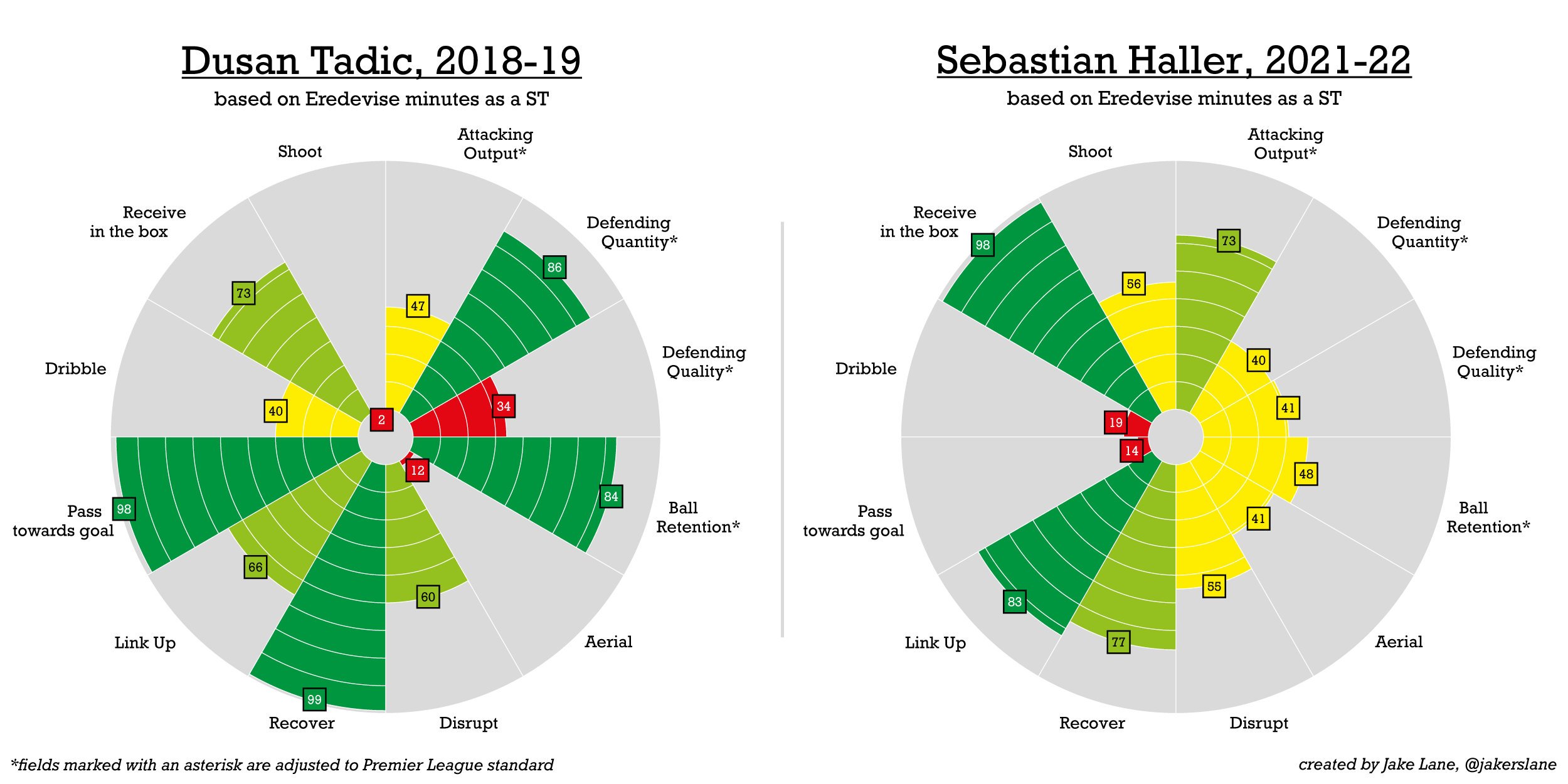 As is demonstrated by these ratings, Tadic and Haller were clearly two different, but both vital, cogs in their respective Ajax sides. Haller tended to take far more shots than Tadic did for example, and engaged in far more aerial duels, however the latter had significantly more responsibility for retaining the ball and playing progressive passes.
That being said, one thing we can see from these two 'pizza charts' are the non-negotiables that ten Hag expects from his front man. Both Tadic and Haller ranked highly for their defensive efforts (recover and disrupt), for link-up play, and for receiving in the box. We can use these four areas a building block for finding a Ronaldo replacement.
Alexander Isak – Real Sociedad
The 22-year-old Swedish international has reportedly been generating interest from a number of clubs across Europe, including Arsenal, Manchester City, Real Madrid, and the new regime at Newcastle, but could he be the man to solve ten Hag's Ronaldo problem?
At first glance you might see that he only managed six league goals in 2021-22, but that doesn't tell the full story. That is his lowest tally in his three years at Real Sociedad, and it was a number significantly lower than his xG – 10.6.
In 2019-20, he scored nine goals from 6.3 xG, and in 2020-21 he managed 17 goals from 15.5 xG – after two years of outperforming his expected goals, his numbers were always going to rebalance, and an 82.2% rate for getting his shots on target suggests that his recent drop in efficiency is more related to bad luck than lack of ability.
While his defensive numbers have been gradually declining year on year, he has shown defensive capabilities in the past that could be replicated in future, and his technical ability would suit Erik ten Hag.
That being said, an issue for Isak is his tendency to drift wide to get more ball time. This is one of Ronaldo's traits too, and it has caused United problems regularly, particularly against deep blocks.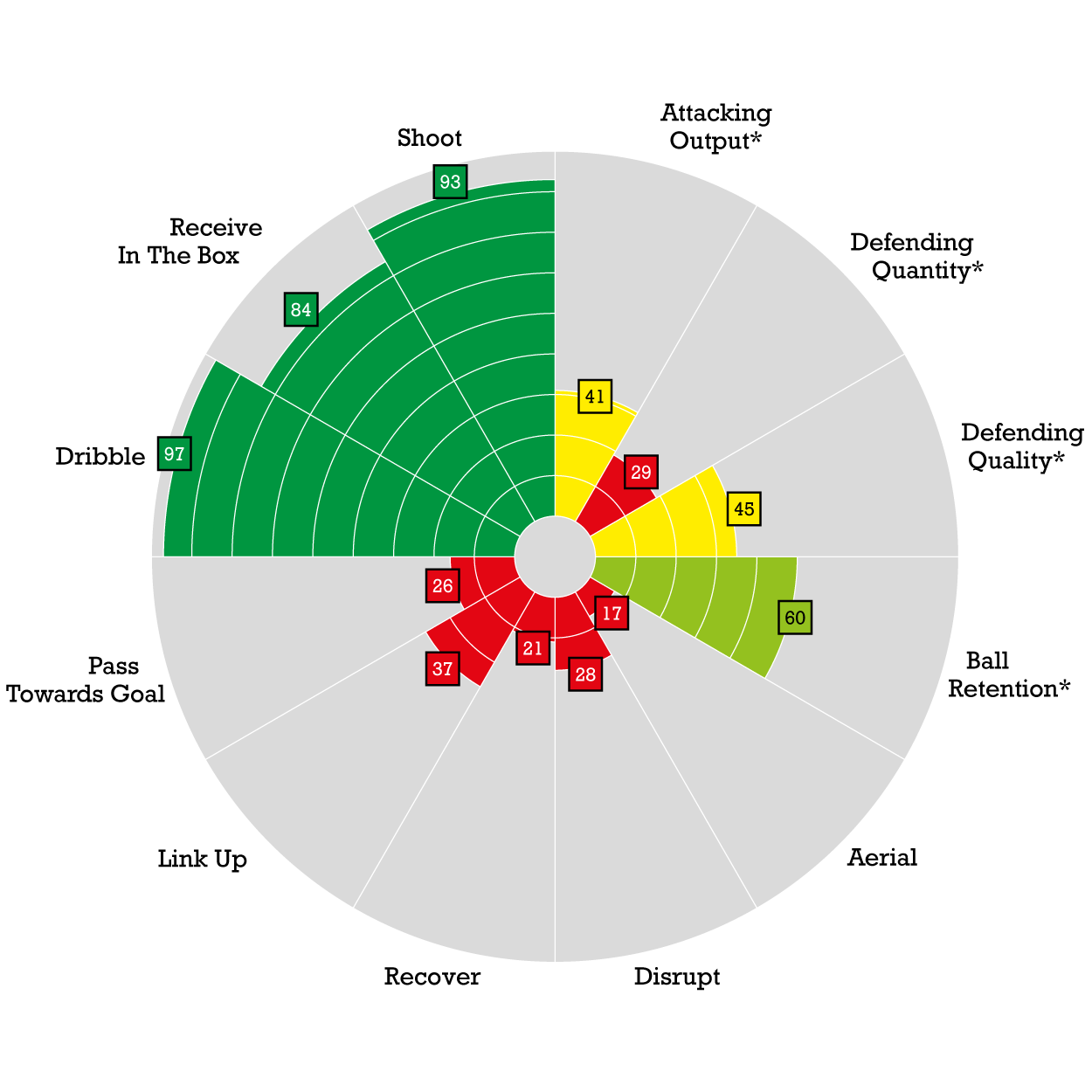 Additionally, while Transfermarkt only estimate his market value at £27 million, his age combined with his long-term contract (until June 2026), would probably make him a pretty expensive purchase. While Isak is clearly a talented player, he probably isn't the man for United right now.
Angel Correa – Atletico Madrid
Angel Correa probably doesn't get talked about as much as he should. At 27, the Argentine has made nearly 250 appearances for Atletico Madrid and won the La Liga title, Europa League, and UEFA Super Cup during that time.
Another Year, Another Relegation for Watford: What Went Wrong?
He also picked up a Copa America winner's medal with Argentina in 2021, in the same squad that included Lionel Messi, Angel di Maria, Lautaro Martinez and Sergio Aguero, with Correa taking a place in the squad whilst Paulo Dybala and Mauro Icardi missed out.
The 5'8" forward is consistently relied upon by club and country because of his tenacity, versatility, technical excellence, and incredible work rate – all attributes that Erik ten Hag might be looking for.
As an example of how committed a defender Correa is, when compared to other forwards in Europe's big five leagues over the last 365 days, he ranks in the 88th percentile (top 12%) for tackles, 91st percentile (top 9%) for pressures, and 93rd percentile (top 7%) for both interceptions and blocks.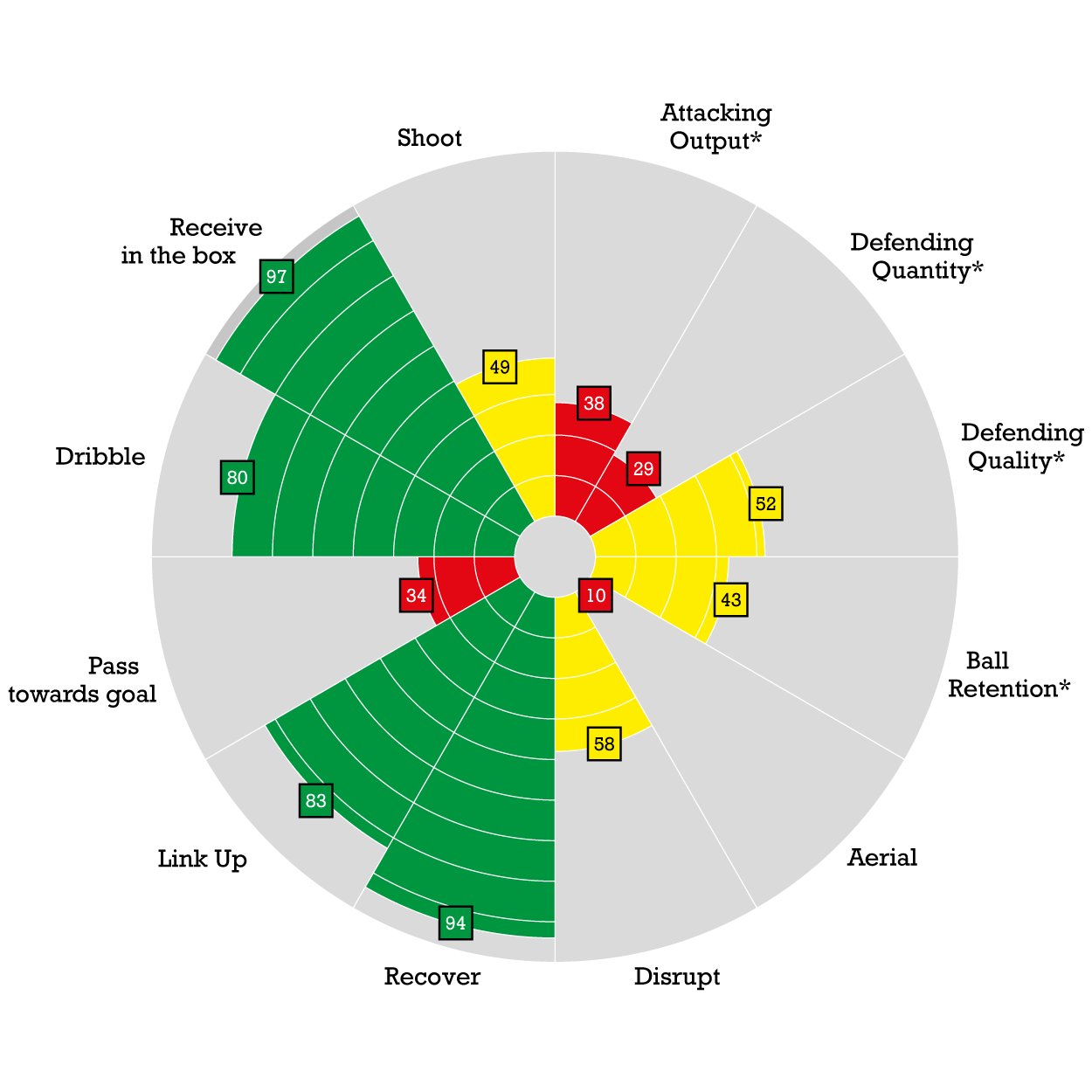 He is also a tremendous carrier and passer of the ball, who is able to drag his side up the pitch with regularity, and create chances for his team mates with ease.
The problem is, he is simply not enough of a goal threat. Like with Isak, his goals tally does not match his xG, but in quite a different way.
His 12 league goals in 21/22 looks reasonable, but that was a significant overperformance compared to his 6.8 xG, and that seems to have been achieved more by luck than judgment.
Correa's highest xG tally in a single season was the 7.6 he recorded in 2020-21, indicating he isn't seeing a great many goalscoring opportunities, and his goal tally is consistently close to his xG.
It's a shame considering how many other fantastic qualities Correa has, but it simply isn't feasible to replace one of the all-time great goal scorers with a player who can't guarantee he'll even hit double digits.
Goncalo Ramos – Benfica
One of the reasons why the striker market is looking so bare at the moment is because some of the big available targets were snapped up early on. Erling Haaland secured his move to Manchester City, and Liverpool spent big on Benfica's Darwin Nunez, beating United to his signature.
Nunez is an excellent player for sure, but the reported £85 million transfer fee has certainly raised eyebrows, especially when Goncalo Ramos plays in the same side, and could be available for a fraction of the price.
Ramos looks destined for the top, and it would be no surprise to see him making a big move to Europe in the future, just like Nunez did. His defensive contribution is elite, with smarterscout giving him an 86 'disrupt' score and a 93 'recover' score.
In addition, in his short career, he has demonstrated a good finishing ability and goalscoring sense, scoring 7 goals from 8.9 xG in his 29 appearances for Benfica in the 2021/22 Portuguese Primeira Liga.
He has also shown a good dribbling ability and is an extremely physically strong forward, which allows him to hold the ball up well.
He is a versatile player who keeps defenders guessing with a variety of movements, regularly running off the shoulder, pinning centre-backs, or dropping into midfield to collect the ball. He even featured as an attacking midfielder in big Champions League matches, as Benfica occasionally changed their shape from a 4-4-2 to a 4-2-3-1 in that competition.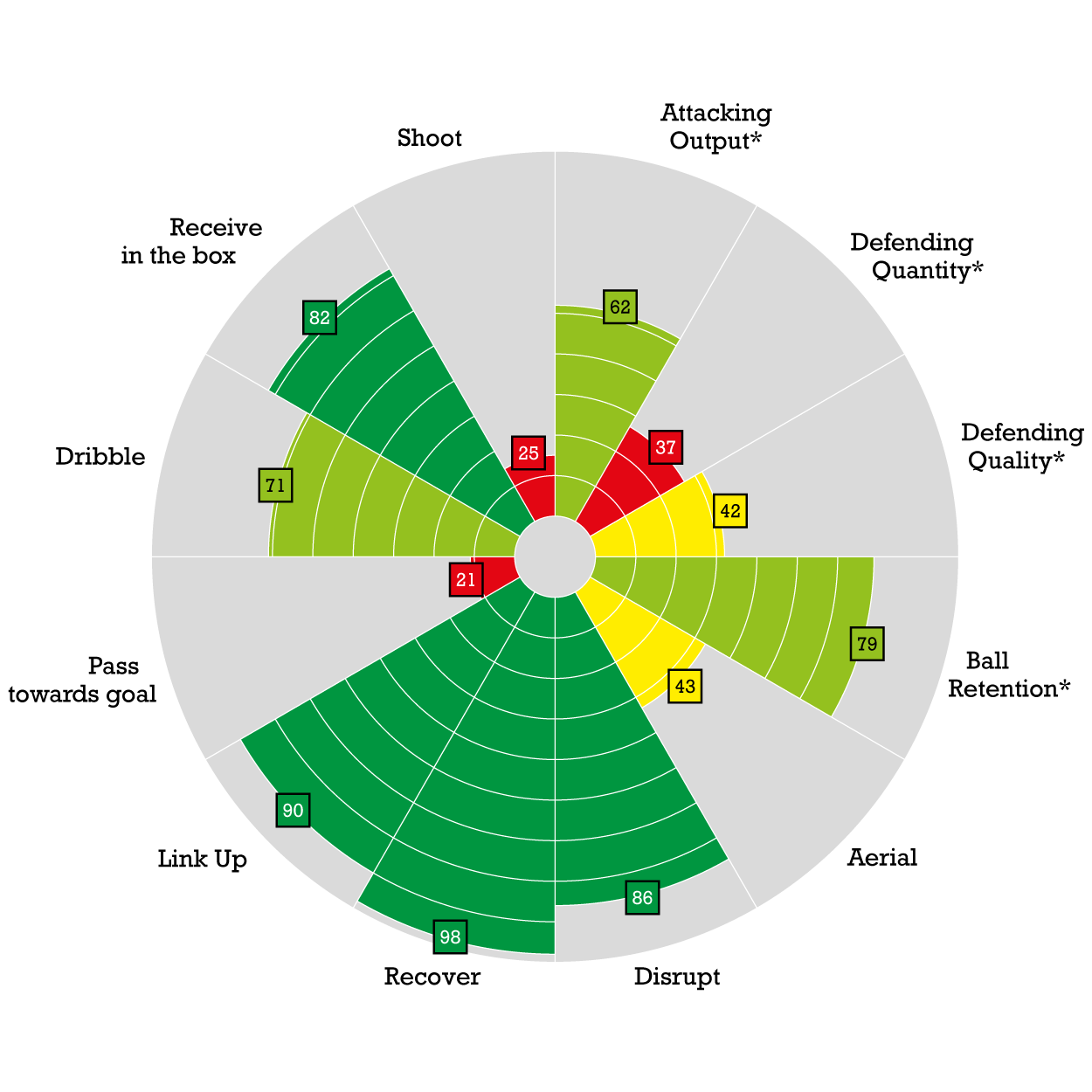 So what's the problem? He sounds like the perfect option right? Well, probably not yet. Unfortunately, it's difficult to say that he'd be able to make the step up from academy breakthrough at Benfica to Cristiano Ronaldo replacement at Manchester United so quickly, it is a very big jump.
Ramos would be an absolutely fantastic signing for United to make if he was brought in as back-up to Ronaldo, or in addition to a Ronaldo replacement, but he's probably too inexperienced to make that leap just yet.
Timo Werner – Chelsea
I know, I know. Just hear me out.
Sure, Werner's time at Chelsea has not exactly gone to plan, and it might seem a bit of a wild idea to suggest replacing Cristiano Ronaldo with a striker who, when you type his name into YouTube, the fourth result on the page is a missed big chances compilation.
However, this could be a very realistic and very useful transfer for Manchester United. While his finishing ability may have come into question since moving to Chelsea, he has still managed to showcase a number of his other impressive attributes.
Werner's defensive contribution is superb, he is an excellent counter-attacking threat, his dribbling ability is reasonable, and his link-up play is sensational – one of his lesser known qualities. He has a few years of Premier League experience, and has also featured on both wings as well as up front, and we know that ten Hag is looking for a forward with good versatility.
It's also worth noting that while at RB Leipzig, his goalscoring and finishing record was significantly better, and he scored an impressive 78 goals in 127 league appearances for the German outfit. With a little bit of a boost to his confidence, he could absolutely rediscover his finishing touch.
Sure, there are question marks over his ability to lead the line on his own in the Premier League, particularly against deep blocks, but one huge thing in his favour would be how convenient, and potentially cheap, this transfer could be.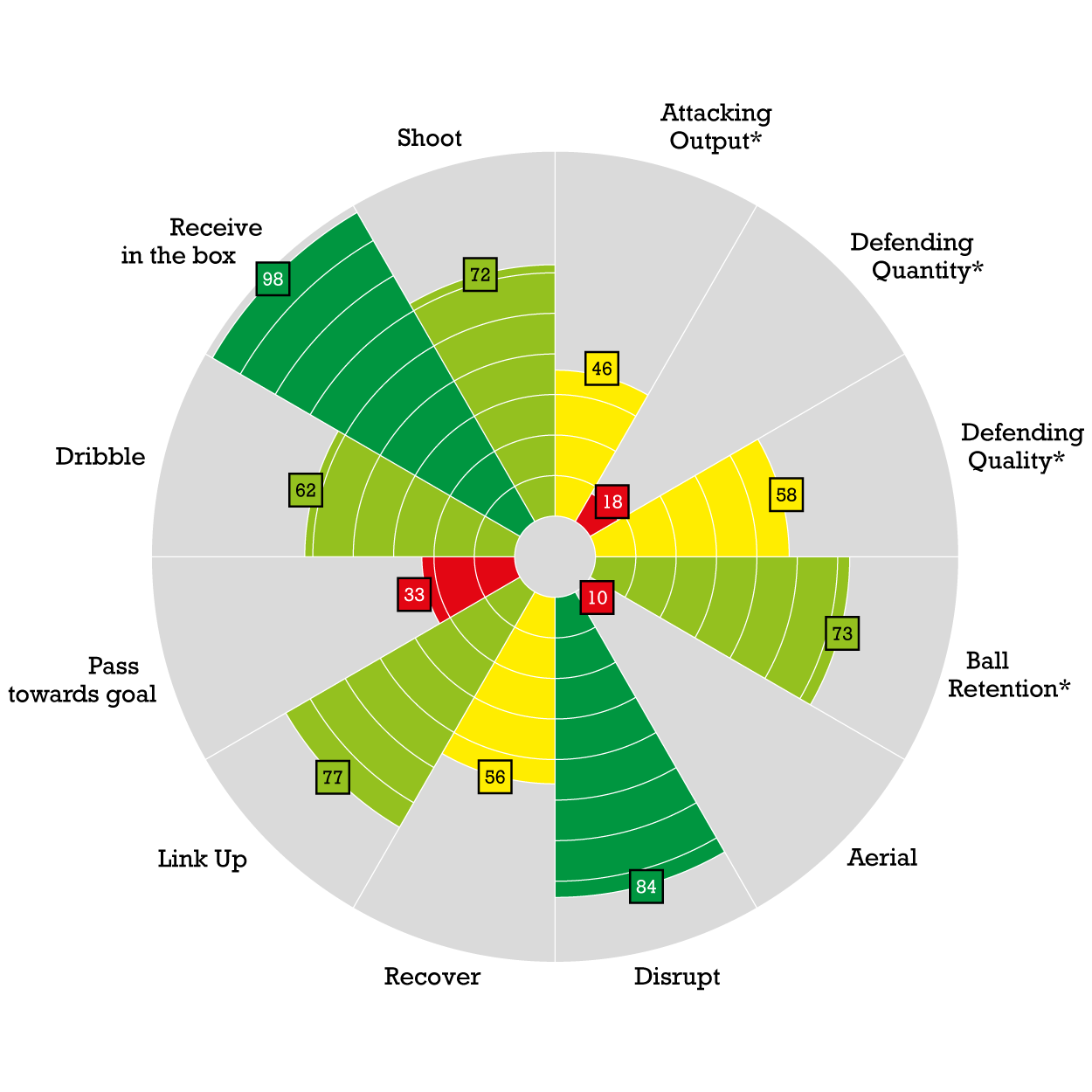 Chelsea are reportedly one of the front runners for Ronaldo's signature, and if they were to pick up his league-leading salary, they would likely need to clear some finances elsewhere.
It is also rumoured that Thomas Tuchel is hoping to reinvent his front-line, and is willing to listen to offers for a number of his forwards.
Christian Eriksen – How Does the Dane Fit Into Erik ten Hag's Manchester United?
Any deal for Ronaldo could include Werner as part of a swap, or a player-plus-cash deal, or whatever. The point stands that Werner has a good deal of qualities to suit ten Hag, and could represent a great short-term option until next summer, when United might have a bit more money to spend on a striker.
Tammy Abraham – Roma
Abraham would be an option much closer to Haller than Tadic, but would potentially be a great choice. His style of play is more like a 'traditional number nine', due to his fantastic ability to occupy and pin centre-backs, his excellent positioning and movement in the box, and his aerial threat in both open play and from set-pieces.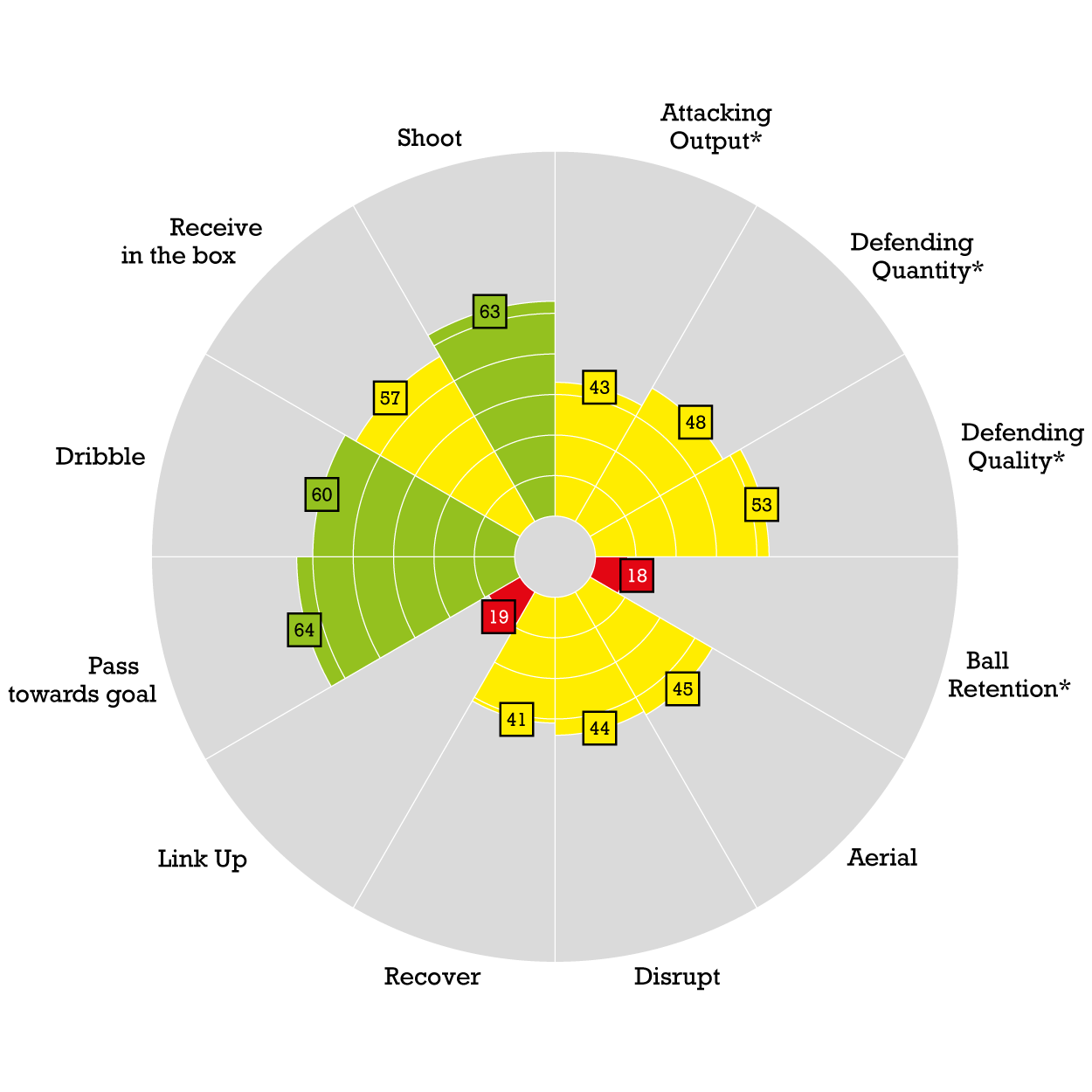 It's no wonder Jose Mourinho likes him so much, as he share some of Didier Drogba's best qualities. However, he is not simply a blast from the past.
He hasn't been doing it so much since his move to Roma (likely following Mourinho's instructions), but when at Chelsea he demonstrated a great willingness to press and get stuck into his defensive duties.
Abraham has also shown himself to be a very reliable finisher, scoring 38 goals from 41 expected goals in 93 league appearances across the last three seasons.
However, having signed for Roma only a year ago, he might cost a little bit more than United would be willing to pay, he isn't particularly versatile, and there are certainly questions over his tidiness in possession and ability to link up with his team mates. He is also prone to the odd clunky touch.
Moussa Dembele – Lyon
To be completely honest, this option should only really be on the table as a last minute, "oh crap we still haven't signed a striker who can we get" option.
That's not to be harsh on Moussa Dembele, he is a passable choice that is able to do the things ten Hag would need him to do, just not with enough regularity, quality, or consistency.
One thing you've got to give him is that he's an excellent finisher, who has scored an impressive number of goals during his two spells at Lyon.
He is willing to press occasionally, although he isn't going to do it until his legs fall off like other options, he is a good off-the-shoulder runner, and perhaps most importantly, he might be quite cheap.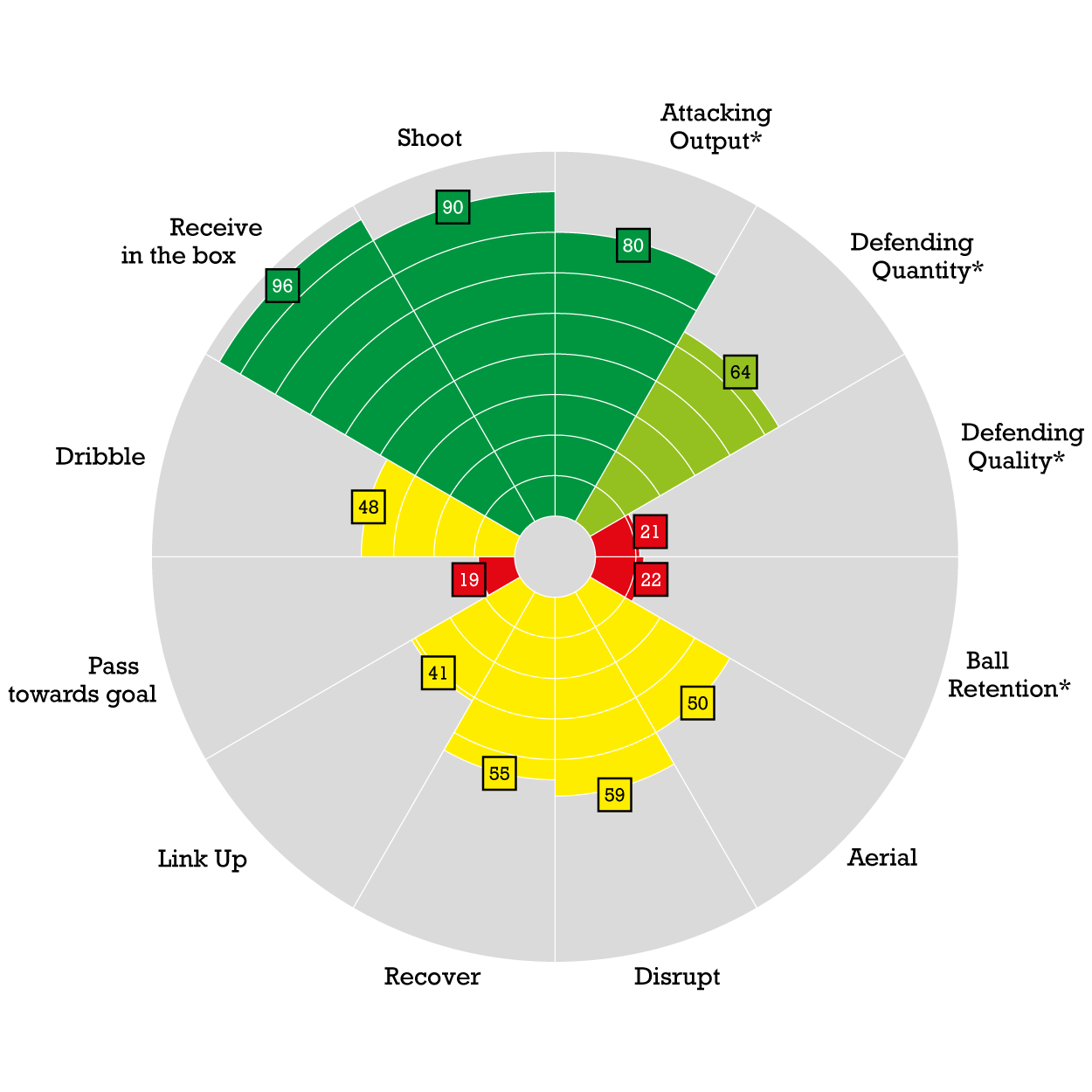 Despite that, his link-up play leaves a lot to be desired, he isn't particularly versatile, and there are examples in his career of inconsistent and unproductive periods, most notably his extremely disappointing spell at Atletico Madrid.
Lautaro Martinez – Internazionale
The break-the-bank option. The budget buster.
Lautaro Martinez's stock continues to rise, with each year that goes by he is scoring more goals and he keeps getting better and better. The reliability of his finishing is astonishing, scoring 58 goals from 58.4 xG while at Inter, and to do that in 135 league appearances is eyebrow-raising too.
Considering he plays for a team that dominates possession, he ranks in the 68th percentile for tackles and 49th percentile for pressures, very respectable defensive numbers, but even more impressive is the fact that he ranks in the 99th percentile for interceptions.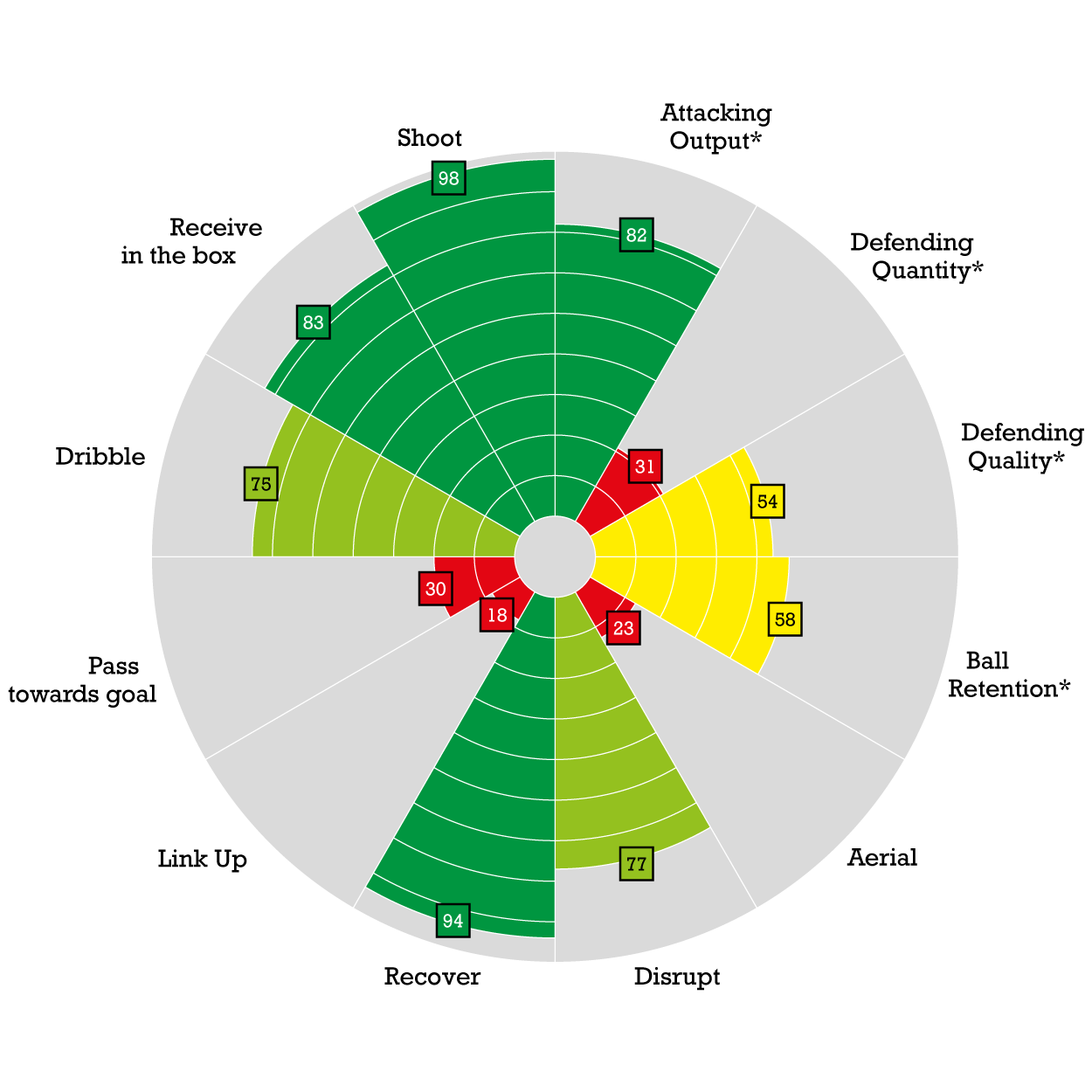 This indicates that he is an extremely intelligent final-third defender, not wasting his energy and being selective and considerate in when he jumps to attention – these are qualities that United have desperately lacked.
He has also demonstrated a very good ability to link with his teammates, and a reasonable danger in the air. The big issue is the price tag. Transfermarkt put Martinez's market value at £67.5 million, and it would probably be higher than that.
United simply don't have that much money to spend on a striker this summer, even if Ronaldo were to move on, without compromising their priorities elsewhere. While he would be a fantastic addition to the side, this might be one that the club have to revisit in a year's time, securing a cheaper short-term option for now.
Paulo Dybala – Free Agent
Speaking of cheaper short-term options, you're not likely to find many better than Paulo Dybala, who is currently available on a free transfer, and reportedly willing to take a pay cut to join a big European side.
Like Martinez, while he may not be the most aggressive and manic final third defender, he is an extremely smart one. Again, United need forwards who defend and press smartly. Over the last 365 days, when compared with other forwards in Europe's big five leagues, he ranks in the 77th percentile for blocks, 83rd percentile for tackles, and 97th percentile for interceptions.
He is also an elite technical player, and as we know with the pursuits of Frenkie de Jong and Christian Eriksen, ten Hag is looking for 'manipulators of the ball'. Dybala is a phenomenal dribbler and passer, and would absolutely tick that 'link-up' play requirement, probably better than anyone on this list.
Dybala is also a fantastic character to have in the squad. A leader who captained Juventus regularly (a club with a similar weight of expectation to that at Manchester United).
He's versatile, able to play across the forward line or even in midfield, and importantly, he is left-footed, which would solve another massive problem in United's squad. The Red Devils' attack is in need of a rebalancing, and Dybala would help to solve that.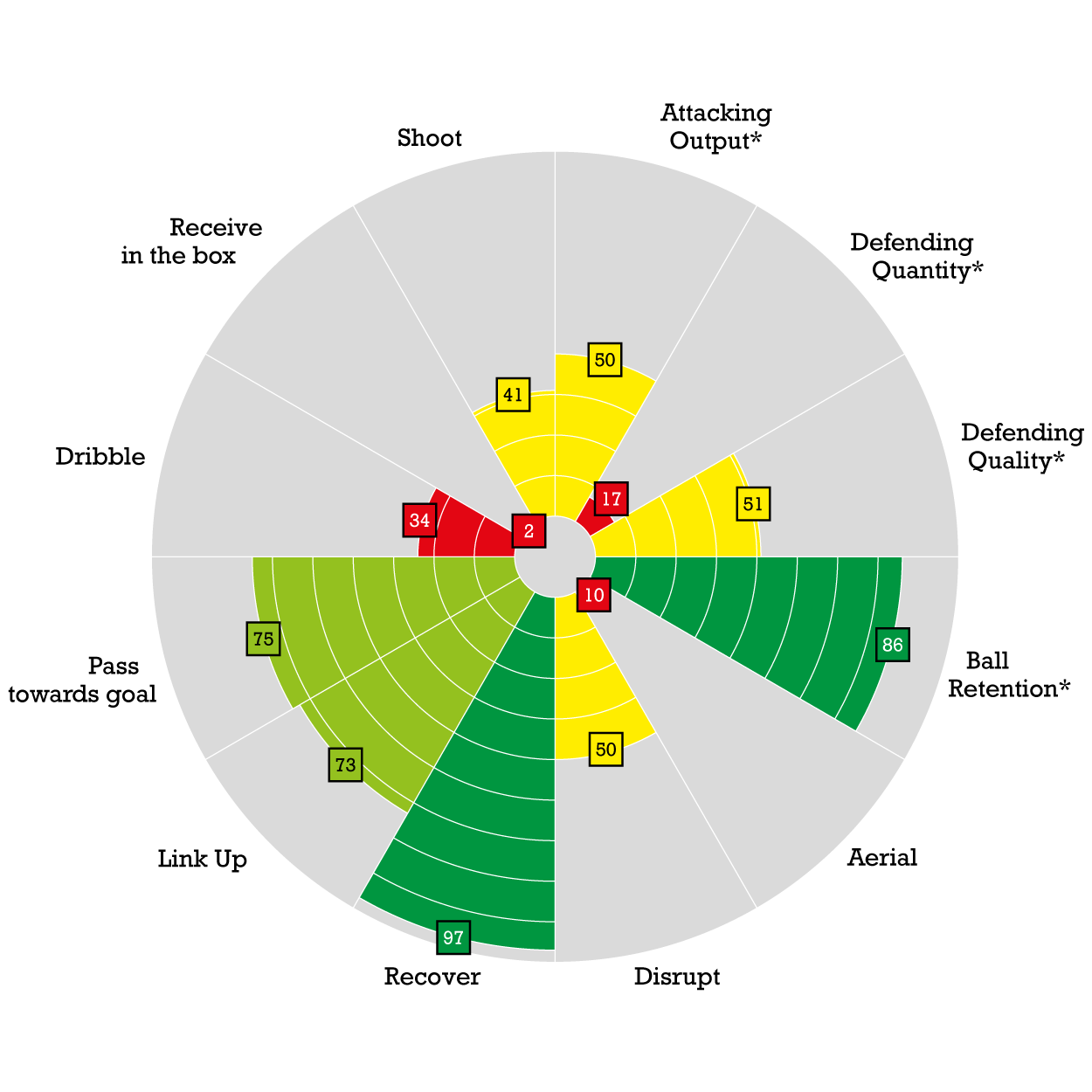 Granted, he isn't the most prolific goal scorer in the world and likely couldn't replace Ronaldo directly in that sense, and he absolutely isn't a traditional number nine. He would need to be played as a false nine, which could cause the displacement of other first-team players in the squad.
However, this is a no brainer. He suits the philosophy of the new manager all the while solving a number of problems that the United squad have had for years. Also, to mention it again, he would be FREE.
This is the ultimate short-term option, and even if United were to revisit the striker market in a year's time for a more expensive and long-term alternative, he would still be able to do a job in other positions.
Evanilson – Porto
Evanilson would be a similar choice to Goncalo Ramos, and not just because they both play in the Portuguese league. The Brazilian is another one in the generation of 'modern forwards' coming through, and will undoubtedly earn himself a big money move before too long.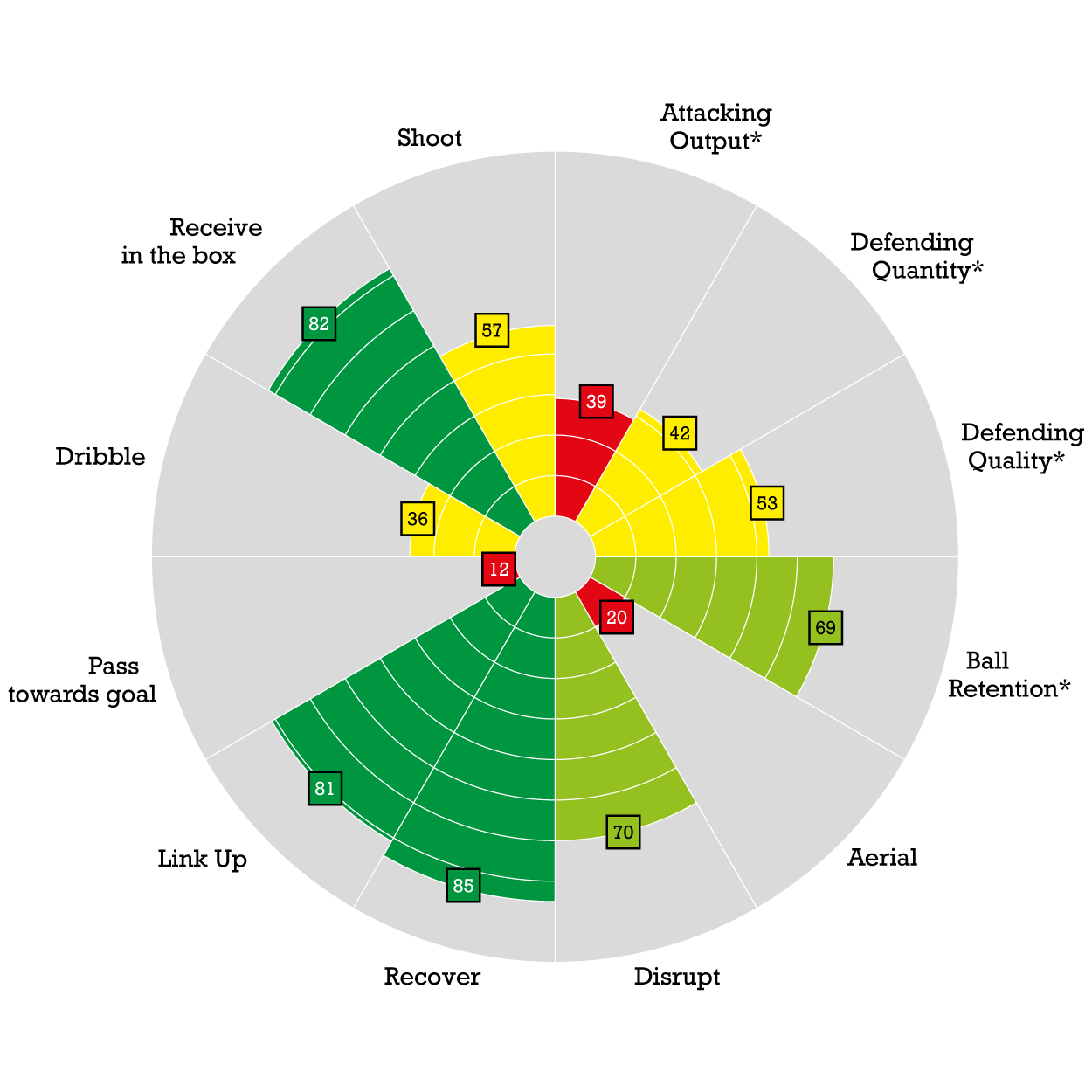 Smarterscout gives him rankings of 70 for 'disrupt' and 83 for 'recover', demonstrating his excellent, aggressive defensive contribution from the front. He is an extremely physically imposing figure, with a surprisingly high level of ball control and dribbling in tight, congested areas.
Despite the fact he is incredibly capable with both feet, and physically suited to the Premier League, like with Ramos, it's probably too big a step at this point in his career.
Evanilson: The Young Brazilian Striker Making a Name for Himself in Portugal
It's slightly awkward timing, as his stock is rising quickly and now would be the best time to invest, but United need to be careful with their spending this summer. They can't afford to buy two strikers, and if they were to bring Evanilson to the club he could not be expected to be the main man straight away.
Conclusion
It is certainly not going to be an easy situation for Manchester United if Cristiano Ronaldo does end up departing. The club have a long list of positions that need strengthening, and while centre-forward is on that list, it isn't exactly priority number one.
If they end up needing to find a replacement for the Portuguese, then they will find themselves having to choose between either compromising on their transfer targets and potentially leaving a weak area to remain weak, or settle for a lesser candidate to step in and fill some of the biggest boots in world football.
There are certainly options available to the club in terms of transfers, some better than others, but quite simply the striker market is just not that great right now, especially when any incoming players will need to fit a relatively specific criterion.
It will definitely be an interesting couple of months seeing how this story plays out, because the eventual solution could have significant consequences on the first season of the Erik ten Hag era.
By: Jake Lane / @jakerslane
Featured Image: @GabFoligno / Matthew Peters / Manchester United