Tactical Analysis: How Barcelona Can Shape Up to Beat Bayern Munich
Xavi's return as a coach at Camp Nou was a dream come true for every Barcelona football fan. However, it should be clear by now that only Xavi's presence in the dugout will not cure all of Barcelona's problems. Under Xavi, Barcelona has done well so far.
They were winning two matches in the league, winning an away match for the first time after beating Villareal, although they lost 1-0 to Real Betis in their last league encounter. On the other hand, Benfica held Barcelona to a 0-0 draw at Camp Nou in their previous Champions League group stage match.
Following this outcome, Barcelona is at significant risk of being knocked out of the Champions League and playing in the Europa League for the first time since the 2003-04 season. To avoid playing in the UEFA Europa League, Barcelona will have to cross a difficult equation, win against Bayern Munich at the Allianz Arena, or Benfica will have to lose points against Dynamo Kyiv at home.
It is undoubtedly a difficult task for Xavi to dream of winning over Bayern with this fragile Barcelona side. On the other hand, Bayern Munich has been one of the strongest teams in Europe for the last 2-3 seasons. After Hansi Flick's departure, Bayern maintained their consistency under Julian Nagelsmann, losing only one match at the Allianz Arena this season, to Frankfurt.
Hansi Flick – Revitalising Both Bayern Munich and Germany to Devastating Effect
Xavi has changed a lot of scenarios in his short time spell in Barcelona, ​​which are struggling under Ronald Koeman. The positioning of the players has become more organized; more goal-scoring opportunities are being created than before, the goal conceding rate has also decreased significantly due to improved defensive organization.
However, the team is struggling to score due to a lack of a particular target man and predicted movement in the final third. Players are also unable to maintain full match stamina due to the high intensity of play, which is why the opponents might sometimes gain control of the entire match.
Today, we will discuss both the teams' possible playing style and what tactics Xavi can use to defeat Bayern Munich and move on to the next round of the Champions League.
Barcelona plays in a 4-3-3 formation under Xavi, but the onfield shape is turned to 3-4-3. Ronald Araujo-Gerard Pique-Eric Garcia trio will be more likely to be seen at the back in the encounter against Bayern Munich.
Xavi is creating two separate lines in midfield; Sergio Busquets and Nico González will likely play double-pivot roles in the bottom line, while Frenkie de Jong and Pablo Páez Gavi will play two inside midfielders in a slightly more advanced position. Ousmane Dembélé and Jordi Alba will play in the two wings, with Memphis Depay as the only striker in front of them.
On the other hand, under Julian Nagelsmann, Bayern Munich is seen in a 4-2-3-1 formation. The backline against Barcelona could be Benjamin Pavard, Dayot Upamecano, Alphonso Davies and either Lucas Hernandez or Niklas Süle.
Leon Goretzka and Corentin Tolisso will be more likely to be in double pivot roles in midfield, Joshua Kimmich may be recovering from COVID-19, but he will be more likely to be on the bench due to a lack of match fitness. Serge Gnabry, Thomas Müller and Leroy Sané will play on the frontline, and Robert Lewandowski will play as a lone striker in front of them.
Bayern Munich is one of the most offensively dominated clubs in European football. Bayern is offensively very threatening for any team at this moment, so to win the match against Bayern, you have to focus on neutralizing the attacking side of them before thinking about scoring a goal. 
Bayern's offensive play in the final third mainly depends on the free space between the lines. During build-up from the back, Kimmich usually tries to progress the ball by dropping slightly deeper from his line and operating in the free space between the opponent's forward and midfield line.
Goretzka is seen playing recently as a deep-lying playmaker in the absence of Kimmich; he is also influential in ball distribution and able to progress the ball exceptionally well, even under the high pressure of the opponent.
Bayern's two centre-backs, Upamecano and Lucas Hernandez, are extremely strong on the ball. This is why when the opponent presses through the centre area by overcrowding the centre pitch; then they usually progress the ball by playing diagonal long balls through the wing area. 
The significant advantage is that Pavard holds his position deep to create a back three instead of pushing on the high line, making it almost impossible for the opponent to outnumber Bayern's back three.
However, Pavard occasionally moves in the midfield to create an overload in the midfield, then two centre-backs easily beat the opponent's first pressing line through a short pass in the centre area as an additional passing option is created in the midfield.
Therefore, it will be very difficult for Barcelona to regain the ball possession by pressing Bayern Munich in the final third.
Although Sane plays in the winger position, he is usually seen operating in the left half-space area of ​​the final third. From the beginning of the build-up, Davies has moved to the high line and has started to stretch the left-wing.
At this point, Muller moves from the central area towards the right half-space. Right-winger Gnabry is usually seen holding the position on the touchline and stretching the line. This means that in the final third, Davies and Gnabry have stretched two wings.
Sane and Muller have tried to create threats by operating in the free spaces between the lines and circulating the ball directly into the box or wide areas.
In this case, they need free spaces to create chances or continue the forward play. Muller is oddly seen taking dribble attempts; However, Sane often takes dribble attempts, his dribble success rate in one-on-one situations is quite low, which is why it will be very difficult for them to circulate the final ball in the tight space through the central area.
Under Xavi's playing system, midfielders operate on two different lines; pivot duo usually positions slightly beyond the back three to shield the half-spaces, and two interiors operate in the free space between the opponent's midfield and defence line.
In that case, if Barcelona's two pivots Busquets and Nico take the position slightly below their line and nullify Muller-Sane's space, then it won't be easy for them to find space in front of  Barcelona's defence line and deliver the final pass.
Bayern's threat creation into the opponent's box mostly depends on Muller and Lewandowski. 4.22 shot attempts per 90 were created from Muller's pass, and his goal-creating action was 1.14 per 90 throughout this season, where none of his teammates was close to him.
On the other hand, this season, 50% of Bayern's total goals in the Champions League came from Lewandowski's feet. This shows Bayern Munich's dependence on Muller and Lewandowski for scoring goals. Hence, if Barcelona can somehow keep Muller and Lewandowski out of the play, then the chances of Bayern scoring will naturally decrease a lot.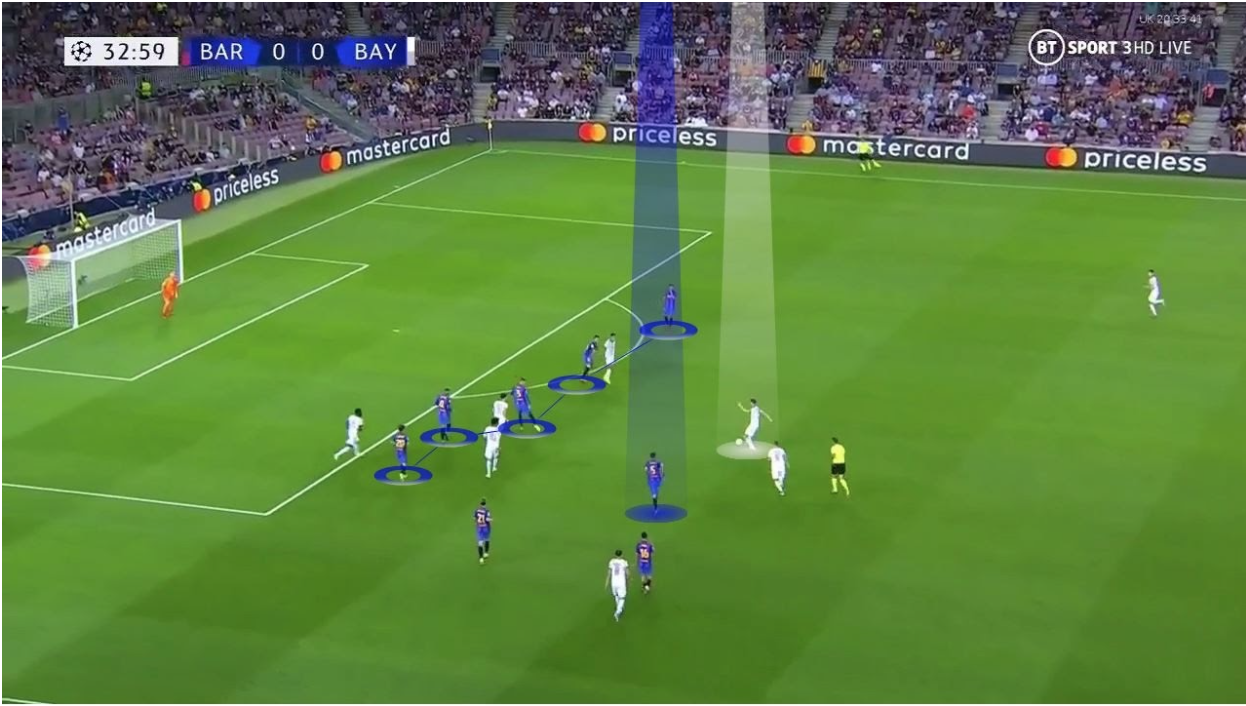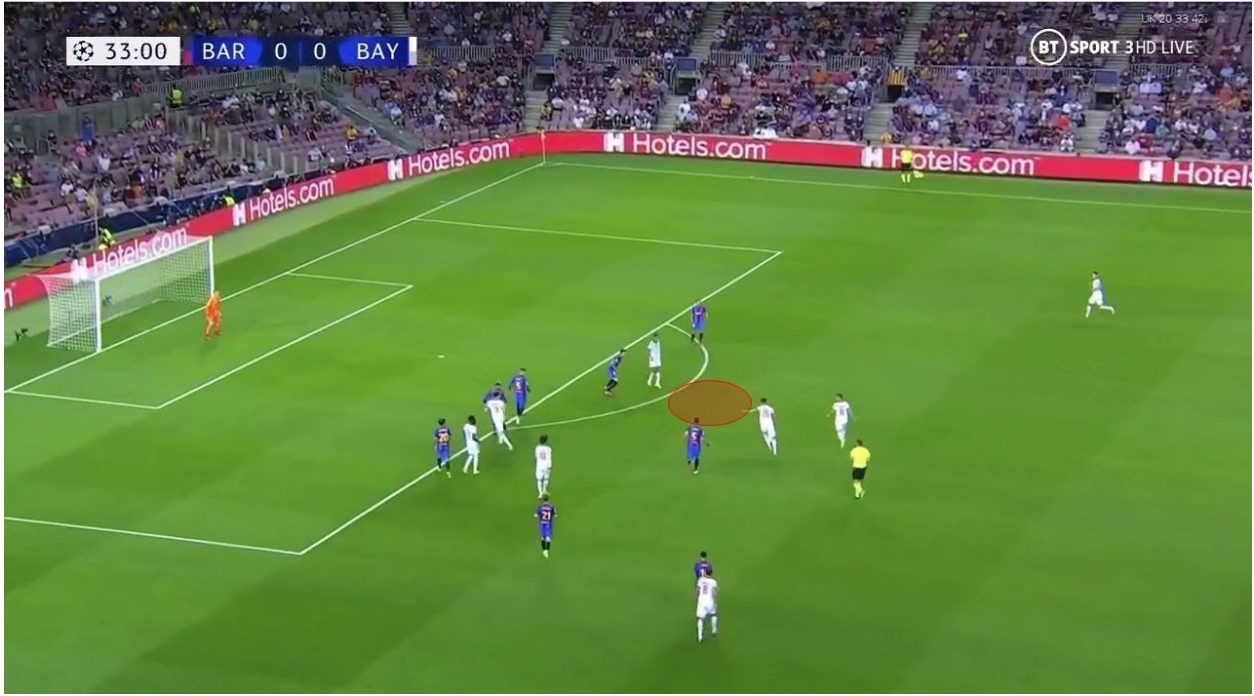 If we look at the picture above, Muller got huge free space in front of him after receiving the ball in the final third. Although the Barcelona backline was well organized, no one stepped up to block Muller; he also had a massive gap with Busquets. That is why he did not have any problem leading for the first time with a shot attempt in huge free space.
However, is it possible for Barcelona to keep Muller and Lewandowski out of the play throughout the entire game? It is not easy to stop producing threats from a chance creator like Muller, who finds himself in the minimum free space on the pitch and prevent a deadly finisher like Lewandowski from scoring goals.
Muller is not usually much influential in one-on-one battles, so he is not generally seen making dribbling attempts. Instead, he has used his positioning sense to find free space in the final third and has tried to create a threat from that free space.
Therefore, it is possible to neutralize Muller a lot without giving him a chance to operate in free space by directly marking him, although marking Muller is not an easy task at all. Therefore, if one of the pivot duo Busquets or Nico directly man marks Muller, it is possible to keep him out of play.
However, the marker who will mark Muller tightly will have to go out of position most of the time. So any other Bayern forwards will have the opportunity to use that space to create a threat. For this, the other pivot will have to operate to nullify the free space. 
Lewandowski is very strong in operating into the box; his aerial ability is also outstanding. Therefore, it will be tough for the Barcelona centre-backs to mark Lewandowski as a direct man. However, if Barcelona will play with Araujo-Pique-Garcia centre-back trio, then Pique and Garcia should have the responsibility to mark Lewandowski directly.
As Pique is aerially sound, his role will be to defend the crosses from the wing through Lewandowski, and for this, he will have to mark Lewandowski very tight throughout the match. However, this will give Lewandowski a lot of free space behind the defence.
Garcia's role will be to try to anticipate the ball from there by tracking his behind the defence run without directly marking Lewandowski. Muller usually tries to create threats from outside the box with a vertical ball towards Lewandowski or a lateral pass towards Sane-Gnabry or left-back Davies.
Busquets's ball interception rate is the most impressive of Barcelona's midfielders, and if any of the centre-back comes out of his line and tries to intercept Muller's through balls, Bayern's forward players will get a lot of free spaces behind the line. That's why Busquets has to venture to intercept Muller's defence-breaking passes aggressively.
Sane is the most creative footballer in the final third after Muller. Although he plays as a left-winger, he usually operates more in the left half-space. His dribbling skill is considerably good, and he tries to cut in the box by dribbling instead of quick passing in tight spaces.
However, he is not much effective in the one-on-one battle; Bayern Munich has yet to find the best version of Sane. In the match against Barcelona at the Camp Nou, Sane lost the ball possession every time in three one-on-one battles against Araujo. Therefore, if Araujo will man-mark Sane directly, it will be very challenging for Sane to create a threat by dribbling against Araujo.
As mentioned before, Sane is not very effective in the wider areas as he is vulnerable in a one-on-one battle; that's why Bayern have faced the opponent's counterattack when Sane has tried to cut inside from the left by dribbling.
How Losing Leroy Sané Changed Manchester City's Attacking Dynamics
For this, Barcelona may create a pressing trap for Sane by giving him free space on the right side to cut in, and then regaining the ball possession by pressing him; it should be very effective for Barcelona to recover the ball possession in their own half.
Let's talk about how Barcelona's approach should be when they are on the ball. We all know that Barcelona builds from the back. In this case, the biggest problem that Barcelona will have to face during the build-up is the pressing of Bayern.
Bayern Munich is one of the best teams in Europe in terms of pressing intensity. Naglesmann has a unique pressing style, which will be quite challenging for Barcelona to progress the ball forward by beating their pressing line.
They usually apply a high block pressing system to the opponent when building up from the back; Bayern's forward players directly mark every opponent's player and force them to give a panicked long ball by isolating the ball carrier.
However, during the build-up from the back, Bayern's striker Lewandowski blocked the passing lane between the two centre-backs instead of directly pressing them. Other forward players then try to keep the defensive line isolated from midfield instead of marking the other defenders.
This is why the ball carrier gets the opportunity to give a horizontal pass on either side. But as the ball moves from the centre back to the wider area, Bayern's forward players block the horizontal passing option of the ball carrier and nullify his zone.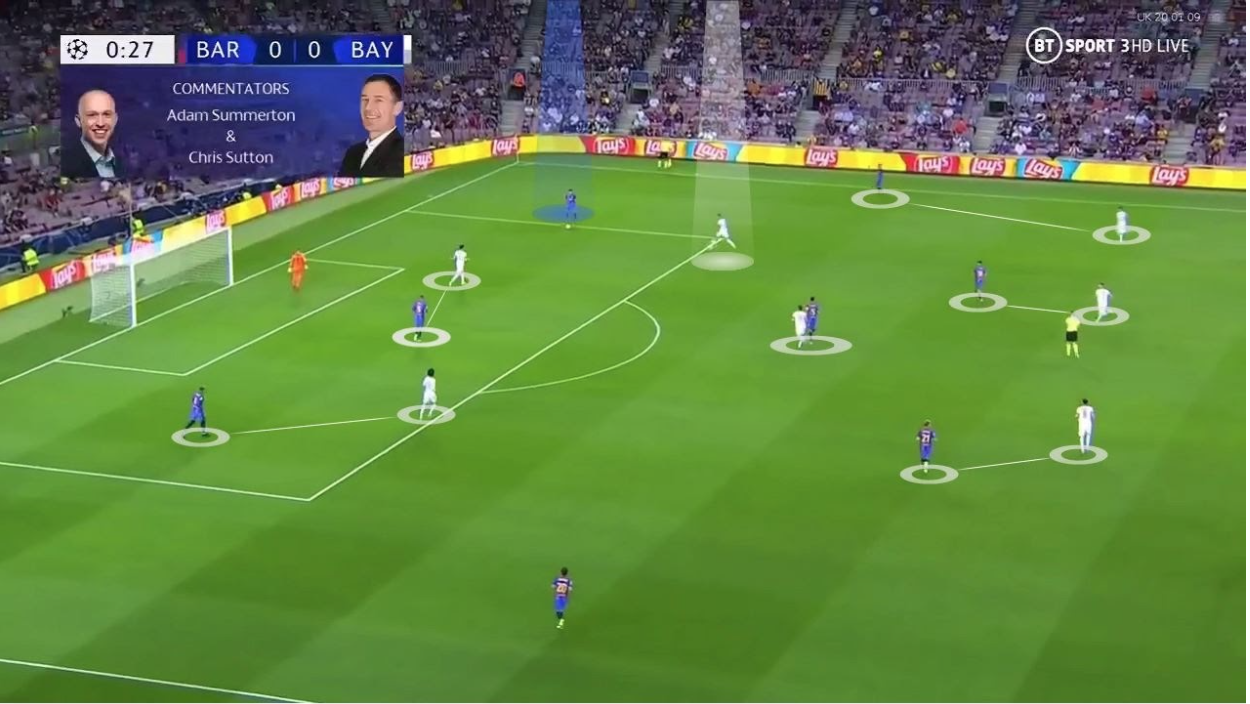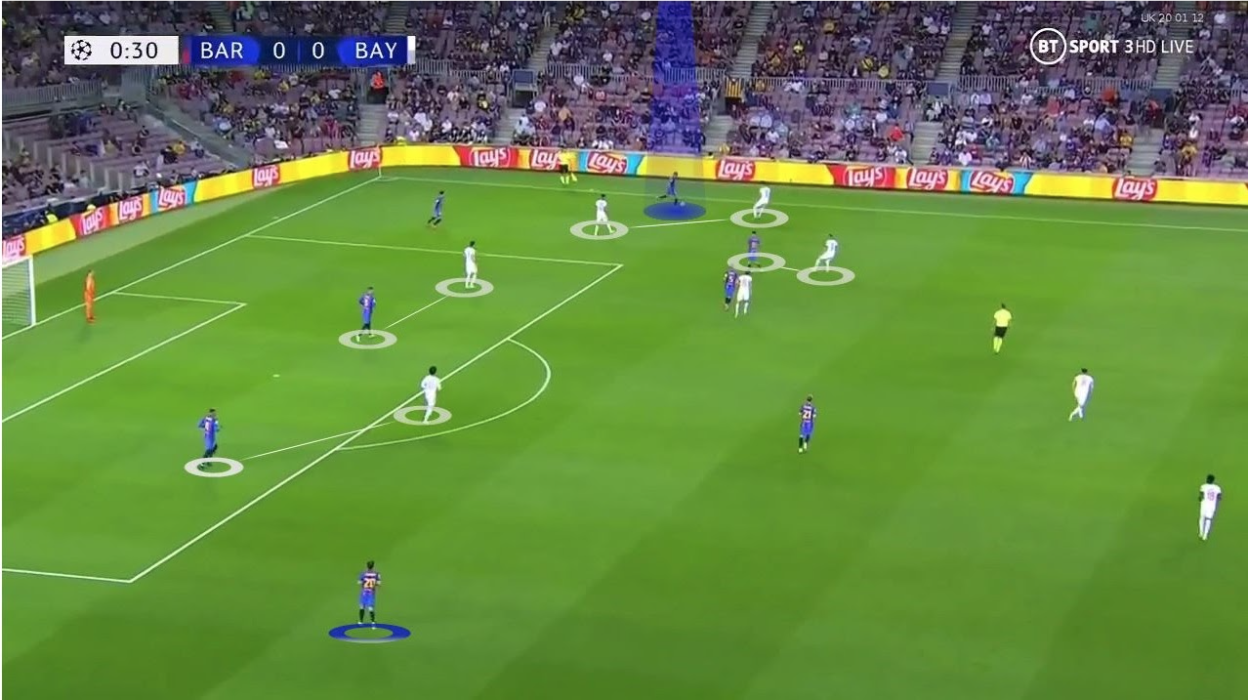 At this point, two pivots Kimmich-Goretzka push high up and mark the opponent's midfielders.  As the ball carrier has the touchline on one side and gets blocked by Bayern's forwards on the other, he has no option but to play blind long forward balls.
Bayern didn't press too intensely at the start of the buildup from Marc-Andre Ter Stegen. As soon as Ter Stegen passed to Garcia, Lewandowski blocked Garcia's horizontal passing line with Pique-Araujo-Roberto on the other side. At that point, Gnabry did not begin to press Garcia directly.
Right-back Sergi Roberto was completely man-marking free, as well as Alba on Garcia's side were also free as Pavard had a lot of distance with Alba. Garcia could easily have switched the ball towards Roberto and beaten Bayern's pressing line. But being a relatively easy option, Garcia passed to Alba, and that was his big mistake.
As soon as Alba had the ball, Pavard moved in close to him and began pressing him, while Gnabry left Garcia to block Alba's passing option in the centre of the pitch. As a result, Alba had no choice but to give a blind long ball from that tight space.
The easiest way to beat Bayern's pressing system is to switch zones with a long ball without being panicked. In this case, the centre back has to try to switch the ball; because as much as the ball moves towards the wide area, the more the ball carrier gets isolated.
Among the centre-backs of Barcelona, ​​Pique is solid to switch the ball to the other side. For this, Pique should switch the ball as much as possible during the build-up. While Bayern's pressing system is as effective in building with two centre-backs, it is not so effective if the opponent builds with back three.
Therefore, Busquets will have to play the role of the third centre-back by dropping back to the defence during the build-up, acting as a third centre-back; as Araujo is quite vulnerable with the ball under pressure.
Moreover, Ter Stegen is strong enough with the ball under his feet; his long ball distribution ability is also quite good, which will help them to advance the ball from defensive third to mid-third by beating the high block pressing of Bayern Munich.
As Bayern Munich is offensively strong, all but two of their centre-backs are pushed high up on the pitch when they are in possession. That's why centre-backs have to operate very high up on the pitch to cover the gap between the lines.
Bayern's centre-backs are comfortable on the ball and less error-prone, but except Lucas Hernandez, both Sule and Upamecano are very slow. Therefore, if Bayern loses their position in the final third, it is very difficult for the centre-backs to cover the free space behind the defence. That's why Bayern's centre-backs struggle against speedy players.
Dembele is the fastest footballer in the Barcelona forward line, so if Bayern Munich loses ball possession in the high line, Dembele will be able to create a threat by exploiting the free space of Bayern's backline with his speed.
Bayern Munich Show Long-Term Faith in Julian Nagelsmann's Natural Progression
There is a lot of space between Bayern's two centre-backs when they are in the offensive phase, so Dembele will have been much more effective for Barcelona if he operates in the central area. There will be chances that Bayern's left-back Davies may beat him at speed if he operates on the right side.
Compared to that, Bayern's centre-back duo is much slower than Dembele. So he can easily have explored free space in Bayern's third with an in behind the defence run. But it is more likely to see Depay in the centre area. Due to injury, Ansu Fati will not be available for the Bayern match; otherwise, Fati's speed and dribbling would have been very threatening for Bayern's backline.
Bayern's left-back Davies stretches the line holding his position near the touchline area of ​​the final third when they are on the ball; since Sane doesn't have much comfort in line-stretching and he feels comfortable operating through the central area.
Bayern's left side is completely exposed when Davies loses possession in the final third due to operating on the high line. Although Davies tries to destroy the opponent's counter-attack with his speed in most cases, it becomes very challenging for Davies to maintain the defensive shape by trackback quickly if the opponent's right-winger is speedy.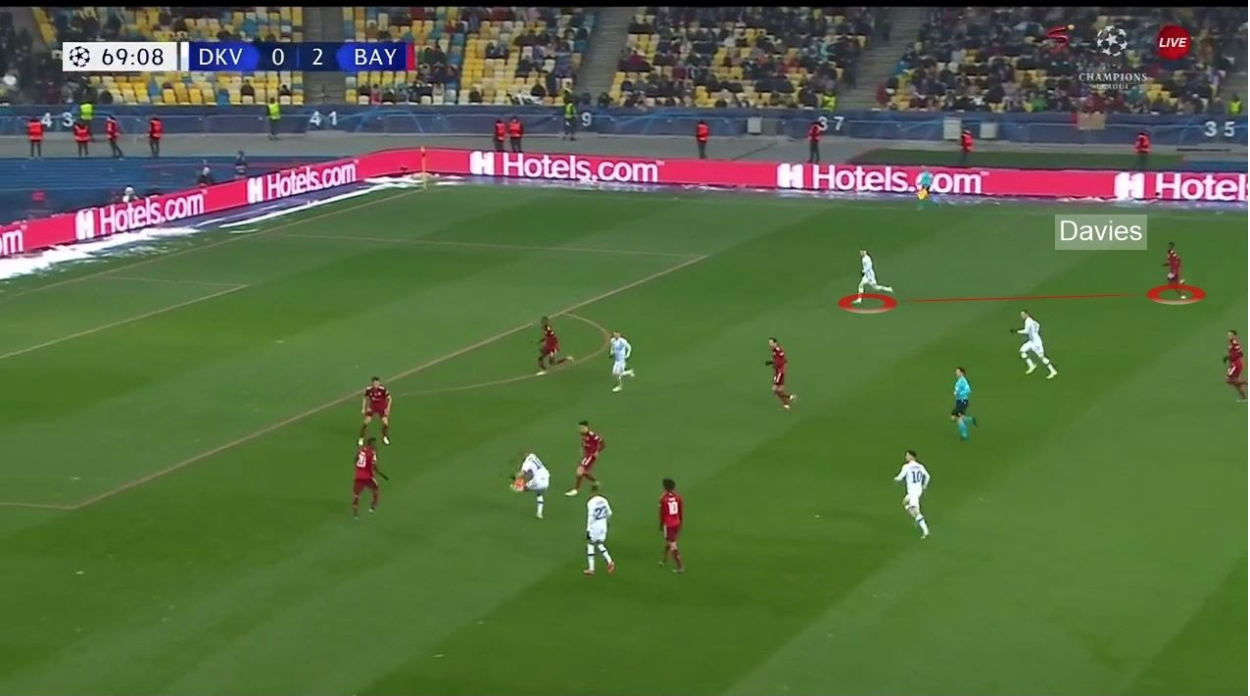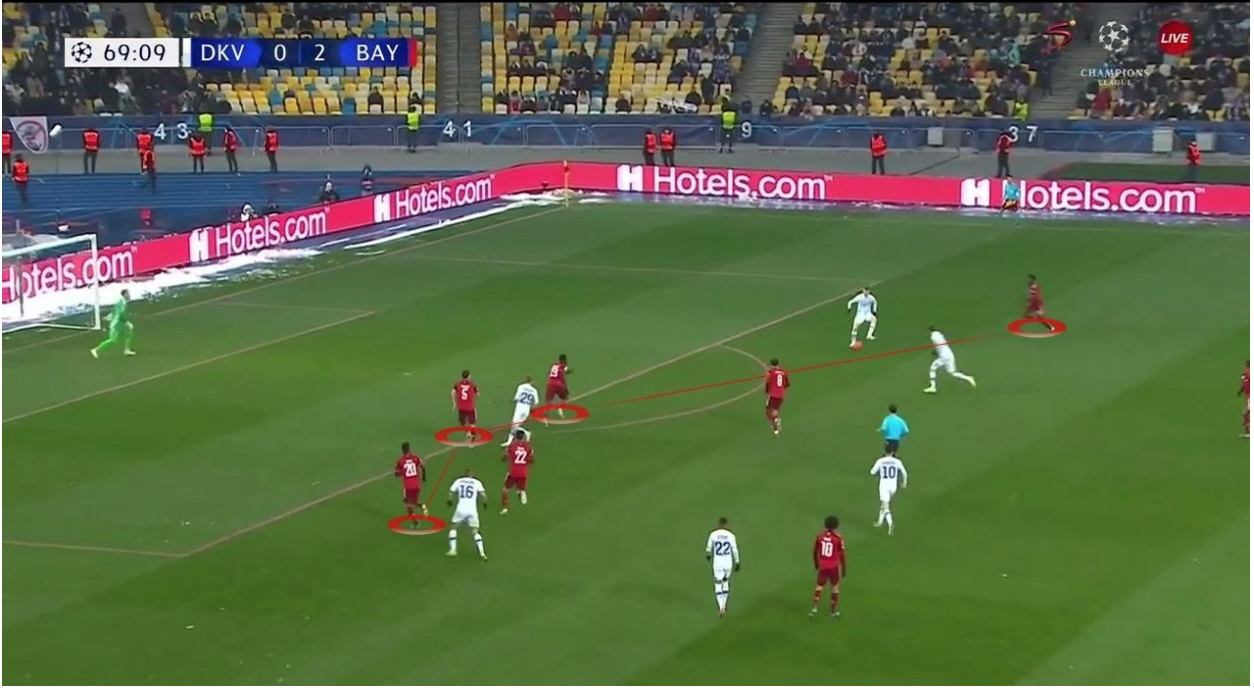 When Mykola Shaparenko passes to Tomasz Kędziora, his distance with Davies is numerous in the picture above. Davies dropped into the defence when he took control of the ball and gave it to Denys Garmash, but Davies's late drop-back created huge free space on Bayern's left side. Garmash effortlessly got a chance to score in that free space.
Lucas Hernandez moves slightly left from his position to cover the wide area free spaces which are created for Davies's pushing up. This creates a lot of gap between the two center-backs, although Upamecano then moves a bit in the center area as Pavard drops back alongside the two centre-backs.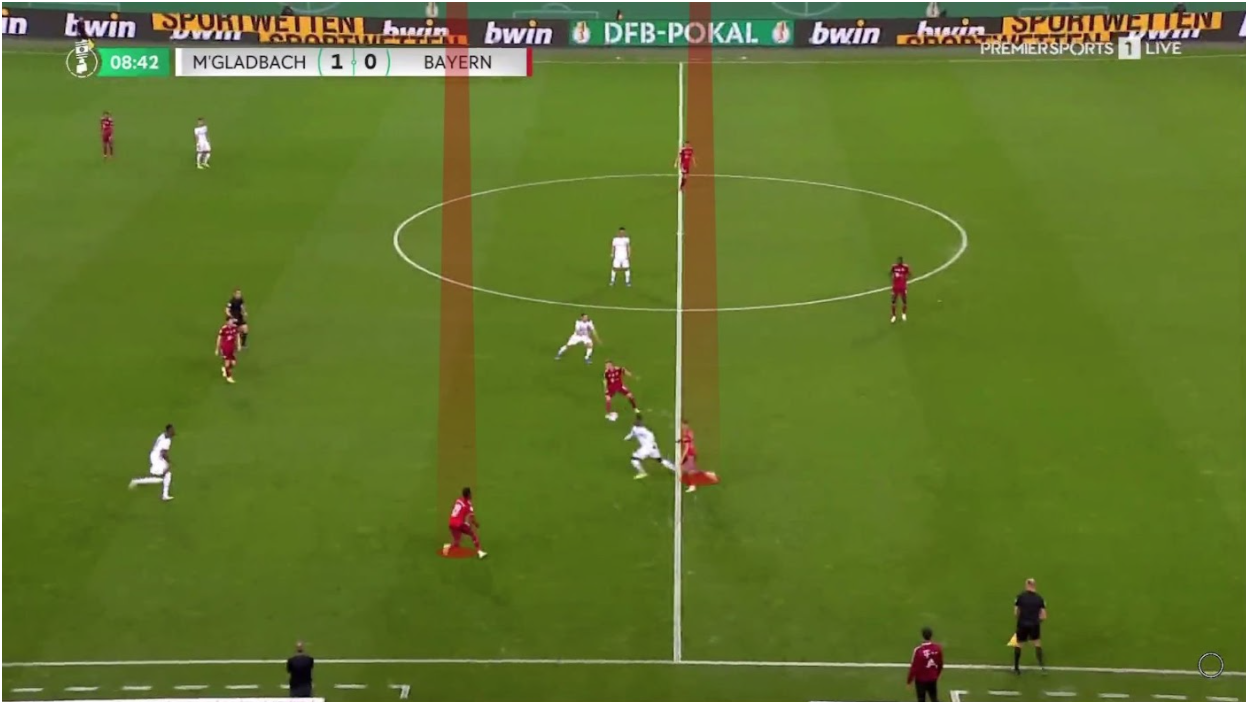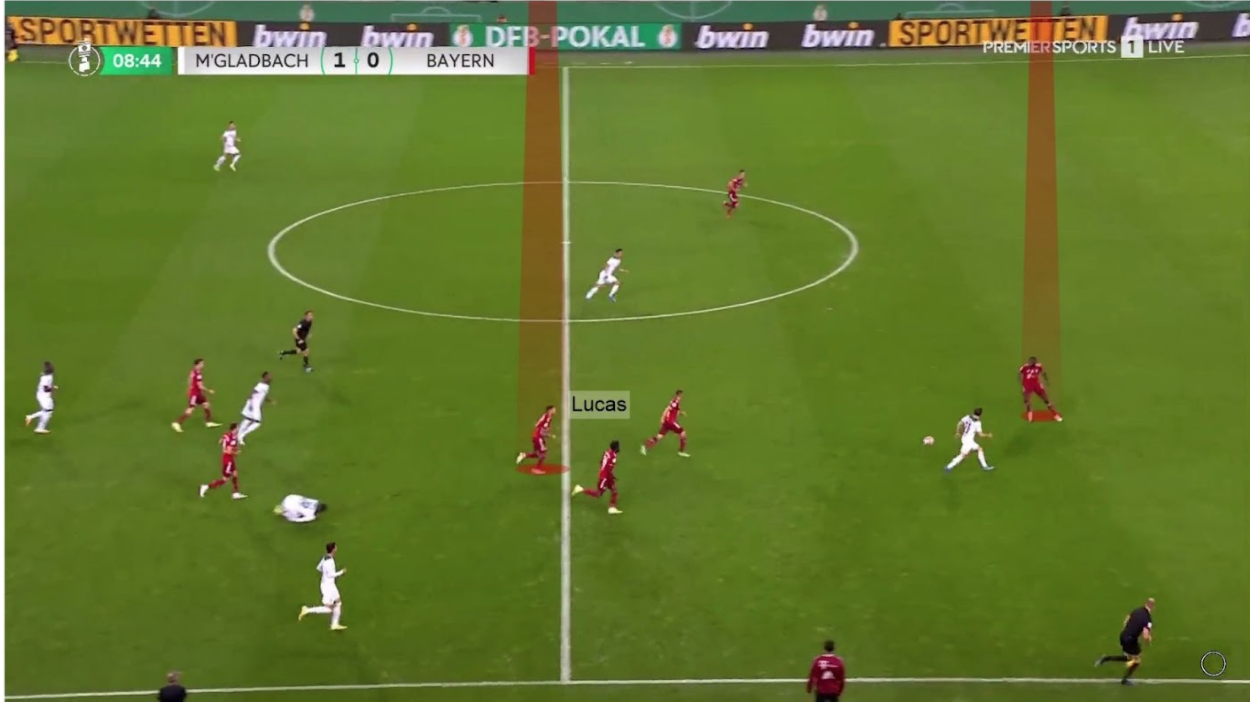 Moreover, Lucas leaves his line and moves very high up a lot of time to press the opponent's attackers; Davies is also in the high line at that time, which creates a massive hole in the backline. Notice the example above, Lucas left his line and pushed high up as Davies advanced to the high line and lost possession.
Lucas then started pressing Breel Embolo as Nico Elvedi passed Embolo immediately after regaining the ball. Embolo then gave Denis Zakaria a backpass, and Zakaria provided a through ball forward targeted Jonas Hofmann, who made a run behind the defence.
The whole of Bayern's defence was exposed when Upamecano was beaten to Hofmann's speed, and ultimately Hofmann missed a huge goalscoring opportunity in a one-on-one situation against Manuel Neuer.
Winning the match against Bayern, who is in good form throughout the entire season, is a nearly impossible task for Barcelona. But to reach the knockout round of the Champions League, Barcelona has no other alternatives but to win.
There is a way, of course, for that Barcelona has to look at the Dynamo Kyiv-Benfica match, but Xavi certainly does not want to look at the outcome of another game. So Barcelona has to try to beat Bayern Munich.
In those circumstances, everyone on the team has to step up from their surroundings, fight against Bayern Munich with their 100% effort. It will definitely be an upset if Bayern Munich loses against Barcelona at Allianz Arena, but Xavi will surely try to give them a taste of that upset.
By: Amartya Das Dip / @amartyadasdip
Featured Image: @GabFoligno / Quality Sport Images – Getty Images