Analyzing Manchester United's Biggest Priorities in the Summer 2022 Transfer Window
In a footballing world where money talks, Manchester United have never been the club to shy away from large value signings, even if it does not work out.
Since Sir Alex Ferguson retired from the dugout, the club have spent more than £871m on 20 players alone, not including lower value purchases such as Daniel James in the 2019/20 season or Bastian Schweinsteiger in the 2015/16 season.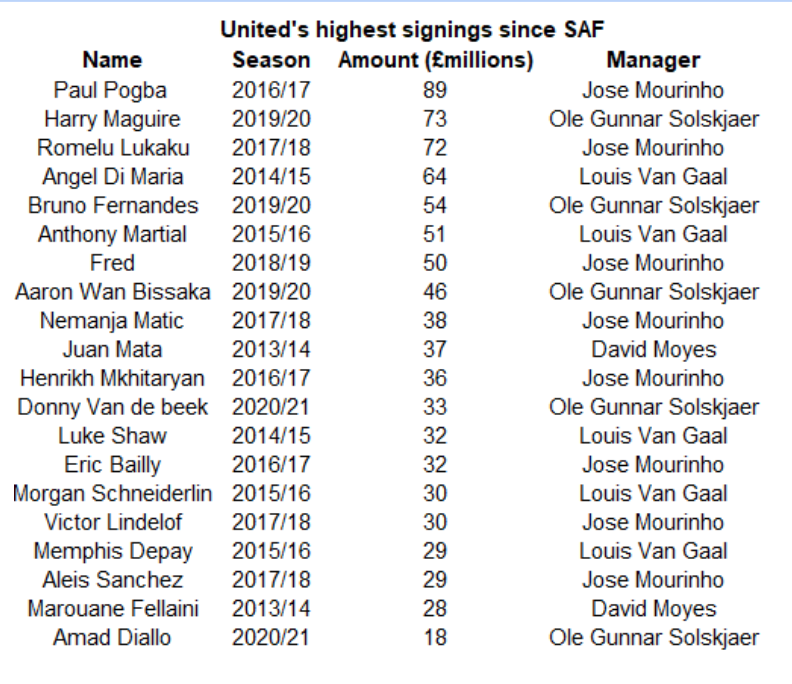 The value of signings is not the only issue; the ability of players have been an issue too. When the club signed Radamel Falcao for £6million from Monaco for a loan season, they thought they would be getting a goal poaching number 9.
Having recovered from a painful knee injury before signing, it proved difficult to come to grips with the Premier League and he finished his loan spell with four goals in 29 games for the club.
Despite this, United have continued with their transfer approach over the summer and January windows, having not signed one successful player post-Sir Alex Ferguson. This raises the question of board management, managerial influence and the overall understanding of bringing elite footballing calibre players, to Old Trafford. 
To understand the mishaps better, it is important to identify who may have been responsible for it. Ed Woodward, now departed from the club, was the club's CEO from 2013 until 2022. Having joined the club following the retirement of Sir Alex Ferguson, he inherited a club that had just won 13 titles in a 3-decade period.
Since his appointment, Manchester United have failed to win another. The club also became a target for inflated prices both from other clubs and from player salaries. Not only has Woodward failed in the transfer price side of things, but also the lack of football knowledge has hindered the ability to make effective signings.
As competition grows among the top five leagues, with PSG, Manchester City and Real Madrid all having the ability to compete financially with Manchester United, the ability to sign a defensive midfielder of quality has shown the plunge that the club have taken in attracting talent.
Woodward failed to effectively bring in a defensive midfielder, a position that has been lacking since the retirement of Michael Carrick. Using Fred, Scott Mctominay or Fred in that position, or £38m signing Nemanja Matic, the incompetence of the club's CEO had been evident again. 
With the appointment of Richard Arnold in 2022 coming in to replace Ed Woodward, Red Devil fans can only hope that the revival of the club starts here. Changes take some time, but Arnold has already been trusted to lead the club back to glory days, starting with the appointment of new manager Erik Ten Hag from Ajax.
Arnold is no newbie to the club either, having joined in 2007 and moving between various commercial and operational roles, he is also a qualified accountant similarly to Woodward. John Murtough comes in as a football director and Darren Fletcher has been appointed as a technical director.
These two appointments allow Arnold to have a less hands-on approach with the transfer windows, which will be led by the two directors. If the club wants to see a change in their transfer approach and effectiveness in transfer windows, then change starts from the top; something they are clearly committed to.
If Arnold can oversee the club successfully returning to competitive football, less managerial turnover and less fluctuated transfer prices, then his time in this role will be much more successful than his predecessor. 
It is now May 2022, Erik Ten Hag has come in and brought new life into a fan base that have watched a struggling team. Manchester United finished sixth this season, with a zero-goal difference and Europa League football awaiting them next season.
Defensive woes led by De Gea in goal and a back four that has not played together consistently, the club go into the summer transfer window with many links to players across the world. Their approach needs to be different this time round.
Firstly, the importance to sign players for positions that need to be improved is the first step, followed by signing players selected by the manager for his vision and style of play. Long gone are the days for commercial signings or signing multiple players who have the same agent or are represented by the same agency.
The next important step is to sign players that want to come and play for the club who will last longer than Angel Di Maria did. The club's performance last season will hinder the ability to sign players, with the lack of Champions League football being a concern for many players.
However, if Aston Villa, a club who finished fourteenth last season, can sign Boubacar Kamara from Marseille on a free, then a club of United's stature will have no issues. Here is a list of curated transfers that could better the club: 
United's Top Priorities for the Summer 2022 Window
Ibrahim Sangaré
 A defensive midfielder with tall stature, Sangaré joined PSV Eindhoven in 2020 on a five-year deal. The Ivorian was seen as a steal for PSV, joining from relegated club Toulouse for €7 million. As he built on his first season at PSV, his second saw immense improvement across various aspects of his footballing ability, the ability to get forward, his defensive presence and passing.
His strength, ball control and explosiveness could help a Red Devils side that has struggled defensively this season. Sangaré's market value is currently around 15-20million, a player that should definitely be on United's radar. 
Ismaël Bennacer
The 24-year-old Algerian midfielder is currently a Serie A champion with AC Milan. Having been targeted by Manchester City in the past, the midfielder has just capped a great season with Milan. With the ability to sit comfortability in midfielder as a central midfielder, filling gaps between the defensive midfielder and fullbacks, Bennacer has special awareness and vision to play through opposition lines; something United have struggled with in midfield.
His positional awareness and movement allows him to execute effective passes forward to help start the attack from a defensive position; another attribute that would prove perfect for United's midfield. Losing Pogba on a free this summer means the options of midfielders to bring the ball forward through smaller spaces is limited.
Having been named 2019 AFCON player of the tournament, Bennacer's development and continuous improvement since shows his footballing abilities could help the team at Old Trafford.
Marcus Pedersen
A fast-paced fullback that can effectively help his team attack, Pederson would be a perfect option for Ten Hag's football style. Having joined Feyenoord in 2021, the young Norwegian finished the season with regular football for the Dutch side.
Despite still improving technically, Pederson shows significant promise with his fast pace, quick agility and ability to put in excellent crosses, another skill set that United have struggled with.
Additionally, his ability to overlap successfully and provide supporting options in the attack is something that could be of interest to Ten Hag. A cheaper option than other transfer names in the market right now, Pedersen is an option for United who have lacked an attacking full back for years.
Jurrien Timber
A talented centre back who can also play right back, Timber could be reunited with his Ajax manager for a price tag of £30m. Having been a regular and helping his team to the Eredivisie title in the 2021/22 season, the 5'10 defender makes up for his lack of height in this position, with versatile technical abilities.
Through his skillset, Timber has outstanding off the ball movement, through overlaps and infield runs, significant ball recoveries, touches and the commitment to provide attacking options to his wingers and midfielders. The importance of defensive skills is significantly higher than attacking, and Timber does not lack here either.
He averaged more than 70% wins in defensive challenges this season, an increase over his last two seasons, and can successfully defend 1v1's effectively. Currently linked to Old Trafford, £30m for Timber would be a steal, and would help solve some of United's defensive woes. 
Christopher Nkunku
Having joined RB Leipzig in 2019/20 season, Christopher Nkunku has taken the Bundesliga by storm. The 24 year old spent a significant amount playing as a striker for the club, finishing the season with 35 goals, 20 assists and the Bundesliga player of the season.
Christopher Nkunku: Analyzing Leipzig's French Attacking Talisman
Luring Nkunku to Old Trafford would prove difficult, but would immensely improve the forward woes the club has had. Following Martial's plea to depart the club in January and a failed loan spell at Sevilla, Marcus Rashfords return from injury proving difficult to bounce back from and their reliance on a 37-year-old, press neglecting Cristiano Ronaldo, Nkunku would be the perfect signing for the club.
His combination play, pace and off ball movement is something Jadon Sancho and Bruno Fernandes could benefit from, and his ability to dribble and movement makes it difficult for oppositions to mark.
The Frenchman would be prove difficult for defenders to mark as his footballing intelligence allows him to adjust his body and positional direction, and provide passing options to feet or into space for his teammates. If United want to target a forward and someone that could come in and make Old Trafford roar; Nkunku would be the man. 
Ousmane Dembélé
Another Frenchman that could be on United's radar, is Barcelona's Dembélé. Having been linked to United in previous transfer windows, the winger could offer United versatility out wide. Despite his pace, ability to dribble and cut in, creating opportunities for himself or his teammates, Dembélé is followed by a woeful track history of injuries.
Ousmane Dembélé: The Revitalization of a Lost Talent at Barcelona
His footballing ability is clear, however, when he is able to stay fit. Having finished in fine form under Xavi at Barcelona this season, the players contract is set to expire with no renewal in sight.
He is also being targeted by many other clubs, with Mbappe keen to play with his fellow Frenchman and Bayern looking for a replacement for Gnabry. If United do want a speedy winger with dribbling abilities, then this would be their man, in a transfer window that is going to be important. 
Mehdi Taremi
Having started his European football career late, the Iranian joined Porto in 2020 for a small price of 4.5million. With a tall presence and an eye for goal, his technical football gift has seen him rack up 26 goals and 17 assists in 48 appearances for his club, starting in different positions for the club.
If Ronaldo stays for another season as the club's main forward option, then Taremi is proven to succeed as a second striker, with 14 goals and 14 assists this season in 29 appearances coming from that position.
His ability to drop deep and provide passing options can open up space for his forward partner to get in between defenders, as well as providing a second option up front. The 29-year-old is contracted to Porto until 2024, and can be a great option for United in the transfer window. 
Frenkie De Jong
Another ex-Ajax player that could help bring life back to Old Trafford is Barcelona's midfielder. With the club facing financial problems, they may have no choice but to sell De Jong, who can be a replacement for the outgoing Pogba and Matic.
With a price tag around €60 million to €80 million, this transfer could take up 40% of Manchester United's transfer budget this summer, and as stated earlier, United need to be careful on volatile expenditure.
Having finished in the top 10% of making accurate passes under pressure, that can be significantly important for United who have had a midfield that have struggled to get out of opposition press sometimes. With passing accuracy, partnered with positional awareness and defensive position, De Jong could be a perfect signing for United, as he also understands the manager's tactical approach. 
Other Potential Signings
Mohamed Simakan
RB Leipzig's two-footed centre back, who has the ability to progress the ball at pace with either foot, with a dominate physical presence and ability to successfully win defensive duels. Simakan can play on the right of the CB partnership or at right back. 
Luis Sinisterra
The Colombian winger at Feyenoord who can be seen as a ball carrier with significant pass, dribbling ability and quick feet, singlehandedly contributing to Feyenoord's successes this season. At 22 years of age, Sinisterra has the ability to progress into a class winger that United could benefit from.
Despite all these options, the market competition is real, with Chelsea already being linked to signing Nkunku and Liverpool already being linked to signing Sangaré. It is important for Manchester United to act in this summer window, but also act effectively. Past windows have seen high profile signings for high value; none of whom are still at Old Trafford (Lukaku, Di Maria, Pogba).
Luis Sinisterra: The Colombian Winger with the World at His Feet
With the change in CEO, the appointment of two directors and a new manager, United fans can be hopeful that a leaf has finally been turned, as the 10 year anniversary approaches of the last PL title the club has won. This summer's transfer window is as important as any other, and it is key that Fletcher, Murtough and Ten Hag, get it right. 
By: @Mina_MUFC
Featured Image: @GabFoligno / Fran Santiago / Getty Images