Prince Buregeya: Rwanda's Rising Centre-Back Star
Prince Buregeya was born on 17 October 1999 in the East African country of Rwanda. Buregeya has been part of Armée Patriotique Rwandaise (APR) FC's first-team squad since June 2017. He made his first-team debut on 21 October 2017 in a 2-1 victory over AS Kigali.
He remained a regular first-team player before picking up an injury in early 2020. He then ended up as the third-choice centre back behind Ange Mutsinzi and Thierry Manzi for the 2020/2021 season. In summer 2021, they left for Liga Portugal 2 club CD Trofense and Georgian Erovnuli Liga outfit Dila Gori respectively. 
With those two players departing Buregeya has become the lynchpin of APR's defence. He has played the full 90 minutes in every game so far this season. This includes Rwandan Primus National Football League fixtures plus CAF Champions League and Confederations Cup qualifying matches. 
Buregeya has represented his country at under 20 and under 23 levels. He has also been called up to the Rwandan senior national team but is still awaiting his debut. 
Player Summary
Buregeya is a right-footed centre back. His strengths and areas for improvement are included in the table below.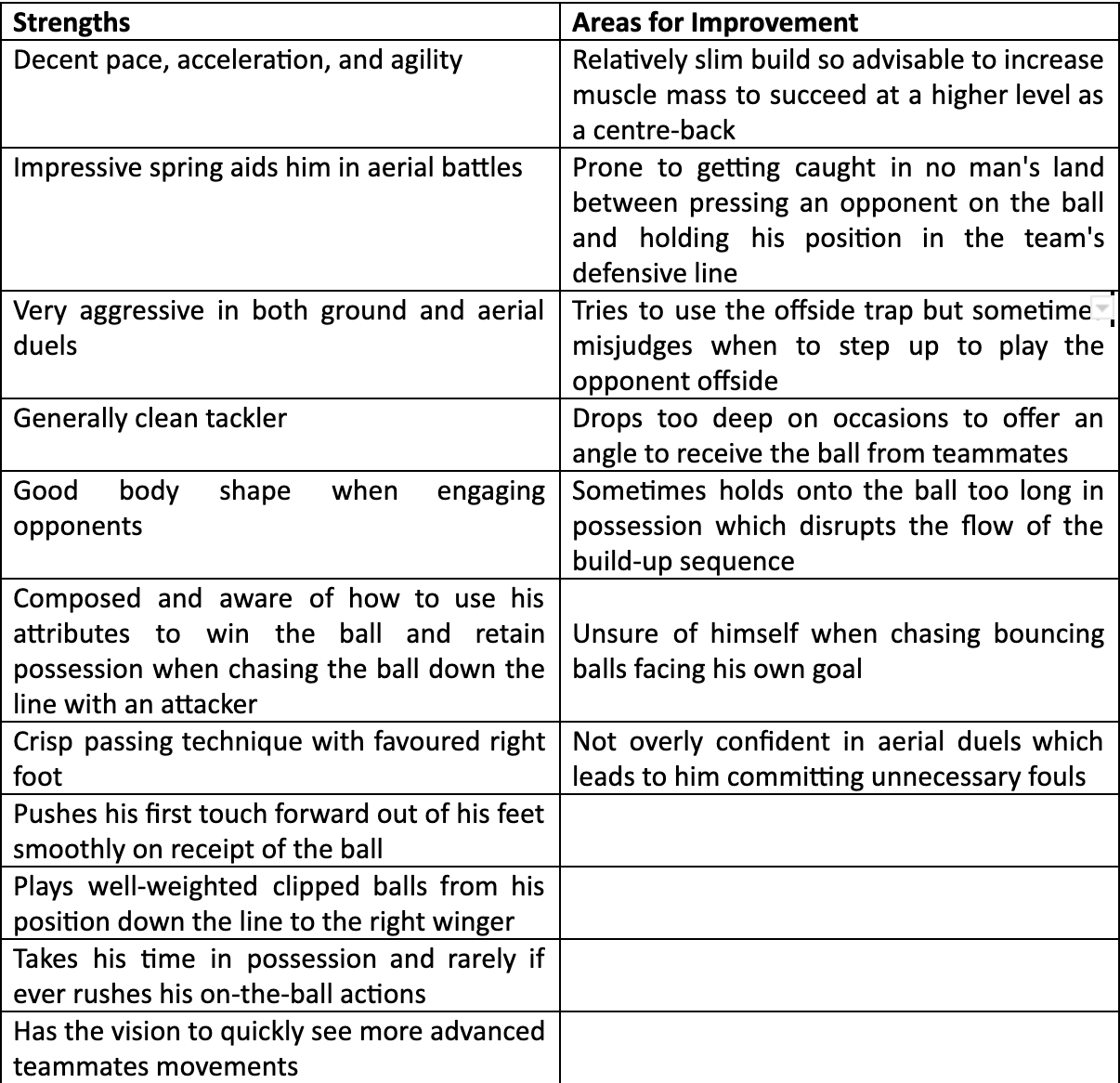 A detailed analysis of Buregeya's qualities, potential and two clubs he could join next is set out below.
Position
Buregeya is usually deployed as a right-sided centre back in a 4-2-3-1 or 4-3-3 formation. In possession, in Primus National Football League matches, it appears Buregeya is expected to contribute significantly more to the build-up play compared to his centre-back partner.
He receives the ball from teammates more often, carries the ball further upfield, spends more time on the ball, and attempts more forward passes.
In terms of defensive responsibilities, he positions himself in a high defensive line alongside his defensive teammates to enable the team to press and win the ball upfield and then dominate possession. He is also required to defend in 1v1 situations with space in behind due to the high defensive line tactics. 
Whereas in the CAF Champions League and Confederations Cup qualifiers APR adopted more defensive, counter-attacking tactics. Buregeya was expected to take fewer risks in possession and play simpler and more direct passes.
This was due to the better opposition they faced who afforded them less time and space on the ball. When defending he was in a deep-lying, narrow and compact back four, to minimise spaces between and in behind himself and his defensive partners. 
Attributes and Style of Play
Physical Qualities
Buregeya looks around 1.83m so is not the tallest of centre-backs. Despite his lack of height, he is competitive in aerial battles. This is largely due to his impressive spring which aids the upwards height of his leaps.
He also has a relatively slim build which limits his ability to use his body to destabilise attackers as well as shield the ball from pressing opponents. He, therefore, needs to add more muscle to his frame as this would allow him to use his heavier body to unbalance attackers and protect the ball from pressure more easily.
The 22-year-old can add extra muscle by engaging in a tailored strength programme which would build the muscle on his frame in a controlled manner without negatively impacting other aspects of his physical profile like his speed and agility.
Buregeya has decent straight-line speed and acceleration. It means he can usually keep pace with most attackers as they attempt to burst past him with the ball or if he is chasing after a ball played in behind or down the side of his location.
There are occasions when some particularly quick attackers can leave him trailing behind which forces him into a shirt tug or desperate slide tackle to try and win the ball. Invariably leading to a foul. 
As Buregeya commonly plays in a high defensive line tactical system, his turning speed and ability to recover into a sound defensive position is more pronounced. Having watched him closely, it is evident that he can turn reasonably quickly due to his smaller size and lightness of foot.
These traits provide him with good agility. Alongside this, it seems he picks up speed as he extends his legs over larger areas of the pitch.
This means that on some occasions when it looks like the attacker has managed to get away from him and drive towards the goal, he maintains his speed for longer, is able to catch them and win the ball, block their attempted pass, or force them away from goal. 
Defensive Qualities
Buregeya has some interesting defensive qualities. He is a forceful tackler and is not afraid to use his physicality, in ground and aerial duels. When an opponent tries to knock the ball past him or there is a 50/50 ball to be won, he can pick up speed and commit a clean, firm standing or slide tackle to win the ball.
However, he does not always resort to making these types of tackles. When he is jockeying an attacker, he will remain composed and prod out his foot to try to knock the ball out of their control without overcommitting and being bypassed or fouling.
An impressive aspect of Buregeya's defending is his body shape when engaging with opponents to attempt a tackle or jockey. He gets quite low, with a slight side-on stance and is on his toes which gives him the flexibility to twist and turn in different directions depending on the direction the ball moves in.
It allows him to adapt his position smoothly while maintaining his balance. This is particularly useful when facing an opponent in a 1v1 with space in behind and down the sides as his stance means he can better match the attacker's movement and stick close enough to them to make a clean challenge. 
There are two noticeable flaws in Buregeya's defensive profile. Firstly, he sometimes gets caught in "no man's land" by stepping forward from his team's defensive line to press an opponent on the ball but is too far away from the player to impact their on-ball decision making.
This means he is caught out of position between pressing the opponent on the ball and staying in line with his defensive teammates to track runners in between and behind them. As a result, this leaves a massive gap behind him, where he should be and makes it easy for the player on the ball to pass to a teammate looking to exploit the space he left.
To reduce the chances of this scenario repeating itself, he needs to improve his decision-making. This should naturally improve with age, experience, and better coaching but he also needs to improve his understanding of where the key danger is i.e., is it the player on the ball or is it an opponent in a more advanced position.
If it is the player on the ball, he needs to be more decisive and quicker to close them down to prevent them from playing a threatening forward ball. Whereas if it is the more advanced player he needs to stay in his team's defensive line and track the movements of that player and only step forward to engage the player on the ball when they become the main threat to the goal. 
The second flaw identified in Buregeya's performances is linked to the style of play that APR have adopted. They generally play a high defensive line to force the opponents deeper, compress the pitch and win the ball in the opponent's half.
However, this is a risky strategy as it leaves plenty of space behind the defence which opponents can capitalise on. In the matches reviewed, there were occasions when he tried to play an opponent offside midway inside his own half as he was the deepest defender and misjudged when to step up.
This meant he played the opponent onside and then had to chase back to try and prevent a goalscoring chance. Despite his mistakes in utilising the offside trap, they only led to goals or goalscoring opportunities on a couple of occasions.
Assuming he will play for a better club in a better league in the future, he will need to better judge when to play offside or he will be punished by better opponents. With more experience of playing in a high-line system, he will improve his use of the offside trap.
In-Possession Qualities
Buregeya has decent technical fundamentals on the ball. He usually pushes his first touch out from under his body quickly on receipt of the ball which means he can move forward with the ball smoothly or look up as he takes the touch and identify a forward pass to execute. He is also capable of carrying the ball into midfield areas. In terms of his passing, he has a clean passing technique.
He can deliver crisp forward passes into the attackers' feet to instigate attacks and also likes to play floated and curved passes from his right-centre back position down the line to his winger or striker teammate to control or run on to. He is consistently accurate with these types of passes. 
On the ball, Buregeya can spot more advanced teammates moving into space between the lines, down the sides of or in behind opposition defenders due to his sharp vision. This means he can then use his clean passing technique to deliver the types of passes referred to above. 
When APR's other defenders or midfielders have the ball during the build-up phase Buregeya sometimes drops too deep to offer himself as an option for a pass. It means that when the ball is played to him, he has to carry the ball forward just to return to a position parallel to his centre-back partner or has to play a long pass to his teammate as the distance between himself and his teammate is much larger than it should be.
This increases the chance of the pass being inaccurate. Additionally, dropping so deep to receive the ball invites the opposition to press higher up the pitch to close him down, which in turn forces his teammates deeper to offer passing options to him. As a result, it takes longer and becomes harder for his team to move the ball forward free from pressure. 
Mental Qualities
Buregeya has captained his country at under 20 and under 23 levels as well as APR on multiple occasions. This indicates that he has leadership qualities such as organising the defence, communicating, and motivating teammates on and off the pitch. During matches, you can see him communicating and gesticulating with teammates to organise the defence and midfielders in front of him. 
In possession, Buregeya is composed. He takes his time to try and pick out an incisive forward pass and rarely if ever, kicks long, aimless balls. This approach does not change whether he is under pressure or not. If he cannot locate a forward pass he will hold on to the ball and pass sideways or backwards rather than squander possession with a punt upfield.
The downside of him taking his time in possession and trying to find an avenue for a penetrative forward pass is that sometimes it slows down the tempo of the build-up phase. He, therefore, occasionally needs to move the ball quicker or attempt to drive past his nearest opponent to open up space to play a more dangerous pass. 
Out of possession, Buregeya generally has a calm, unflappable demeanour. He is not prone to rash, reckless tackles when trying to win the ball from opposition attackers in his defensive third. As a result, he picks up very few cards and has a good disciplinary record.
An example of his composed nature is when he is chasing the ball down the line with an attacker. In these situations, some defenders panic and boot the ball out of play or commit a foul as they are worried the attacker will get to the ball first or expose them in a 1v1.
He is not like this; instead, he remains composed in this scenario by maintaining his speed while moving towards the ball and simultaneously using his body subtly, as he and the opponent converge on the ball, to step across the player to block their route to the ball. This ensures he is close enough to the ball that he can retrieve it or allow it to go out for a throw-in or goal-kick without the referee awarding a foul against him.
On some occasions when he reaches the ball in-play, facing his own goal, he will calmly protect the ball with his body and arms while looking for contact with the nearest attacker. Once the attacker makes contact, he will use their eagerness against them by manipulating his body to turn away from them which either induces them to commit a foul or allows him to turn away from them, face the play and make a pass to a teammate. 
There are two instances when Buregeya looks somewhat tetchy and a bit unsure of himself. When he is chasing after bouncing balls that are heading towards his own goal, he appears to be nervous. This sometimes leads to him misjudging the bounce of the ball which allows an attacking player to win the ball or force him into a frantic clearance.
In this situation, his uneasiness might be due to a lack of awareness of his position in relation to where his goalkeeper and the nearest attacker is. He, therefore, needs to ensure that he incorporates quick glances over his shoulder as the ball is played in behind so that he knows where his nearest opponent is and as he chases after the ball takes a quick glance at where the goalkeeper is stationed.
Having this information as he chases after a bouncing ball facing his own goal should help him better deal with these circumstances. Secondly, due to Buregeya's smaller stature for a centre-back, he does not seem overly confident in aerial duels.
Due to his size, it seems that he uses his impressive leap to jump early and try to meet the ball before the nearest opponent can make a jumping attempt. However, this sometimes leads to him barging into an attacker as he attempts an early leap or misjudgments in the flight of the ball which means he is falling on top of the attacker as he should be meeting the ball in the air.
In both scenarios, this leads to unnecessary fouls being awarded against him. To reduce giving away fouls when trying to win aerial duels he needs to use his arms more craftily. He can do this in two ways.
He can slightly nudge opponents in the back to prevent them from leaping, making it easier for him to jump and win the ball cleanly. Alternatively, he can allow the opponent to jump and nudge them softly in the back when they are in the air which will cause them to misdirect their header. 
Tactical Qualities
Buregeya has the agility and speed, passing ability and vision, communication skills, defensive body shape and tackling style, and composure in and out of possession to play in several positions. Plus, the experiences he has in playing in both a ball-dominant team and counter-attacking team help his tactical understanding and make him a more adaptable player. 
These traits along with his lack of height mean that Buregeya could be deployed as a right-sided centre back in a back three. This role would enable him to use his composure on the ball to attempt riskier actions such as attempting to drive past opposition attackers into the midfield area to open up the pitch or his passing ability and vision to attempt more difficult line-breaking passes into attackers to initiate chance creation in the final third.
He could take these risks with the knowledge that he has defensive cover in behind from two other centre-backs if he loses the ball. While defensively he would have to compete for fewer aerial balls as he will be in a wider position and when he does have to compete for aerial balls it would likely be against smaller wide players than taller strikers which would be advantageous for him.
However, he would have to defend more in wider areas where there is more space and greater isolation from teammates. Indeed, his speed, agility, effective body stance when defending and relatively clean tackling means that he could cope when finding himself in such scenarios.  
The series of characteristics referred to above could also allow Buregeya to play as a right back. He has the speed and agility in conjunction with a sound defensive body shape and tackling style to handle tricky, quick wingers.
Whilst in possession he is comfortable travelling with the ball upfield and can play curved and floated balls from wider areas in behind the opposition's defence for attackers to exploit. Although, as he has not played in this position very often he would have to work on his:
stamina to enable regular overlapping, underlapping and recovery runs over varying distances;

static and on-the-run crossing; and

defensive positioning and body shape when the ball is on his side, central areas, and the opposite side of the pitch.
Some of Buregeya's qualities make him suited to a defensive midfield role. His confidence and composure on the ball in deeper areas could be utilised in this position to help maintain possession. Additionally, his vision and passing ability could aid in the construction of attacks from deeper, central areas.
While his willingness to carry the ball forward could be useful in breaking the opposition's midfield line and creating attacking opportunities. Defensively his agility, turning speed and ability to recover relatively quickly would be useful in defending transitions and counters.
Also, his clean, firm tackling while stationary and moving at speed would allow him to win the ball in central areas without committing too many fouls. As he has not played in this position for APR he would need to work on his:
defensive positioning in and out of possession; and

awareness of teammates' and opponents' locations in and out of possession.
Long-term Potential
After closely reviewing numerous matches Buregeya has played in this season, his performances and attributes suggest that he has the potential to become a first-team player at a club in Europe's top 15 leagues. To perform consistently at this level, he needs to work on the flaws in his game highlighted in this article. 
Buregeya's profile is quite malleable so he could be developed into a right centre-back in a back three, a right back or defensive midfielder depending on how a future manager wishes to utilise him. He certainly has the attributes to perform successfully in any of these roles. 
Potential Future Clubs
Buregeya has established himself as APR's best centre-back this season. He is still only 22 and can continue to improve as he matures and gains more first-team experience. 
It would be wise for Buregeya to stay at APR for the remainder of the season. This would allow him to continue to improve his game before taking the next step in his career. Although he should consider a mid-season move if the right club wanted to sign him. 
Based on Buregeya's current level, characteristics and projected potential, it would be smart for him to move to a team in a less renowned European league where he will be afforded opportunities to start soon after arrival.
He does not want to move to a well-known club or a smaller club in a more prestigious league where he is stuck on the bench or left out of the squad entirely because he needs more time to adapt. This would harm his development and disrupt the momentum he has built up this season. 
Let's take a look at two clubs that would be perfect for Buregeya's next move:
1. Lillestrom
Lillestrom finished an impressive 4th in the Eliteserien (Norway's top division). They will be keen to make some transfers in the winter and summer windows to replace outgoing players and to enhance the options they have.
Lillestrom currently has four centre-back options. However, with the manager usually adopting a three-at-the-back formation, it would be astute for them to bring in a new centre-back during the pre-season transfer window that runs from 9 January to 1 April 2022.
In terms of the four centre-backs they have, Igoh Ogbu, Tom Pettersson and Espen Garnas are the regular starters with Philip Stordahl acting as a backup option. Ogbu usually occupies the left centre-back role with Pettersson centrally and Garnas as the right-sided centre-back.
Garnas is more suited to the middle centre-back role in a back three due to his height and lack of speed as opposed to playing as a right-sided centre-back. The club, therefore, needs to sign a new centre-back who is more suitable for a right-sided centre-back role in a back three.
A smart acquisition for this role would be Buregeya because of his skillset. He has the confidence to carry the ball forward into midfield, the composure to hold the ball if required before passing and can provide accurate progressive passes from deep.
These traits would improve their build-up play on the right side. Alongside this, he can defend effectively in 1v1's in wider areas against skilful, quick wingers due to a combination of decent speed and agility and composed and firm tackling.
What's more, he would probably be affordable with a transfer fee of between £50,000 and £100,000. Alternatively, they could sign him on loan with an option to buy for £50,000 to £100,000. 
A move to Lillestrom would be the perfect step-up for Buregeya. He would gain the opportunity to test himself at a higher level against better opposition. As the gap between the level he has played at and the Eliteserien is not too significant he should be able to adapt reasonably quickly.
Crucially, the club needs to sign a right-sided centre-back with his profile for their starting XI. As such, if he was signed and demonstrated his qualities, he would be able to gain starts relatively quickly and affirm himself as a regular starter. 
The only concern about moving to Norway would be Buregeya's ability to adapt to new surroundings, culture, and people. However, it seems that he speaks English to some degree which would make his adaptation much smoother as most Norwegians can speak English fluently. 
2. Sheriff Tiraspol
Sheriff Tiraspol is the perennial winner of Moldova's Divizia Nationala (Moldova's top division), having dominated the league for many years. They are comfortably on course for another league title this season. They excelled in Europe reaching the UEFA Champions League, finishing third in their group, and entering the knockout stages of the UEFA Europa League. 
Looking ahead to the next two transfer windows, due to Sheriff Tiraspol's impressive European escapades it is likely clubs in more lucrative European leagues will sign some of their players. Particularly, their two centre-backs, Danilo Arboleda and Gustavo Dulanto, who both performed admirably during their run to the UEFA Champions League group stage.
Arboleda will leave upon expiration of his contract at the end of December 2021 and Dulanto is unlikely to remain at the club beyond the next two transfer windows. With this in mind, they will need to recruit two new centre-backs over the next couple of windows. 
An astute low-cost option to replace Arboleda or Dulanto would be Buregeya. He has experience of playing in CAFCL and CAFCC qualifiers against North African powerhouses RS Berkane and ES Sahel and is a regular starter for the best team in Rwanda.
Regarding his playing style out of possession: he is calm in 1v1's, makes crisp and forceful tackles and has some aerial presence due to his impressive spring. In possession he is relaxed, picks out and executes good forward passes whenever possible and can carry the ball forward into midfield.
He does not display the aerial presence and dominance of Arboleda and Dulanto which may be a cause for concern. Although this is outweighed by his on-the-ball qualities, in particular, which would be hugely beneficial to them in most of their matches.
They do not tend to spend much on transfers and so his probable cost of between £50,000 – £100,000 would be within their budget, especially considering the money generated from their UEFA Champions League group stage appearance. 
Moving to Sheriff Tiraspol would be a great opportunity for Buregeya. They dominate their league, which is similar, if not worse than the Rwandan Primus National Football League. This means the footballing adaptation would be straight forward and he would be able to start in the Divizia National as soon as he joined especially if both Dulanto and Arboleda have left the club.
Additionally, they are still involved in European football this season and play European football every season which would provide him with exposure to clubs across Europe. Experiencing European continental football would also be vital for his continued progression as he would be facing strong teams from around Europe. 
Real Madrid, Inter Milan, Shakhtar Donetsk and … Sheriff Tiraspol?
A bonus of joining Sheriff Tiraspol is their successful recruitment of a significant number of African players from across the continent for numerous years. Many of whom have performed well and sometimes generated transfer income for the club.
This means he would be joining a club that is used to integrating African players in the club, the city and the country and extracting good performances from them on the pitch. He can therefore be confident that if he joined Sheriff Tiraspol, he could continue to develop his career there before potentially moving on to a club in a better league.
By: Daniel Ajuh / @Daniel_Ajuh
Featured Image: @GabFoligno / @princecaldo18