Analyzing the Premier League Squads before the January Transfer Window: Part 1
The winter transfer window is upon us once again. However, we cannot expect clubs to be very active like how they are in the summer transfer window as the season has already begun and most of the managers are content with the resources at their disposal.
That being said, certain clubs still need additions – to add options to squad depth and to replace players with long-term injuries – and will be looking to close the deals that they could not in the summer window, this January. The coronavirus pandemic has hit a large number of clubs and clubs will look to cut down on their expenditure for their long-term survival. With the post-Brexit rules coming into play in England, another interesting dramatic transfer window is on the cards.
This article will be a three-part series where I will be looking at the different Premier League clubs, analyzing their squads on a granular level finding out which teams are in desperate need of additions in the January window and which teams are good to go without any additions. This will mostly focus on the different players used by each manager and how much have they considered rotation. In the first part, I will be focusing on the top eight teams in the table (after the completion of Matchday 14).
Liverpool
Liverpool were free of major injuries during the last couple of seasons and that proved vital in their surge towards the top in 2019/20. However, this season has been quite difficult in terms of injuries for the defending champions but that has not stopped them from trying to defend their crown. The Reds are top of the ladder with 31 points after 14 games with only one loss against their name so far – the shock defeat at Villa Park.
Manager Jürgen Klopp has managed to retain the services of most of the players in his core group with only center-back Virgil Van Dijk a major absentee. Left-back Andrew Roberston is the only Liverpool player to have played every minute of the season so far; a couple of other players involved in every league game include Georginio Wijnaldum and Roberto Firmino.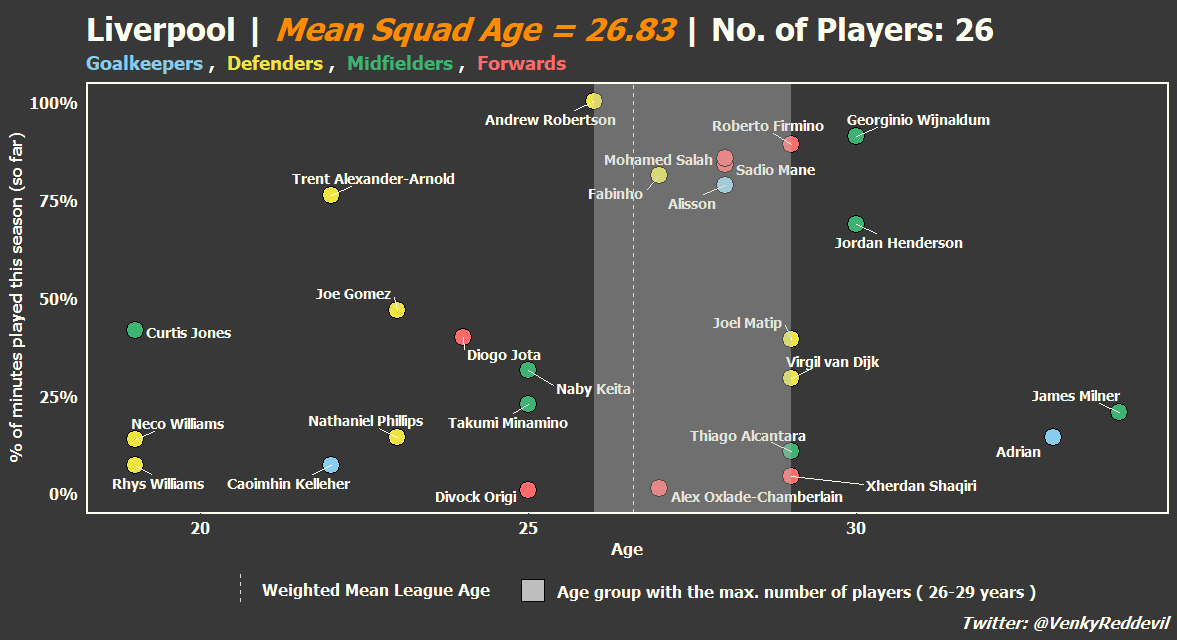 Fabinho has had to play most of his minutes in the center-back position, replacing the injured Van Dijk. The Brazilian has played roughly 81% of the overall minutes this season and has proven useful with his versatility.
Right-back Trent Alexander-Arnold, having appeared in every league game last season, has already missed a couple of games this year so far because of injury. On the attacking side, Liverpool fans and the general football public have been calling for rotation for some time now and manager Klopp finally has the resources at his disposal to do it.
New signing Diogo Jota has played roughly 40% of the minutes this season, and if it wasn't for his injury that number would surely have gone up over the course of the season. Academy product Curtis Jones has already played more minutes than last season in the league. Injuries have forced manager Klopp to use 26 players this season – second-most in the league, having used only 24 players throughout last season.
Verdict: To pick his starting eleven, Klopp has more or less stuck to his core group that finished as runners up in 2018/19 and won the title last year. However, the Reds are a little bit short on the center-back area and that is one position they will be looking to fill in the January transfer window.
Leicester City
The Foxes have had an exciting start to a league season for the second time in a row. They are second in the table – four points behind leaders Liverpool. The Foxes have one of the youngest squads in the league and the majority of their players are in the age group 23-25 years, as shown in the visualization below.
Three Leicester City players have played every minute of the league season so far with full-back James Justin one of them. The sale of Ben Chilwell and injuries to Timothy Castagne and Ricardo Pereira has allowed Justin to feature regularly and it is fair to say he has grabbed this opportunity with both hands. Youri Tielemans is the only other outfield player from Leicester to play every minute in the league so far.
The absence of Wilfried Ndidi has allowed Nampalys Mendy to play roughly 80% of the overall minutes this season. Mendy made only seven league appearances last season. With the Foxes still in European competition, Mendy is likely to see more minutes in the coming months.
Summer signing Wesley Fofana has already played roughly 72% of the overall minutes so far in the absence of the injured Çağlar Söyüncü. Players from the title-winning 2015/16 squad Marc Albrighton and Christian Fuchs have proved to be reliable rotation options with the former especially putting a vintage performance against Spurs.
Verdict: The Foxes, in truth, don't look short of options in any position and have the much-needed depth to avoid any blip in form this time around. If the players will be able to step up, only time will tell. In terms of new additions, there is no need for the Foxes to panic and buy new players in January and I more or less do not expect them to sign anybody in the winter window.
Manchester United
The people responsible for transfers at Manchester United spent an entire extended summer transfer window trying to strike a deal for Jadon Sancho from Borussia Dortmund and in the end only to fail with their efforts, but United did make some valuable additions to their squad depth with the signings of Edinson Cavani, Alex Telles and Donny Van de Beek.
The Red Devils have one of the youngest squads in the league in terms of average age. United also have a majority of their players between 23 and 25 years as shown in the visualization below.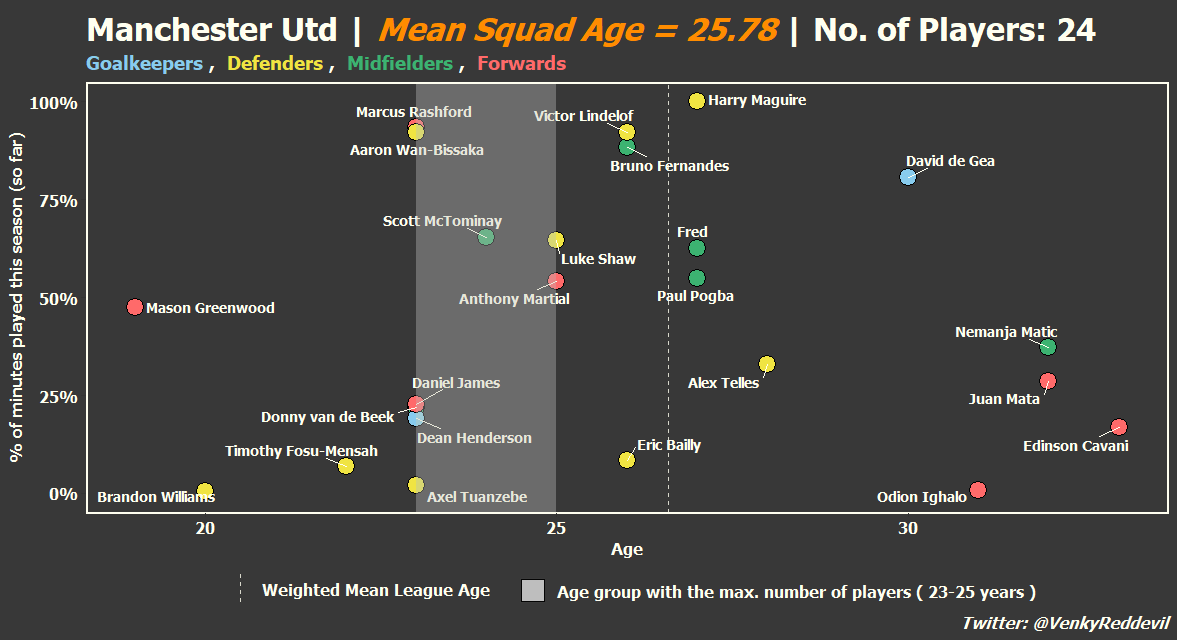 The midfield of United has seen more rotation than any other position with new arrival van de Beek making up for the least percentage of minutes(~ 21%) among the midfielders at United. Daniel James, signed in the summer of 2019 has made only four appearances so far this season and out-of-favour Jesse Lingard has not played a single minute in the league this season.
In central defense, Harry Maguire and Victor Lindelöf have played 100% and 92% of the minutes so far. Marcus Rashford has played the second-most minutes for Ole Gunnar Solskjaer's side. The right-wing position at United has seen Mason Greenwood and Juan Mata share minutes between them.
Verdict: Right wing is once again a priority position for Manchester United and so is a defensive midfielder but the arrival of Amad Diallo from Atalanta should be interesting. Another position that the red devils need to look at is a center-back because outside of Maguire and Lindelöf – United's options don't look very reliable with Eric Bailly and Axel Tuanzebe regularly injured.
Everton
Carlo Ancelotti's Everton were flying at the start of the season winning their first four league games and one could argue that they are doing well even now – only 5 points behind leaders and rivals Liverpool. A slight blip in form in between was because of injuries (and suspension) to some key players. The Toffees have a majority of their players at their peak (26-29) years now as we can see in the plot below.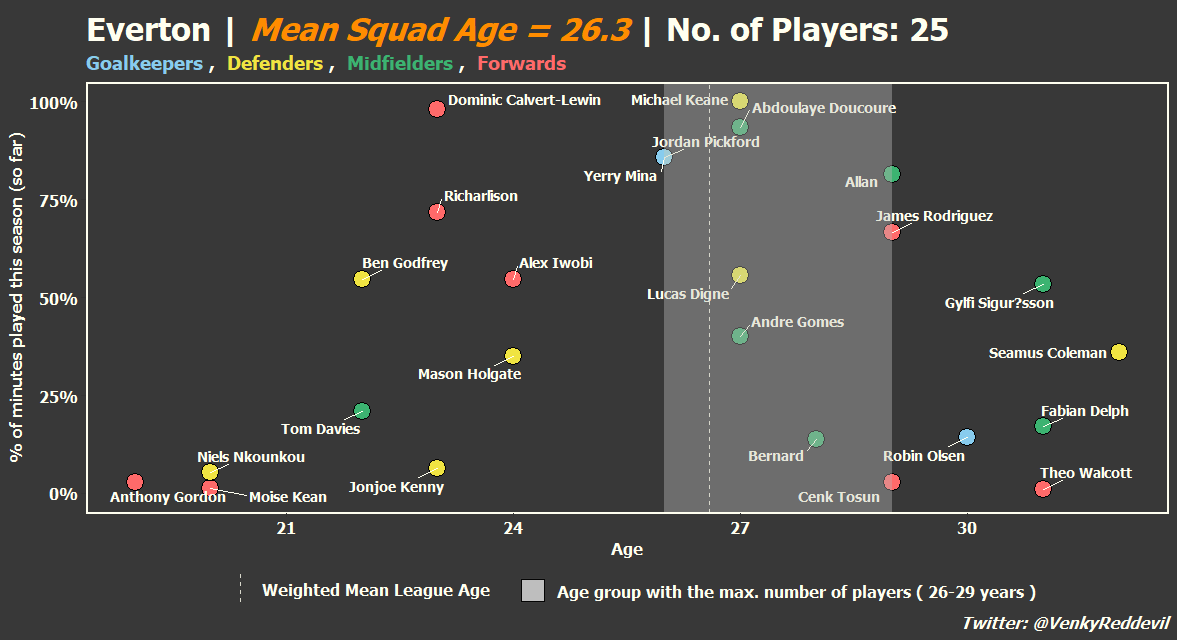 After having some troubles at central defense last season, Micheal Keane has been a regular this year playing every minute of the league season so far. Striker Dominic Calvert-Lewin has played the second most minutes at the club. Calvert-Lewin is also the joint-second highest scorer in the league with 11 goals to his name.
One player who has caught the eye this season is Alex Iwobi. The Nigerian has already appeared in 13/14 games this season and has really made a claim for a place in the starting eleven in the absence of James Rodríguez. Gylfi Sigurðsson has not been a preferred choice this season with the midfielder playing only roughly 53% of the total minutes.
For the first time since joining from Sunderland in the summer of 2017, Jordan Pickford's starting spot between the sticks has come under threat from a competitor. Although still the first-choice goalkeeper for Everton, Pickford was benched for Robin Olsen in a 2-0 victory over Leicester at the King Power Stadium.
Verdict: Everton have some shown versatility in their backline with nine different players playing in the backline this season. Lucas Digne is currently injured and summer signing Ben Godfrey has done a pretty decent job there as his replacement. However, Everton will be looking to sign a player for the full-back position, especially for the left side.
Chelsea
After the completion of the summer transfer window, all eyes were on Frank Lampard and how he will be using the overload of talent at his disposal. Chelsea have used the most number of players in the league this season (27). After being troubled by frequent injuries last season, N'Golo Kanté has played the most minutes for Chelsea this season. No Chelsea player has played every league minute of the season so far.
21-year-old right-back Reece James has been the preferred choice on the right side of the defense with England international already playing approximately 78% of the overall minutes. César Azpilicueta who clocked the most minutes in the league for Chelsea last season has played only 32% of the overall minutes.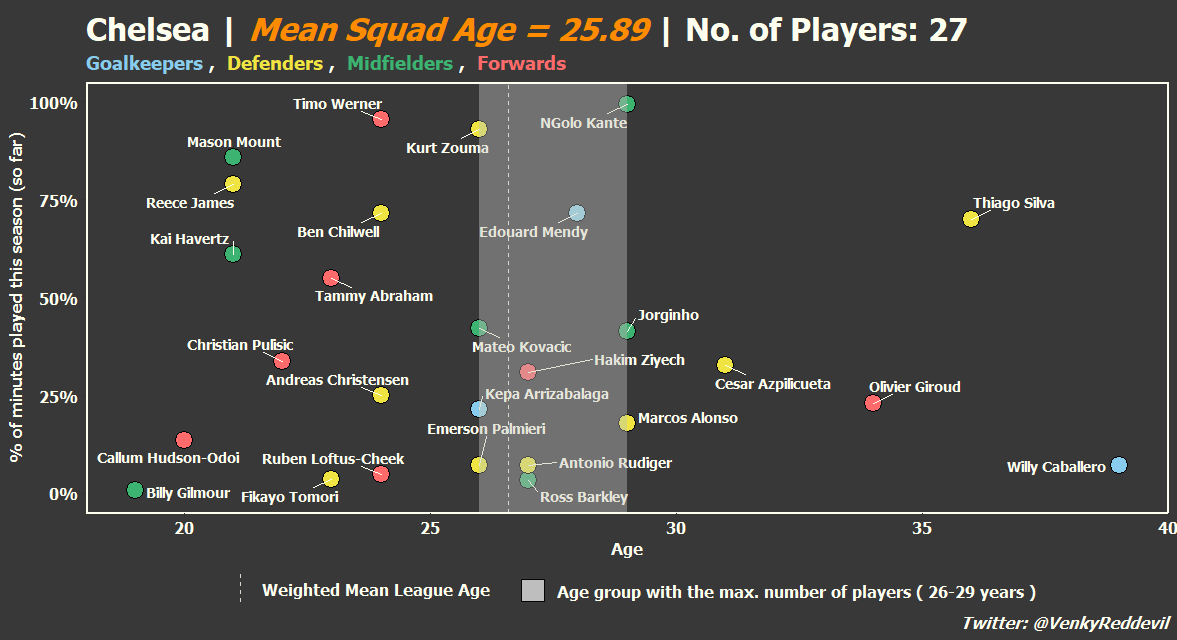 To most people's surprise center-back Fikayo Tomori has been underused so far by manager Frank Lampard with Tomori playing only roughly 4% of the overall minutes but that is also because of the regular center-back pairing of Kurt Zouma and Thiago Silva have been quite excellent.
Mason Mount, who played the second-highest minutes for an outfield Chelsea player last season, is once again on track to clock the same amount of minutes. They have a large number of players in the peak years of 26-29 years. They also have a good number of under-25 players, as seen above.
Verdict: Chelsea have a good mix of youth and experience in this squad and after their big spending in the summer they have the squad depth too to go all the way in the league. I do not expect them to be involved in the January window.
Tottenham
José Mourinho is not someone who loves to tinker with his line-up very often. He did admit sometime during the last season that he didn't have a lot of resources at his disposal. After having a very good summer window – signing players for different positions including the loan signing of Gareth Bale means Mourinho now does have a lot of resources at his disposal. A majority of those players are between 23-25 years old.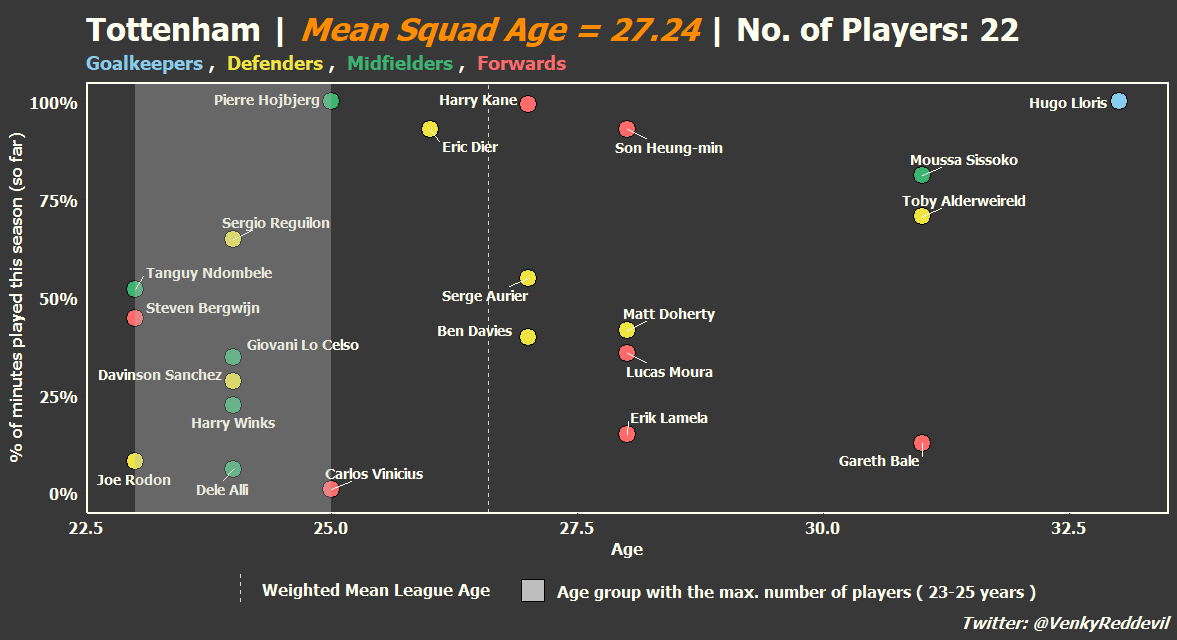 It is fair to say Mourinho does have a group of untouchables in his squad that includes Harry Kane, summer signing Pierre-Emile Højbjerg, and captain and goalkeeper Hugo Lloris. It seems Mourinho has sorted out his problems with midfielder Tanguy Ndombélé as the Frenchman has already played roughly 52% of the overall minutes.
After having spent the majority of last season in Madrid playing golf and riding the bench, loan signing Gareth Bale is back on the football pitch once again but he is yet to really explode like his first spell at Spurs but that is partly because he has played only 12% of the overall minutes – how far that number is going to increase over the course of the season is something to wait and see. Eric Dier has become a mainstay at central defense with the midfielder-turned-defender playing the fifth-most minutes in the squad.
Verdict: Spurs have the quality in depth – that was lacking in their previous title challenges – this year. They also have a manager who is desperate to win again. They have had a good start to the season that has enabled everyone to include Spurs in the title race. In terms of additions, don't expect Spurs to sign anybody in the January transfer window.
Southampton
Southampton have been one of the best teams in the Premier League during this calendar year. The turnaround since their 0-9 defeat against Leicester City has been quite remarkable. Manager Ralph Hasenhüttl has stuck to his core group of players; in fact, Southampton have used the second-fewest number of players this season.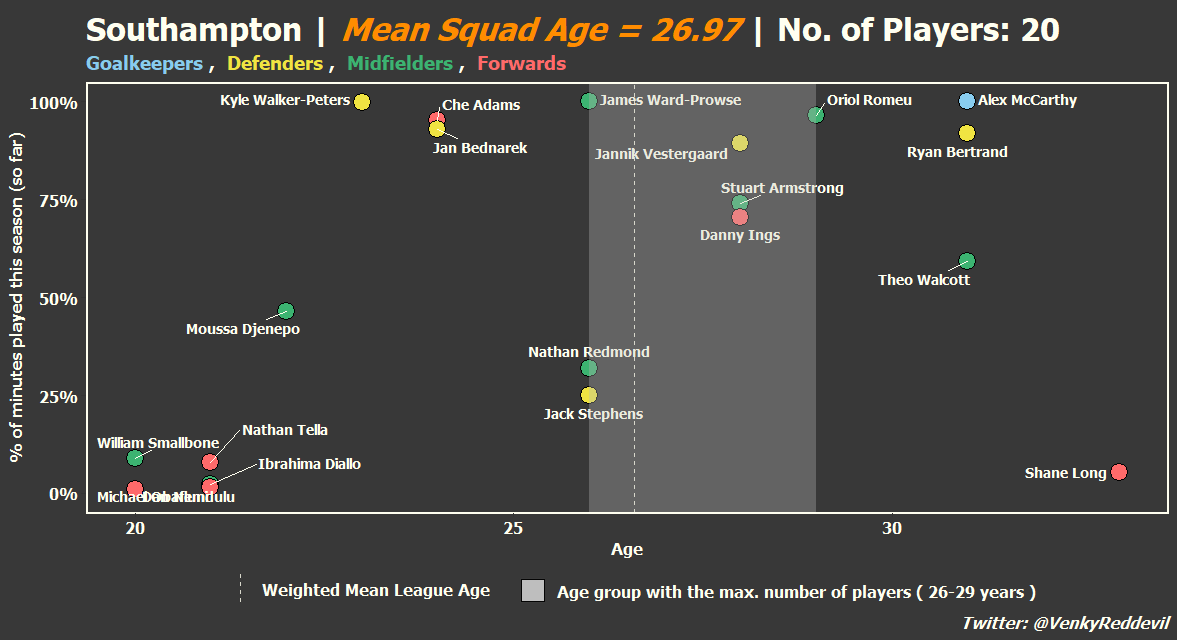 Captain James Ward-Prowse is the only outfield player to have played every minute of the league season so far. Right-back Kyle Walker-Peters falls just short for that stat. Center-back Jannik Vestergaard has been revitalized this season with the center-back playing roughly 90% of the minutes already. The Danish defender made only 19 appearances in the entirety of last season but he is well on track to beat that number this time around.
Another player who seems to have turned his fortunes around is Oriol Romeu. After being overlooked at times last season, the Spanish midfielder has started every league game so far this season. Ché Adams – after a mixed first season – looks to have settled in well in his second year. The English forward has already more minutes to his name than he had during the entirety of last year. Theo Walcott's return to Southampton has been another talking point this season with the former Southampton academy player already playing ~ 60% of the total minutes.
Verdict: Southampton have so far been very pleasing to watch and look like they mean business this year. They have a small squad and Hasenhüttl has more or less used the same players week in week out. In terms of additions in January, central midfield is a position they will have to look for if they are looking to make meaningful additions.
Manchester City
Pep Guardiola's Manchester City sit eighth in the table, albeit with a game in hand. However, the discussion about their performances and results is for another time. Manchester City have used 22 different players this season. The City manager is quite well known for rotating his group for almost every game, and one player who has been close to ever-present is Rodri. The Spanish midfielder has played more minutes than any other outfield player from Manchester City.
Kyle Walker continues to be a mainstay in Guardiola's backline with the right-back playing more minutes than any other Manchester City defender (just like last season). Summer recruit Rúben Dias is only slightly behind. Phil Foden who played only 901 league minutes throughout last season has already played 43% of the total minutes this season.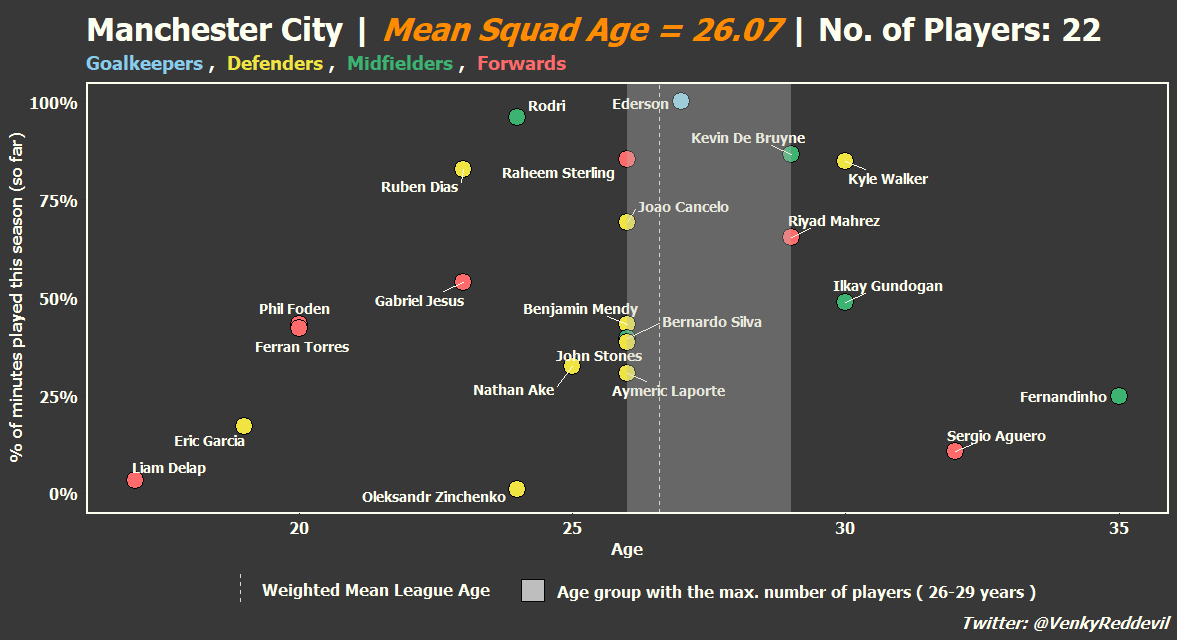 Fernandinho, who has largely been second-choice, has started just three league games and looks like he won't be a regular this time around unless an injury situation arises. Left-back Benjamin Mendy has, once again, been out of favour, as has Bernardo Silva. The Portuguese attacking midfielder has played only 40% of the total minutes so far. Injuries have also seen Sergio Agüero play roughly 10% of the overall minutes.
Verdict: Manchester City seemed to have sorted their central defensive issues with the signings of Nathan Aké and Dias. They also have enough depth in their attack and unless an extraordinary situation arises, don't expect them to make any additions in the January window.
So that is where the top 8 teams in the table stand after 14 matches into the season. The fixtures keep coming thick and fast and it will be interesting to closely see how these numbers change over the coming weeks. There will be obvious rotation to protect the players from injuries.
Note: At the moment of the article's publication, Southampton were in seventh place. Following the matches of Boxing Day, which saw Southampton draw to Fulham and Aston Villa defeat Crystal Palace, Villa have since moved into sixth whilst Southampton have dropped to ninth.
All visualizations used in this article were taken from the tool currently under development by @VenkyReddevil. A basic version of the tool can be viewed here. Thanks to @fbref and @Statsbomb for the data.
All mean ages in the plot (mean squad age and mean league ) are weighted mean values and were calculated based on years only and not months. So those may slightly vary from the original data source: fbref.com.
By: @VenkyReddevil
Featured Image: @GabFoligno / Peter Powell – PA Images / Clive Brunskill – AFP / Mike Hewitt – AFP